Key Takeaways
The Scranton real estate market appears to have turned a corner and placed decades of financial woes in its rearview mirror.
Scranton real estate investors enjoyed some of the country's best ROI in the industry as recently as the third quarter of 2018.
Real estate in Scranton offers buyers more "bang for their buck" than just about anywhere else.
---
The Scranton real estate market in Pennsylvania has been held back by decades of coal mine and industrial plant closures. In fact, the city nearly went bankrupt in 2012 when the number of closures seemed insurmountable. Nonetheless, Scranton remained resilient and avoided bankruptcy, only to become more attractive to homebuyers looking to escape historically high appreciation rates in other cities. If for nothing else, Scranton's previous financial woes have made its real estate market more attractive to those who have grown tired of the prices in the Northeast. As a result, the Scranton real estate market has seen demand increase considerably over the course of just a few years, and real estate investors are starting to take notice.
Scranton Real Estate Market Overview
Median Home Value: $70,200
1-Year Appreciation Rate: 9.0%
Median Home Value (1-Year Forecast): 8.3%
Median Rent Price: $885
Number Of Foreclosures: 65
Median Days On Market: 77
---
[ Thinking about investing in real estate?
Register to attend a FREE online real estate class
and learn how to get started investing in real estate. ]
---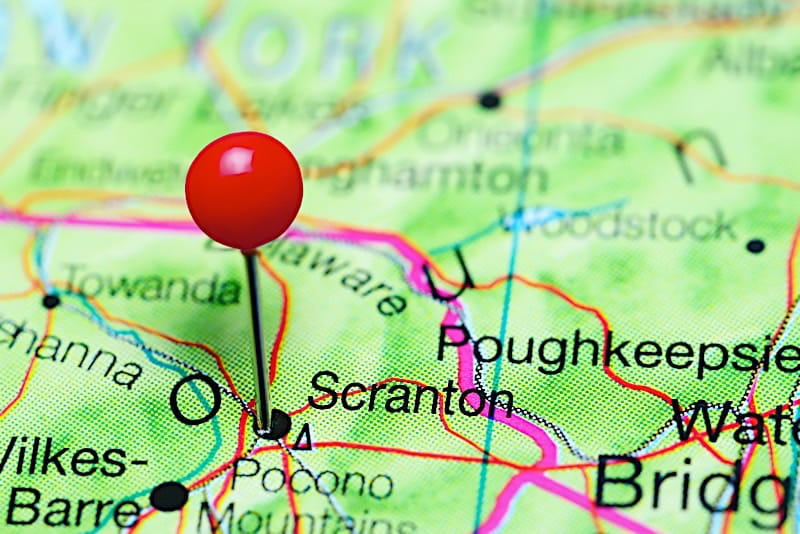 Median Home Price Scranton
The Scranton real estate market currently boasts a median home value of $70,200, according to Zillow. With homes well below the national median home value ($222,800), real estate in Scranton is in a healthy place. In the last year alone (November 2017 to December 2018), Scranton's median home value increased more than the national average, 9.0% and 7.7% respectively.
Perhaps even more importantly, however, is the rate by which Scranton home values are expected to increase over the next 12 months. Home values in the Scranton real estate market are expected to increase by as much as 8.3%, which is more than the national average is expecting. The expected jump in prices is most likely due to increasing demand in the area.
As a relatively affordable city to settle down in, Scranton is garnering the attention of buyers from nearby cities like New York and Philadelphia who looking to trade in their higher cost of living for a more affordable one.
Scranton Foreclosure Statistics
According to RealtyTrac, a nationally respected marketplace specializing in foreclosed and defaulted properties, there are about 65 homes in the Scranton real estate market that have been deemed distressed in the first quarter of 2019. That means there are at least 65 homes that fit into at least one of three categories: default, auction or bank owned. The overwhelming majority of the distressed properties identified by RealtyTrac are currently bank owned, meaning the properties have been repossessed from the previous owners, failed to sell at auction, and are now sitting on the books of the original lenders as non-performing assets.
As non-performing assets, however, these distressed properties represent a unique opportunity for savvy homebuyers. Banks are not in the business of holding on to assets that aren't producing any money, and would rather part ways—oftentimes at a discounted price. Therefore, it stands to reason that investors who know how to work with traditional lenders and banks may have an easier time finding deals in the Scranton real estate market if they focus their attention on bank-owned homes.
To make your search for distressed properties that may be had at a discount easier, RealtyTrac has identified the neighborhoods in Scranton that have the highest foreclosures rates:
18504: 1 in every 1,433 homes is currently distressed
18508: 1 in every 2,715 homes is currently distressed
18510: 1 in every 2,736 homes is currently distressed
18505: 1 in every 4,790 homes is currently distressed
Scranton Real Estate Investing
Realtor.com recognized the Scranton real estate market as the best city for homebuyers to "get the biggest bang for your buck," as recently as 2018. In other words, buyers were able to get the most "home" for the least amount of cash in the Scranton real estate market. As a result, prospective buyers from across the country (especially neighboring cities like Philadelphia and New York) started to flock to Scranton in search of affordable homes. Demand increased as a result, and now Scranton finds itself in the middle of a perfect storm. Affordable housing, demand, and appreciation rates that eclipse the national average have made Scranton an investor's dream.
Home flippers, in particular, found the Scranton real estate market to be a great place to invest. Due to the increasing demand and relative affordability, Scranton offered savvy investors a return on investment few cities could compete with. In fact, Scranton was named one of the best places to invest across the country as recently as the third quarter of 2018.
According to Attom Data Solutions' latest Home Flipping Report, of the "133 metropolitan statistical areas with at least 50 flips in Q3 2018 and a population of at least 200,000, those with the highest average gross flipping ROI in Q3 2018 were Pittsburgh, Pennsylvania (136.7 percent); Cleveland, Ohio (120.2 percent); Atlantic City, New Jersey (110.3 percent); Scranton, Pennsylvania (109.0 percent); and Philadelphia, Pennsylvania (107.9 percent)."
Scranton Real Estate Market Summary
The Scranton real estate market appears to have turned a corner and placed decades of financial woes in its rearview mirror. After nearly going bankrupt as recently as 2012, Scranton is now the beneficiary of some much appreciated attention. A unique combination of factors—not the least of which include affordability, demand and potential—has taken real estate in Scranton from an afterthought to a commodity. As a result, the Scranton real estate market has a new lease on life, and should only improve for the foreseeable future.
Have you thought about investing in the Scranton real estate market? If so, what are you waiting for? We would love to know your thoughts in the comments below.
---
Ready to start taking advantage of the current opportunities in the real estate market?
Click the banner below to take a 90-minute online training class and get started learning how to invest in today's real estate market!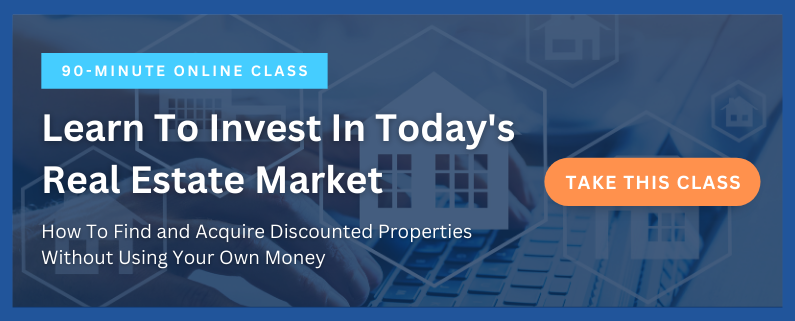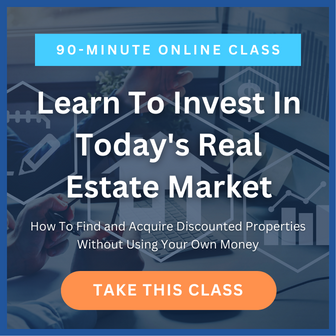 *The information contained herein was pulled from third party sites. Although this information was found from sources believed to be reliable, FortuneBuilders Inc. makes no representations, warranties, or guarantees, either express or implied, as to whether the information presented is accurate, reliable, or current. Any reliance on this information is at your own risk. All information presented should be independently verified. FortuneBuilders Inc. assumes no liability for any damages whatsoever, including any direct, indirect, punitive, exemplary, incidental, special, or consequential damages arising out of or in any way connected with your use of the information presented.