Smart home technology has become synonymous with the most impressive houses on the market, and for good reason: it's one of the most universal amenities today's buyers covet. And why wouldn't they? Smart home technology improves on the traditional home in just about every way imaginable. Perhaps even more importantly, it's no longer relegated to the most expensive houses on the market; every home can partake in the latest trends.
It's worth noting, however, that smart home technology isn't only for buyers, but sellers as well. In fact, those investors looking to sell their next deal faster and for more money should consider adding the right smart home technologies to their property.
Smart Home Technology You Can Bank On
In order to sell a property with smart home technology, you must first understand why people want it in the first place. If for nothing else, you can't give the people what they want if you can't understand their basic needs. Remember, as a real estate investor, you are a problem solver. If you can uncover the issues prospective buyers need solutions for, you stand a much better chance at selling a deal faster and for more money. So, without further ado, here are the reasons buyers will be looking for deals with smart home technology, and what you can do as an investor to satisfy their inquiries: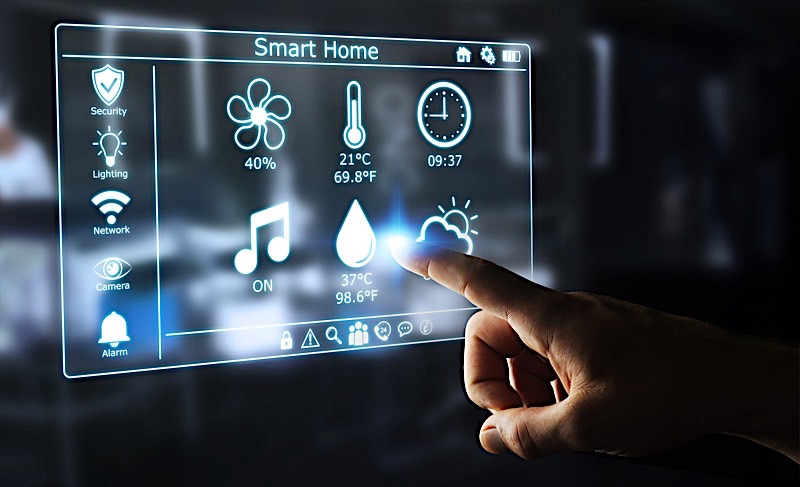 Home Safety
I am convinced that nothing is more important to prospective buyers than a home's propensity for safety, not even price. Case in point: most homeowners are more than happy to pay more for a home they can feel comfortable living in, and even raise a family in. While it may sound trite, you can't put a price on safety; it's one of the few things that are literally invaluable to prospective buyers — a sentiment only magnified in buyers with young children. As long as most buyers feel the same, there is absolutely no reason your products shouldn't give them the one thing they covet the most: safety.
It's as simple as that: there is more demand than ever before for a safe home. As a real estate investor, it's in your best interest to give the majority what it wants. If you can offer a house that meets the criteria of the majority of buyers, there is no reason you shouldn't expect to sell it for more money in a shorter period of time.
Fortunately, the advent of technology no longer requires us to surround our homes with a moat to keep us safe. In fact, creating a safe living space is as simple as adopting the latest smart home technology. A number of security systems exist in which homeowners can tap into smart home technology. Perhaps even more importantly, said systems are more than capable of alerting the proper authorities, whether it be the police or the fire department.
When all is said and done, the most basic component of a smart home technology security system is the standard camera. It's the average camera that will make most people feel a little safer. "Almost all the users that we talk with prefer to have a camera," says David DeMille, director of A Secure Life. "It gives a lot of comfort to know how things look when you're not there."
One of the most popular camera options available to compliment your smart home technology is none other than the Nest Cam. In addition to syncing with other Nest products, the Nest Cam is fully capable of streaming live footage to your smartphone, as well as alerting you of unwanted noises and motion. And, at around $200, the Nest Cam is a relatively cheap smart home technology security option.
Energy Conservation
Outside of home safety, smart home technology has become synonymous with conserving energy and resources. In fact, the right home additions can actually drive down the cost of living. Who wouldn't want to do that?
As it turns out, the majority of millennial buyers have placed an emphasis on green home improvements, or those that can simultaneously reduce their carbon footprint and energy bill. Whether it's cutting their energy bill in half or reducing water consumption, most prospective buyers are more than interested in the ways your product can actually help them save money, so why not give them what they want?
It would be nearly impossible to talk competently about smart home technology without mentioning the one thing that is taking the country by storm: solar power. As energy bills rise and the cost of electricity becomes enough to factor into the purchase of a home, more and more buyers are convinced that solar panels are a good investment, and for good reason: compound savings over the life of the home.
While not cheap (the average-size 5-kilowatt solar system will run owners somewhere in the neighborhood of $20,000), solar panels can save roughly $150 to $200 a month in energy bills. At that rate, most solar panel systems take about 15 years to pay for themselves. According to Realtor.com, however, "the upfront cost of solar panels may soon dip to less than $10,000. And when that's the case, they'll pay for themselves in four to six years—and they should last 20 to 30 years."
If solar panels seem like too big of an investment for your next deal, there is an easier way to introduce smart home technology to your property that helps ease the burden of monthly energy bills: smart thermostats. As it turns out, the same company that made the Nest Cam I mentioned early also makes one of today's best smart thermostats. Otherwise known simply as the Nest, these smart thermostats actually learn the temperatures you deem optimal. As a result, they are capable of turning off when the desired temperature is reached, effectively eliminating overuse. It literally programs itself and pays for itself in one fell swoop.
It's worth noting, however, that smart home technology isn't relegated solely to technology as we know it. While the very phrase conjures of miles of wiring, computer access and hard drives, smart home technology can just as easily refer to windows, insulation, and doors. That said, you may want to consider installing windows and doors that regulate temperature more effectively.
Lifestyle & Convenience
In addition to safety and energy conservation, smart home technology is entirely capable of improving our quality of life and convenience. And while a bit more superficial than the previous two points I have made thus far, who doesn't want a home that boasts the latest and greatest gadgets? If for nothing else, smart home technology is nothing more than a sizzle feature; one that is meant to create demand and capture the attention of onlookers. So, the next time you introduce some new technology into your home, don't forget to compliment safety features and green technology with those things that are just plain fun. After all, your job is to sell a home, and nothing will make your job easier than providing a product that people want.
I maintain that there is one room in the kitchen worth of the best smart home technology: the kitchen. At the very least, kitchens sell homes. The more you can do to increase the appeal of the kitchen, the better. And few things will do more to catch a buyer's attention than the advent of the smart fridge. Specifically, the Samsung Family Hub Refrigerator is an eye-catching (albeit impressive) piece of smart home technology just about anyone would want. With cutting-edge cooling technology, a touch screen fit for a king, app-sync technology and an interior camera capable of streaming to your smart phone, it would be easier to tell you what this smart fridge doesn't have; it really is a sizzle feature. And there is no reason to think your prospective buyers wouldn't want one in their own home.
If the price of Samsung's Family Hub is too much for your budget, consider upgrading to other technologies that promote a life of leisure — without the cost, of course. Smart locks, for example, are a great way to regulate who can and can't enter your home. Some even allow you to let people in while you are away by inputting a one-time code into your cell phone. That way, you don't have to race home to meet the plumber or let in a family member that lost their key.
Smart home technology can come in a variety of shapes and sizes, but that doesn't mean you need to get everything. If you want to sell your house fast, and for more money, you simply need the smart home technology that the majority of people want. In meeting the buyers' needs, you can greatly increase your chances of selling a home. And, if you aren't quite sure what to implement in your next rehab, the ideas I laid out here should be a good starting point.