Key Takeaways
---
It was common to see a split level house on every block in the 1960s and 1970s as part of the architectural style of choice during this time. Although they lost popularity in the following decades, they are still prevalent in many U.S. real estate markets. With vinyl records, roller skates, and bell-bottoms making a come-back of late, 60s and 70s-style homes will likely experience a boom as well. Keep reading to find out everything you need to know about split-level homes so that you can decide if it's a style you'd want to call your own.
What Is A Split-Level House?
A split-level house is a home with multiple floors connected by short flights of stairs. It's helpful to first picture a traditional home to understand why split-level homes are unique. A traditional home can feature multiple stories, but it will almost always have full flights of stairs. One floor will be stacked directly underneath or above the other, and thus the house is built vertically.
When it comes to a split-level house, floors are staggered, and additional floors can be built off to the side, as well as slightly overlapping or underlapping an existing floor. This structural flexibility allows for shorter staircases. Another easy way to think about split-level houses is that they have no one floor that covers the entire home's layout.
If you're having any trouble picturing what a split-level house looks like, just think about the house from the hit TV show "The Brady Bunch." It is one of the most iconic homes in American culture, so much so that HGTV hosted a TV series in which six Brady Bunch actors worked alongside designers to renovate and replicate the original home.
Types Of Split-Level Homes
The Brady Bunch home is a side split home, which is one of several different types of split-level homes. Here are the varieties of architectural styles to choose from:
Side Split: A side split home has two or more levels that are all visible from the front of home. A typical side split home features a garage on one side of the home, with bedrooms above the garage. The main living areas are on the other side of the home.

Back Split: A back split home also features staggered levels, but you can only see the different levels of the home from one side of the home. Typically, only one story is visible from the front, while two are visible from the back.

Standard Split: The standard split-level home typically has a ground-level entrance. A short flight of stairs can lead down to a lower level featuring a garage and a playroom or den of sorts. A short flight of stairs from the entrance will take you to the kitchen, dining, and living rooms. The top level is reserved for the bedrooms and bathrooms.

Stacked Split: If you want a grand split-level home, then opt for the stacked split. This type of home features four or even five floors. The layout is usually similar to a standard split but contains a larger number of rooms, such as a basement and formal and informal living areas.
Split-Level Houses Vs. Bi-level Houses
Be mindful not to confuse a split-level house with a bi-level house. A bi-level home only has two levels, while a split-level home typically has three or more. Additionally, the second floor in a bi-level home more or less lies directly on top of the bottom floor. Bi-level houses are also called "raised ranch" houses and often feature a rectangular, U-shaped, or L-shaped layout.
---
[ Thinking about investing in real estate?
Register to attend a FREE online real estate class
and learn how to get started investing in real estate. ]
---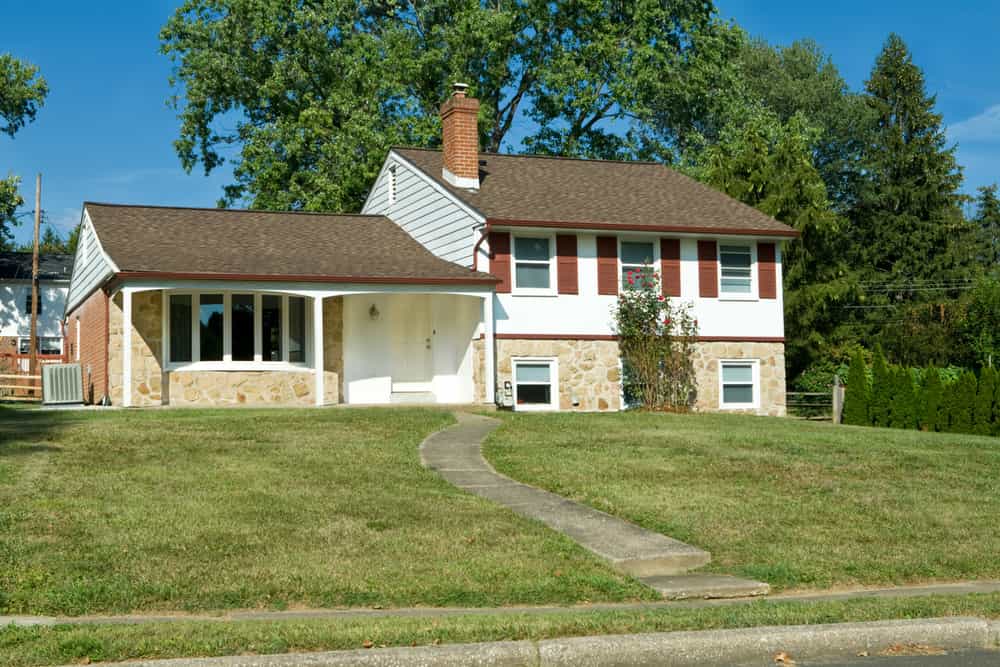 Pros Of Split-Level Houses
Aside from taking part in the latest craze over groovy, vintage trends, split-level homes offer a myriad of benefits:
Private: Split levels means that there are opportunities for privacy. For instance, parents might enjoy having a master suite on an entirely different floor from their kids' rooms. Alternatively, kids might enjoy being able to play noisily in the playroom without disrupting their father, who is lounging in the den.

Affordable: Many split-level homes on the market haven't been updated and aren't considered trendy (yet.) As of right now, you may be able to score a great deal on a split-level house with amazing potential.

Ranch-style, plus benefits: Split-level homes feature some benefits of ranch-style houses, in the sense that they offer the spaciousness that come with multi-level homes. You get all the extra rooms and living areas, yet because they are staggered and separated by short staircases, they take up less space overall. This helps maximize yard space.
Cons Of Split-Level Houses
Before you commit to split-level living, it's important to be aware of the potential drawbacks:
Stairs on stairs on stairs: One of the key elements of a split-level house is that it features several staircases. Although they may be short, having to go up or down a set of stairs every time you want to move to a different area in the house may get old.

May feel awkward: The unfortunate aspect of taking part in trends is that sometimes those trends don't age well. If you're not a fan of the acquired taste of split-level homes, you may feel that the architectural style looks a bit awkward. If you absolutely love it, there's no shame in the game. Just keep in mind that your unique taste may not appeal to the average buyer.
Are Split-Level Homes Difficult To Sell?
Selling split-level homes can be both difficult and easy, and this is true of any piece of real estate. Important variables that affect a sale include homebuyer preferences, pricing, curb appeal, current trends, and whether or not the home has been properly updated and maintained.
Because trends from the 60s and 70s are regaining popularity, it just may be that a Realtor would have an easy time selling a high-quality split-level home that is updated yet also features some vintage charm.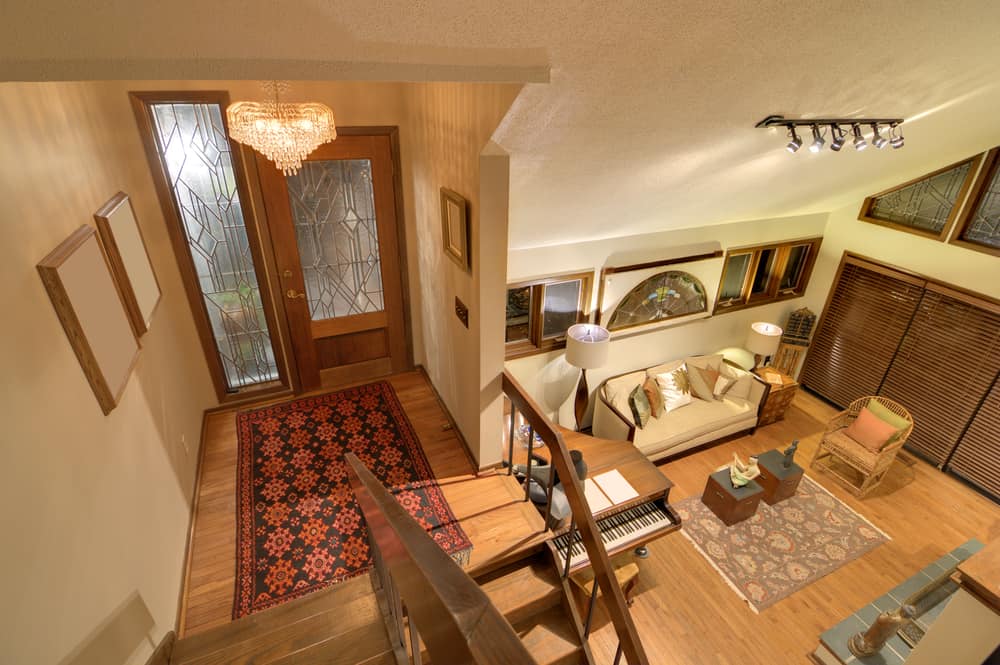 How To Sell A Split-Level House
As mentioned above, the ease or difficulty of selling any type of home depends greatly on homebuyer preferences.
The key to selling a split-level home is highlighting its unique advantages. Any issues that a homebuyer might see as a problem can also be reframed as much as possible. For instance, the unique floorplan that features several staggered stories might throw off a buyer. Here, emphasize the fact that this type of floor plan maximizes privacy and yard space.
In case the home seems outdated, invest in making updates that can boost the home's appeal. For instance, you could replace shag-carpeted stairs and flooring with wood or replace the garage door. Finally, staging the house with some tasteful furniture can help show potential buyers just how lovely split-level home living could be.
Split-Level House Remodeling
Both the interior and exterior of a split-level house can be remodeled to give it a more updated look. For instance, you could improve the exterior by revamping the siding, updating window trimmings, and replacing the garage door.
For interior ideas, consider updating the paint and flooring. Bathrooms often feel outdated, so consider overhauling the tile, linoleum, and hardware. Finally, you could consider taking out walls to open up the floor plan.
However, be careful not to remodel the split-level home so much that it loses its vintage charm. Young buyers who want a split-level home may prefer the style specifically because they love the latest craze over 60s and 70s trends. Make the proper updates so that the home feels comfortable and functional but still embraces its Brady Bunch charm.
Should You Invest In A Split-Level House?
Buying a split-level house can get you great value for your home buying dollar in the current market. There is no shortage of homes built in the 60s or 70s, so you can likely find an affordable option that makes for a great investment.
Also spend time exploring whether a split-level house will fit your lifestyle. Do you like to have a bit of a separation between your living spaces while still having them close together? Then a split-level home could be a great choice. Alternatively, do you have a knee injury and don't want to go up and down stairs all day? Then perhaps it's best to look into other options.
Summary
Have you ever considered buying a split-level house? According to Apartment Therapy, split-level homes are still affordable, but only for now. Millennials love buying ranch-style homes, and split-level houses are really just a variation. Further, they offer privacy between the upstairs and downstairs and maximize your outside space. Because there is plenty of inventory, they're reasonably priced. Smart buyers may start to catch on to the fact that they're a great option for first-time homebuyers. If you think you might be interested in buying a split-level home, do your research and determine if it's the right fit for you.
---
Ready to start taking advantage of the current opportunities in the real estate market?
Click the banner below to take a 90-minute online training class and get started learning how to invest in today's real estate market!