Springdale is one of the fastest growing cities in the state of Arkansas. It is currently the fourth largest city in the state, and has recently experienced a whopping 133 percent increase in population over the last decade. This increase has helped push the Springdale real estate market forward. Median list prices and sales prices are on the rise, and experts see no sign of slowing down. This growth does not appear to be a short term fad. There are solid market fundamentals in place that can carry Springdale real estate forward for the next year, and beyond. The Springdale real estate market is poised to continue its momentum for the foreseeable future.
According to Homefacts.com, the current median sales price for the Springdale real estate market is $184,000. This represents a sharp 8.24 percent increase from just one year ago. This number is below the national sales price average, but remains promising for the local market. The Springdale housing market has begun to grow with the economy. The region boasts three Fortune 500 companies (Walmart, Tyson Foods and J.B. Hunt) that have helped spur growth. Since 2007, the region has seen an increase in the professional, health care and education sectors. All of these economic forces have pushed the Springdale housing market forward, and the future looks bright.
The Springdale housing market hit a sales price low in 2012. Since that time, the market is up almost 31 percent. These steep equity gains are on par with the national average during the same time. However, the total sales numbers over recent years may be cause for concern. This number has dropped over 60 percent in the last 36 months. Some of this can be attributed to a reduction of foreclosure inventory. Even with a reduction in sales, the area is still on par with 2003 numbers. This is much more indicative of a market that is making steady growth and a healthy number of real estate transactions in a given year.
One of the byproducts of a growing economy is a low level of unemployment. The current unemployment rate for Springdale is 4.1 percent. This is lower than both the statewide and national numbers of (5.4% each). With reduced unemployment, potential buyers are more likely to explore the Springdale real estate market. Rental property is in high demand, with rents having increased 3 percent over the past three months. Rental availability is low, pushing demand higher, but also pushing renters towards buying. If the renter pool starts buying, it will push home prices upwards and reduce inventory. Either of these options is made possible by the growing economy and stabilized level of unemployment.
The level of unemployment has helped ease the impact of foreclosures on the market. According to RealtyTrac,  there are currently 55 properties on the market in some stage of foreclosure. This represents a small fraction of all properties currently listed in the area. This small number is well below both statewide and national foreclosure averages. This can be attributed to the high level of local market affordability.
The current median income for the Springdale real estate market is $53,920; which is significantly higher than the statewide average of $40,984; and higher than the national figure of $52,961. With higher median income and more disposable income, the foreclosure number should remain minimal for years to come. With foreclosures out of the way, new buyers stand to see increased equity as property values and demand continue to rise.
While the average Springdale list price is on the rise, the total number of listings has seen a decline. Trulia is reporting an   increase in list prices over the last 30 days. This short-term market snapshot indicates that demand is growing among reduced inventory. Over the same period, the total number of listings has declined. This is average short-term market volatility, but something to keep an eye on. Over the last twelve months, there have been 74 new housing permits in the area. This is a reduction of the 182 that were applied for in 2013. 2014 was the first year new housing permits have declined over the last four years. The market may have become slightly over saturated, or there could be a temporary lull in the buyers' market.
When evaluating a real estate market, it is important to know specific areas. The Springdale real estate market is part of Washington County, but in that county there are several zip codes that comprise this area. Even inside of each zip code, there are characteristics that make each area unique. Over the past 30 days, Springdale has seen market movement in many areas. The most popular zip codes in terms of listing activity include: 72701, 72703, 72704 and 73764. In terms of average list price 72744 and 72774 were the biggest movers, with an increase of 8.3 percent and 6.5 percent respectively. Other positive movers were 72764 and 72704, which both increased more than 6 percent for the last month. The only area that showed any significant list price decline was in 72727, which dipped 5.6 percent. When looking at a market, it is important to evaluate each specific region on its own. Many of the market characteristics may be the same, but plenty can change from one town to another.
Things are certainly looking up for the Springdale real estate market. Subsequently, Springdale real estate investing should continue to see a boost in activity. Sales prices are climbing, list prices are on the rise, the economy is growing and unemployment is below national averages. Foreclosures are not nearly the problem that they are in other markets. With increased population, there will be increased demand for housing. Some of this population will turn to the rental market, but a large segment will look to buy. How quickly the increased inventory gets in the hands of buyers will go a long way in determining what happens to Springdale real estate over the next twelve months. There are too many solid pieces in place not the think the market is poised for steady long-term growth.
Springdale Real Estate Market Summary:
Current Median Sales Price: $184,000
1-Year Appreciation Rate: 8.2%
Unemployment Rate: 4.1%
1-Year Job Growth Rate:
Population: 75,229
Median Household Income: $53,920
Springdale County Map: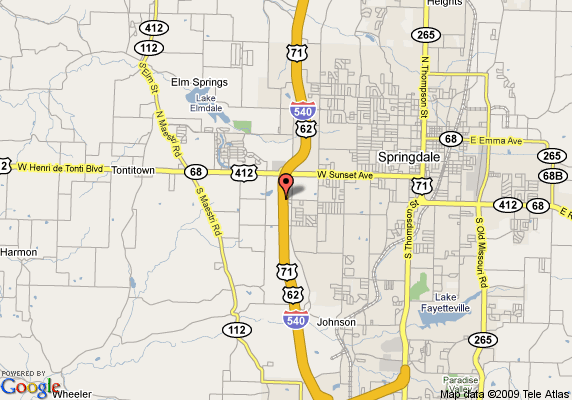 🔒 Your information is secure and never shared. By subscribing, you agree to receive blog updates and relevant offers by email. You can unsubscribe at any time.