by Paul Esajian | @pesajian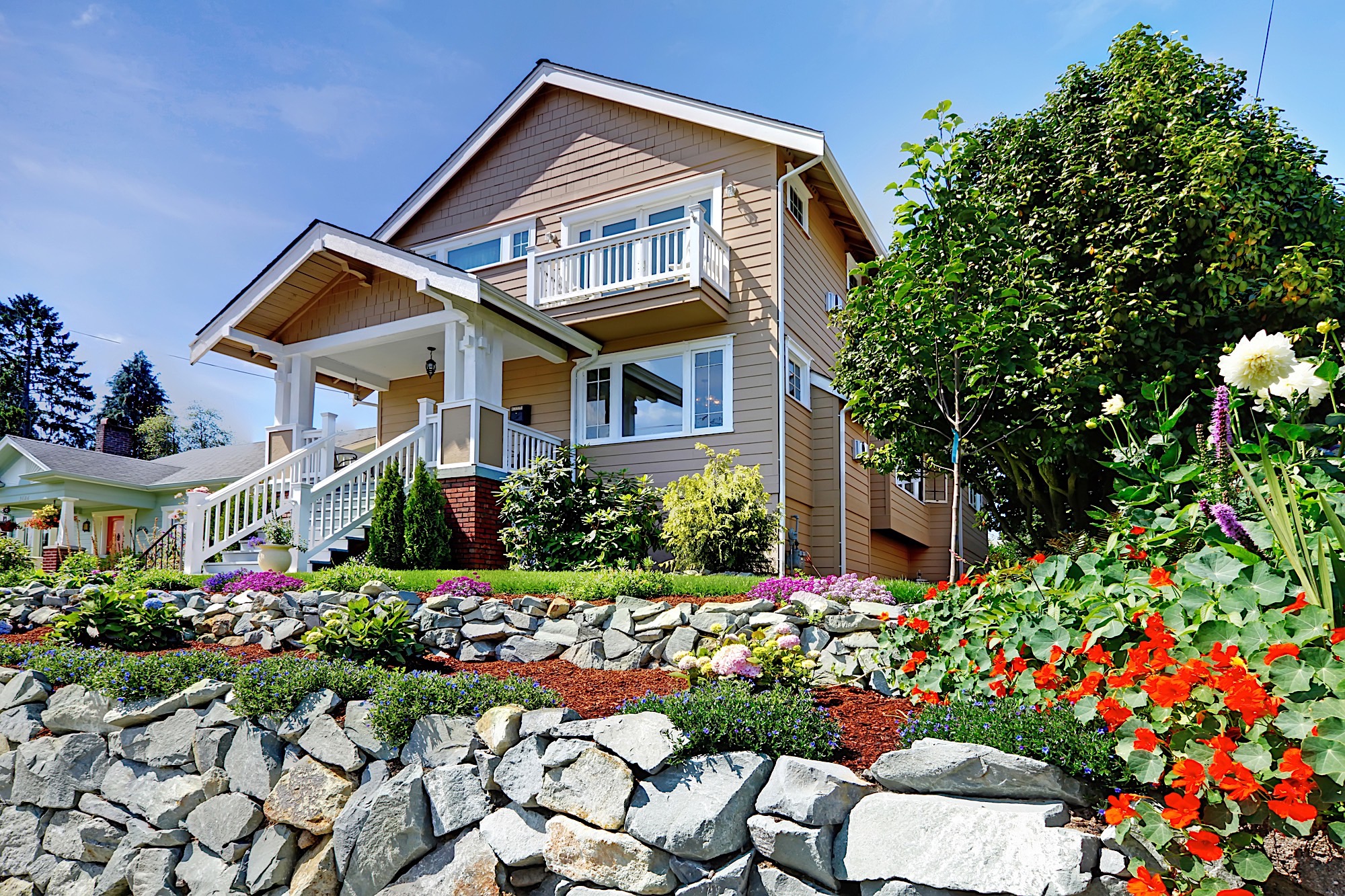 Key Takeaways
Curb appeal is defined as the level of attractiveness displayed by a property when viewed from the street.
The wide array of low-cost projects makes elevating curb appeal on a budget entirely possible.
To get started, explore some expert summer curb appeal ideas and tips below.
---
Summer is quickly approaching, and perhaps you have started brainstorming lists of home improvement projects you would like to tackle. If you were mainly thinking about your interior spaces, perhaps a list of curb appeal ideas can spur some inspiration, to think of ways to spruce up the appearance of your property exterior. According to a survey conducted by the National Association of Realtors, 63% of homebuyers have experienced visiting and walking through a property they found online. On the other hand, 43% of homebuyers who found a property online will look just at the exterior of the home and decide not to walk through it. This 20% difference demonstrates the importance of curb appeal in the home buying process. With warming temperatures and longer days, summer makes an ideal time to tackle the curb appeal landscape projects you have been putting off for months.
What Is Curb Appeal?
Curb appeal is defined as the level of attractiveness displayed by a property, specifically when viewed from the street or sidewalk. This can include the property's front landscaping, exterior walls, windows and trim, front entrance, and even interior lighting and drapery that shows through the windows. Curb appeal is also thought of as an important factor of property value and helping a property sell.
---
[ Maximize your property value! Make these 12 "high-ROI" home improvements ]
---

How Much Value Does Curb Appeal Add?
Curb appeal adds value, but in such a way that can be hard to quantify in an exact dollar amount. The exterior of a property creates the very first impression for homebuyers, making it the most important non-verbal selling pitch. Homebuyers and real estate professionals will often sort through online property listings by looking at photos before reading details, and will sometimes view your property in person from the street. Thus, the level of curb appeal portrayed by a property can be the deciding factor for whether or not shoppers will want to see the inside, or move on to the next listing. In that sense, the value of curb appeal can be equated to the difference between receiving multiple offers that increase your sales price, or not receiving any offers at all. For these reasons, curb appeal adds a lot of value that cannot be ignored, even for those who do not plan to list their property any time soon.
Is Curb Appeal On A Budget Possible?
Elevating your curb appeal on a budget is definitely possible, and there are plenty of curb appeal ideas that are relatively inexpensive to execute. The key is to look for low-cost projects that provide the most visual impact, and select projects where you can carry out the grunt work, rather than having to hire a professional. For example, the average property owner is well qualified to re-paint their front door and install some exterior lighting, while they may not have access to the property supplies or expertise to execute the re-paving of a driveway. If you have a limited budget it may not be possible to execute all of your curb appeal ideas at once. By prioritizing your wants and needs, you can always save projects you could not complete during your summer curb appeal timeline for the next season.
Summer Curb Appeal Tips
Start with a plan: It is only natural to have a long wish list of curb appeal ideas, making it difficult to know where to start. Drafting out a plan is a good idea no matter what type of project you are launching. First, start by writing down your list of ideas, and then estimate the cost for each. This process can help you prioritize the type of projects you can realistically accomplish while sticking to your curb appeal budget, and saving excess ideas for another time. If you plan to make changes to your landscaping or hardscaping, drawing a visual plan can be helpful as well.

Perform a cleanup: No property is immune to the gradual build-up of dirt, grime and cobwebs, and a thorough cleaning can have a surprising amount of impact on your curb appeal. Start by taking out any weeds and trimming down any unruly plants and shrubs, especially those that are starting to creep up exterior walls or blocking any pathways. Next, consider renting a power washer to get grime and cobwebs off of your exterior walls, trim, porch and hardscaping. This thorough cleaning process will give your exterior appearance a noticeable boost.

Think like a buyer: As a homeowner, you may find yourself making excuses for shortcomings around your property, such as chipping paint or design elements that look outdated. Perform a thorough walkthrough around the exterior of the property, and pretend as though you were a potential homebuyer instead. Making a note of any items you notice that look like they need repairs or replacement will help you create a project list. Make sure to check what your exterior looks like at night as well.

Get a second opinion: Becoming objective by putting yourself completely in the shoes of a potential buyer or agent can be quite difficult, so ask a friend or neighbor to provide a second opinion. Chances are, they will notice areas for improvement that would never occur to you. If your budget allows, consider getting a professional opinion on how to best improve your curb appeal.

Take pictures: The majority of today's homebuyers will search through listings online before deciding whether or not they would want to see a property in person. Because of this, how well your property translates for real estate photography is an important matter to investigate. During the process of completing projects, try taking photos of your progress to help you see how well your efforts will translate for representation for the web. This process can also help you edit down any decorations that seem excessive.

Pay attention to the roof: When completing your walkthroughs and drafting a plan for your summer curb appeal project, it can be easy to focus on the grounds so much so that you forget to look up. Make sure to include the roof in your inspection to see if there are any missing shingles, or if gutters need a good cleaning. The roof is an important aspect of curb appeal that will be noticed by potential buyers.

Open up from inside: Windows provide a sneak preview of a property's interior, and is very much a part of curb appeal. Make sure that your window treatments look uniform and functional, and also make sure that any area of your interior that is visible from street view looks presentable and inviting as well. Because the visibility of your interior changes at different times of the day, be sure to perform a check from outside to see how things look at sunset and nighttime as well. It should be noted that interior lighting shining through during the evening can also be placed strategically in such a way that contributes to a warm, inviting glow for your curb appeal.

Create a clear path: Make use of stepping stones or walkways to create a clear path to your front door, so that guests do not have to guess which door to use. In addition, strategically placed walkways through a front yard, other than the driveway, creates visual lines that will force the eyes of pedestrians through your landscaping and to your front entrance.
Curb Appeal Ideas For This Summer
Once you have been equipped with summer curb appeal tips, it is time to start thinking about what kind of projects you would like to tackle this season. To help you get started, here are some curb appeal ideas that are currently trending:
Replace your house numbers
Give your front door a new color
Update the hardware
Repaint window shutters and trim
Add outdoor seating
Repave the driveway
Install exterior lighting
Add a hedge or fence
Plant something colorful
Incorporate planters and containers
1. Replace Your House Numbers
House numbers are having a moment in this year's list of curb appeal trends. If you haven't installed new house numbers since you moved in, chances are they are dirty and dingy. Many homeowners are opting to install new house numbers on a wooden panel, either painted or natural, or even on a post or wall in front of the home. Keep the desired style for your home in mind when picking out the font, color and finish of your house numbers.
2. Give Your Front Door A New Color
The front door can serve as a powerful focal point that helps draw the eyes of passers-by toward the exterior of your property. A gallon of paint is inexpensive, and the color of the front door can even be changed once every few years, if so desired. A pop of bright color can provide a nice contrast with neutral exterior walls, while conversely, white, black or natural wood can help play up more colorful swatches.
3. Update The Hardware
Updating the hardware on your front door is yet another low-cost, easy way to give your front entrance a more polished and inviting look. Replace the doorbell, lock and door handle, as well as the knocker, with either a modern design or a more traditional look. When selecting your hardware, make sure that the style helps to play up your overall design scheme rather than detract from it.
4. Repaint Window Shutters And Trim
Repainting the trim and window shutters around the exterior of your property is an opportunity to either freshen up your existing color scheme or help create a new look, altogether. Furthermore, the paint on exterior trim tends to require attention after several years, as they take a beating from weather conditions and from debris buildup. Some property owners will choose to make the trim match with the front door and window shutters for a cohesive look, or will choose a different color, such as white or dark gray, to provide some contrast.
5. Add Outdoor Seating
Outdoor seating is not only a great tool for creating focal points around your exterior, but it also creates a sense of warmth and welcome for visitors and potential homebuyers. Comfortable seating need not be limited to the porch; front yard hangout spaces are increasing in popularity, especially for homeowners who do not have the luxury of a spacious porch or backyard. Be sure to place furniture in such a way that plays up key focal points and design schemes.
6. Repave The Driveway
Cracked or damaged hardscapes are not only an eye sore, but pose a serious safety hazard for visitors. If your driveway or walkways are not up to par, consider making room in your budget for repaving. Incorporating a patterned scheme, or even a patterned border, can help add an elevated, luxurious first look to the property.
7. Install Exterior Lighting
As a low-cost project that provide a positive impact in multiple ways, installing exterior lighting to your property should be a no-brainer. Good lighting welcomes visitors at dusk and in the evening, and adds a feeling of warmth and attractiveness to your landscaping. Furthermore, exterior lighting is provent to help deter crime, helps neighborhood pedestrians feel more safe at night, and increases visibility for visitors. Solar light fixtures are both affordable and easy to install; place lights strategically to evenly illuminate walkways while highlighting your best attributes
8. Add A Hedge Or Fence
Whether you have a preference for a white picket fence or a natural hedge to add to your landscaping, creating a visual border around the perimeter will go a long way with prospective buyers. For example, a fence interlaced with flowers or local plants can boost the appearance of your property while serving as a barrier against distracting sights from neighboring properties.
9. Plant Something Colorful
The mixture of flowers, plants, trees and shrubbery placed around the exterior can define the mood of a property, while helping the personality of the homeowner shine through. Try playing with different levels and groupings of plants, as well as incorporating plants and flowers with pops of color to help create focal points around your front yard. Property owners who prefer a low-maintenance plan can select varieties that are native or do not require much care.
10. Incorporate Planters And Containers
Planters and containers are yet another opportunity to create a more interesting design while helping to bring different levels to your landscaping. Some property owners will even opt to use planters to help frame the porch or doorway, while others will use them to line driveways and walkways. Terra-cotta remains one of the most popular choices for planters, but containers made from unique materials, such as galvanized metal, can help add an interesting visual statement as well.
No matter how large or small your budget might be, there are plenty of curb appeal ideas to choose from to help get your exterior looking as good as new. Summertime is the perfect season to take advantage of, as the warm temperatures and longer days are conducive to working on exterior projects. Even the smallest and most inexpensive improvements can have a great impact on elevating the look of your property.
What kind of curb appeal ideas do you feel inspired to tackle this summer? Feel free to share in the comments below:
🔒 Your information is secure and never shared. By subscribing, you agree to receive blog updates and relevant offers by email. You can unsubscribe at any time.