Nobody wants to spend all summer working on a bathroom re-model or installing kitchen cabinets. However, knocking a few summer DIY projects off the list — that both beautify and improve your home — can be a great way to enjoy all that summer offers, while still making progress on long-term property goals you might have.
The trick is to find a balance, to find easy summer DIY projects that deliver the most bang for the home improvement buck, but still ensure those DIY projects for summer don't leave you in worse shape financially than you were before. And if those summer DIY house projects do more than just make your house more efficient — if those DIY summer projects actually make your home safer — all the better.
At the risk of filling your June, July and August with an over-abundance of summer home improvements — and make sure you have plenty of R&R over the next few summer months — here are some summer DIY projects that are impactful, relatively easy and won't make a huge dent in your wallet.
Summer DIY Projects For Any Budget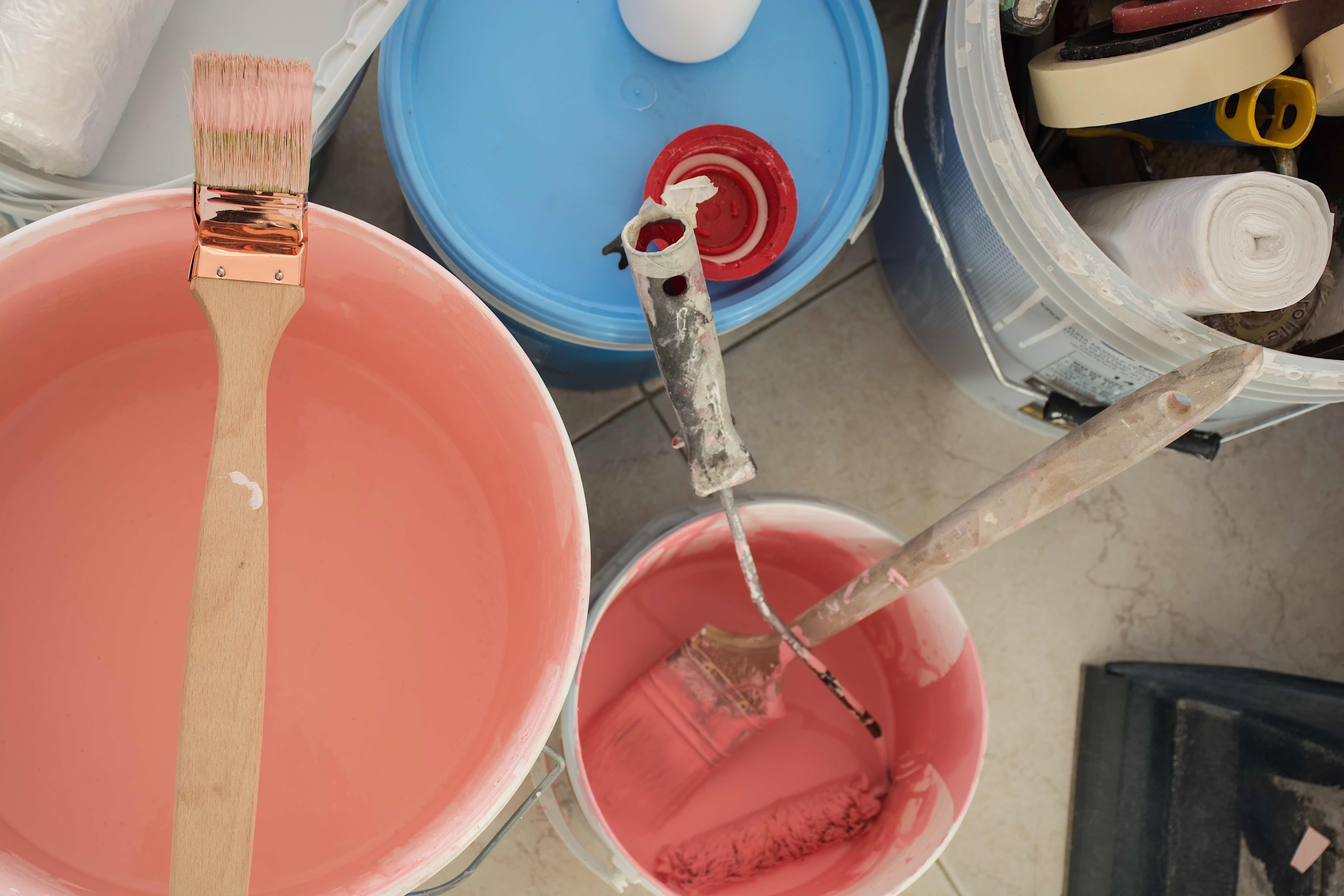 Fresh Coat of Paint
Painting a house can be a cost-conscious way to add serious color and pizzazz to your home without racking up a huge bill, especially if you pick your spots — and coordinate your colors — to find areas of your home where a splash here-and-there can go a long way.
Here are some ways that a couple cans of paint could make quite an impression on your property:
Furniture trims: Got a second-hand dresser or funky yard-sale end-table that's looking a bit past its freshness date? Give it a bit of paint to add new trim, or cover up small imperfections.
Doors: Painting the insets of doors with an accent color, especially in second bedrooms and bathrooms, is a great way to break out of the doldrums.
Front door: Don't forget about the front door. Giving your front door a splash of color can make a real impression not only on visitors, but on homebuyers as well. (Great for those working on a summer rehab property.)
A Layer of Mulch
Adding a layer of mulch to your property can be one of the cheapest (and most effective) DIY outdoor summer projects available. With a ton of free/cheap sources of mulch out there — shredded wood from tree services and your own grass clippings being just a few — there's no reason you can't leverage this strategy to keep your home looking its best.
That's because mulch has many benefits, including:
Weeding: The best DIY summer backyard projects are those that keep pesky weeds from showing up. And by laying mulch down in weedy areas, you'll be depriving them of the oxygen and light they need to survive.
Saves water: As fatal as mulch is to weeds, it's fantastic for plants, giving them a consistent source of moisture that will save you on water consumption.
Exterior: You'll be shocked how nice a 1-3 inch layer of mulch around your home's perimeter, and in garden beds, will look. (That is until you do it.) Even if you're rehabbing a summer fix and flip property, you'll find this a real crowd-pleaser with homebuyers.
De-Bug Your House
No, we don't mean updating the software of your home, although if you want to do that as well, knock yourself off. We mean literally de-bugging your home, keeping those annoying bugs away from your property, as best you can.
Though it's difficult to keep every kind of pest and critter away, here a couple great ways to ensure your fortress is as protected as possible:
Garbage lids: Making sure your garbage cans have tight-fitting lids can be a great way to keep bugs (and neighboring animals) out of your trash.
Piles of stuff: Though going through collected piles of junk isn't anybody's idea of fun DIY summer backyard projects, nothing invites rats and spiders like collections of yard waste. Be sure toys, tools — and other backyard detritus — are removed and dealt with, to keep your house free of uninvited guests.
Bushes: If it touches your home's foundation or siding, then it has a chance to attract critters. (This includes under decks or stairwells, too.)
Pools and birdbaths: Ponds and bird baths are lovely…until they start attracting mosquitoes. Summer is the perfect time to drain water features and replace them with fresh water, to ensure insects stay away.
Re-furbish your appliances
Don't worry, you won't have to send your appliances back to the factory. Summer is a great time for giving your heavy-duty appliances a once-over, so they operate at maximum effectiveness.
A couple key areas to look at include:
Washer & Dryer: Clean behind these units to remove lint or dust that's collected. As well, remove the dryer lint filter and use a vent brush to clean inside the cavity of the lint filter. (Good for fire prevention.)
Refrigerator: Not only is it a good idea to replace the ice maker (and water) filters, but also vacuum the fridge coils behind the fridge; just be sure to turn off the power first, to remove dust and cut down energy bills.
HVAC: Replacing the filters in your furnace, and all A/C units, is a great way to improve their efficiency. If in doubt, hire a professional to handle it for you. (It'll be worth it.)
Microwave: Cleaning a microwave doesn't have to involve tons of elbow grease. Just put a bowl of one cup water, 2 tablespoons of vinegar, and a chopped lemon inside the microwave, and turn on high for a few minutes. The steam will magically clean the microwave, and have it smelling as good as new.
"The Secret to Getting Ahead is Getting Started"
Just because a home improvement project isn't expensive, or complex, doesn't mean it can't have a huge impact on your property. In fact, many of the summer DIY projects we've discussed require very little capital, and just an hour or two to execute, but can make a profound difference on your home and well-being.