While historical appreciation served to remove Tampa from the doldrums of the last recession, gains have certainly tempered. In fact, appreciation rates in the Tampa housing market dropped into the red over the last quarter. Over a period of three years, appreciation rates went from more than 4 percent to -9 percent. At that rate, the current median home price in Tampa is approximately $145,000. However, experts familiar with the market expect appreciation to increase over the course of a year. Forecasts suggest Tampa real estate should benefit from a 2.6 percent increase in home prices over the next 12 months. The national average, however, is over $216,000, with appreciation rates currently just under 5 percent.
Despite having an appreciation rate that lags behind the rest of the country, Tampa real estate has managed to regain a lot of lost equity. A number of homeowners that were once underwater finally have a little breathing room, permitting more housing activity. Even the Tampa real estate investing community has benefited from said gains. The following highlights how much equity has been gained relative to the year of the home's purchase:
Homes purchased in the Tampa housing market one year ago have depreciated, on average, by $12,517. The national average increased by $12,783 over the same period.
Homes purchased in the Tampa housing market three years ago have appreciated, on average, by $12,821. The national average was $55,406 over the same period.
Homes purchased in the Tampa housing market five years ago have appreciated, on average, by $17,642. The national average was $49,675 over the same period.
Homes purchased in the Tampa housing market seven years ago have depreciated, on average, by $54,056. The national average actually increased by $9,474 over the same period.
Homes purchased in the Tampa housing market nine years ago have depreciated, on average, by $39,669. The national average, however, increased by $3,419 over the same period.
Tampa Real Estate Market Statistics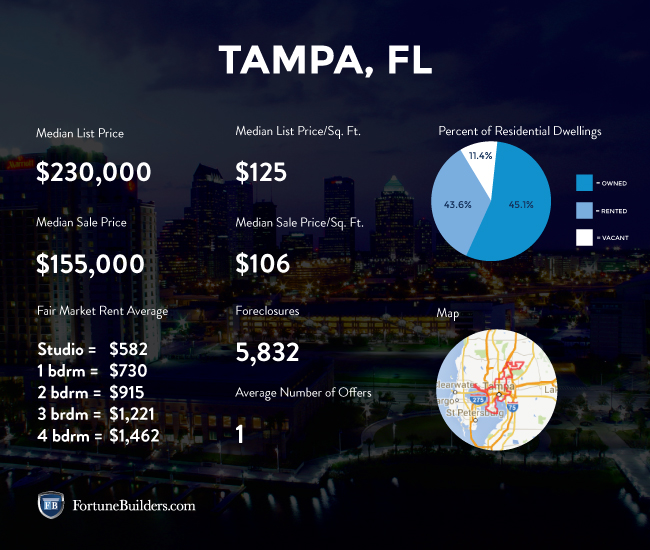 Florida has been the beneficiary of a statewide conservative effort to promote the job sector. Efforts to improve jobs in the Sunshine State have been met with relative success, as Florida's unemployment rate dropped to its lowest level since April 2008. Tampa, for all intents and purposes, was a contributing factor to the improvements. Tampa now boasts an unemployment rate of 5.5 percent, just under the national average. No more than one year ago, Tampa had an unemployment rate of 7.1 percent, representing a year-over-year decrease of 1.6 percent. However, unemployment is not the only indicator of a healthy job sector. Of particular concern is the area's job growth rate. At just over 1 percent, Tampa lags behind the rest of the country. In other words, local employment growth is poor and needs to improve. While showing signs of improvement, Tampa still trails other Florida metros like Orlando, Jacksonville and Miami.
The Tampa housing market continues to show signs of life, with affordability serving as the main facilitator. Accordingly, Tampa continues to remain one of the nation's most affordable markets. Even though Tampa is currently above historical affordability levels, homeowners allocate less than 8 percent of their income to monthly mortgage payments. That is less than half of the national average. As such, Tampa could attract many first-time buyers. Millennials, in particular, should find Tampa to be an attractive destination because of affordability alone.
Affordability is likely the reason behind international interest in the Tampa housing market. Having said that; Tampa has become a primary target for foreign investors. Nearly 11 percent of Tampa's home sales were foreign in nature. In fact, Tampa has surpassed Miami in terms of sales to non-U.S. residents. Looking to escape the cold, Canadians make of the largest pool of foreign investors taking stakes in Tampa.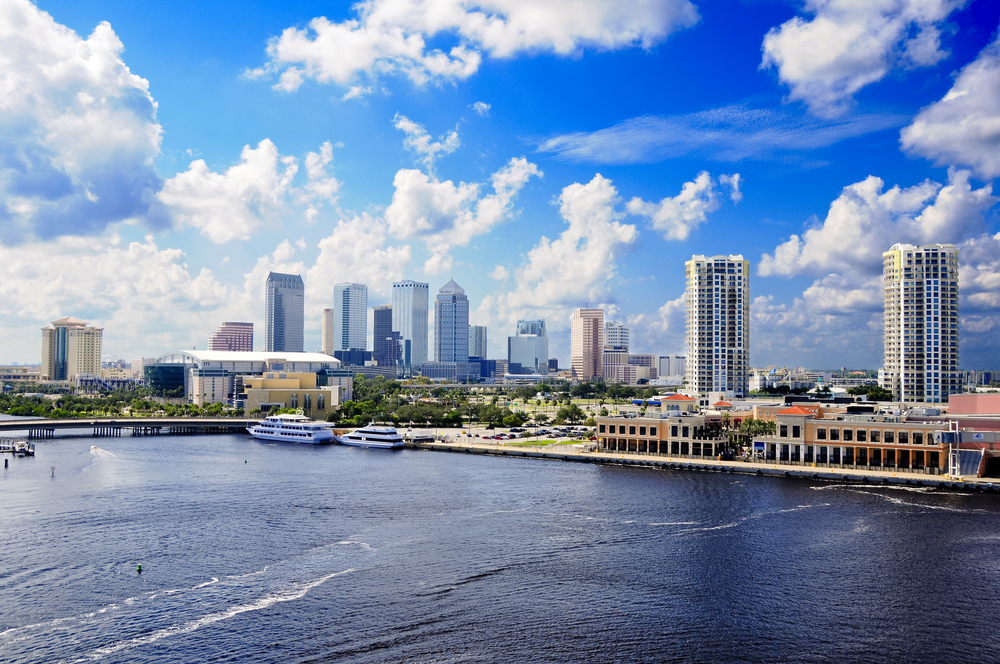 According to Zillow, the number of delinquent homes in Tampa nearly doubles the national average. Those behind on mortgage payments make up 12.4 percent of the market, whereas the national average is 6.4 percent. Actual foreclosures, on the other hand, while down from a year ago, are higher than the national average. According to CoreLogic, Tampa's percentage of severely delinquent homes surpassed both that of Florida and the United States as a whole. As of the last quarter of 2014, nearly 5 percent of the homes in Tampa were somewhere in the process of foreclosure.
The Tampa housing market recovery is incredibly localized, as is the case with most cities. Nonetheless, neighborhoods in the Tampa area perform at different levels. Trulia has run the data and found the following neighborhoods to be the most popular:
Old Seminole Heights
Tampa Palms
Hunters Green
Sun Bay South
Davis Island
Recognized as the most popular neighborhood in the Tampa housing market, Old Seminole Heights has an average listing price of $171,175. However, week-to-week price adjustments were all but negligent in this particular area. The most activity was seen in Golfview, a neighborhood that didn't crack the top five. Despite being what many might call a "luxury" housing area, Glofview saw its average listing price increase by more than 68% in a matter of a week.
Tampa real estate has certainly faced its fair share of challenges since the recession, but optimism abounds. Experts have every reason to believe that Tampa is heading in the right direction, despite its high foreclosure rates. Forecasts already call for more appreciation and the job sector should support a steady balance of supply and demand. Moreover, affordability should continue to attract a rather sizable Millennial population to take advantage of the equity that current owners have finally reestablished. Perhaps even more importantly, are the numbers released by the latest S&P/Case-Shiller index. Out of 20 of the country's major metros, Tampa real estate exhibited the strongest monthly increase in home prices at the end of 2014. The Tampa housing market registered a healthy 0.8 percent gain. Homes are now well about their post-recession lows and nearly back to their 2006 highs.
Tampa Housing Market Summary:
Current Median Home Price: $145,000
1-Year Appreciation Rate: -9.3%
Unemployment Rate: 5.5%
1-Year Job Growth Rate: 1.3%
Population: 352,957
Median Household Income: $45,880
Average Days On Market: 78
Tampa Housing Market Q1 Update:
In the last quarter alone, the Tampa housing market has made up a lot of ground. Home values have grown relative to both last quarter and last year. What was once a poor appreciation rate, Tampa homes have now appreciated by as much as 7.6 percent in the last year. That is higher than the national average of 6.7 percent. According to the National Association of Realtors (NAR), the median home price in Tampa is now $156,000.
Data presented to us by Realtor.com suggests that Tampa listings are only a small fraction of the 7,303,592 properties and 202,644 homes for sale in Florida. As a result, the average home price and average home value of Tampa also influence the average home price ($208,737) and average sale price ($256,681) of Florida. More specifically, the affordability of Tampa real estate actually brings down the value of Florida real estate.
Of course, Tampa real estate investing should benefit from said affordability. There is one section of the market in particular where spreads are more attractive: the distressed property market. According to RealtyTrac, Tampa has about 5,417 homes in some state of foreclosure (default, auction or bank-owned) – each of which has the potential to turn into a deal for savvy investors. There is really no denying the opportunity in front of the Tampa real estate investing community.
When it comes down to it, distressed properties offer better spreads. Non-distressed homes in Tampa have an average sales price of $143,000.  Foreclosures, on the other hand, have an average sales price of $70,700. That is a savings of more than $72,000 per property, or a discount of more than 50 percent. Who wouldn't find those spreads attractive?
While the housing sector seems to be firing on all cylinders, the local job market is only supporting its progression. Unemployment in Tampa has dropped once again, and now sits at a respectable 5.3 percent. However, the most encouraging news in the job sector comes in the form of job growth. In a matter of just one quarter, the 1-year job growth rate has more than doubled to 2.9 percent, easily outpacing the national average.
Tampa County Map: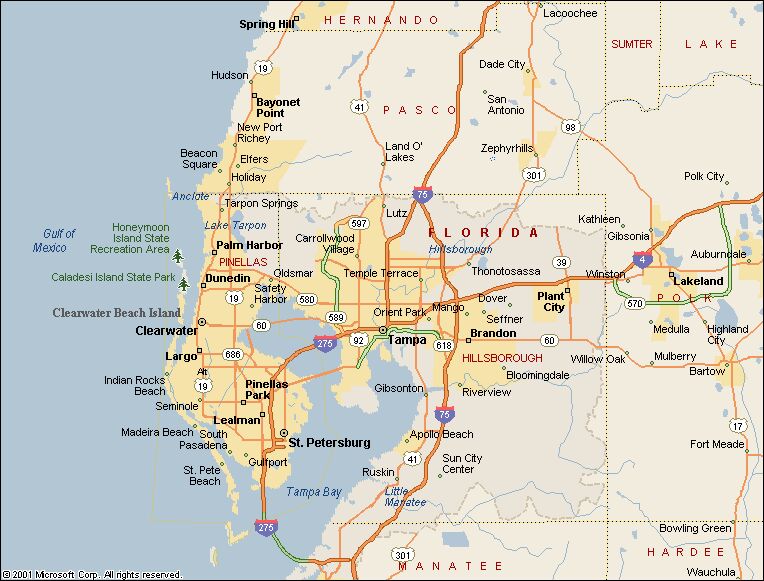 *The information contained herein was pulled from third party sites. Although this information was found from sources believed to be reliable, FortuneBuilders Inc. makes no representations, warranties, or guarantees, either express or implied, as to whether the information presented is accurate, reliable, or current. Any reliance on this information is at your own risk. All information presented should be independently verified. FortuneBuilders Inc. assumes no liability for any damages whatsoever, including any direct, indirect, punitive, exemplary, incidental, special, or consequential damages arising out of or in any way connected with your use of the information presented.