Experiencing tiny home living is attractive to many, whether it be to lead a minimalist lifestyle, to save on housing costs, or to start a tiny home rental business. Some people consider building their own tiny home as part of the experience. If DIY isn't your cup of tea, you can leave it to the professionals. Here's our roundup of the top 5 tiny home builders across the nation.
The 5 Best Tiny Home Builders
Although tiny homes may be small, the decision to invest is still a big one. Many tiny house builders will compete for your business, but not all are created equal. You'll want to consider a variety of factors, such as cost, construction timeline, shipping area, and quality of materials. Do you want a custom tiny home or a production-built one? Do you need to meet the requirements for off-grid living? These are all questions that only you can answer.
Here's our selection of the 5 best tiny home builders based on our criteria:
Tumbleweed Tiny House Company

Tiny Heirloom

Mustard Seed Tiny Homes

Custom Container Living

Mint Tiny House Company
1. Tumbleweed Tiny House Company
Sustainability often tops the list of priorities for homebuilders, and if you agree, Tumbleweed Tiny House Company is a great contender. The company offers a wide range of tiny home styles, all of which can be delivered anywhere in the U.S. Their tiny homes are certified green, evaluated independently by the TRA Certification.
Tumbleweed also allows shoppers to customize their tiny homes online, complete with 3D virtual tours and flexible payment plans.
Military member, teacher, or first responder? Make sure to take advantage of the special pricing offered.
2. Tiny Heirloom
If you're looking for a truly custom home, look into Tiny Heirloom. This tiny home builder designs each home from scratch, allowing customers to go through a collaborative design process to get every specification they want.
Not exactly sure what it is that you want? Don't worry; Tiny Heirloom also offers production homes.
3. Mustard Seed Tiny Homes
Not sure if you want a tiny home, a modular home, or something in between? Mustard Seed Tiny Homes offers tiny houses on wheels, park-ready homes, and tiny houses on foundation models. This means you can drop one of their homes onto a foundation to make it a permanent home. (This is an option that most tiny home builders don't offer.)
Mustard Seed also offers a wide variety of tiny home styles, such as contemporary, farmhouse, modern, and traditional. Shoppers who aren't sure what they want and need room for improvisation should check out this builder.
4. Custom Container Living
Aspiring to be an eco-conscious homeowner? Custom Container Living is dedicated to reclaiming and upcycling old shipping containers into tiny homes. Although you'll be somewhat limited in terms of the exterior shape of the home, you can play with a variety of floor plan styles. This builder also offers some of the most affordable models available.
5. Mint Tiny House Company
Mint Tiny House Company is known for providing RV-style tiny homes that meet each customer's needs. They offer several unique based models to choose from, featuring a variety of sizes and styles.
Mint focuses on maximizing space and comfort. For instance, one model offers a gooseneck hitch that can fit a full-sized bed, while another model features a double-pitched roof to maximize loft space. With such a wide variety of options to choose from, customers can likely find a model that fits their desires and not just their needs.
---
[ Thinking about investing in real estate?
Register to attend a FREE online real estate class
and learn how to get started investing in real estate. ]
---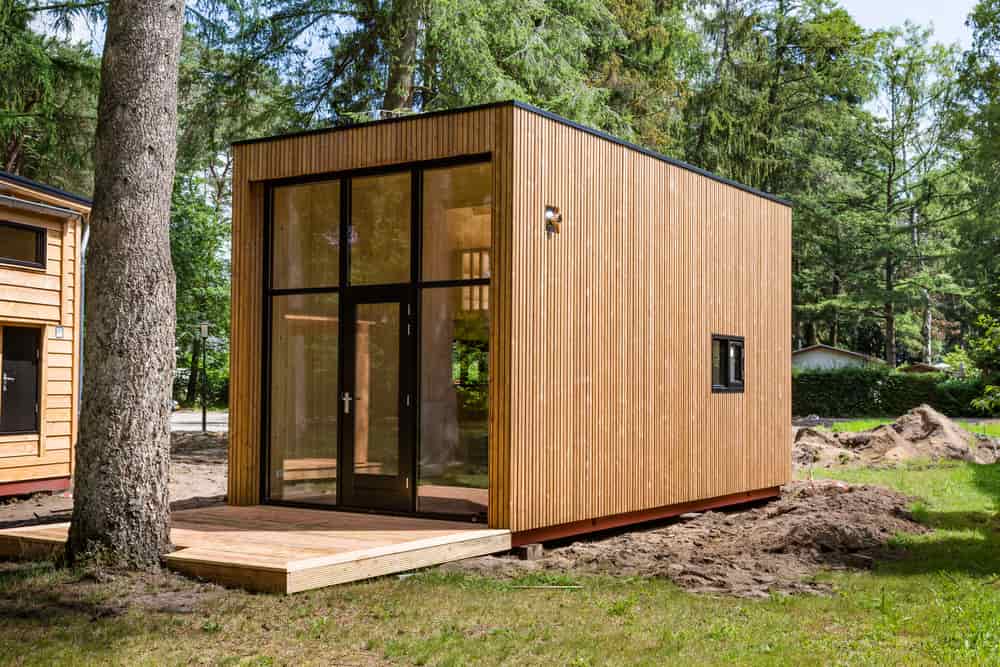 What is a Tiny Home?
A tiny home is a property between 100 and 400 square feet, typically featuring an extremely efficient design to allow for the best use of space. For context, the average size of a single-family home in the United States is 2,500 square feet. To make up for the missing space, tiny homes often have large windows, high ceilings, and furniture that serves multiple purposes.
Tiny homes can be built in a variety of forms, including as mobile homes or permanent structures. While some tiny home owners build their own structures from the ground up, others convert existing buildings into tiny homes. For example, sheds and storage containers can be converted into tiny homes. These properties are thought to have emerged in the 1970s, though they have become most popular in recent years.
Benefits of A Tiny Home Investment
As you might be able to guess, the most significant benefit associated with tiny home investments is the cost. Due to their small size, tiny homes have relatively low purchase prices compared to traditional properties. Many investors will be glad to know the price is not the only advantage:
Minimize Maintenance/Operating Costs: A smaller home means less area to maintain over time. This is great news for investors in regards to marketing the property and reducing operating costs.

Potentially Profitable: Tiny homes can be operated as long or short-term rentals, offering investors the chance to earn passive income from these small properties.

Cheaper Utilities: These small properties are known to have less utility usage, which can save investors, owners, or renters money in the long run.

Minimize Ecological Footprint: Not surprisingly, tiny homes are associated with a more environmentally friendly way of life. From the small size to low upkeep, tiny homes aim to minimize their own ecological impact.

Occasional Location Flexibility: If you opt for a mobile tiny home, the location can change over time. This flexibility can be an interesting addition to any real estate portfolio.
Drawbacks of A Tiny Home Investment
The number one challenge faced by aspiring tiny home owners is where to build or place the home. Many locales have zoning laws that regulate a minimum square footage for builds in that area. If you move farther out, securing the necessary utility connections may be difficult. Here are a few other cons to keep in mind before buying a tiny home:
Limited Space: It's not always easy to live in a 400-square-foot (or less) space, especially if you have spent your entire life in a larger home. This hurdle can be challenging when marketing the property.

Mortgage Complications: Generally speaking, most mortgage lenders have a minimum loan amount around $60,000 (much more than the average price of a tiny home). Investors may need creative financing methods or cash to finance a tiny home.

Unclear Market: While tiny homes have grown in popularity in recent years, it's hard to predict exactly how they will fare 10 or 20 years down the line.
How Are Tiny Homes Valued?
Tiny homes are valued at about $300 per square foot, roughly two times the price per square foot of a traditional home. However, tiny homes remain to be significantly more affordable than conventional properties. The difference in the price per square footage can be attributed to the efficient design of tiny homes.
When searching for your own tiny house investment property, consider building one. This strategy can result in long-term savings and allow you to customize the property. Like traditional real estate, certain features are associated with a higher return on investment, such as heating, AC, or laundry space. However, you should only attempt to build if you have an experienced team; mistakes can be costly.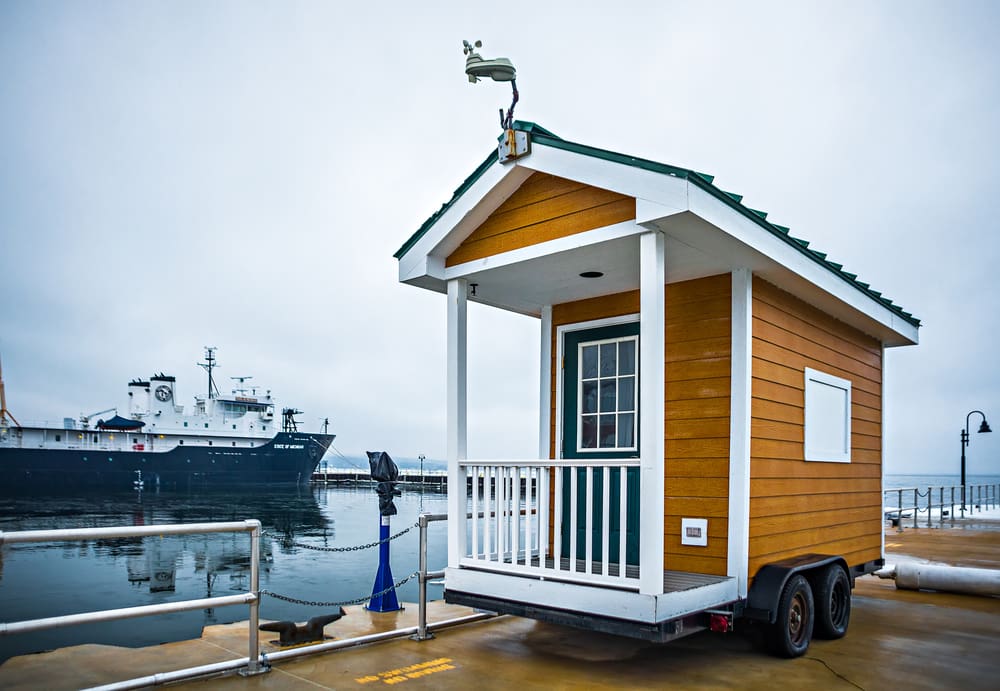 How To Choose The Best Tiny Home Builder
Choosing the best tiny home builder is no easy task. Due to the popularity of tiny homes, there are many great manufacturers out there.
Before picking a tiny home builder, we recommend first checking your local code restrictions. For instance, tiny homes built on foundations might require permits. These permits may have minimum requirements that must be met, including square footage or setbacks from other buildings. This is just one example that demonstrates city code-imposed requirements that will influence your decision-making.
You'll also want to determine factors that are important to you, such as cost, sustainability, design, and customization. The best tiny home builder for you is the one that best aligns with your priorities.
Some of the best tiny home builders are flexible enough to meet all of your needs. For instance, they could offer affordable options, payment plans, and customizations that meet every budget.
How to Invest in a Tiny Home
When looking at the question, "is buying a tiny house a good investment?" It is important to realize that tiny home investments can exist in many forms. Numerous real estate investing strategies can be executed to make a tiny home lucrative. Here are a few of the most common ways to invest in a tiny house:
Rent Recreationally
Depending on the market, tiny homes can make great short-term rental properties. You can opt to list the property on a rental website and manage the place yourself, or work with a property management company. Either way, adding a tiny home investment to your portfolio could create a steady stream of passive income.
Build Yourself
Building a tiny home can be a profitable strategy with the right execution. When you are done building, you can sell the completed home or rent it out over time. The most important thing to keep in mind here is to plan an efficient build. Pay attention to timing, permits, and materials, as these costs can add up quickly, even on a small project.
Invest in a Monthly Rental
Tiny home investments can also be rented to long-term tenants on a monthly basis. This strategy offers tenants the chance to experience the lifestyle of a tiny home without the obligation of buying. For investors, monthly rentals provide consistent passive income and a less hands-on property management approach.
Flip Existing Tiny Homes
Interestingly enough, tiny homes make excellent candidates for fix and flip properties. The reason is that the stakes are often lower with a smaller, more affordable home. Investors can rehab these properties and sell them for a profit, usually in less than six months. Over time, you can even build up a network of owners and other investors to bring in consistent leads.
Tiny Home Builder FAQs
Choosing to build a tiny home is a big commitment, so you're entitled to ask all the questions you need to help you make your decision. The following are the answers to some of the most popular questions about tiny home builders.
What is the largest possible size of a tiny home?
There are no laws or standards that oversee the size of a tiny home. In other words, it can technically be as small or large as you'd like. However, if you want your tiny home to be mobile, the largest possible size is 13.5 feet tall and 8.5 feet wide. Otherwise, it can't be towed.
Where should I build my tiny house?
California, Oregon, Florida, Texas, and North Carolina are the best states for tiny home building. That's because these states offer the most flexibility for tiny home construction.
What is a tiny home disadvantage I should know about?
For most people, the biggest disadvantage of a tiny home is the lack of space. It can be tough to condense your life into a fraction of the living space that you're used to. However, part of the fun of a tiny home is constructing creative storage and furniture solutions.
What are the advantages of living in a tiny home?
One of the main reasons people decide to go tiny is affordability. Tiny homes are generally much less expensive to build or purchase, relative to full-sized homes. You can also expect to save on tax and utility costs.
There are also people who are drawn to tiny home living because they're interested in living more simply and leaving a smaller carbon footprint. Many tiny home models are built sustainably, and further, by having much less storage space, you're consuming much less. Some individuals and families transition to a tiny home because they want to focus more on travel and life experiences over consumerism.
What is the lifespan of a tiny home?
Tiny homes can last 30 to 50 years with regular maintenance and upkeep. However, their lifespan is shorter if they are constantly on the move.
Summary
Tiny homes offer great investment opportunities for homebuyers and investors alike. Not only are they more affordable relative to traditional homes, they also leave a smaller environmental footprint.
Although tiny home living isn't everyone's cup of tea, it can be a great option for homebuyers on a smaller budget.
Tiny homes also make for great rentals. A vacation property investor might list their rustic tiny home on Airbnb and attract hordes of vacationers looking for a novelty experience. A homeowner with extra space on their land might rent out a tiny home for additional income. Because they are mobile and small in size, the opportunities with tiny homes are endless.
If you're ready to go tiny, be sure to consult our list of the best tiny home builders.
---
Ready to start taking advantage of the current opportunities in the real estate market?
Click the banner below to take a 90-minute online training class and get started learning how to invest in today's real estate market!