Still looking for a few easy summer DIY projects that you can complete yourself?
Nothing says summer like spending time enjoying the outdoors; waking up to the warm morning sunshine and relaxing in your backyard with a steaming cup of coffee is a great way to start the day. Splashing around your pool and working on your tan is the perfect way to spend the afternoon. A neighborhood barbecue under the setting sun and twinkling stars is the ideal way to conclude the day. Right?
Everyone wants their home to be the ultimate accommodation for a "staycation," however, it is often assumed that doing so will come at a high price. But what if you could make both your backyard and the inside of your home even more inviting? By executing these 10 summer DIY projects, you'll be on your way to creating a beautiful at-home oasis.
Summer DIY projects have a tendency to sound complicated. People go online in search of fun arts and crafts ideas only to find themselves having a meltdown in isle 43 at Home Depot, unable to find the right sized nails or that state-of-the-art glue gun the project "requires". The end result winds up being a dilapidated birdhouse and a distraught family. Fortunately, my partners at CT Homes and I put together a list of summer DIY projects so easy to do, even your toddler can help!
Summer DIY Projects Anyone Can Enjoy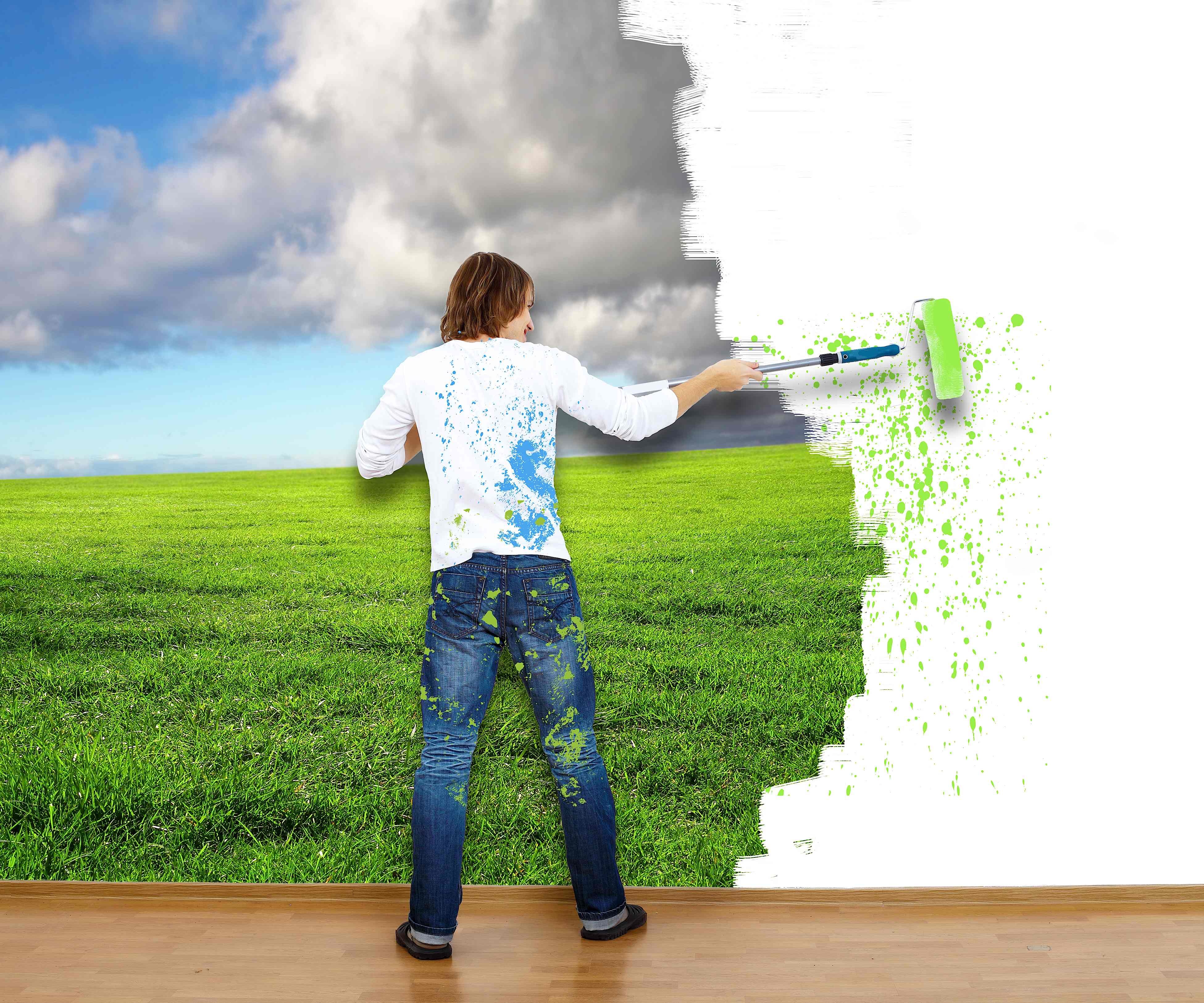 Whether you are looking to sell your home this summer and are in need of a few ideas to spruce up the place so that it appeals to potential buyers, or you just want to transform it into the most envied house on the block, these summer DIY projects will do just that:
1. Rejuvenate Your Solar Lights: Solar lights are currently all the rage. Not only are they good for the environment, but they are also great for keeping your electricity bill to a minimum. However, if you own solar lights – or you plan to invest in some in the future – you are probably already aware that the plastic that covers the solar cells becomes extremely cloudy. So much so that only a small amount of sunlight can reach the cells to recharge the battery. If your solar lights are experiencing the same "frostiness", all you need is acetone and clear nail polish! Simply clean the solar cells with a cotton ball and acetone, and immediately paint an even coat of clear nail polish on top. Be sure to paint the polish on the cells before the acetone is dry for the best effect. Once you complete this project, your solar lights will be able to capture far more sunlight, and will look as good as new.
2. Transform Cinder Blocks Into Flower Pots: Bet you never thought you'd be able to find a use for those old cinder blocks gathering dust in your backyard. However, this simple summer DIY project will transform that cement into something functional and nice to look at. Using a color of your choice, start by painting the cinderblock with several coats of paint followed by a sealer. Once dried, turn the cinder block on its side and place it in the desired location. Fill each side of the cinder block with dirt and plant different seeds on both sides. Voila! After proper tending to and watering, you will soon have a beautiful, blooming flower pot.
3. Create A Pinecone Bed: Sick of your plants being eaten by those pesky backyard inhabitants or destroyed by your own pet? Worry no more! Creating a simple pinecone bed is sure to keep the pests away and the plants alive. Simply purchase pinecones at your local craft store – or go for a hike and save as many as you can find on the trail – and pour them into your flower bed. Not only will this give your backyard an alluring woodsy illusion, it is also the perfect trick to keep critters from climbing through and nibbling on your shrubbery.
4. Make Your Trampoline Safer: Jumping on a trampoline is a summertime activity that can keep children – and even some adults – entertained for hours. Great for parents who want to get chores done around the house, but not so great when you think about your child accidentally hurting themselves. If you're worried about your child injuring themselves on the springs of your trampoline, this easy DIY trick will save both you and your child the trouble. Head to your local drug store and purchase 10 to 20 pool noodles (depending on the size of your trampoline). Cut each noodle in six inch strips and slice an additional vertical line down the middle, making sure to cut only halfway deep. Finally, strap each 6 inch strip around each spring on your trampoline, giving it that extra safety precaution.
5. Spray Paint Your Outdoor Pebbles: Perhaps one of the most fun summer DIY projects is spray painting your outdoor pebbles. Whether you have a walkway that is made up entirely of rocks, or you have small garden pebbles in between the tiles of your walkway, this DIY hack is for you. Opt for your favorite color of glow-in-the-dark spray paint from your local craft or hardware store. Make sure to apply an even layer of spray paint on every side of all of your pebbles. Let them dry and put them back where they belong. Wait for the sun to set and you'll see a beautiful glowing path in your backyard, perfect for late night barbecues!
6. Get Rid Of Unattractive Weeds: Fed up with those irritating weeds that always seem to overtake your backyard every summer? If you have weeds that continue popping up between the cracks in your back or front yard, head to your nearest hardware store to purchase a tube of concrete crack sealant. Not only will it look like you just re-caulked your cement, you also will no longer have to worry about those unattractive weeds.
7. Craft A Pillow Quilt: Nobody wants to be forced to go back inside after a long day of having fun in the outdoors, which is why creating a giant pillow quilt is one of the most useful summer DIY projects. If you've got a plethora of old throw pillows you never use – or you don't mind spending a little cash purchasing a few at home goods store – then it is time to get sewing. Simply sew the corners of each pillow together in a giant rectangular shape. You will love the finished product: a massive pillow quilt, perfect for picnics, sleepovers, or outdoor movie viewing.
8. Build A Rope Swing: Few things are more fun than swinging away your worries on a homemade rope swing. All you need is one carabiner, a round or rectangular piece of wood (to use for the seat), and a long piece of natural rope. Natural rope is best for a homemade swing because it won't stretch out like nylon, and the last thing you want is to play on a swing that continues to get longer until it is no longer usable. The first step is to drill a one inch hole in the middle of the seat. Next, it is important to mind your own due diligence to find the type of knot that is safest for creating a tree swing. There are a number of tree-climbing knots with tutorials on how to tie them online, so it is ultimately up to personal preference. Tie your prefered knot to a secure tree branch and attach the carabiner so that the swing can be easily taken down and put back up. Once you have the rope hanging in place, figure out the height you want the swing to hang and tie the seat in place. Finally, push the rope through the seat and tie a solid know underneath. Cut off the excess rope – making sure to leave a small tail – and you've just created the perfect rope swing!
If you plan to sell this summer, executing these summer DIY projects will surely put you ahead of the competition. If not, you and your family will be able to enjoy the benefits for the rest of the year.