Whether you're interested in flipping houses or just want to make sure your properties are as valuable as possible before you sell them, you'll probably need to hire at least a couple of contractors. But there are several different types of contractors in the construction industry, and real estate investors must know how to differentiate them so they hire the right professionals for the job.
Today, let's break down 20 different types of contractors all real estate investors should know.
What is a Contractor?
A contractor is any professional service or individual who provides labor to a construction project. But in many construction contracts, "the" contractor is usually the prime or main contractor, like the business owner, manager, or chief of work who works directly with a project lead or organizer. Furthermore, another business or contractor hired by the first or general contractor may be called a "subcontractor".
In any case, contractors are companies or individuals that real estate investors can hire to perform specific construction, maintenance, or repair tasks. Depending on what your investment project needs, you may need a particular type of contractor or have to hire several distinct contractors who will work together.
---
[ Thinking about investing in real estate?
Register to attend a FREE online real estate class
and learn how to get started investing in real estate. ]
---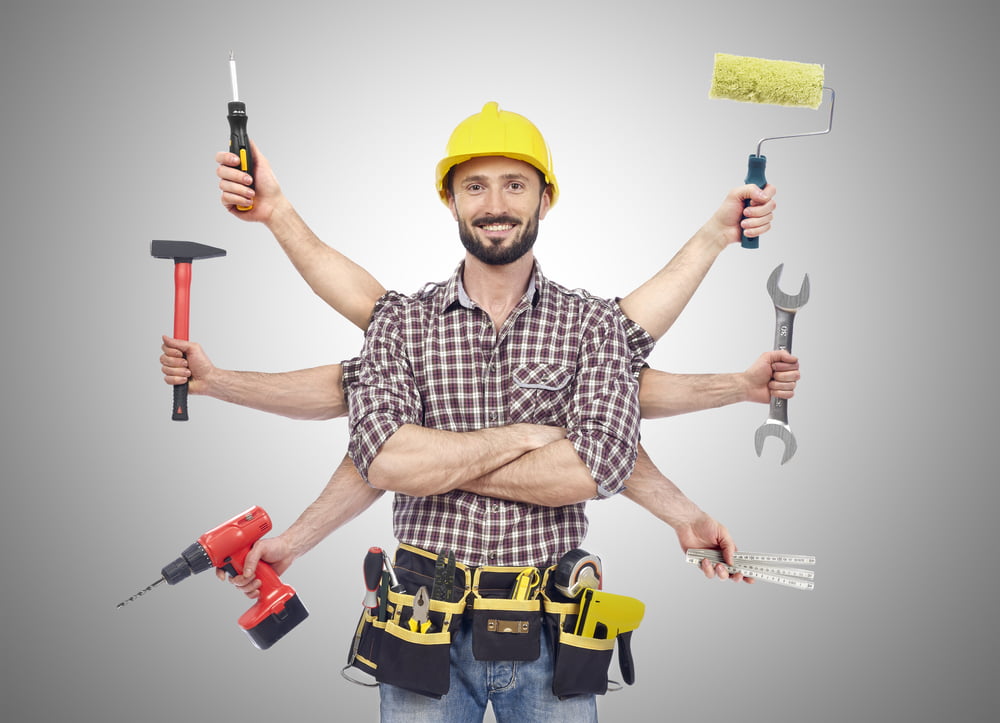 20 Types of Contractors for Your Project
The larger the construction project, the more contractors are necessary to complete the work. Even small residential homes may require a dozen contractors and subcontractors in total to handle everything from instruction to maintenance checks to plumbing to electrical and more.
With that in mind, let's explore the 20 most important contractors you need to know about – and may eventually need to contact – as a real estate investor.
General Contractors
Electricians
Concrete Subcontractors
Framing Contractors
Carpenters
Iron & Steel Contractors
Plumbing Contractors
HVAC Subcontractors
Window & Door Contractors
Fire Alarm & Sprinkler Contractors
Roofing Subcontractors
Insulation Contractors
Flooring Subcontractors
Painting Contractors
Landscaping Subcontractors
Masons
Concrete Specialists
Excavators
Demolitionists
Special Trade Contractors
1. General Contractors
A general contractor is any person or firm that directly contracts with a project owner, like a real estate investor. General contractors will fill many roles, including scheduling and managing subcontractors or directing the broader project and its progress.
2. Electricians
Electricians are specialized contractors that run wiring through a new building and install electrical service boxes. Depending on what the job calls for, they may also install lighting, outlets, and switches for electrical appliances or devices.
3. Concrete Subcontractors
Concrete subcontractors will handle all of the concrete construction and maintenance needs of a job, including foundation pouring, floor cementing, parking lot creation, and so on. Some specialized concrete subcontractors may also make concrete reinforced slabs, providing these supplies to the building site.
4. Framing Contractors
Framing contractors are responsible for setting up the structure of a new building or building addition. This can include metal or wooden framing depending on the specific job. Additionally, some framing contractor companies may install windows and doors. In certain cases, general contractors take on the framing contracting role (though it is dependent on their business capabilities or model).
5. Carpenters
Carpenters are woodworking specialists who handle the construction of all the wood elements of a residential or commercial building. In some projects, they may also handle the framing responsibilities described above.
6. Iron & Steel Contractors
Iron and steel subcontractors are companies or people responsible for building steel or iron beams, providing iron and steel supplies or tools like specialized screws or bolts, and so on. Iron and steel subcontractors are often called for commercial projects, as most residential structures are made of wood and nonmetal materials.
If wooden framing isn't an option for a job, a steel contractor might erect the structure's frame or skeletal silhouette.
7. Plumbing Contractors
Plumbers are vital contractors as they handle backflow prevention, water supply pipes to kitchens and bathrooms, and installing necessary appliances into utility closets. Furthermore, plumbing contractors can be contacted for repair or maintenance jobs during a fix and flip project.
8. HVAC Subcontractors
HVAC contractors handle air-conditioning systems, heat exchangers, boilers, air handlers, and anything else required to heat and/or cool a home or commercial building. Some HVAC subcontractors may also deal with refrigeration jobs, such as the construction of cold storage facilities for restaurants or warehouses.
9. Window & Door Contractors
As their name suggests, window and door contractors handle the installation of these portals. However, their responsibilities may also fall under a project's general contractor or framing contractor. In many cases, window and door contractors are only called for specialty jobs or for window and door replacements/upgrades.
10. Fire Alarm & Sprinkler Contractors
Fire alarm and sprinkler subcontractors are always responsible for installing smoke detectors, fire control panels, and any other alarms that may be necessary depending on building codes and unique potential hazards in the area. In some cases, these responsibilities are contracted out to electricians and plumbers, however. Many commercial jobs require specialized fire and alarm sprinkler contractors.
11. Roofing Subcontractors
Roofing subcontractors perform the roofing projects necessary for a residential or commercial building, including installing rubber roofing membrane, metal roofing products, asphalt shingles, and anything else that may be needed. They may also be responsible for installing or maintaining gutters and drainage pipes at the top of the building.
12. Insulation Contractors
Insulation subcontractors are specialists who handle installation jobs for energy-efficient buildings, including the installation of foam or mineral wool or providing new materials to prevent temperatures from affecting a building's interior. In some cases, general contractors will handle these tasks.
13. Flooring Subcontractors
Flooring subcontractors will put down a building's finished floor near the end of the project, handling the installation of carpet, hardwood, vinyl flooring, tile, or anything else. Some flooring subcontractors are further specialized into one or two types of flooring.
14. Painting Contractors
Painting contractors are responsible for painting the interior indoor exterior of the building. They can be called to make a new building look finished or be contracted to improve an existing building during a fix and flip project.
15. Landscaping Subcontractors
Landscaping subcontractors handle tons of work around a project's exterior and property. They can repair ground damage that occurs due to heavy construction equipment, install gardens or lawns, handle water features and walkways, and add accents to a project to improve curb appeal or finish a home improvement project.
16. Masons
Masons for masonry specialists handle a few dedicated jobs on a project – anything with stone, essentially. This can include the installation of fireplaces or patios, constructing stonewalls, and so on. Naturally, masons are only contracted for jobs that require their unique skill sets.
17. Concrete Specialists
In contrast to standard concrete contractors, concrete specialists will elevate the appearance of a home or commercial building by adding decorative concrete elements like concrete countertops. Some concrete contractors double as specialists and can handle these responsibilities as well.
18. Excavators
Excavation contractors or excavators are some of the first contractors on a new real estate or construction job. They handle tasks like column drilling, land grading, trench digging, and foundation set up, preparing the construction site for future contractors and their responsibilities.
18. Demolitionists
Demolitionists handle the complete or targeted destruction of a property or a specific section depending on what you need. They also handle removing debris from the job site so that construction or renovation can proceed unhindered.
20. Special Trade Contractors
Any contractor that doesn't fit into the main categories above may be categorized as a special trade contractor by the Occupational Safety and Health Administration. These can include but are not limited to mobile home site setup contractors, postal diggers, turf installers, bowling alley installers, and so on.
These contractors will only be necessary if your construction project calls for them specifically.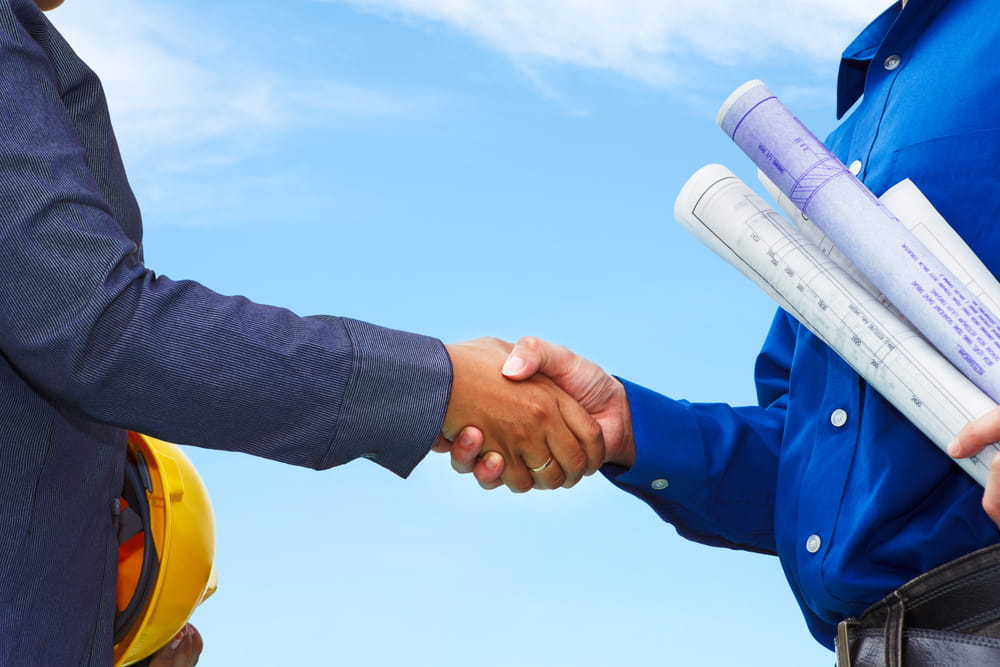 How to Find Different Types of Contractors
With so many different contractors to contact, it can be tough to find the perfect contracting agency or firm for your project's needs. Fortunately, there are multiple channels you can look into to contact the right people.
Search on Construction Websites & Agencies
First, you can look on dedicated websites or agency listings for contracting companies. These include:
Association of General Contractors
Associated Builders and Contractors
Any local trade organizations
You can also look into the Yellow Pages and similar advertising channels for local contractors who may be able to complete a construction project on a short timeframe.
Search on Social Media
Next, leverage the power of social media and use it to find contractors and subcontractors. Any successful business these days will have a social media page and website, including local contractor organizations.
Social media gives you an advantage in that it lets you check out their reviews and current clients. This will give you a window into what it will be like to work with them and will help you make an informed and educated decision before you sign on the dotted line.
Plus, many contracting companies post images of their completed projects on their social media pages. This is good evidence of what your project will look like when a given contractor is done with their task(s).
Consult Trusted Contacts
If you've already been in the real estate investment industry for some time, you might have built up a few contacts like realtors, other investors, and more. If needed, you can contact your friends and associates and ask them which contracting companies they use for their fix and flip or construction projects.
They might be able to point you toward reliable workers and companies that will charge you a fair price for their services. At the end of the day, nothing is as reliable as word-of-mouth.
Interview Potential Contractors
No matter who you end up considering for your next project, be sure to interview any potential contractors before offering them an actual contract. You should ask them lots of questions including:
Whether they have handled a project like yours before
If they have all the necessary insurance documents and licensing paperwork so they can work legally
What their safety records are
If they can provide a credit check for their business
By asking all these questions, you'll have a much better idea about their capabilities, legitimacy, and their work history. When it comes to safety records, remember that no news is good news, as it means they haven't had any notable accidents in the recent past.
Review Their Contractor Profiles
Even if you have a good feeling about a contracting company after an interview, do yourself a favor and review their contractor profile. Contractor profiles are collections of critical data that will tell you a lot about what it will be like to work with a given firm.
In total, contractor profiles will include:
The payment practices of the company
Their dispute history, if applicable
Past liens
Reviews left by other contractors, which may be important if you need to hire multiple contracting firms to complete a given job (such as during a big fix and flip or construction project)
When you consult a contractor profile, all the information will be compared against the profiles of other contractors as a "Payment Score". This will provide an excellent benchmark for reference and help you determine whether they charge a fair rate for their services.
Ultimately, doing your due diligence and ensuring that you only hire an excellent contracting company is good not only for your bottom line and project outcome, but it's also good for your clients and future tenants.
Summary
Contractors are a necessary part of the real estate investment and construction industries. After all, someone needs to put together the buildings, repair them, and maintain them for years to come. So long as you know how to interview contracting companies and understand the different types of contractors to hire, your investment projects will go off without a hitch.
---
Ready to start taking advantage of the current opportunities in the real estate market?
Click the banner below to take a 90-minute online training class and get started learning how to invest in today's real estate market!