Pending home sales in the U.S. increased for the third consecutive month in April and reached its highest level since 2006, according to a new report by the National Association of Realtors.
Pending home sales, which are purchases under contract, were up 4.6 percent from the previous year, according to the Pending Home Sales Index, which monitors contract signings. Home sales still under contract rose to 5.1 percent to 116.3 in April from a revised 110.7 in March. The index has now increased year-over-year for 20 consecutive months.
"The ability to sign a contract on a home is slightly exceeding expectations this spring even with the affordability stresses and inventory squeezes affecting buyers in a number of markets," NAR chief economist Lawrence Yun said.
"The building momentum from the over 14 million jobs created since 2010 and the prospect of facing higher rents and mortgage rates down the road appear to be bringing more interested buyers into the market."
Mortgage rates continue to stay low, hovering below four percent in 16 of the last 17 months. According to Yun, rates are expected to remain around four percent in coming months, but inflation could soon play a factor in the housing market.
"Even if rates rise soon, sales have legs for further expansion this summer if housing supply increases enough to give buyers an adequate number of affordable choices during their search," Yun added.
The NAR report predicts approximately 5.41 million homes to be sold in 2016–a three percent increase from last year.
"April is often a bellwether month for how the spring and year will wind up," said Jonathan Smoke, chief economist at Realtor.com. "We saw almost a half-million new listings come onto the market in April, so buyers appear to be jumping on the fresh inventory."
The NAR report shows that all major U.S. regions saw gains in contract activity last month except for the Midwest. According to the report, the West saw the number of properties under contract shoot up 11.4 percent from March to April, and 2.8 percent higher than the year before.
"We're seeing the uptick in the spring selling market," said San Diego Realtor Michael Wolf. "This year, it happened to be a little more intense than other years."
"All those properties that came on the market are getting gobbled up quickly," Wolf added. "If you're priced well and have done the necessary things to make your property look good, you should sell in a week or less."
Pending home sales in the South climbed 6.8 percent to a Pending Home Sales Index of 133.9 in April, which is 5.1 percent higher than the previous year. The Northwest rose 1.2 percent to 98.2 in April, and is currently 10.1 percent higher than the previous year. The Midwest slightly declined in April to 112.9 in April, which is still 2 percent above April 2015.
The Pending Home Sales Index is based on "a large national sample, typically representing about 20 percent of transactions for existing-home sales." According to the NAR report, a sale is listed as pending when the contract has been signed but the transaction has not yet closed.
New-Home Sales Jump To Highest Level In 8 Years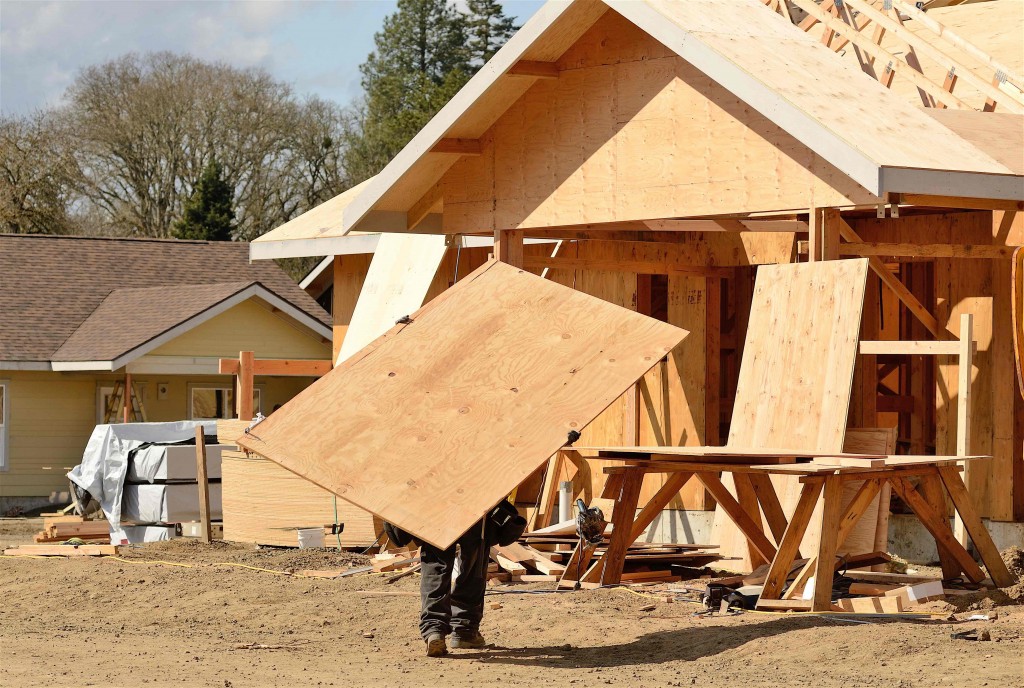 Earlier this week, the Commerce Department released figures showing that purchases of new homes in the U.S. surged in April to its highest since the start of 2008. New home sales spiked 16.6 percent at a seasonally adjusted annual rate of 619,000 in April.
"The new home sales numbers are wildly volatile so it's hard to separate the signal from the noise over short periods," said Pantheon Macroeconomics' Ian Shepherdson.
"Still, the jump in April is statistically significant — just, the margin of error is +/-15.4 percent — and it is consistent with the increase in mortgage demand."
New home sales continue to be unpredictable, particularly on a regional stage. In April, purchases of new homes jumped 53 percent in the Northeast and 19 percent in the West, with the Midwest falling five percent, while the South increased 16 percent.
"Easier credit conditions mean that the sustained surge in employment is finally boosting the pool of potential buyers who can qualify for mortgages," said Shepherdson. "We don't now expect sales to rise much further in the short-term, but we do hope the trend can be established around the 600k mark over the next few months."
Another positive sign for the housing market was revealed last week when Home Depot and Lowe's both reported strong earning, as well as big homebuilder stocks Pulte and KB Home rallying on the home sales news.
"The outlook for housing is very strong for the remainder of the year, even with the prospect for modestly higher interest rates and relatively modest pace of economic expansion," Russell Price, a senior economist at Ameriprise Financials Inc, told Bloomberg.
🔒 Your information is secure and never shared. By subscribing, you agree to receive blog updates and relevant offers by email. You can unsubscribe at any time.