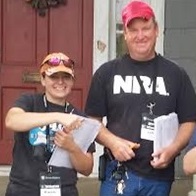 Kassie Clausen Victory
JK Property Options, LLC in Douglass, TX
Kassie Clausen with Jeff Clausen

Type(s) of Victory: Started using a system
I recently started on the path of getting my real estate license - I am moving into week three of my classes and have already learned a lot. As most of our coaches know, our most local city doesn't have realtors that are really willing to work with investors, so we have been forced to focus our efforts in another city that is working with us. However, we still try to push our way into the market locally, but hopefully in a few months I can hang my license with a broker and tackle things on our own since no one is willing to work with us. I also hope that I can offer my services to other investors or Fortune Builder students who have also decided to invest in other surrounding cities due to this same issue with our local realtors. Texas is not always as friendly as we would like to think it is; maybe I can help change it in this small way here locally within the coming year.
Shout Outs & Testimonials
Thank you to all of our coaches that have helped us to try and work around the realtor issue - shout outs to David Barnes and Mel Feller for definitely sure in this area of our learning! We can't thank you both enough!
---