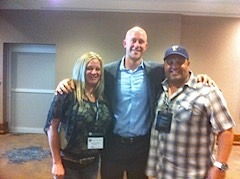 Larry Andress Victory
A&T Real Estate LLC. in Buckholts, TX
Larry Andress with George Tomek

Type(s) of Victory: Reached a personal goal, Reached a business goal, Paid it forward somehow, Helped someone in Mastery, Implemented an individual system, Found a great team member, Closed on another deal, Sold another deal, Rehabbed a beautiful property, It was just awesome
My name is Larry Andress and my business partner, George Tomek and I successfully bought, refurbed and sold 3 properties . We have 3 other properties going now in different phases of the refurb process. At this rate, my partner and I stand to successfully buy/refurb& sale 10 homes in our first year of existence.
Shout Outs & Testimonials
This past 8 months have been a whorl wind that I've created for myself. Fortune Builders has been a major influence in my life and people like Ralph Plumb, Mark Royer and George Tomek & several others have been instrumental in my business A&T Real Estate LLC. Being able to successfully buy/refurb/&sale over 10 property's and start to really make this real estate thing real to everyone in my life. 20 property acquisitions are my goal for the 2nd year of my company's existence.
---