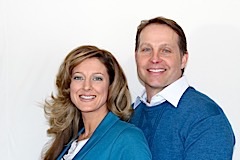 Tammie delaBarre Victory
ROCK Property Solutions in Denver, CO
Tammie delaBarre with Jay delaBarre

Type(s) of Victory: Reached a personal goal, Reached a business goal, Found another income stream
We walked out of our first Bootcamp with the contacts and momentum to purchase 4 rental properties, our very first deal within FortuneBuilders. We knew we wanted to utilize our 401k funds to buy Passive Income but hadn't known how until connecting with the Fortune Builder resources at NCH. Within 2 weeks, we had 4 properties under contract with Memphis Invest, but we needed the purchasing money. NCH made the process of transitioning our 401k to a self-directed fund very easy so it was accessible to purchase the properties. The beautiful thing about these transactions is that they never effected our day-to-day income or cash. Everything was handled from within our newly established, self-directed SoloK accounts. And, to top it off, in just under 11 years, we will have doubled our investment plus have Passive Income on which to retire, without touching our equity. Can your 401k do that?!
Shout Outs & Testimonials
Ryan Connell of FortuneBuilders and Amanda Holbrook of Memphis Invest got the momentum going. At the Orlando Bootcamp Inner Circle networking event, Ryan introduced us to Amanda and the rest was history. Great teamwork!
---