Nestled amidst the eastern shore of the Florida Panhandle, the city of West Palm Beach is a popular destination for both tourists and budding technology enterprises. With an influx of money entering the city from all over the world, the West Palm Beach economy has managed to outperform many of its metropolitan counterparts nationwide. That said, the West Palm Beach real estate market has generated a lot of momentum over the last few years, so much so that it's nothing short of a seller's market. High prices and availability are currently leaning in favor of current owners, but that doesn't mean there aren't plenty of investment opportunities.
West Palm Beach Real Estate Market 2022 Overview
Median Home Value: $362,459

Median List Price: $339,000

Median Listing Home Price/Sq Ft: $245

1-Year Appreciation Rate: +29.3%

Median Days On Market: 56

Homes Sold Above List Price: 31.6%

Number Of Homes For Sale: 766

Weeks Of Supply: 1.1

Median Rent: $2,689

Price-To-Rent Ratio: 11.23

Unemployment Rate: 3.0% (latest estimate by the Bureau Of Labor Statistics)

Population: 117,415 (latest estimate by the U.S. Census Bureau)

Median Household Income: $54,603 (latest estimate by the U.S. Census Bureau)
---
[ Thinking about investing in real estate?
Register to attend a FREE online real estate class
and learn how to get started investing in real estate. ]
---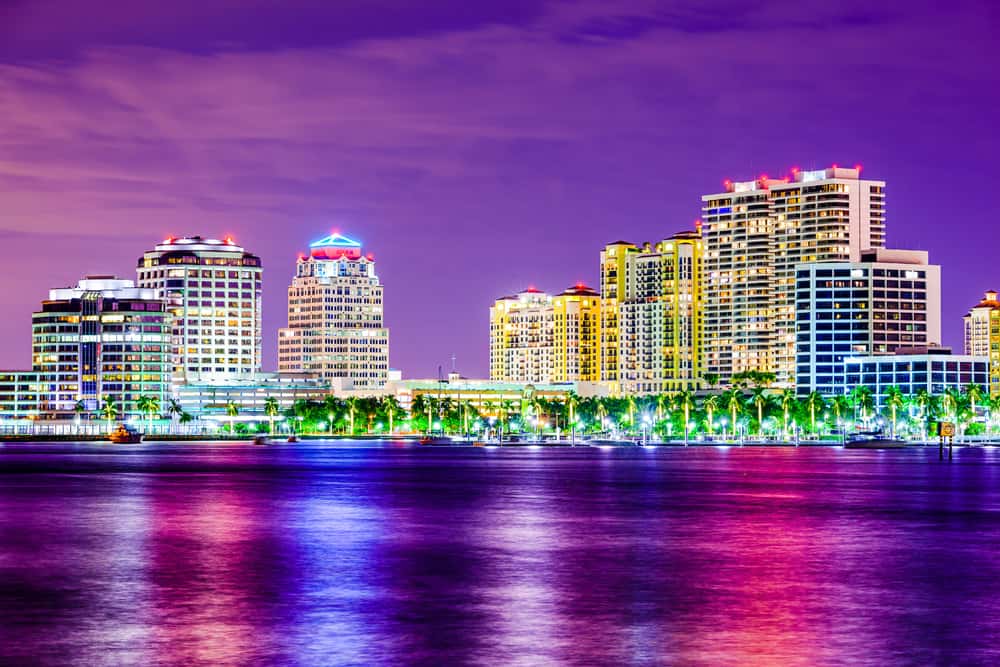 West Palm Beach County Housing Market Trends
Not surprisingly, West Palm Beach housing market trends are in line with their national counterparts. That is to say, the current state of the real estate market in West Palm Beach is largely the result of the pandemic and its lingering effect on the local economy. Supply and demand constraints left behind in the wake of COVID-19 have culminated in the following trends:
Supply Trends: The same supply issue facing the national real estate market is very apparent in the West Palm Beach housing market. With a mere 1.1 weeks of supply, West Palm Beach's inventory is almost nonexistent. Over the last year, single-family home inventory has dropped 45%, and townhouse/condo inventory is down more than 75%. The decline is the result of increasing demand in the face of rising interest rates. Buyers have been particularly active with the hopes of beating higher interest rates. Subsequently, fewer owners are willing to sell because of the prices and competition they will be met with on the buyer side of the market.

Home Price Trends: Few locations have seen their median home values increase at a faster rate than the West Palm Beach real estate market over the last two years. Since the start of the pandemic, in fact, local home values have increased by 39.4%. For context, the median home value in the United States has increased by about 32.0%. The difference may be attributed to a growth in work-from-home trends that enabled more people to work wherever they wanted. With the West Palm Beach real estate market already being a desirable destination, it only makes sense that prices would increase with demand.

Appreciation Trends: The West Palm Beach County real estate market has appreciated at an almost exponential pace over the last few years. Moving forward, expect the same trends to continue—albeit at a slightly slower pace. Higher interest rates should temper demand. With fewer buyers competing over available inventory, prices are likely to rise, but not at a pace that will match the last few years.

Rental Trends: With buyers being forced out of the market by completion and exorbitant prices, more and more people are turning to the rental market. However, rentals are now facing the same pressures as traditional units. As more renters enter the market, prices are rising and will continue to do so for the foreseeable future.

Investor Trends: Higher home prices have eaten into investor returns over the last few years. Profit margins drop with each dollar of appreciation. However, interest rates are still low enough to favor long-term investors. In particular, many West Palm Beach real estate investors are turning to rental units. Lower interest rates can help offset higher acquisition costs and increase monthly cash flow from properties placed in operation.

West Palm Beach Foreclosure Statistics
According to ATTOM Data Solutions' February 2022 U.S. Foreclosure Market Report, a total of 25,833 U.S. properties received a foreclosure filing (default notices, scheduled auctions, or bank repossessions) over the course of February. The same report acknowledges that foreclosures are up 1.0% from the previous month and 129.0% year over year.
"February foreclosure activity looks a lot like what we can expect to see for at least the next six months – double-digit month-over-month growth and triple-digit year-over-year increases," said Rick Sharga, executive vice president at RealtyTrac, an ATTOM company. "This isn't an indication of economic turmoil, or of weakness in the housing market; it's simply the gradual return to normal levels of foreclosure activity after two years of artificially low numbers due to government and industry efforts to protect financially impacted homeowners from defaulting."
Nationwide foreclosures are expected to rise over the course of 2022. At the very least, the expiration of foreclosure moratoriums and government assistance programs will increase delinquencies. As a result, it is safe to assume foreclosure will increase across the country. However, it is worth noting that the West Palm Beach real estate market's economy has fared relatively well. Unemployment, in particular, is relatively strong, and should play to many homeowners' advantage.
Nonetheless, foreclosures are expected to rise. Investors should heed forecasts and prepare for what is in store, lining up financing for future acquisitions. Those with financing in place could simultaneously help distressed homeowners avoid foreclosure and secure a deal of their own.
West Palm Beach Median Home Prices
The median home price in the West Palm Beach real estate market is somewhere in the neighborhood of $362,459. The median home value has increased for 10 consecutive years, dating back to the end of the last recession. The largest gains have occurred in the last two years.
At the onset of the pandemic, home values remained relatively stagnant, even dropping for a short period of time. However, no more than a few months later the local rat estate market began to appreciate and never looked back. Thanks—in large part—to lower interest rates, government stimuli and pent up demand, competition increased home prices. Over a two-year period, competition has led to a 39.4% increase in home prices, which was well ahead of the national pace.
Prices have marched higher, and 2022 will look to continue the trend. However, the Fed's decision to increase interest rates and prohibitively expensive homes will most likely decrease demand; that's not to say demand will disappear entirely, but rather that will drop incrementally. Though it is expected to be small, the drop in demand will ease the stress placed on the West Palm Beach real estate market's insufficient inventory levels. As a result, prices are expected to continue rising, but at a slightly slower pace than in previous years.

Palm Beach Real Estate Market: Should You Invest?
West Palm Beach real estate market trends have brought local prices to a tipping point. With prices as high as they are today, profit margins are proportionately slimmer. In the last year alone, prices grew nearly thirty percent. Simply put, price increases have been eating into profit margins in West Palm Beach for years, and investors are starting to take notice.
Prices are testing new highs each month, which begs the question: Is West Palm Beach a good real estate investment? The simple answer is yes, but it's not enough (nor is it recommended) to simply buy any property and invest without a proper exit strategy. Instead, new indicators created in the wake of the pandemic are leaning heavily in favor of long-term rental properties.
Four metrics, in particular, are drawing the attention of the West Palm Beach real estate investing community:
Lower borrowing costs

Lower risk of vacancies

Cash flow potential

Historically high home values
According to Freddie Mac, the average commitment rate on a 30-year fixed-rate mortgage reached 4.17% in March. While rates are up slightly year to date, they still represent a great buying opportunity. For starters, lower borrowing costs will help justify today's higher home values. Additionally, lower mortgage rates will help West Palm Beach real estate investors increase cash flow from properties placed in operation. At the very least, the less rental property owners are obligated to spend on their mortgages each month, the more they can pocket from rent checks.
Lower boring costs will help investors buy physical real estate assets which are growing in demand. If for nothing else, West Palm Beach's price-to-rent ratio suggests it is actually cheaper to own than rent. However, the lack of inventory will turn ready and willing buyers into renters. Even those who can afford to buy will be relegated to the renter pool, increasing the need for rental units and decreasing the risk of vacancies for real estate investors.
Investors are lucky to have several viable exit strategies at their disposal in the West Palm Beach real estate market. Still, none appear more attractive than building a proper rental property portfolio in the wake of the pandemic. Too many important market indicators are pointing towards becoming a buy-and-hold investor to ignore.
Summary
For as bad as forecasts got during the pandemic, the West Palm Beach real estate market has had an incredible run. For all intents and purposes, the city has taken the new indicators created by COVID-19 and run with them. Home prices have appreciated at historical rates, the job sector looks strong, and housing activity is higher than ever. The culmination of all these things is a great sign for both West Palm Beach real estate investing and its residents. It is only a matter of time before the area's real estate industry is firing on all cylinders.
---
Ready to start taking advantage of the current opportunities in the real estate market?
Click the banner below to take a 90-minute online training class and get started learning how to invest in today's real estate market!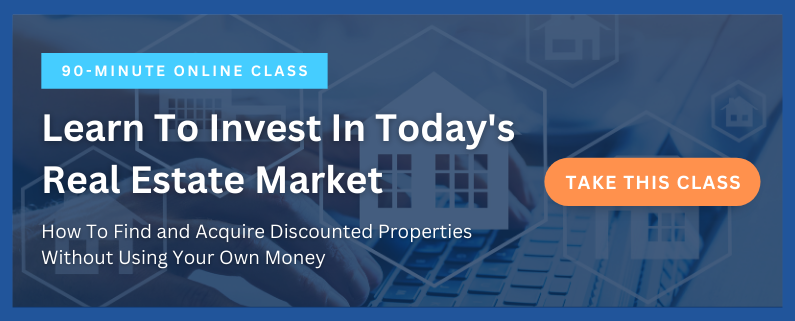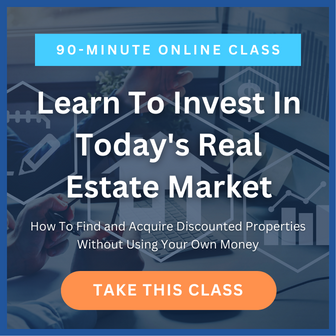 Sources
https://www.zillow.com/west-palm-beach-fl/home-values/
https://www.zillow.com/home-values/
https://flpalmbeach.com/market-reports/
https://www.bls.gov/eag/eag.fl_westpalmbeach_md.htm
https://www.census.gov/quickfacts/westpalmbeachcityflorida
https://www.zumper.com/rent-research/west-palm-beach-fl
https://millersamuel.com/charts-category/west-palm-beach/
https://www.redfin.com/city/19373/FL/West-Palm-Beach/housing-market
https://www.realtor.com/realestateandhomes-search/West-Palm-Beach_FL/overview
https://www.rockethomes.com/real-estate-trends/fl/west-palm-beach?type=buyer
https://www.attomdata.com/news/market-trends/foreclosures/
*The information contained herein was pulled from third party sites. Although this information was found from sources believed to be reliable, FortuneBuilders Inc. makes no representations, warranties, or guarantees, either express or implied, as to whether the information presented is accurate, reliable, or current. Any reliance on this information is at your own risk. All information presented should be independently verified. FortuneBuilders Inc. assumes no liability for any damages whatsoever, including any direct, indirect, punitive, exemplary, incidental, special, or consequential damages arising out of or in any way connected with your use of the information presented.