by Than Merrill | @ThanMerrill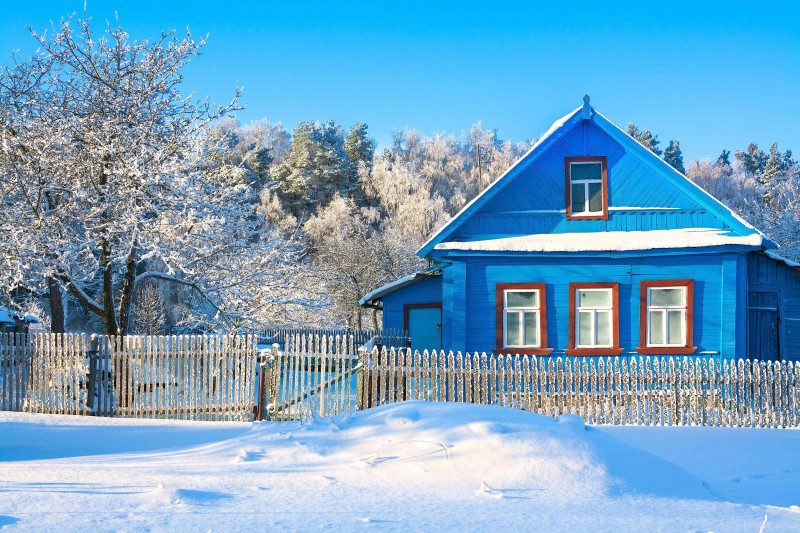 Simply because winter tends to be a slower time of year with regards to the real estate market doesn't mean your home won't sell. However, if you want prospective buyers to brave the cold in order to visit your open house, you're going to have to prioritize your winter curb appeal design.
Making a good first impression is crucial for those looking to sell in winter because no buyer is going to be willing to leave the comfort of their heated car to check out a house with an unappealing exterior. In fact, exceptional curb appeal can add as much as 10 percent to the total selling price of a home, and that statistic holds even more weight over winter.
No homeowner wants to spend time away from their families and forego holiday-spirited activities to instead enhance their winter curb appeal designs, but doing so can be easier than you think. Scroll through the following slideshows and browse the top winter curb appeal designs of 2016 that have home buyers saying "wow."
Winter Curb Appeal Designs: Seasonal Decor
One of the easiest ways to embrace the holiday season and add to your home's curb appeal is with seasonal decor. That's not to say you have to exceed your personal budget and go overboard with ornamentation, but small adjustments can make a lasting impact. Even the most subtle holiday details can entice prospective buyers to have a further look inside. So affix a candy cane decal to your front door or let a new snowfall blanket your lawn. Buyers are more likely to appreciate your enthusiasm when it is apparent.
SEASONAL DECOR

Indulging in holiday spirit is as easy as you make it out to be.On a budget this year? Instead of breaking the bank with expensive decor, embrace the snow! Nothing is more breathtaking than a home covered in freshly fallen snowflakes.

SEASONAL DECOR

If you want to be a bit more subtle with your seasonal decor this year, opt for adorning your front porch with old-fashioned lanterns. Not only are they useful, but also just enough to get people in a wintery mood.

SEASONAL DECOR

Who says your holiday decorations are required to stay in your living room? Share your seasonal cheer with the rest of the neighborhood by bringing your decorations outside.

SEASONAL DECOR

Looking for a piece of decor that will be relevant year round? A traditional roman or greek statue has a timeless elegance that will appeal to buyers covered in winter snow or summer sun.
Winter Curb Appeal Designs: An Outdoor Pond
Looking for a piece of decor that will compliment your home both during the holidays and throughout the year? Want to find some unique home improvements that add value to a property? An outdoor pond is the way to go. A front yard water feature comes with an essences of elegance and is sure to impress prospective buyers. So jump on this 2017 bandwagon and install an outdoor pond.
OUTDOOR POND

Keep it simple with a small pond covered in lily pads and perhaps filled with coy fish. This is easy to maintain and looks great in the winter.

OUTDOOR POND

If you've got extra space to play with in your front yard, super size your water feature. Cover it in ivy or other shrubbery, and you've got a landscape that is sure to intrigue prospective buyers.

OUTDOOR POND

Not ready to commit to a large pond? Opt for a bird bath instead. It will get the same point across and, as an added bonus, turn into an ice-skating rink for your chirpy friends in winter.

OUTDOOR POND

To really impress buyers, consider installing a pond that features an active waterfall. You'll be mentally transported to a beautiful log cabin in the snowy mountains every time you look out your window.
Winter Curb Appeal Designs: Festive Lights
Festive lights are a great way to show that you and your family are full of holiday cheer – something any buyer will get excited about. If flooding your front yard from roof to lawn is a tradition you love taking part in, don't renounce the ritual just because you plan to sell. If a prospective buyer sees a home decked out in colorful lights, they'll be able to picture themselves enjoying the same festivities when the house is theirs. If you're on a tight budget, or extreme holiday decor is not your thing, consider installing a few solar lights in the front yard to give your house a subtle glow. Remember, simplicity is the utmost form of sophistication. If you still want to embrace the holiday hoorah without the strenuous act of putting up tons of lights, opt for a single strand draped over a hedge or wrapped around a tree – just enough to give your home a little something extra.
FESTIVE LIGHTS

Considering the perfect compliment? Meet somewhere in the middle of overboard and subtle. Hang up seasonally themed decorations to give your home just the right amount of flair.

FESTIVE LIGHTS

If the holidays are your favorite time of year, on the other hand, feel free to go overboard with the decorations. Homebuyers will appreciate your enthusiasm.

FESTIVE LIGHTS

Keeping it plain is okay. If you prefer a simple sparkle over an over-stimulating light show, opt for a single strand of white lights. Just the right amount of festivity.

FESTIVE LIGHTS

If putting up those pesky holiday lights every year is the bane of your existence, ditch them for something easier. Turn off your outdoor lights and crank up the ones inside to create a beautiful glowing effect.
Winter Curb Appeal Designs: Red Trim
A hue that often comes to mind during this time of year is red. So if you want your home to appeal to buyers this season, consider adding a splash of red somewhere on your home's exterior. A fresh coat of paint is one of the best ways to attract buyers, so if you're considering touching up your trim – or even your whole house – opt for a shade of red. Not only is red a bold color that will catch the eye of passersby, it is also a great way to show off your seasonal spirit. Additionally, brick is indirect way to give your property a splash of red and it was one of the most common materials used in home remodel this year – a win win.
RED TRIM

Brick has grown in popularity among homebuyers over the past decade. So if you don't love the red trim look, get the color without the paint by using brick.

RED TRIM

If you really want to take it to the next level, select a nice crimson red for your home's entire exterior. Remember, red is a bold color; if you opt for this choice, make sure to keep the rest of your decor simple.

RED TRIM

Red trim not your thing? Start small and consider a red door instead. The pop of color provides a great contrast and always catches the eye.

RED TRIM

Do red trim the right way and pair it with a neutral-color exterior. Not only will it look perfect for the holiday season, it will also stand out to buyers for the rest of the year.
Winter Curb Appeal Designs: Winter Shrubbery
While it might be near impossible to maintain a flourishing garden in wintertime, there are certain plants that will thrive and add a much needed burst of color to an otherwise dreary curb appeal. If the "greyness" of the season is bringing you down, consider planting your yard with any or all of these blossoms. From the fiery red of huckleberry to the sunshine yellow of winter jasmine, scatter any of these color flowers in your front yard and you'll give prospective buyers a snapshot of how beautiful your property looks in spring.
WINTER SHRUBBERY

The huckleberry plant is perfect for wintertime because the red berries contrast so magnificently against crisp white snow.

WINTER SHRUBBERY

If you prefer a neutral color scheme, plant several cattails in your front yard. Not only will they bloom throughout winter, they are also the perfect addition to a low-maintenance curb appeal design.

WINTER SHRUBBERY

The pink hue of a cherry blossom tree is undeniably appealing, not to mention the lovely fragrance they will offer to prospective buyers.

WINTER SHRUBBERY

Missing the bright colors of spring and summer? Conserve the cheer year round by planting winter jasmine. Gazing at the rich yellow color is sure to keep you smiling throughout the frost of winter.
Make your winter curb appeal design a top priority this season and your home will fly off the market.
🔒 Your information is secure and never shared. By subscribing, you agree to receive blog updates and relevant offers by email. You can unsubscribe at any time.