Key Takeaways
When done right, winter curb appeal can help your property shine well past the colder season.
Cold weather plants and winter door decorations are among this years best winter curb appeal trends.
Winter home decor is great for homeowners and real estate investors looking to get into the holiday spirit any year.
---
Simply because the real estate market tends to slow down over the course of winter doesn't mean your home won't sell. It is entirely possible to find the perfect buyer for your property, regardless of the drop in temperature. That said, if you want prospective buyers to brave the cold in order to visit your open house, you're going to have to prioritize your winter curb appeal design. Curb appeal isn't only meant for those looking to sell, it is just as important for homeowners looking to stay put this holiday season. Check out all of our winter curb appeal ideas and refresh your property this season.
---
[ Do you control your finances or are your finances controlling you? Find out how real estate investing can put you on the path toward financial independence. Register to attend a FREE real estate class, upcoming in your area. ]
---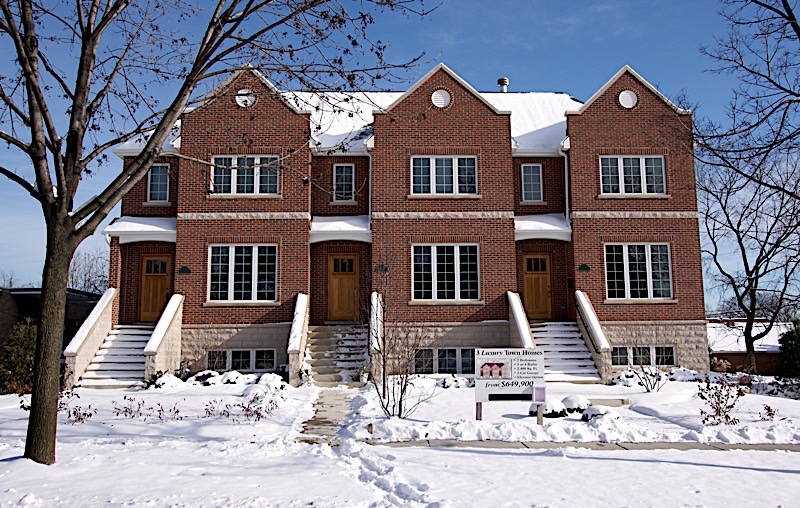 Winter Curb Appeal Ideas: 2018
Preparing your property's exterior for winter does not need to be an expensive endeavor. There are a number of tasteful additions and updates that can make a strong impact. The right winter curb appeal ideas can can make your existing home cozier for the colder months, or can even allow home buyers to imagine themselves living in your property. Below you will find a few of what are expected to be the hottest winter curb appeal trends of 2018.
Cold Weather Plants
Gardening is likely not the first thing that comes to mind during winter, but there are actually a few plants that can thrive during this time of the year. If the greyness of the season is bringing you down, consider some curb appeal landscaping to make your yard pop. From the fiery red of huckleberry to the sunshine yellow of winter jasmine, scatter any of these colorful flowers in your front yard and you'll add a much needed burst of color to an otherwise dreary curb appeal.
[huge_it_slider id="18″]
Font Doors That Pop
The front door is a statement piece that accentuates the personality of a property. If a home's exterior has a subdued hue, a pop of color on the front door will surely brighten up the property. For a more understated design, opting for dark or neutral tones can make the home seem elegant and modern. Homeowners looking to boost their curb appeal on a budget can utilize a fresh coat of paint or some front door decorations for winter to refresh their property's exterior. Investors, on the other hand, can use this tip as a way to make their property stand out for potential homebuyers driving through the neighborhood.
[huge_it_slider id="31″]
Winter-Approved Updates
Believe it or not, winter is actually a great time for a few home improvement projects. Homeowners and investors alike can incorporate a few winter-approved updates into their curb appeal to revamp their properties. Those looking to make a big change can consider adding a fence, which is the perfect place for winter decor. For those looking for a more subtle project, switching out house numbers is a great improvement. The right winter-approved updates will boost your curb appeal before and after winter.
[huge_it_slider id='36 ']
Winter Curb Appeal Ideas: 2017
Keeping up with winter curb appeal trends is important for real estate investors and homeowners every year, but just because they are trends doesn't mean they go out of style. The winter curb appeal ideas from any year might just inspire you to get creative with your property today. Check out the top curb appeal ideas from 2017 below, and don't be afraid to fit them into your plans for this year.
Festive Lights
Lighting is the perfect tool to add some festivity to your property while helping spur the imaginations of potential homebuyers. As the days grow shorter and darker, beacons of light will entice those passing by to take a peek inside. For homeowners eager to participate in the holiday cheer, putting up lights can give your home a little something extra. When looking at festive lights, remember to find what works best for you and your home—there are several ways to participate without going overboard or alienating prospective buyers.
[huge_it_slider id="16″]
Red Trim
A hue that often comes to mind during this time of year is red. A fresh coat of paint is one of the best ways to attract buyers or revamp your property's exterior, so if you're considering touching up your trim—or even your whole house—opt for a shade of red. Not only is red a bold color that will catch the eye of passersby, it is also a great way to show off your seasonal spirit. Additionally, brick is an indirect way to give your property a splash of red, and it was one of the most common materials used in 2017 home remodels.
[huge_it_slider id="17″]
Winter Curb Appeal Ideas: 2016
While the real estate market has changed quite a lot since 2016, the top winter curb appeal trends from that year still sound just as appealing as they did then. Ranging from winter wonderland decorations to adding an outdoor pond, these curb appeal tips could easily be adapted to enhance your property's exterior this year. Scroll through the following slideshows and browse the top winter curb appeal designs of 2016.
Seasonal Decor
One of the easiest ways to embrace the holiday season and add to your home's curb appeal is with seasonal decor. That's not to say you have to exceed your personal budget and go overboard with ornamentation, but small additions can make a lasting impact. Even a few winter decorations DIY projects can entice prospective buyers (or holiday guests) to have a further look inside. Look into making some winter front door decor or even adding lights to a tree outside, and upgrade your curb appeal today.
[huge_it_slider id="14″]
Outdoor Ponds
If you are looking for winter curb appeal options that will compliment your home throughout the year, an outdoor pond is the way to go. A front yard water feature adds a touch of elegance, and is sure to impress both neighbors and prospective buyers. Be sure to check out this article for some other home improvements that add value to a property.
[huge_it_slider id="15″]
Manicured Exteriors
A property's exterior serves as the first impression for anyone who comes to visit. Unfortunately, winter can come with rain, snow and slush—which can all get in the way of regular lawn maintenance. It is imperative for sellers to stay on top of maintaining a beautiful exterior, despite the frigid temperatures. If anything, it is necessary to shovel snow and clear pathways to ensure the safety of others. A well manicured exterior is the key to nailing curb appeal trends year round.
[huge_it_slider id="27″]
Summary
While the indoors may seem more enticing during the colder months, it is important to remember your home's exterior during this time of year, too. Whether you are looking to sell or simply need to give your home a refresh, updating your curb appeal this winter can help your property stand out.
Which winter curb appeal trends do you plan to try this year? Share in the comments below: