The "Crusher of the Month" is a peer-voted award given to team members who excel and inspire others to step out of their zone and perform at a higher level.
What Woody's peers say about how he embodies the CORE values:
"Woody is a great leader and personifies the word Professional.
Always motivating the team to be our best and settling for nothing less, he leads by example.
One would be hard to find a person as disciplined and detail-oriented as Woody"
"Woody has gone above and beyond to help me become a better speaker and has lead the team well.
He is always straight forward and pulls no punches"
Woody would like you to know that…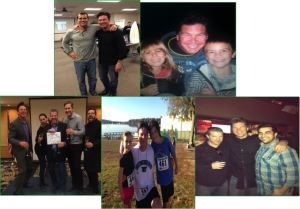 "I was born and raised in San Diego, went to College at Long Beach State University. I became a Realtor in 1996, moved to Florida in 2001 to start a family and opened a real estate brokerage and continued my education and dream in real estate as an investor.
"I spent 6 years on the Board of Directors of the Pensacola Association of Realtors and 2 years as the Chairman of Community Relations. As a very enthusiastic and passionate chairman we raised money for the abused children of Pensacola, swim classes for underprivileged children and Ronald McDonald House. where they recognized Pensacola Association of Realtors as the #1 donor of the year. Very proud of those accolades more so than any amount of houses I could flip.
I currently live in Pensacola Florida with my two beautiful children Jake and Sophia. They are my life and passion and both already want to be in real estate and I will lead them no other way. Thank you FortuneBuilders for being who you are in character. It means a lot to me and everyone who views you."
Ethics & Integrity * Inspire * Lead * Educate * Crush it