Key Takeaways
When investing in a rental property, choosing the right location is key.
Home prices, rent prices and rental yields are helpful indicators for evaluating the profitability of a market.
Local socio-economic factors should also be scrutinized, as they may affect the long-term profitability of a rental property.
---
If you're considering investing in a rental property, familiarizing yourself with the best rental property markets in the nation is a logical next step. Choosing the right location is key in experiencing success as a landlord, and your own hometown is not necessarily the best choice. Keep reading to learn about the socio-economic factors that were utilized to determine what are projected to be the best rental property markets this year.
Determining The Right Rental Property Market For Your Business
When evaluating a rental property investment, investors must be savvy enough to look for certain indicators such as monthly cash flow, vacancy rates, and rental yield. By closely examining financial factors such as monthly expenses or big-ticket repairs and improvements to be made, what initially may have looked like a great deal may not be such a great investment after all. Similarly, future landlords should scrutinize socio-economic factors that can affect the overall financial health of a rental property endeavor.
Let us use Cleveland, Ohio as a case study, which ranks fourth in the "10 Hottest Rental Property Markets" guide below. With an impressive 14.7 percent average yield and a low median home price, investors may wonder why this market is not at the top of the list. First, Cleveland has the lowest median monthly rent price at $900, which potentially puts landlords' cash flows at risk should there be any unexpected costs or vacancies. Also lowest on the list is the local job growth rate at 2.1%, which could indicate an economic slow-down in the future. This is not to state that Cleveland is not a strong rental property market to consider. However, it makes for a perfect example to demonstrate how investors should never fail to evaluate unforeseen factors that may affect rent prices, occupancy rates, and property value down the line.
Some key indicators to consider when analyzing a rental property market include median home prices, rent prices and year-over-year increases in home values. Local prices will help you figure out the initial cost of making your investment, as well as the potential monthly cash flow. When making calculations, be sure to account for hidden costs and fees, such as closing costs, insurance, property taxes, or unexpected vacancies. This information can then be utilized to calculate the rental yield, which measures the property's income relative to the initial cost of the investment. The higher the yield rate, the better the investment. In addition, investors should make note of the economic health of the local market, which could provide clues as to the continued success of the rental property. Employment rates, job growth rates and population growth are all examples of socio-economic factors that should be taken into consideration.
Below you will find a guide to what are projected to be the best rental property markets in 2018. Try applying the concepts discussed above to evaluate the top markets, which will make for great practice: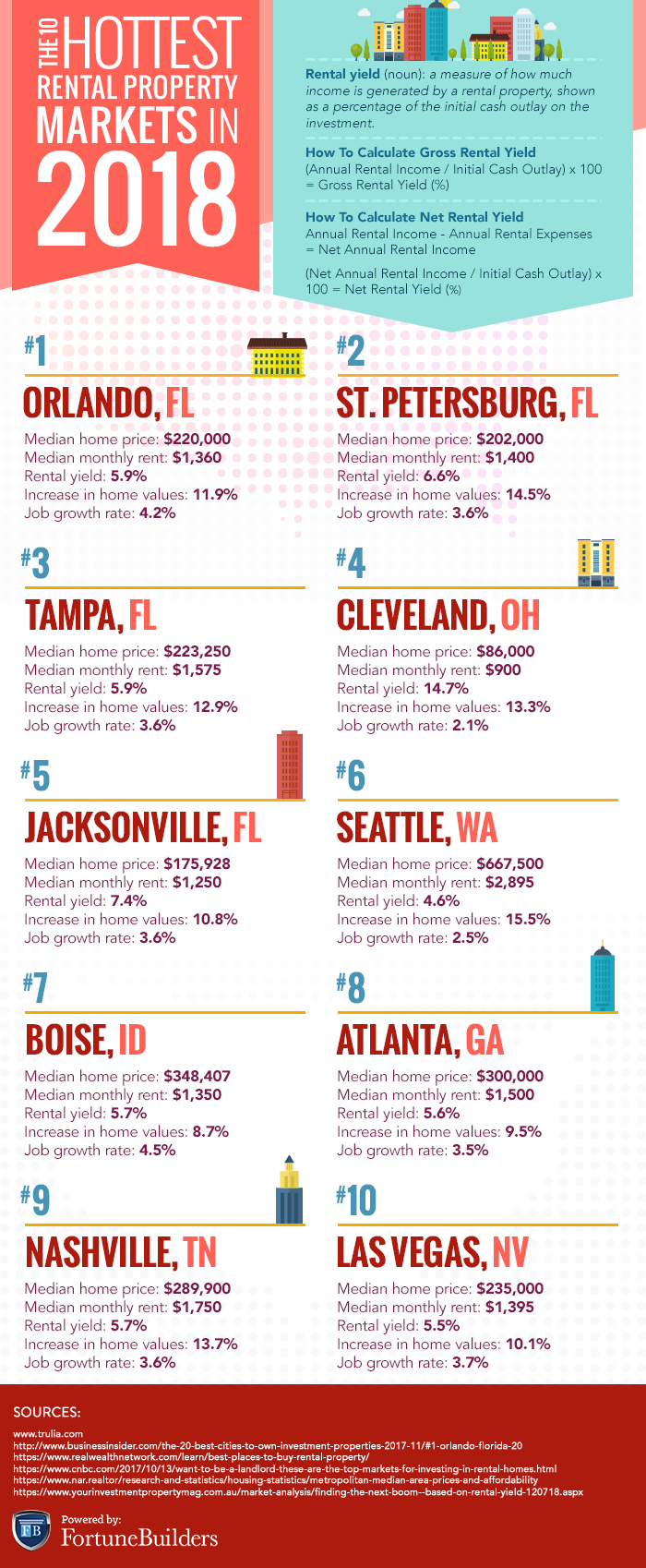 🔒 Your information is secure and never shared. By subscribing, you agree to receive blog updates and relevant offers by email. You can unsubscribe at any time.