By JD Esajian
To learn more about Real Estate Flipping and remodeling, look at Rehabbing for Huge Profits
To attend one of our Real Estate Flipping seminars and remodeling, look at 4 Day Intensive Rehabbing Bootcamp
Kitchens are the main selling point of any house and therefore should be given proper consideration with regards to layout, design, functionality, finishing materials and adding "sizzle" features. This room is a vital component of any home and is usually the most frequently used space by a homeowner. The kitchen is also the most challenging part of the house to design and rehab, as it is made up of many components and requires coordination between all members of the rehabbing team. Though it is one of the most expensive parts of the house to upgrade, it is also the room that returns the most for every dollar invested.
I often get asked if we use an interior designer to layout our kitchens. My answer is "yes, you are looking at him". Now I did not go to formal school to learn kitchen design, I acquired my knowledge from the school of life. Through experience and trial and error we have developed a rehabbing system for kitchens, among many other things. Our kitchen design system ranges from low end rentals to multi million dollar homes and everything in between. The ultimate kitchen design will really depend on the house and what price point you are working within.
That being said, lets talk about some features that should be considered in most kitchens.
"Great Room"
This design concept connects the kitchen with the living room where the families gather to have meals and enjoy entertainment. This concept can be applied through completely knocking out the wall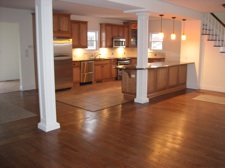 between the kitchen and the living room; removing the top portion of the wall and creating a countertop/bar feel or creating a picture window opening to connect two spaces together. In this step, it is important to answer the following questions:
What walls need to be moved / torn down?
Is it possible to create an opening between rooms? Are there any pipes, vents or other obstacles in the way?
What is the location for appliances such as a dishwasher, microwave, and refrigerator?
Where to install electric outlets, plumbing connections and vents?
Cabinets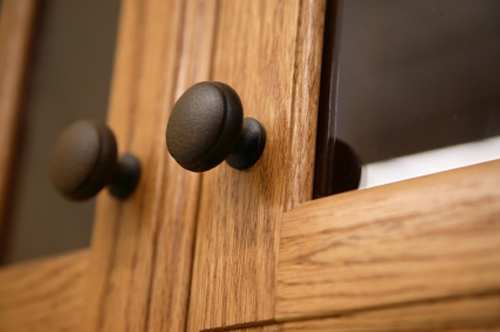 Cabinets are the most visible part of a kitchen and generally its most expensive component. Therefore proper consideration must be given to this decision, as kitchen cabinets constitute one of the main selling points of a kitchen and therefore of a house. A good rule of thumb is to use comparable properties on the market as a measuring stick for quality of cabinets used. It is also a good idea to visit any new construction sites in the neighborhood to see what is "in style" for your target market. New cabinets typically come in one of three forms: stock cabinets, semi-custom cabinets, and custom cabinets. On average, cabinets represent roughly half the cost of a complete kitchen remodeling. Due to the high cost, it is worth careful consideration with regards to kitchen design.
Some important design features to consider are:
Storage – is there ample storage in your new kitchen design to accommodate storage for food, cookware, plates, cups, etc.
Layout – how functional is the flow and did you create a triangle work space. No not the CT Homes LLC Success Triangle, but the one between the sink, stove and refrigerator which creates your most used work area.
Style and Color – make sure the style of cabinet you choose matches the style and era of the house. For example do not put stainless steel contemporary cabinets in a turn of the century colonial home. Color is just as important in the overall kitchen design. Many times white cabinets can make a small kitchen appear larger. On the other hand, you may want to choose a high quality cherry wood cabinet for a much larger space.
Countertops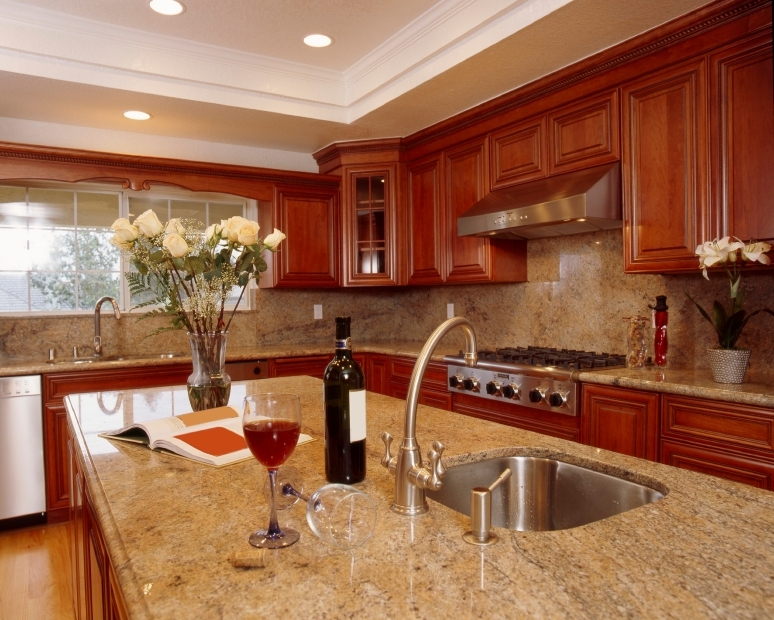 Properly selecting the material type of the countertop greatly enhances the functionality and appeal of a kitchen. Single family kitchens ideally should have a few different work areas. That means you need to plan for this in your initial kitchen design layout. Work areas are defined as 36 inches of continuous countertop. Today there are so many choices of material to use, here are a few of the most common:
Countertop Materials
Wood – This is not a preferred countertop material. It is difficult to maintain and prone to dents and cuts that are difficult to fix.
Tile – This is an attractive and cost-effective material option, although the labor cost is usually greater.
Steel – Stainless steel provides a commercial, sterile environment. Certain types of steel are virtually indestructible however lighter gauges are subject to dents. Steel countertops tend to be expensive.
Laminate – Laminate is the most popular option because it's the least expensive. If properly maintained the surface can last decades.
Granite, Marble, Soap Stone, and other hard surfaces – These are the most appealing countertops from a buyer's perspective. However, the cost is usually much higher and as a result they should only be used in higher end homes.
"Sizzle Features"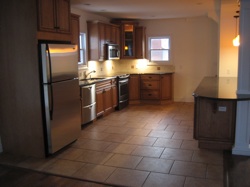 These are kitchen design features that are added that help sell the house. They make the kitchen "pop" and stand out among the other houses on the market. As we teach in our rehabbing course you should always try to include at least 4 "sizzle features":
Under Cabinet Lighting – when you are installing new wiring in a kitchen it is very simple to provide power for these lights. There are many different styles from florescence to puck style spot lights. Under cabinet lighting provides a dramatic effect and helps highlight new countertops.
Microwave – building in a microwave or installing one above the range helps free up countertop space. (Flip Tip – By installing over the stove it can also serve as a vent for cooking)
Decorative Backsplash – this kitchen design feature will give a custom look to any kitchen. This small, inexpensive feature adds much in the way of appearance.
Dishwasher – while many people consider this a standard feature, this is not the case in many of these older homes. Every single family home should have one. Make sure to plan for one in your overall kitchen design.
Kitchens sell homes. You hear that all the time because it is true. Choosing the correct layout, design and finishing materials will help you sell your home quickly and maximize your profit. You will get the most dollar return for dollar spent in the kitchen design. We always teach to stay within a budget, but if you want to add a little something extra in your rehab, the kitchen is one of the best places to do this. A well thought out design, quality materials and dramatic lighting will make the kitchen the best room in the house. So get out there and start planning that perfect space.
---
To find out more about our life changing home study courses and live seminars, see them using the corresponding links or email us at info@fortunebuilders.com