The importance of a quality rehab scope of work can't be underestimated. It is this blueprint, after all, that will serve as the foundation for the rest of a rehab. More specifically, however, it will award savvy investors the ability to showcase the quality of work and attention to detail their rehab projects have the potential of offering. If for nothing else, a rehab scope of work serves as a great way for investors to demonstrate their comprehension of the real estate industry, both to contractors and potential buyers. Better yet, it will see to it that your next rehab is carried out efficiently and correctly.
What Is A Rehab Scope Of Work In Real Estate?
The rehab scope of work, or SOW as most rehabbing professionals have come to know it by, is nothing short of instrumental throughout a proper rehab deal. More specifically, a SOW represents an agreement between today's investors and their contractors. Done correctly, a scope of work proposal will outline every single detail of an impending project and the materials to be used. In its simplest form, a rehab SOW is a to-do list; one a contractor will be expected to follow throughout the entire rehab. As such, an SOW has two primary objectives: minimize miscommunication between parties and hold the contractor responsible for the agreed-upon terms set forth.
Why Is A Rehab Scope Of Work Important?
A rehab scope of work is practically invaluable to today's investors. With a mind for due diligence and a little preparation, a properly-crafted rehab scope of work can mean the difference between a good deal and a great deal. To put the benefits into perspective, here's a list of what investors can expect from taking the time to compile an SOW:
Pinpoint Accuracy: A truly great rehab scope of work will detail every expected cost with the utmost accuracy. In doing so, investors will know exactly how much each project will cost, and how much the labor required to complete it will be. The precision of the SOW will allow investors to work within a budget and allow more breathing room on a deal.

Streamlined Bidding With a better idea of how much each cost will be and exactly what needs to be done, the search for a contractor is made a lot easier. Once the SOW is complete, all investors need to do is present it to contractors, who will then bid for the job.

Minimal Risk Exposure: A proper blueprint will identify a target budget and give investors guidelines to work by. Consequently, knowing the exact margin of error will help investors work within the budget and minimize risk.

Maximize Profit Potential: Completing a blueprint before anything else allows investors to tweak profit margins in their favor. They'll be able to work with the right materials, include the best projects, and choose a contractor that helps them improve their bottom line.

Promote Efficiency: Simply put, a rehab scope of work is a blueprint for investors to follow. A good one will make a job a lot more efficient, as most of the tasks at hand will already be laid out.
---
[ Thinking about investing in real estate?
Register to attend a FREE online real estate class
and learn how to get started investing in real estate. ]
---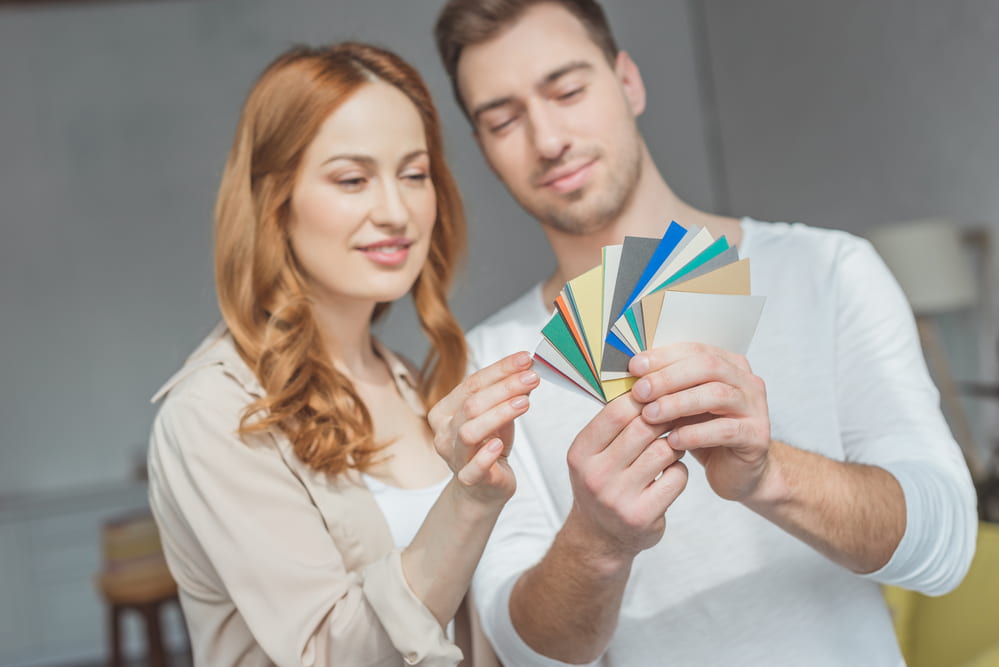 How To Write A Scope Of Work: The 6 Components
Learning how to write a scope of work represents a monumental task for those without experience in doing so. The sheer volume of things that need to be addressed over the course of a typical rehab is intimidating, to say the least. Even a simple rehab may consist of countless "fixes." It is worth noting, however, that—like everything else—something as complex as an SOW may transition from a huge undertaking to something more manageable when it's broken down, which begs the question: What's included in a scope of work? Here are the six components that make up the best rehab SOW projects:
Project Overview & Description

Exterior

Interior

Kitchen

Bathroom

Plumbing & Electrical
Instead of memorizing how to write an SOW, it may be easier to simply follow a scope of work template. For your convenience, the six most important components of a scope of work are outlined in detail below.
When detailing each of the six components, be sure to be as clear and concise as possible. Again, an SOW is designed to inform your contract of everything you need to be done, and how to do it. Provide as much information as you can, as to answer more questions than you create. A good blueprint is easy to read and leaves no questions as to what you want to be done.
Project Overview & Description
The very first page of an SOW should consist of both a project overview and a description. Combined, the overview and description should give a brief explanation of the project as a whole. More specifically, the project overview and description will describe the entire project in three specific sections: description, rehab overview, and contractor overview.
The description, as its name suggests, will identify the property's general information. A good description, for that matter, will detail everything about a home, from the year it was built, and the size of the property to any other information you deem relevant.
The rehab overview is exactly what you'd assume: an objective summary of the rehab projects that may need to be addressed. At this point in the scope of work, you'll want to provide a detailed overview of the home improvement projects that will be required to bring the property up to your standards; that, and how you intend to do so. Be sure to discuss how you intend to address said projects, as to paint a clearer picture for the contractor you intend to hire.
The final section of the first component is the contractor overview; it's here you'll discuss the individual contractors you may need for the job at hand. In other words, identify the projects you want to complete, and proceed to identify the licensed individuals you will need to get them done.
Exterior
Once you are confident the project overview and description are filled out sufficiently, proceed to create a scope of work for the exterior. In this part of the SOW, breakdown all the work that needs to be completed on the outside of the property and the materials needed to do so, not the least of which should include the following:
Roof

Rain Gutters

Siding & Stucco

Windows

Paint

Garage

Landscaping

Pools

Fencing

Decks

Doors

Lighting

Termite Damage

Demolition Of Unwanted Fixtures

Concrete
Interior
No two houses are the same, nor should an investor ever expect them to be. That said, it's almost impossible to develop a universal SOW that works for every property. What one house needs may be entirely different from another, and vice versa. However, there are a lot of things most investors can expect to add to their own scope of work template. The most common interior items on a scope of work document include, but are not limited to:
Floor Plan

Condition

Flooring

Sheetrock & Drywall

Demo

Patch Walls

Paint

Doors & Hardware

Molding

Light Fixtures
Kitchen
It is true what they say: kitchens really do sell homes. Therefore, it only makes sense that each kitchen deserves its own SOW. As a real estate investor, the scope of work you intend to use on the kitchen is an opportunity to identify shortcomings and turn them into selling points. Like every other component we have talked about up to this point, each item should be accompanied by a description and materials. There is absolutely no reason a contractor shouldn't know how to proceed. And to that end, here are some of the most important things to account for on your own kitchen SOW:
Floor Plan

Countertops

Cabinets

Light Fixtures

Appliances

Flooring

Backsplash
Bathroom
Not unlike the kitchen, bathrooms are important selling points, and they should be treated as such. Therefore, it's important that each rehabber pays special considerations to every bathroom in the property. Again, each of the following items should be painstakingly detailed, as to provide the contractor with exactly what to do:
Shower Enclosure

Shower Hardware

Flooring

Toilet

Vanity

Paint

Light Fixtures

Towel Hardware
Plumbing & Electrical
You can't possibly know how to write a scope of work if you don't know how you want to address both the plumbing and the electricals. While not as "glamorous" as all of the other items on this list, the individual components of your plumbing and electrical systems should be second to none—each are too important to ignore. That said, no scope of work is complete without the following additions:
Hot Water Heater

Outlets

Light Switches

Bring Wiring Up To Code
Tips For Creating A Great Scope Of Work
Understanding how to write a good scope of work has to do with more than the obvious; a good real estate investor will use their SOW to try and predict what it is buyers will want out of the house. That said, you will need to look beyond the obvious upgrades and anticipate the needs of impending buyers.
Here are some tips that can turn an average scope of work into one that'll sell your property:
People Like The Open-Room Concept: I highly recommend following an open-room concept design. Today's buyers do not appreciate closed off spaces nearly as much as they used to. Your scope of work should, therefore, account for any walls that need to be "taken care of," to open things up. You'll need to address everything from structural obstacles and permitting to licensed contractors capable of getting the job done.

More Usable Space Is Always Better: Your blueprint should include any and every means necessary to create and maximize usable space. Consider adding additional closets to your scope of work, or even shelves in the right areas. Adding closets and built-in shelves are a great way to increase appeal and add value to a home.

Reduce Noise: Dedicate a portion of your plan to noise-canceling projects. Most homes, for that matter, can benefit from new insulation, dual pane windows, or even more trees in the front yard. There are many ways to make a home less susceptible to noise, and your scope of work should address as many of them as possible. Doing so will make the home more attractive to buyers, and perhaps even increase its value.

Rely On Natural Light: When at all possible, substitute light fixtures for natural light. That's not to say you should get rid of all the light fixtures that are currently in place, but rather that you should allocate some of your energy to create more natural light. Skylights, for example, are a cost-effective strategy to increase natural light and the perception buyers have of your home.

Remain Neutral: Real estate is a numbers game. The more interested buyers you can entertain, the better. Therefore, it's in your best interest to remain neutral in all of your decisions––especially paint color. This is not the time to get "expressive." Instead, work with more neutral tones, as to capture the attention of a larger audience.
Summary
A truly great rehab scope of work will detail everything that is to be expected from a contractor. More importantly, it will answer any questions the contractor currently has or will have in the future; it's their blueprint for how to proceed. Provided the plan was written correctly, it'll answer more questions than it elicits. There is absolutely no reason for your SOW not to provide everything the contractor needs to move forward, and using this scope of work template should do just that.
Understanding how to write a scope of work will minimize the risk of miscommunication between you and your contractor.

What is a scope of work, if not for the foundation of your entire rehab project?

A scope of work proposal is just as useful to you as it is to your contractor.
---
Ready to start taking advantage of the current opportunities in the real estate market?
Click the banner below to take a 90-minute online training class and get started learning how to invest in today's real estate market!