Investing in a property to upgrade it and sell it for a profit is an excellent way to make money in real estate. This process, also known as real estate rehabbing, consists of finding a property, assessing all areas, making the necessary repairs, marketing the property, and selling the property for, hopefully, a profit. You are probably familiar with this real estate exit strategy from popular TV shows on HGTV; however, the process is not as easy as TV may make it seem.
Not to worry, our "flipping a house" checklist was designed to help you succeed. Please continue reading for the house rehab checklist everyone can use moving forward — from professionals to novices.
What Is A House Rehab?
A house rehab is when an investor purchases a house and then puts time and money into fixing it up. These fixes can be as simple as replacing worn away bits and pieces of the home, or they can be as extensive as completely gutting the home and remodeling everything inside from the ground up. Some investors use a short term strategy called a "fix and flip", which means that they buy the property below market value with the intent of improving it enough to sell it for a profit.
On the other hand, a long term strategy can be used by investors to fix up a property and then rent it out. This allows the investor to increase the price of rent due to the nicer living area, as well as collect revenue month after month rather than only one time. Before rehabbing a house it is always helpful to have a house rehab checklist to reference and keep you on the right track to maximize your profit.
How To Flip A House FAQ
Due to the popularity of flipping houses, this exit strategy can be an intimidating prospect for aspiring real estate investors. However, be careful not to let common misconceptions prevent you from pursuing your goals. Before you decide whether or not you're ready to dive into the house flipping world, let's get a few commonly asked questions out of the way.
What Is The 70 Rule In house Flipping?
The 70 rule in house flipping can determine the maximum purchase price of a given property by accounting for repairs and closing costs. To calculate it, multiply the after repair value (ARV) by 70 percent and then subtract estimated repair costs.
Can You Really Flip Houses With No Money?
It is entirely possible to flip houses with little to no money; you need to be ready to pursue creative financing options. Investors can rely on private money, a business partnership, or even hard money lenders to finance deals.
How Much Money Do You Need To Start Flipping Houses?
The money needed to start flipping houses will depend on your financial situation and the real estate market. Keep in mind there are a number of sources to help estimate costs and raise capital.
Do You Need A License To Flip Houses?
There is not a specific license to flip houses; however, regulations will vary depending on your state. There are also a number of certifications investors may find helpful, such as a contractor's license or real estate license.
---
[ Thinking about investing in real estate?
Register to attend a FREE online real estate class
and learn how to get started investing in real estate. ]
---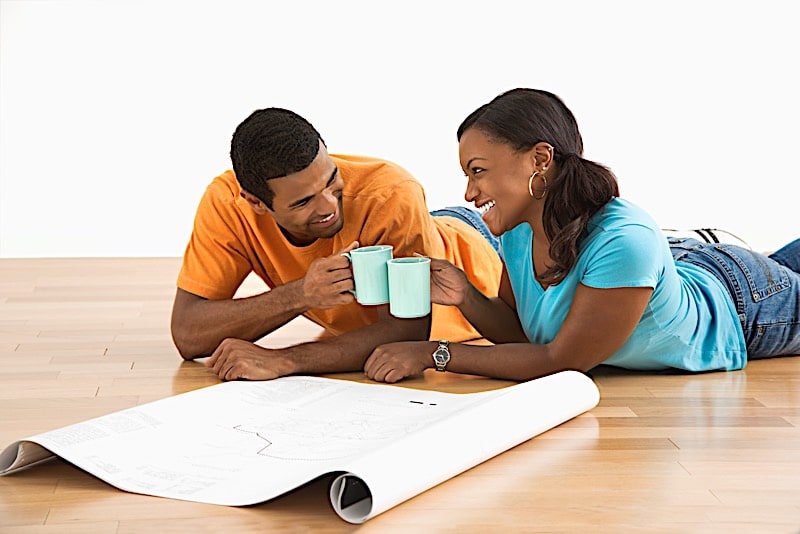 What Is A House Rehab Scope Of Work?
A scope of work is an essential document that carefully lists the projects to be completed on a rehab property; no property rehab checklist should come without one. One might even think of a scope of work as a "house flipping checklist" of sorts that helps the investor communicate to contractors exactly what needs to be done and how.
In the section below, you will find a house flipping worksheet designed to help investors know exactly what to look for and check as they perform their walkthrough. Upon using this rehab a house checklist, you should create a list of specific areas that need work. This can then form the foundation of the scope of work. The scope of work document will take this list further by specifying exactly how each line item is to be repaired or rehabbed, with detailed instructions on how to do so, including what materials to use. As a result, this document serves as a critical 'flipping a house' checklist that will allow any real estate rehab team to succeed. To get started, follow the real estate rehab checklist below.
Locating A Property
Many investors will tell you the hardest part of successfully rehabbing a property is finding the right house to flip. The reasoning behind this is twofold. Housing markets can be extremely competitive, and you need to make sure the purchase price is low enough that you can still turn a profit after covering the cost of the rehab. Locating the perfect property can be tricky, but the process will fall into place as soon as you learn where to look.
If you are new to the real estate world, you may try searching for properties online using listing websites like Zillow or Realtor.com. While these occasionally have great listings for rehabbing, your best luck is going to be elsewhere. Try searching for properties at real estate auctions, local wholesalers, and foreclosures in your area. These are typically going to be where you find the most availability and the best deals.
A key part of finding the right property also lies in your ability to make an offer as soon as you find the right one. Be sure to have your financing lined up as you begin looking for potential properties. It can be a good idea to look for a lender specializing in that type of strategy, particularly if you seek off-market properties or funding for the rehab itself. Remember not to get discouraged if your first few offers are declined or if it takes some time to locate the right property. The process will get easier to navigate with each successful rehab.

---
[ Learning how to invest in real estate doesn't have to be hard!
Our online real estate investing class
has everything you need to shorten the learning curve and start investing in real estate in your area. ]
---
How To Flip A House: 10-Step Checklist
Pull comparables from the MLS and other websites: No rehab project can start without a proper vision of the final product. Research your market area using the MLS or websites that pull from it (like Zillow and Redfin) to find similar properties. Pay attention to the number of rooms and types of features offered in comparables, as well as the listing price. Not only will this help you gather inspiration for your rehab, but it will also help ensure the finished property is in line with similar properties—a crucial factor for selling the home quickly and for your asking price.

Find a contractor and bring them to the property walkthrough: To hone in on a timeline and budget for your property, have your contractor walk through the property. Better yet, have a few contractors walk through so you can ensure you select the right person for the job. Be sure to share your expectations for the project, note your ideal timeline, and don't be afraid to ask questions. The right contractor will help your project run smoothly from start to finish, making this part of the process is crucial.

Bring essential tools like a camera and flashlight: Don't show up to your walkthrough empty-handed. Investors should always bring a camera, flashlight, calculator, and a notepad to any property walkthrough. Take pictures as you look around so that you can reference certain rooms and areas later. Write down any potential concerns you have, as well as extra projects you would like to see completed. The more thorough you are now, the more prepared you will be in the future when the project kicks off.

Review the exterior, paying careful attention to structural issues: Walk the perimeter of the house more than once. Keep an eye out for any cracks or issues with the foundation and any exterior issues that may be present. Check the status of any fences, decks, or outdoor areas as well, as these will factor into the curb appeal later on. This step will help make sure all any big problems are out in the open before you start.

Check interior walls for layout and cosmetic changes: You've heard it before, and you'll hear it again: today's buyers are looking for an open floor plan. If your property has a boxy layout or unnecessary rooms, look for opportunities to open the space up. Is there a wall between the kitchen and living room? What about any awkwardly placed closets? Be sure to consult your contractor on which walls are load-bearing. This will help guide what you can do with the property's interior.

Decide what type of flooring will suit the property: As you survey the interior, take note of the condition of the flooring. What materials are used throughout the house: tile, laminate, hardwood, or carpet? Refer back to the comparable properties you found earlier and understand what potential buyers in the area might expect. Then, price out options that will look right with what you plan to do to the space.

Survey kitchen and bathroom fixtures: Buyers will go straight for kitchens and bathrooms when touring a new property, making these crucial areas of your home. However, they can be costly to renovate. To ensure your property delivers without breaking your bank, take note of any existing features that could be repurposed to fit your final look. Check the condition of any cabinetry, counters, and appliances to see what should stay. In some cases, a fresh paint job and new hardware will be enough to revamp a kitchen or bathroom, while other properties may require more significant upgrades.

Review the condition of the electrical, plumbing, and HVAC systems: Work with a professional as you survey the quality of the electrical, plumbing, and HVAC systems. Then, decide which areas need to be replaced, upgraded, or cleaned up. This is a crucial selling point, so don't try and cut corners as you finish up your rehab project.

Examine interior doors and trimming: Don't skip over the details as you finish up this house rehab checklist. Double-check the doors, trim, and hardware throughout your property for any last-minute changes. The doors should all be the same style and color, and the trim should flow when moving from room to room. Assess the condition of all the doors to make sure you don't leave anything out of your final review.

Stage the property and get ready to sell: The most important factor when showing your property is creating a space that potential buyers can picture themselves living in. Hire a staging company or set up the property yourself (if you think you can) and create an atmosphere that feels like "home" to anyone that walks through the doors. You may not need to stage every room of the property, but key areas should be prepared for potential buyers with care.
The best way to succeed as a real estate rehabber is to mind your due diligence before getting started in any deal. You must draft your business plan, find the perfect contractor, and learn how to market the finished property. Estimating the repairs for a given property takes experience and expertise, which is why every real estate rehabber should have their own "house rehab checklist" on hand. I also want to encourage you to craft a real estate rehab business plan.
It is never a bad idea to keep several handy real estate checklists in hand during your first few years as an investor. In his book "The Checklist Manifesto," acclaimed medical surgeon and author Atul Gawande discusses how carefully designed checklists helped transform the medical system in the U.S., helping save more lives. His writings make you wonder, what could unfold if even the most seasoned professionals in other industries also enacted the use of simple checklists? It is no secret that any process in the real estate industry is complex, involving many steps and sometimes many people. When a lot is at stake, making use of a rehab checklist to ensure complete thoroughness and accuracy is not only helpful but a smart business decision.
This idea, of course, applies just as well to when you first get started on a rehab project. Never be caught off guard by a slow-moving team or problems with the foundation again. Check off every item on this house rehab checklist for flipping a house and you can be sure you won't miss a thing:

Average Cost Of A Rehab
The average cost of a rehab is typically between $12 and $60 a square foot. This wide range is used to reflect the variety of work that may go into any given rehab. Further, some properties are located in markets where labor and material costs may be lower than others. For these reasons, it is hard to nail down a specific cost for the average rehab.
The total cost of a rehab includes permit costs, materials, equipment, labor, and any other expenses incurred while flipping the house. Again, investors can expect these costs to vary depending on the location and size of the property.
The average cost of a rehab is also dependent on the amount of work being done. For example, a minor rehab project where cosmetic upgrades are the main priority may cost as little as $10,000. However, if investors need to upgrade appliances, refinish floors, or replace cabinets the average amount could range from $20,000 to $40,000.
High cost rehab projects are typically those that involve fixing structural damage. If any foundation, roof, sewer lines, or other structural issues need to be fixed investors can expect to pay more overall for the rehab project. Luckily, these kind of issues are typically detected at the home inspection before investors commit to the property. While there can be surprises when completing a rehab project, investors should be able to predict average costs up front.
Summary
Rehab properties can offer attractive profit margins to real estate investors willing to execute the right steps. If you find yourself eager to pursue this exit strategy, familiarize yourself with our flipping a house checklist to make sure you're prepared for the process. Be careful not to underestimate the workload of flipping a house and read up on commonly asked questions to educate yourself. If you put work in, rehabbing houses has the potential to offer you a strong financial future.
Did you find this house rehab checklist and corresponding pro tips helpful? Is there anything you would see added? Let us know in the comments below.
---
Ready to start taking advantage of the current opportunities in the real estate market?
Click the banner below to take a 90-minute online training class and get started learning how to invest in today's real estate market!