Key Takeaways
Regularly monitoring the condition of your rental property is essential to being a successful landlord.
As a landlord, there are specific tenants' rights, repairs and maintenance issues that you will be responsible for.
A routine maintenance process can help ensure your rental property stays in good condition.
As a landlord, you are responsible for rental property maintenance, which means keeping your rental property up to code and in good condition for your tenants. A go-to system for repairs and maintenance issues can help save you time and money in the long-run. Keep reading for more tips on rental property maintenance.
A Rental Property Maintenance Checklist To Keep In Your Back Pocket
Having a rental property maintenance checklist can help you stay on track as a landlord. These items are a good outline to keep in mind when it comes to taking care of your rental property:
Common Areas: If necessary, make sure you periodically check the common areas and outdoor spaces for cleanliness and proper lighting. Be sure to replace bulbs as necessary.
Smoke detectors: Similar to monitoring for light outages, as a landlord you need to ensure that smoke detectors and Co2 detectors are properly maintained. Set deadlines for yourself to test the batteries as needed.
Lawn Maintenance: Don't let the yard get out of hand. By maintaining the landscaping and outdoor appearance of your property, you can preserve your curb appeal and reduce the potential for pest problems.
Monitor For Pests And Rodents: One of the worst things you can do as a property owner is to let a bug problem get out of hand. Make sure you are regularly spraying your property if necessary, and be sure to monitor the grounds for any potential pest problems.
Appliances: Make sure you stay on top of the condition of any shared appliances. This includes regularly cleaning out dryer vents and responding to any maintenance requests about appliances within a given unit.
Walkways: Ensure that your rental property remains accessible at all times. If you live in an area with heavy snow, this may mean getting your hands dirty and shovelling the sidewalks a few times a year.
Drive By: The best way to maintain your property is to keep an eye on it. We are not suggesting you spy on your tenants, but a monthly drive by or perimeter inspection can help you ensure everything is in tip top shape.
---
[ Do you control your finances or are your finances controlling you? Find out how real estate investing can put you on the path toward financial independence. Register to attend a FREE real estate class, upcoming in your area. ]
---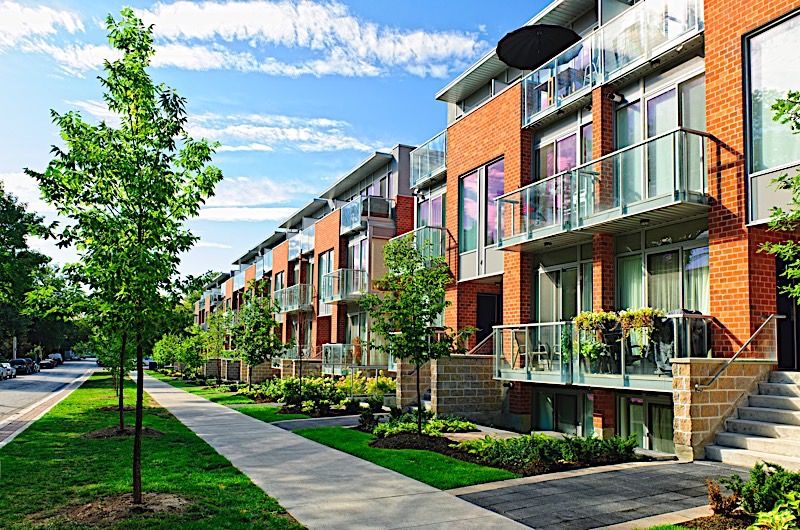 Expert Tips For Your Rental Property Maintenance
When it comes to rental property maintenance, one of the best ways to fix problems is to prevent them. Performing routine maintenance can help you avoid large scale projects down the road, and it can help you keep long-term tenants. There are several things you can and should do to maintain your property over time, some of which start before your first tenant ever moves in.
Before new tenants move into the property, document the condition of the rental unit. Take photos and make use of a move-in and move-out checklist to ensure you don't miss anything. As a landlord, you will become accustomed to normal wear and tear as tenants occupy your property. Average rental property maintenance may include taking care of scratches, a ding in the wall and occasional appliance repairs. However, a broken window or structural damage such as a hole in the wall are not typically within your realm of responsibility as a landlord. Documenting the condition of the rental property before move in should help prevent any disputes if damages occur.
Similar to documenting the condition of your property, be sure to set clear guidelines with your tenants regarding what they should expect from you. For example, lawn maintenance, the ability to paint the walls and pets are topics that should be discussed before a tenant moves in. Letting tenants know exactly what the renters responsibility is can also reduce the potential for a middle of the night phone call about a light bulb being out.
One of the most important pieces of advice you'll hear as a landlord is to stay on top of repairs. Develop a protocol for specific areas of the property, like working with the same plumber and learning their business hours. There will be situations as a landlord when unexpected maintenance incidents occur, but having a system in place will make sure even surprise events run smoothly. During these times, it's important to have a quick response, both in terms of tenant communication and in repairing the issue. Doing so will help ensure open lines of communication with your tenants and will help prevent the repair from becoming a bigger issue in the future.
Another big tip we can give you is to look into housing rental services, otherwise known as a property manager. Rental property maintenance can be done by a property owner and landlord; however, hiring a property manager can take some weight off of your shoulders. Additionally, looking into rental property maintenance software may help keep an eye on your property so you don't have to. This option can help streamline the management process and allow you to take a less active role in managing your property.
Average Rental Property Maintenance Expenses To Keep In Mind
Rental property maintenance expenses can vary from property to property, but there are general costs to keep in mind no matter what. General costs can include regular maintenance, repairs and the cost of a property manager, if you choose to hire one. Spending the money to maintain your property as needed can help pay off in the long-run when you avoid larger projects. For example, ignoring a leak might save you money today, but it certainly won't help you in a month if that neglected leak turns into a broken pipe.
The average maintenance cost for a rental property is entirely determined by the property. There is no key predictor for the exact costs you will run into as a landlord. With that in mind, you can make note of the cost of general repairs over time. Appliances may break or there may be a plumbing issue; these are all regular rental property maintenance costs to remember as you plan and budget.
One of the biggest things to keep in mind as a landlord is that accidents happen. It may be in your best interest to keep a rainy day fund for last minute costs. Individual rental maintenances aren't always predictable, but you can predict that they will happen. That should be enough to encourage you to keep some money set aside for maintenance projects that may not be routine, but are important nonetheless.
By maintaining your property, you can ensure that your tenants have a positive experience, and your property remains in good condition. A good rental property maintenance checklist can help put more money in your pocket in the long run. Conducting proper rental property maintenance will allow you to stay on top of your property and avoid unexpected expenses down the line.
Are you considering a passive income investment? Which of these tips did you find most helpful? Share in the comments below!