Jump To:
---
The Tallahassee real estate market in Florida was hit harder than most markets across the country. Despite drastic improvements to the economy, however, there is still plenty of ground that needs to be made up. As a result, a larger percentage of homeowners have found themselves owing more than their homes are actually worth. That said, real estate in Tallahassee is nothing less than a commodity for today's budget-conscious investors. Both traditional sales and distressed properties appear to offer investors a lot of potential. There's no doubt about it: the Tallahassee housing market is improving, and should continue to do so for the foreseeable future.
Tallahassee Real Estate Market 2020 Overview
Median Home Value: $191,568

1-Year Appreciation Rate: +2.1%

Median Home Value (1-Year Forecast): +2.3%

Median Rent Price: $1,195

Price-To-Rent Ratio: 13.35

Average Days On Market: 69

Percent With Negative Equity: 11.1%

Unemployment Rate: 2.9% (latest estimate by the Bureau Of Labor Statistics)

Population: 193,551 (latest estimate by the U.S. Census Bureau)

Median Household Income: $42,418 (latest estimate by the U.S. Census Bureau)

Percentage Of Vacant Homes: 12.04%

Foreclosure Rate: 1 in every 2095 (4.7%)
---
[ Thinking about investing in real estate? Learn how to get started by registering to attend a FREE real estate class offered in your area. ]
---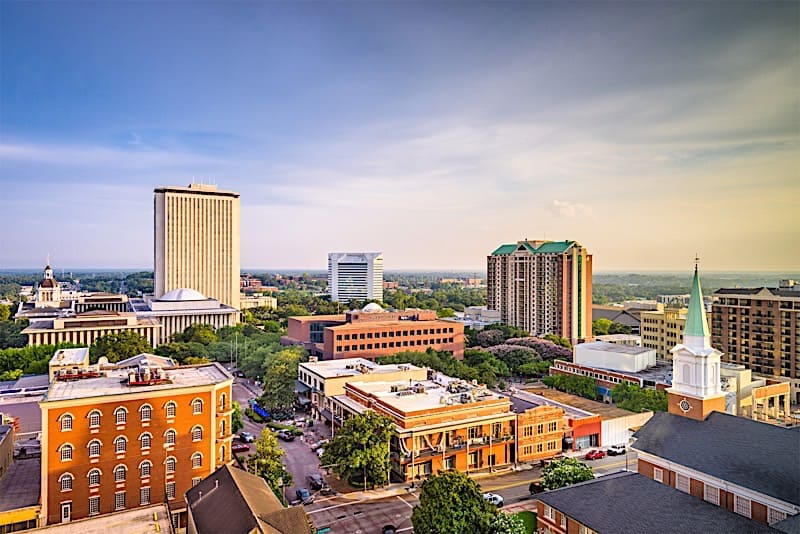 2020 Tallahassee Real Estate Investing
The Tallahassee real estate investing community, much like every investor community across the county, tends to favor distressed assets. Placing an emphasis on distressed homes increases their odds of locating deals with potentially larger profit margins. That said, there's one type of distressed property local investors should pay special considerations to: auction homes. Representing 39.3% of the city's distressed property market, auction homes are the largest distribution of foreclosed homesin the area.
As their names suggest, auction homes are assets that were seized from homeowners who were unable to keep up with mortgage obligations, only to be placed up for auction in an attempt to recoup losses for the loan originator. Auctions reward investors in the Tallahassee housing market with the opportunity to secure deals with good profit margins. Therefore, today's investors should visit local auctions to tip the scales in their favor. Pulling from the largest pool of distressed assets should increase their odds of landing a good deal.
Those interested in the Tallahassee real estate investing industry should pay special considerations to pre-foreclosures, which make up 37.7% of the distressed property market. While not technically in foreclosure, pre-foreclosures are merely at risk of foreclosure. Nonetheless, these assets may be owned by motivated sellers who are better off selling sooner rather than later. Therein lies the greatest benefit of targeting pre-foreclosures: oftentimes homeowners are willing to part ways with their properties at a discount in order to sell within a quicker period of time. To find pre-foreclosures, local real estate investors need to list their local courthouse, where all the information is made public.
Of course, knowing where to find real estate deals in the Tallahassee housing market is only part of the equation. Once investors secure deals, they need to know what to do with them, which begs the question: Which exit strategies are working the best for local real estate investors? Which Tallahassee real estate trends look as if they will continue?
Investors should be able to incorporate all three of today's most popular exit strategies into their business models: wholesaling, rehabbing and long-term rentals. However, real estate in the Florida city appears to lean in favor of wholesaling and rehabbing. While the Tallahassee rental market is more than a viable option (duplexes for sale in Tallahassee could work in favor of investors in current market conditions), the city's price-to-rent ratio encourages homeownership. Not only can more buyers participate in the market today, but they would rather buy than rent, which drives up demand for investors with inventory of their own. For a better idea of what to expect from this market, local investors may want to attend local Tallahassee real estate meetings to get a better idea of a more specific neighborhood.
2020 Foreclosure Statistics In Tallahassee
According to RealtyTrac, a nationally recognized real estate information company that specializes in distressed properties, the Tallahassee housing market has a relatively high distribution of distressed properties. With approximately one out of every 2,095 homes in some stage of distress (default, auction or bank owned), Tallahassee boasts a foreclosure rate of 4.7%, which remains higher than the 3.9% bar set by the rest of the country, and lower than the 4.9% set by the state as a whole.
While most of the county has seen a decrease in foreclosure activity, recent data presented by RealtyTrac suggests foreclosure trends contradict the national trajectory. "In September, the number of properties that received a foreclosure filing in Tallahassee, FL was 2% higher than the previous month and 15% higher than the same time last year," according to RealtyTrac. As a result, there are now about 545 properties in Tallahassee, FL that are in some stage of foreclosure:



2020 Median Home Prices In Tallahassee
Tallahassee real estate news appears to be positive on the home value front, which begs an important question: Is now a good time to buy Tallahassee real estate? Better yet, is Tallahassee real estate a good investment? Median home prices in the Tallahassee real estate market have increased for the better part of seven years. Since October 2012, in fact, home values have increased approximately 33.03%. After years of historic appreciation, today's median home value is now somewhere in the neighborhood of $191,568. Median home values across the United States, on the other hand, increased 48.81% over the same period of time, and now rest at $244,054.
Here's a list of the Tallahassee neighborhoods that have appreciated the most in the last 20 years (according to NeighborhoodScout):
W Tharpe St / San Luis Rd

Lake Bradford Rd / Jackson Bluff Rd

Apalachee Pky / Chaires Cross Rd

Flagler College-Tallahassee / W Pensacola St

Florida State U / W Tennessee St

Centerville Rd / Mclaughlin Dr

Iamonia

Mahan Dr / Capital Cir NE

Old Saint Augustine Rd / Williams Rd

Oak Knoll Estates / Bridle Path Acres
While the latest bout of appreciation in the Tallahassee housing market hasn't been able to match the pace of the United States real estate market, its latest ascent may be attributed to the same primary factors elevating housing prices across the country: a stronger economy, more optimism in the housing sector, and a lack of available inventory. Residents have seen their local economy improve year-over-year, increasing the number of people looking to actively participate in the housing market. More people can afford to buy in Tallahassee than in years past, which has improved market sentiment. It is worth noting, however, that there simply isn't enough available housing to satiate today's demand. Not nearly enough homeowners are putting their assets up for sale, leading to increased competition and prices.
The lack of available homes in the Tallahassee housing market has been acknowledged, but the solutions will take some time before they are implemented. Until more real estate is listed for sale, prices will continue to increase, to the tune of about 2.8% over the next 12 months. The Tallahassee real estate investing community should take note of this potential increase, and perhaps use it to their advantage.
Despite returning to pre-recession levels, median home values have managed to remain relatively affordable. With a price-to-rent ratio of about 13.35, it is actually more affordable to buy real estate in Tallahassee than to rent, which should play out well for local real estate investors. Expect Tallahassee real estate trends to support local investors for a while.



The Tallahassee real estate market has been hit harder by foreclosures than most cities across the country. It is worth noting however, that while many would view the high distribution of forecloses as an "Achilles heel" for any market, Tallahassee real estate investors have used it to their advantage. The number of foreclosures currently present in Tallahassee suggests there's ample opportunity to secure a deal below market value. On top of that, demand remains present in the face of rising home values. Investors who take action now may find themselves with a lot of opportunities on both the buying and selling ends of each transaction. In other words, Tallahassee real estate news should remain encouraging for the foreseeable future, especially for investors.
Tallahassee Real Estate Market: 2016 Summary
Median Home Price: $187,300

1-Year Appreciation Rate: 3.8%

3-Year Appreciation Rate: 13.5%

Unemployment Rate: 5.1%

1-Year Job Growth Rate: 2.0%

Population: 186,411

Median Household Income: $68,214
Tallahassee Real Estate Investing 2016
The Tallahassee real estate market made small but important improvements in 2016. For the most part, Tallahassee real estate news spoke in favor of the local market. Home prices increased relative to previous years, as appreciation rates maintained pace with the rest of the country. At the time, increases extended the trend of positive growth since the recession, benefiting homeowners and investors alike.
The local economy, home affordability and new housing construction were all working in favor of real estate in Tallahassee. Upgrades in unemployment, including job growth (which has fared better than the national average) produced favorable results for the Florida city. Home affordability, which (at the time) was among the lowest in the country, helped residents spark a great deal of activity in the area.
The median home price was $187,300 in 2016, compared to the national average of $239,167. While lower than the rest of the country, home prices were up over the previous year. The second quarter produced one-year and three-year appreciation rates of 3.0% and 13.5%, whereas the national average achieved rates of 4.9% and 17.8% respectively.
Homeowners paid 10.6% of their income to mortgage payments, versus the national average which paid 15.8%. While historically strong, the local market experienced further improvements over the first quarter of the year. Conversely, new housing construction—or a lack thereof—played a large role in home prices. Construction reached 8.0% during the second quarter, with single-family housing permits settling at 7.8%, compared to the national average of 10.6%. All in all, the market saw new construction builds move things forward.
Tallahassee Real Estate Market: 2015 Summary
Current Median Home Price: $170,500

1-Year Appreciation Rate: 6.6%

Unemployment Rate: 5.1%

1-Year Job Growth Rate: 3.5%

Population: 186,411

Median Household Income: $44,420
Tallahassee Real Estate Investing 2015
Tallahassee, Florida was one of the hardest hit areas after the real estate market collapsed. Foreclosures were double (and in some years triple) the national average. While foreclosure rates in 2015 were higher than the national average, however, they saw a severe decline over the previous three years. As a result, home prices and equity appreciation rose (along with attention). New construction increased and unemployment improved overall. The Tallahassee housing market was improving each and every month at the time.
The median home price was $170,500 in 2015, which represented a 6.6% increase over the previous twelve months. Nationally, prices grew at a 6.7% clip, just slightly higher than the city of Tallahassee. Perhaps even more impressively, local real estate appreciated by as much as 24.1% in the three years leading up to 2015. The gains in equity, at the time, were incredibly attractive to real estate investors.
Tallahassee real estate, like most of Florida, made great strides since 2015. Foreclosures remained a concern, but they seemed to be on the mend. Of course, years later, local real estate still exhibited a high propensity for foreclosure.
Tallahassee County Map: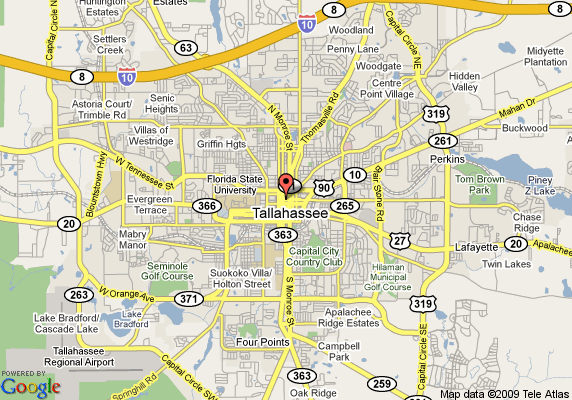 Have you thought about investing in the Tallahassee real estate market? Does Tallahassee real estate investing interest you in the slightest? If so, what are you waiting for? We would love to know your thoughts on real estate in Tallahassee in the comments below.
*The information contained herein was pulled from third party sites. Although this information was found from sources believed to be reliable, FortuneBuilders Inc. makes no representations, warranties, or guarantees, either express or implied, as to whether the information presented is accurate, reliable, or current. Any reliance on this information is at your own risk. All information presented should be independently verified. FortuneBuilders Inc. assumes no liability for any damages whatsoever, including any direct, indirect, punitive, exemplary, incidental, special, or consequential damages arising out of or in any way connected with your use of the information presented.
🔒 Your information is secure and never shared. By subscribing, you agree to receive blog updates and relevant offers by email. You can unsubscribe at any time.