Key Takeaways
A turnkey property is a property that has been built or renovated in such a way that it is completely move-in ready.
In turnkey real estate investing, investors can earn passive income by purchasing property that is renovated and managed by a turnkey real estate company.
A benefit associated with investing in turnkey properties is the opportunity to take advantage of a strong rental market remotely.
---
In many markets across the nation, buying property is still cheaper than renting. Investors can take advantage of this imbalance in the market by purchasing rental properties that offer low price-to-rent ratios for the owner. One such trend within this domain is the purchase of turnkey investment properties, an avenue for investors who wish to purchase rental properties outside of their local area. Turnkey properties also offer a solution to those who want to earn passive income, yet do not want to deal with many of the typical responsibilities associated with becoming a landlord.
What Is A Turnkey Property?
A turnkey property is a property that does not require any repairs or improvements, and is completely move-in or rental ready. A turnkey property is often sold and managed by a company that specializes in purchasing and rehabbing under-market value properties on behalf of passive income investors.
---
[ Thinking about investing in real estate? Learn how to get started by registering to attend a FREE real estate class offered in your area. ]
---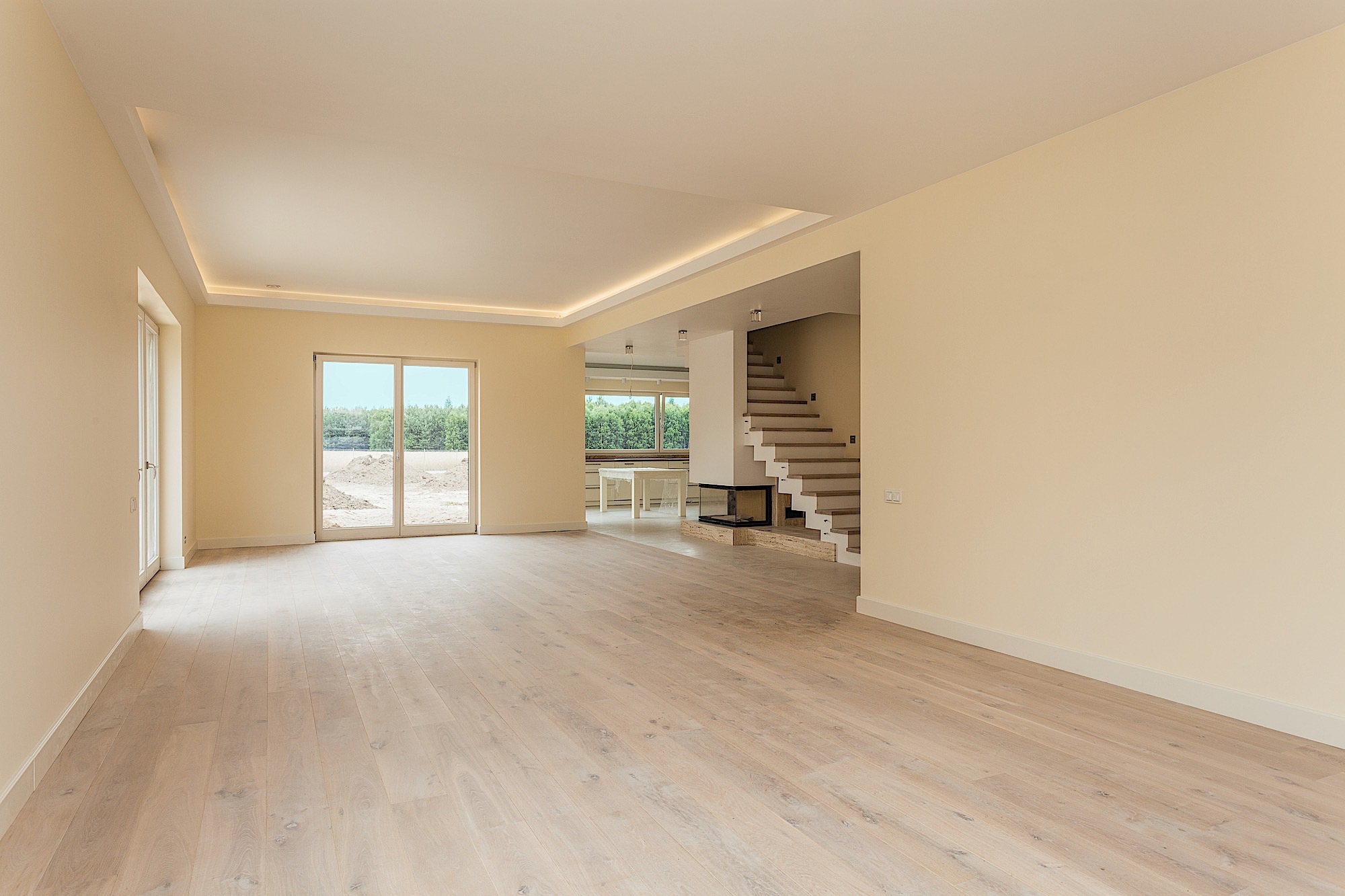 What Is Turnkey Real Estate Investing?
Turnkey real estate investing is the strategy of purchasing rental property that has already been renovated by a turnkey real estate company, which will also serve as the property manager, so that the owner may have a hands-off approach to earning passive income.
Typically, a turnkey real estate company will renovate undervalued properties in strong rental markets, after which they will sell the move-in ready property to rental property investors. All the investor has to do is "turn the key." The same company will typically offer property management services, taking care of landlord activities such as marketing the property, dealing with paperwork and tenant turnover, and addressing maintenance issues. In some scenarios, the investor can oversee the renovation process themselves, if they choose to do so. A turnkey rental property offers an opportunity for investors who want to earn passive income, but want nothing to do with acquiring, renovating, and managing a rental property in a conventional manner.
Benefits Of Turnkey Properties
Remote investing: Turnkey rental properties make it possible for investors to invest in strong rental markets remotely. For example, an investor who lives in New York City can take advantage of strong rental yields in Cleveland, Ohio by investing through a turnkey company, which will carry out property management services as well.

Move-in ready: A turnkey investment property is move-in ready, meaning that it can start cash flowing shortly after the purchase. This also takes away the pains associated with overseeing the repairs and renovations process for a property.

Property management: The turnkey real estate company serves as the property manager, meaning that the owners of turnkey property rentals do not have to deal with day-to-day "landlording" activities.

Good property condition: When done correctly, the turnkey property has been renovated to a new or almost-new condition. This means that there should generally be fewer repairs or maintenance issues that come up, at least in the first few years, in contrast to renting out a property that is older or in lesser condition.

Simplicity: A major point of appeal of a turnkey rental investment is the relative simplicity of the process. Generally, an investor simply purchases a rental property that is renovated and managed by the turnkey real estate company. In an ideal setting, the turnkey company is staffed by experienced real estate professionals who take care of complicated processes such as property identification, acquisition, renovation, and management. This simplicity for the investor can help minimize the level of risk and stress associated with serving as one's own landlord.
Risks Of Turnkey Properties
Placing trust in others: One of the biggest risks associated with turnkey investment properties is the level of trust placed in a turnkey company. In most scenarios, the investor will entrust the company to act as their executor, such that their ROI is dependent upon the company's decision making and performance. An investor should always spend time researching the company's past performance, obtain client referrals and closely inspect the selected property.

Lack of direct oversight: Similar to the point above, an investor must be prepared to give over the reins of managing their rental property business to a separate entity. Because turnkey companies are typically full-service, there are few areas where the investor can have a hand in day to day operations.

Paying premiums: A turnkey company will typically charge a premium for the purchase of the turnkey property, plus monthly property management fees. Investors must acquiesce to paying these premiums in exchange for a favorable return on their investment.

Minding due diligence: Although the appeal to turnkey investment properties is the opportunity to have a completely "hands-off" approach to earning rental income, investors still need to put in the effort to mind their due diligence. They should conduct their own research and analysis to verify that the information presented by the turnkey company is accurate, as well as schedule their own property walkthrough and inspection to ensure that the quality and condition of the renovated property matches up to what has been promised.
What To Look For In A Turnkey Property
Because of the level of trust that is placed by an investor into a turn key property company, and often done so remotely, it is important to know what to look for in turnkey investment properties, including possible red flags.
It is most advantageous for an investor to locate a turnkey property that is located in a growing or up-and-coming market, where the locale offers a strong population of renters and local rental yields are strong. According to Think Realty, this year's most notable rental markets are Macon, GA; Toledo, OH; Detroit, MI; and Pittsburgh, PA. These markets were identified based on average rental returns from single-family units, local industries and employer growth, local housing affordability and past performance. These types of factors can provide sufficient evidence for an investor to believe that they can gain strong returns on their investment based on the strength of the market's rental population.
In addition to the competitive market analysis, an investor must thoroughly vet the trustworthiness of the turnkey company that they will entrust. The company should demonstrate strong average returns for their clients, provide good occupancy, vacancy and maintenance averages, and be supported by positive referrals from their past and current clients. Aside from being in business for several years, the company should also be staffed by enough experienced real estate professionals that can sufficiently service all of the properties in the company's portfolio. Investors should strive to select a turnkey company that satisfy these minimum qualifications.
Investors should also be careful to watch out for red flags that can signal potential pitfalls. For starters, some turnkey companies can take advantage of out-of-area investors by marketing beautifully-renovated properties that have in fact be renovated poorly (or not at all). One signal for such malpractice is when the company seems to show resistance to the investor when they request an in-person walkthrough or hiring a separate property inspection. Other red flags might include acquisition and management fees that seem excessive when compared to industry averages, which are roughly 3 percent, and then 7 to 10 percent, respectively. Staffing can also prove to be an issue for some turnkey companies, such as hiring inexperienced property managers, or not having enough staff to effectively look after all of the properties in the company portfolio. When weighing multiple turnkey company options investors should be sure to look out for these red flags and not be hesitant to ask tough questions. After all, these companies are being entrusted to manage your business on your behalf.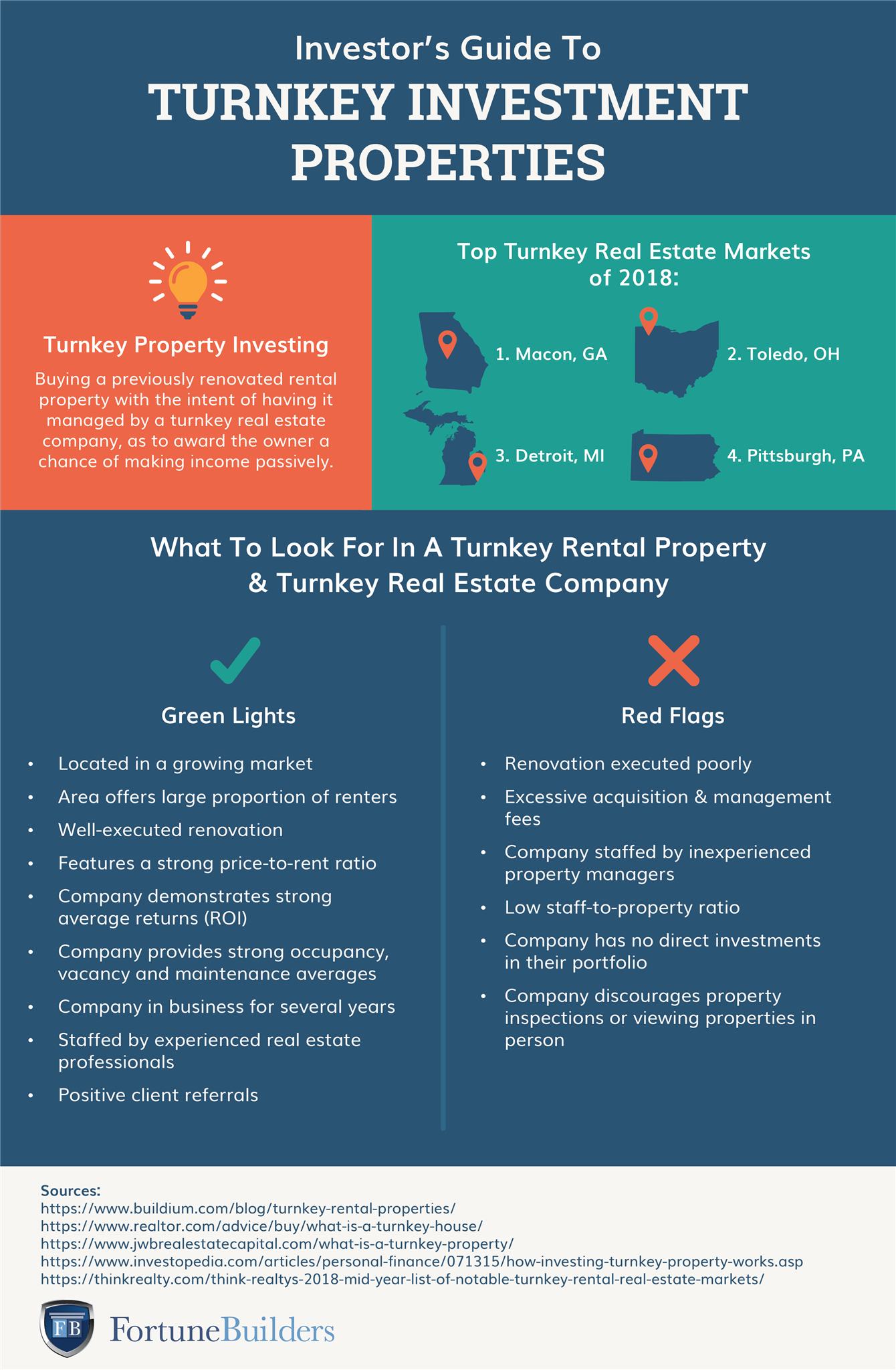 Summary
Turnkey investment properties provide a fantastic opportunity for investors who want to earn rental income in a passive manner, especially if they would like to take advantage of strong rental yields in markets outside of their local area. Turnkey real estate companies serve this type of passive income investor by acquiring, renovating, and managing rental properties on their behalf. In this type of scenario, the investor will purchase the property, as well as pay acquisition and property management fees to the company in exchange for not having to do any of the heavy lifting. However, turnkey property investors should still conduct their own research and analysis to ensure that the rental market promises strong returns, as well as fully vet that the company of their selection is fully trustworthy.
Would you entrust a turnkey real estate company to manage your passive income property? Share your thoughts in the section below:
🔒 Your information is secure and never shared. By subscribing, you agree to receive blog updates and relevant offers by email. You can unsubscribe at any time.