In no other field is the power of a sound education more pronounced than that of the real estate industry. While you could very easily argue that no viable career path is possible without at least some degree of literacy, a legitimate real estate education is entirely capable of serving as the catalyst for your dream job. Few career paths, for that matter, have as much potential as real estate investing; even fewer allow their most prominent influencers to rise through the ranks armed with nothing more than a little determination and an educational foundation to stand on.
Investors really only need one thing if they ever hope to realize success on a higher level: a proper real estate education. With a solid foundation to build off of, everything else should fall into place.
It's a sad truth, but a reality nonetheless: some 80 percent of Americans have failed to obtain what they consider to be their dream job. What's more, it's safe to assume that the majority of those not situated comfortably in their ideal career are unhappy with their current professional role; they are simply working a nine-to-five as a means of paying the bills. At the very least, spending 40 hours a week at a job you are less than enthusiastic about is a daunting task, even for those with an unparalleled work ethic.
Fortunately, there is a relatively simple way to escape the rat race and realize your true potential. I am convinced that a proper real estate education is entirely capable of providing the means to achieve one's dreams, whether it is a career in investing or the world of possibilities it can lead to.
How can a real estate education actually help you achieve your goals? In what way are the benefits of real estate literacy tangible, and how can you use them to propel your career to the next level?
The Benefits Of A Proper Real Estate Education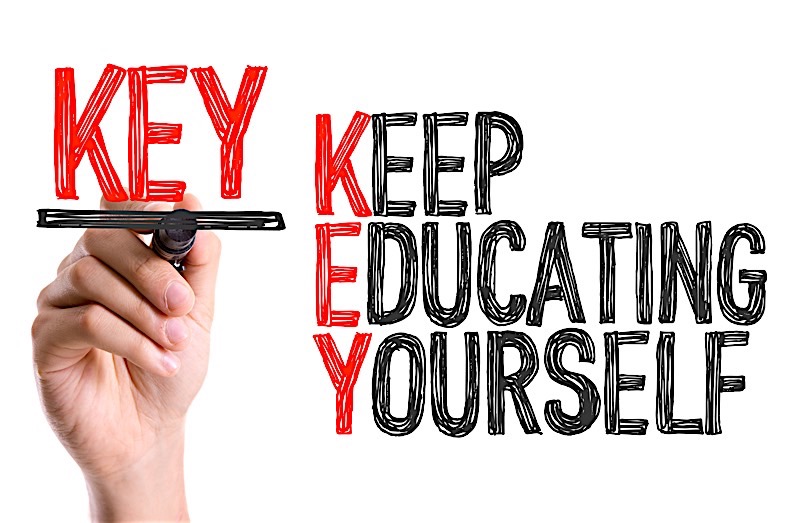 Risk Mitigation
I won't sit here and lead you to presume there aren't risks associated with real estate investing; there are essentially risks associated with every type of investment. Not surprisingly, investing in real estate has become synonymous with its own inherent degree of risk. However, the amount of risk you take on is contingent on your level of preparedness. Better yet, it is entirely possible for a sound real estate education to mitigate a great deal of risk. The more you are able to learn about a particular real estate investment strategy, the less risky it becomes.
While risk can't be avoided altogether, it can be managed. Place the odds of completing a successful transaction in your favor and solidify your real estate education today.
More Opportunities
Investing in real estate for more than a decade has taught me many valuable lessons, but one stands out perhaps more so than any other: there is a viable real estate investment strategy for every market cycle. That said, there are times when market indicators will call for time-sensitive rehabs and there are times that favor long-term buy and hold strategies. Which strategy you invest your time in will likely be contingent on what the market dictates. However, only those with the proper real estate education will be able to capitalize on the exit strategies that are currently relevant. The more comfortable you are in carrying out different exit strategies, the more flexible you are able to be. Don't let an opportunity pass you by because you don't know how to navigate it properly.
Better Return On Investment (ROI)
Serving as the foundation of your entire career, the right credentials can set you on the path of least resistance. The more well-rounded your real estate education is, the less likely you are to encounter problems. That's not to say knowledge will eliminate every obstacle, but it will certainly reduce the chances they impede your progress on a respective deal If for nothing else, understanding how to navigate a transaction will reduce inefficiencies, which, as we all know, have the potential to eat into an investor's bottom line.
You have heard it before: time is money. While time is certainly worth a lot more to an investor than capital alone, the adage certainly holds weight in today's real estate landscape. Nothing is more capable of saving you time or helping you avoid inefficiencies than the proper real estate education. Equipped with the right knowledge and a commitment to expanding it on a daily basis, you can essentially eliminate occurrences in which your time is compromised.
Of course, it is what you do with that time that will ultimately improve your spreads and ROI. Understanding how to use your time more efficiently will permit you to focus your efforts on more important activities; those that are considered to be income producing.
Creating A Network
Real estate is a people business; the sooner you learn that, the better. The connections you make as an investor are invaluable to your career, no matter how much experience you have. For what it's worth, everyone you meet has the potential to bring something to the table that you never had. You never know who will help you solidify your next deal, or even help you close on a home for that matter. That said, you need to network in a way that fosters mutually beneficial relationships.
There is no other way to build dependable relationships, at least that I am aware of, than to offer something in return. Not surprisingly, savvy investors have a tool that is invaluable to others in the industry: knowledge. The proper real estate education is a commodity others will covet. If you have something of value to offer from an intellectual standpoint, people will be more willing to work with you. Use your credentials to become an influencer in your community, and the chances of people wanting to work with you will increase dramatically.
Establishing a sound real estate education is far and away one of the most defining moments of an investor's career. If for nothing else, a working knowledge of the industry and all of its components will see to it that you are heading in the right direction. The sooner you can solidify your position as an investor with a real estate education, the better off you will be.