Key Takeaways
A pre-foreclosed home refers to the state of a property at the beginning stages of being repossessed by its lender.
Working with motivated sellers, finding bargain deals, and a quick buying process are just a few of the benefits that come with buying a pre-foreclosed home.
Go online, talk to a realtor, check the local newspaper, or research public records to find pre-foreclosure listings in your market.
---
Buying a pre-foreclosed home is a great option for investors looking to enter the real estate market at a lower price point. Because pre-foreclosed homes are usually sold at a bargain, investors — or homeowners — have the opportunity to score the property of their dreams.
Use this guide to gain a better understanding the foreclosure process, discover the benefits of buying a pre foreclosed home, and learn where to find pre-foreclosure listings in your market.
What Is A Pre-Foreclosed Home?
A pre-foreclosed home is a property that is in the early stages of being repossessed by its lender due to the fact that the homeowner is no longer capable of paying the outstanding mortgage. When a home is in pre-foreclosure, the homeowner still has the chance to pay his or her debt or sell the property before it is fully foreclosed. The pre-foreclosure period lasts three to 10 months after which a public auction is arranged. If the property owner wants to avoid foreclosure, he or she must immediately begin making late payments in order to reverse the default or find someone who will buy the property.
---
[ Want help finding great investment deals in your area? Use these 14 FREE fill-in-the-blank marketing pieces ]
---
Real Estate Foreclosure Process
A homeowner can no longer pay his or her mortgage.
The lender files a Notice of Default, Lis Pendens, or Notice of Sale.
The property falls into a state of pre-foreclosure where the homeowner has a three to 10 month grace period to pay their debt or sell the property.
The lender will repossess (foreclose on) the property and a public auction or trustee sale is arranged to sell the property.
The property is sold at auction typically for the equal to the outstanding loan balance, interest accrued, and any additional fees.
If the property is not sold, or is worth less than the total amount owed to the bank or lender, it is deemed as an REO property (also known as a bank owned property)

Investing In Pre-Foreclosure Real Estate: 9 Benefits
Motivated Sellers: Whenever you have the opportunity to work with motivated sellers on any real estate deal, take it. Why? Because if a seller is motivated to sell for whatever reason — perhaps they can no longer afford their mortgage payments, maybe they are relocating due to a career change, or they could just be ready to move into a new home — the buyer is more likely to get a better deal. In this case, sellers in pre-foreclosure are some of the most motivated sellers you will ever find. They just lost their home and are therefore motivated to move quickly in order to avoid dealing with the wrath of the bank.
Negotiation Power: When a seller is in pre-foreclosure, he or she has stopped making payments to the bank; this is advantageous to a buyer for multiple reasons. Firstly, because you are negotiating with both the buyer and seller right up until you buy the property (and no one is making payments on the home) you avoid closing costs. Secondly, because the seller need to move fast, your negotiation power increases substantially. You may have the chance to purchase the property for below market value. You may be able to convince the seller to complete certain repairs before purchase. Working with distressed homeowners comes with pros and cons, but putting your negotiating skills to the test will ensure a bargain deal.
Equity Spreads: Buying homes in pre-foreclosure allows buyers to create significantly larger equity spreads. Economic uncertainty as well as rising interest rates has led to an increase in the number of pre-foreclosed and foreclosed homes. Banks don't want to take back homes if they don't have to, which enables buyers to request a significant discount. Large spreads of equity can be created on houses that have maxed-out their loans.
Great Deals: Distressed homeowners selling during the pre-foreclosure process are desperate to get out of their mortgage payment in order to avoid foreclosure. This means, these types of homes typically sell for what is owed on the loan as opposed to current market value.
Lenient Financing If you've previously avoided investing in real estate due to a lack of capital or less than stellar credit score, pre-foreclosures could be your answer. If you've always wanted to invest in a passive income property but can't acquire a traditional loan from a bank, you may still qualify to purchase a home in pre-foreclosure. Why? Because buying a pre-foreclosure property allows you to simply take over the existing financing in place. You'll get the title, continue making payments on the existing mortgage or mortgages, and still receive all the tax benefits without the risk of being personally liable for the mortgage and property.
Avoid Auctions: Bidding at a real estate auction can certainly get your adrenaline pumping, but the experience is not for everyone. If you want to avoid competitors breathing down your neck and various min games, aim to invest in pre-foreclosures as opposed to foreclosed or bank owned property. You still achieve the same end goal without having to attend an actual auction.
No Mysteries: When purchasing a bank owned home straight from auction, you rarely know its true condition, let alone what the interior looks like. Purchasing a home that is still only in a pre-foreclosed means you can visit the home as well as have it properly inspected.
Quick Buying Process: Because the price is right and the seller is motivated, buying pre-foreclosure properties is typically faster than purchasing an investment property more traditionally.
Niche Market: One common mistake newbie investors tend to make is trying to become a "jack of all trades." When diving into the real estate investing area, minding your due diligence to start is crucial. With so many exit strategies to choose from (i.e. buying and holding, rehabbing, wholesaling, etc.) getting in over your head can happen fast. Instead of trying to do it all, try to focus on a specific niche. Maybe you want to wholesale deals working with a realtor. Perhaps you want to focus on selling fix and flip properties to the first time home buyer audience. The more specific you can be, the better! In this case, choosing pre-foreclosure as your investing niche could be a smart move due to the fact that pre-foreclosures are a very well defined market. Creating a personalized niche can help you hone your marketing strategies to be more effective as well as build business systems and standardized processes to get these types of deals completed and closed.
Buying a pre-foreclosed home has undeniable benefits, but these types of properties are not listed on the MLS. So where can you find them? Read on to find out.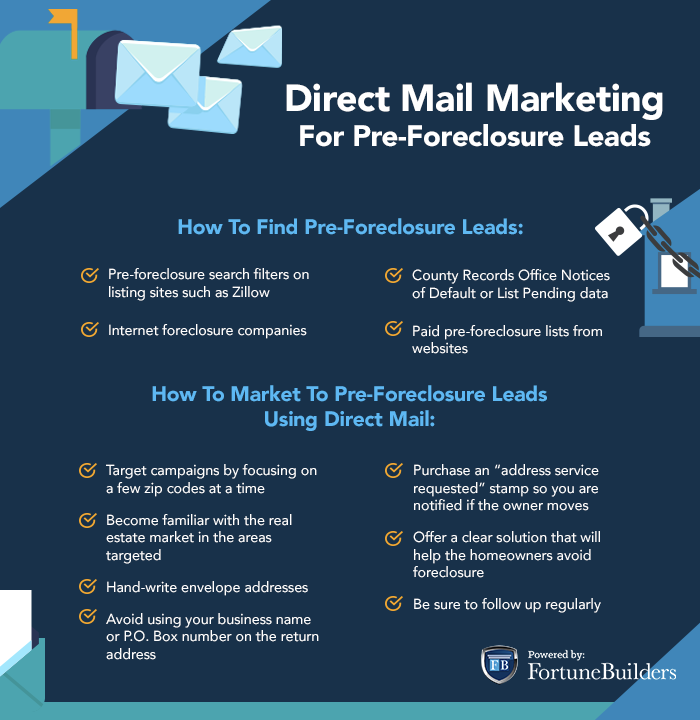 Finding Pre-Foreclosure Real Estate Deals In Your Market
Online: Fortunately, investors can often find pre-foreclosure leads with the push of a button. Okay, maybe it's not as easy as that, but there are several online directories that provide pre-foreclosure listings as well as pertinent details about the property (i.e. condition, number of bedrooms, square footage, and interior photos). Certain sites like Zillow show pre-foreclosure listings alongside the contact information for the realtor representing the property for free. If you're looking for a more advanced version — and are willing to pay a small monthly fee — sites like Foreclosure.com and REDX allow you to search for pre-foreclosure listings by county and provide the most up to date lead information
Public Record: If you're willing to get your hands a little dirty and put in the work, you can actually find pre-foreclosure listings for free at your county recorder's office. Search for Notice of Default, Lis Pendens, and Notice of Sale, all of which are notices issued to the homeowner and are public record. These public records will contain the property address and the homeowners name, but that is generally all. However you can use this information to send the homeowner a piece of direct mail.
Realtors: Realtors have access to the MLS and can filter their search to only include pre-foreclosure listings. If you pursue this option, just be sure to find a realtor who has experience working with pre-foreclosure sales so that he or she can support you throughout the entire deal.
Local Newspaper: Most local papers publish the addresses of homes that are in any stage of the foreclosure process. You can use this information the same way you would use the information found at your county recorder's office.
Will you incorporate buying a pre-foreclosed home into your investing playbook? Now that you understand the benefits, use our tips to find a pre-foreclosed home in your market today!
🔒 Your information is secure and never shared. By subscribing, you agree to receive blog updates and relevant offers by email. You can unsubscribe at any time.