An investor's best friend is a motivated seller. However, talking with motivated sellers can be a nerve-wracking experience for investors who have never tried.
A seller can be "motivated" for a number of different reasons. Perhaps the seller faced divorce, an unexpected job loss, or the arrival of a new baby. There is also the chance that the seller inherited the property following the death of a loved one, or it is possible that the property is one that the seller owned for many years but is no longer able to care for. Whatever the reason may be, when a seller is motivated, he or she is in need of an investor just as much, if not more so, than an investor is in need of a seller.
Talking With Motivated Sellers: The Key To Success
If you want to turn a motivated seller lead into a successful deal, it is important to talk candidly to the seller. If the seller is going through a difficult time in his or her life, you must build trust with the seller so that they feel comfortable handing over their beloved property.
If you feel overwhelmed at the prospect of talking with motivated sellers, practice with our no-fail script. Keep in mind, however, that this script is simply an outline of how a conversation might go. Of course, any conversation you have with a person will differ in one way or another. However, you must understand the important questions to ask if you want to realize success with a motivated seller.
If you are ready to start talking with motivated sellers, download this no-fail script and start rehearsing today!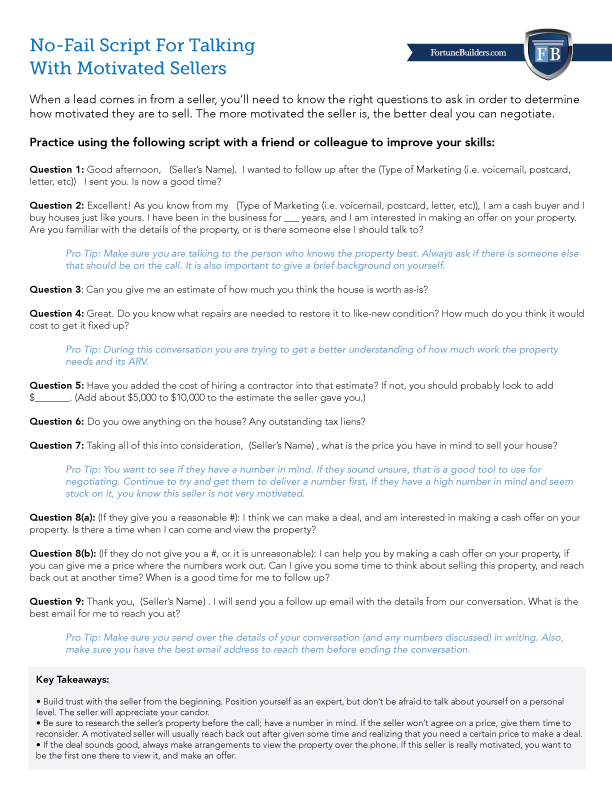 🔒 Your information is secure and never shared. By subscribing, you agree to receive blog updates and relevant offers by email. You can unsubscribe at any time.