Key Takeaways
Key Takeaways:
---
REO property, or real estate-owned homes, are a valuable asset for today's investors. They offer an excellent source of potential deals for investors savvy enough to recognize their potential. With the right approach, REO properties could be where you find your next big deal.
What Is An REO Property?
An REO – or "real estate owned" – property, refers to a home that, after going through the foreclosure process, didn't find a buyer at auction and is now bank-owned. Banks aren't in the business of holding onto non-performing assets. This offers investors the chance to acquire these properties, often at a discount, as banks are eager to move them off their books.
Most banks provide lists of their available REO properties. But working with a real estate agent familiar with REOs can give you access to a broader range of options.
To make the most of REO investments, you need to understand the process and be prepared to negotiate with the banks to strike a win-win deal.
---
[ Thinking about investing in real estate?
Register to attend a FREE online real estate class
and learn how to get started investing in real estate. ]
---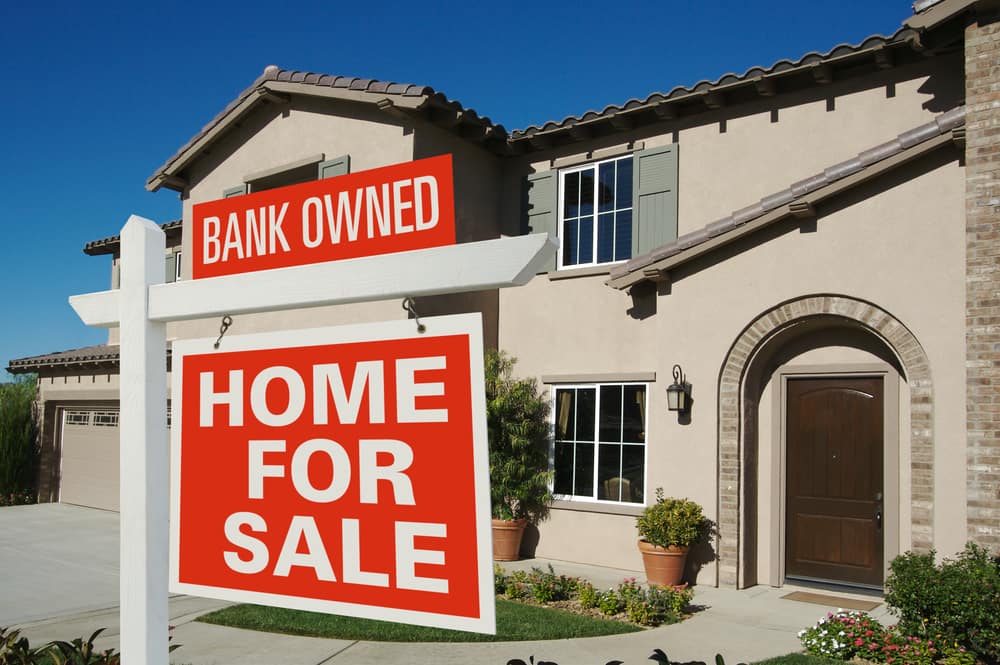 The REO Process
Payment Default: This is the initial stage where homeowners miss their mortgage payments. After multiple missed payments, they receive a Notice of Default.

Auction: The property is up for public auction in a Trustee's Sale. The starting bid is usually the outstanding loan amount plus any associated fees.

Real Estate-Owned If the property doesn't sell at auction, it becomes an REO property. The bank will then try to sell it, typically using a broker.
What Is An REO Specialist?
An REO specialist is a real estate expert tasked with managing, marketing, and selling bank-owned properties. They liaise between the bank and potential buyers, handling the property deeds and coordinating with property managers to ensure the property is maintained during vacancies.
10 Steps To Buying REO Properties
Buying REO properties is actually very similar to buying a general home. However, there are a few exceptions you need to address. In either case of buying a home for yourself or as an investment, here are the 10 steps to buying REO properties:
Search For Properties: Use bank listings, MLS, real estate agents, or platforms like Zillow to find available REO properties.

Find A Lender And Financing Options: Choose a lender and discuss your financing options. Being pre-qualified by the bank selling the property can expedite the process.

Find A Buyer's Agent With REO Experience: An experienced REO agent can guide you through the buying process.

Compile A List: Shortlist REO properties based on your criteria, like price, location, repairs needed, and more.

Get An Appraisal: Determine the fair market value of the property and assess its condition.

Make The Offer: Through your agent, submit your offer to the bank. You might also need to provide an earnest money deposit.

Property Inspection: This step is crucial to understand any potential damages or repairs needed. In some cases, the inspection may have already been conducted by the lender once the bank owns the property. If this is the case, ask for a copy of the inspection report and review it before making any final decisions.

Negotiation: Banks aim to get the highest price, but with patience and the right strategy, you can negotiate a good deal.

Finalize Loan: This runs in parallel with the negotiation and inspection. Ensure the title is clean and there are no unknown liens.

Closing The Deal: This is the final step, where all paperwork is completed and the property is transferred to your name.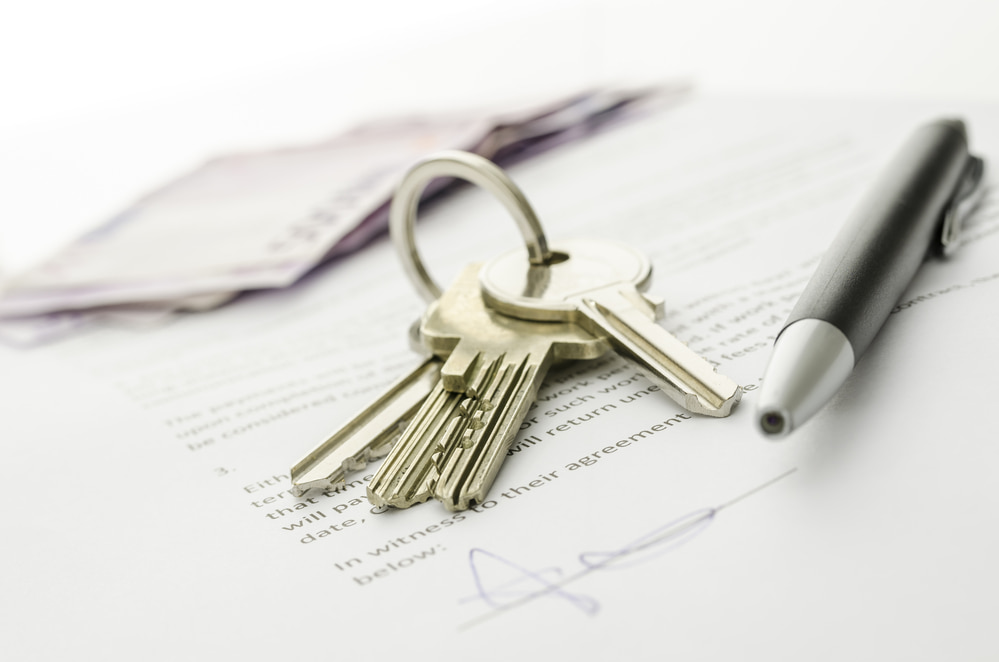 Why Buying REO Property Is A Smart Investment
Contrary to some opinions, REO properties can be a wise investment choice for several reasons:
Discounted Prices: Investors can often get these properties below market value.

No Outstanding Taxes: REO properties are usually free from tax liens and other claims.

Option For Home Inspection: This gives clarity on the property's condition and helps in negotiation.

No Homeowners To Deal With: Negotiations are typically more straightforward as they're with a bank, not an emotionally attached homeowner.

Clean Title: Banks ensure that the property title is clear from any liens.

Houses Are Habitable: Banks make sure the property is in a liveable condition.

Simpler Financing: REO properties qualify for traditional mortgages, making the financing process more straightforward.
There's no doubt about it: REO properties can prove to be invaluable in the hands of savvy investors. That said, there isn't a bank out there that's going to part ways with their REO inventory for a fraction of the price it's worth. To capitalize on your own REO investment, you need to know how to get one in the first place.
The Risks Of Buying REO Properties
While there are numerous benefits to investing in REO properties, there are also inherent risks to consider:
Property Condition: Some REO properties might be in poor condition and may need significant repairs.

Title Issues: While banks usually clear titles, older title issues or liens can sometimes get overlooked.

Cost Overruns: Initial assessments might not always catch all the issues. Once you start repairs, you could find more extensive damages that can increase your expenses.

Neighborhood: Negotiations are typically more straightforward as they're with a bank, not an emotionally attached homeowner.

Competition: Due to the potential deals, there can be stiff competition from other investors.
To mitigate these risks, thorough research, inspections, and understanding the local real estate market is crucial. Being prepared can make the difference between a lucrative deal and a money pit.
---
[ Thinking about investing in real estate?
Register to attend a FREE online real estate class
and learn how to get started investing in real estate. ]
---
REO Property FAQ
Before jumping into your first REO deal, consult with our list of frequently asked questions so that you feel confident when making your offer: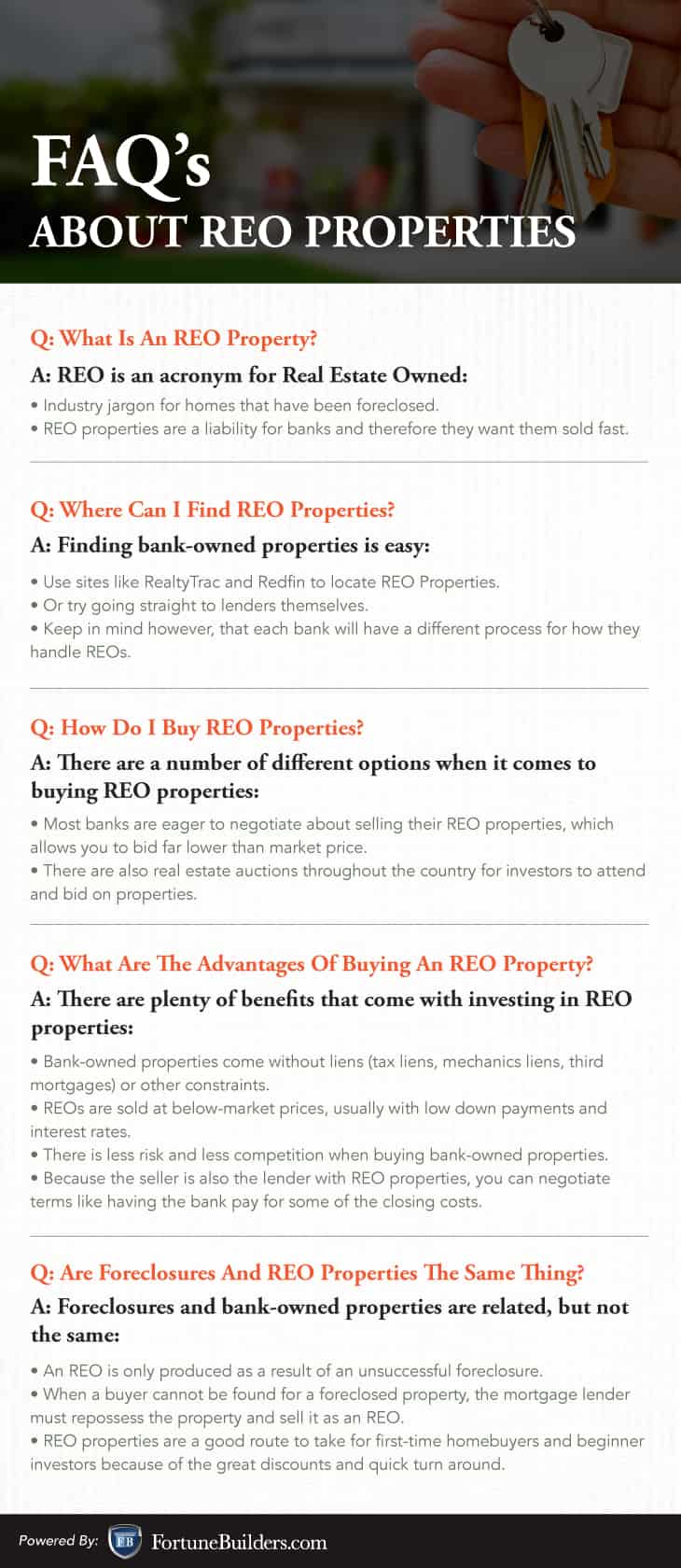 General and Special Warranty Deeds
When buying a property, a general warranty deed is provided, confirming the seller's right to sell the property without any associated legal issues. However, with REO sales, you often get a special warranty deed, which only guarantees the title's clarity since the bank's ownership. This can sometimes hide older title issues or liens. Therefore, when buying an REO property, thorough research is advised to avoid surprises later.
Buying An Owner's Title Policy
Investing in an owner's title policy can protect your investment against any hidden claims or liens. Given that REO properties have usually been through foreclosure, there's a risk of prior liens or judgments. Having a title policy safeguards against potential issues, ensuring your investment remains secure.
Summary
REO properties present a unique opportunity for investors to buy properties at discounted rates, often below market value. While the potential for profits is high, it's essential to approach these investments with caution. Conduct thorough inspections, be aware of the risks, and use experts, such as REO-specialized real estate agents, to guide you. With the right strategies and an informed approach, REO properties can be a significant addition to your investment portfolio.
---
Ready to start taking advantage of the current opportunities in the real estate market?
Click the banner below to take a 90-minute online training class and get started learning how to invest in today's real estate market!