The "Crusher of the Month" is a peer-voted award given to team members who excel and inspire others to step out of their zone and perform at a higher level.
What Christian's peers say about how he embodies the CORE values:
"Christian is always doing a million things for a million people and is still able to persevere when thrown curve balls or additional tasks. He is often pulled in different directions and directions and manages to make it all happen 'Stretch Armstrong' style (actually even better than 'Stretch Armstrong'). He's never too busy to take time to try and help another co-worker in need and he does it all with a smile and a good attitude that inspires other people to keep crushing it!"
"Christian has defiantly embodied the Lead core value this month. He shows action and effort of going the extra mile with each task handed to him. He has the enviable ability to find a simple solution to common problems at hand."
"Christian has grown tremendously in the last 5 years working with FortuneBuilders. His role has continued to evolve, and he has always been open and flexible to whatever has been asked of him. Christian embodies the FB motto 'Attack, 8 days a week', consistently working hard, with a positive attitude. You can often see him around the office with a camera in hand and a smile on his face."
Christian would like you to know that…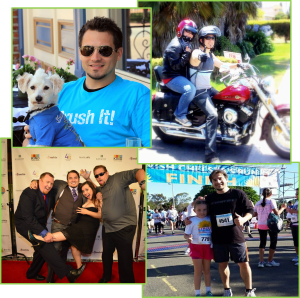 I spent my formative years on a ranch in the panhandle of Texas raising livestock, fixing cars, and running during my free time. I ran before cell phones & iPods made it easy to listen to music. So alone with my thoughts on back-roads, in the middle of isolated pastures, the poetic pounding of my feet on the dirt and the grinding of the gravel beneath them set the tempo of my song. The words to which Time continues to write, verse after verse, day after day. In short, I most certainly march to the beat of a different drum: my own; and running itself, both competitively and for fun, has always been a big part of my life. It takes dedication, persistence, endurance, and commitment.
My love of photography and film developed when I was very young. My time in San Diego has served as a lens through which the world appears largely incommensurate with my former surroundings in Texas, and I have been blessed to enjoy much of what this city has to offer: from the year-round ability to ride (motorcycles), to the plethora of hiking trails, to the beaches and nearby mountains. I enjoy traveling to new places, running, playing various instruments, singing, photography, filming, and writing. And I've been blessed to be able to turn what has been my hobby for years into a career. With the culture that Than, Paul, JD and Konrad have created here at FortuneBuilders, it seems as though I have fit right in. Moreover, the core values they live and teach every day have set the standard for what "work" should be, and what I personally aspire to live up to every day. It's truly a blessing to be able to surround myself with success-driven individuals who share my same thirst for adventure, passion for self-improvement, and calling to improve the lives of others.
I have been with FB since October of 2009. I am from Boys Ranch, Texas (a small town 50 Miles North-East of Amarillo, Texas) and went to Boys Ranch High School (Class of 2003)
Bucket List items done:
Place in top 10 overall in a state Marathon
4:08 min personal best in 1600 meter run (also in competition – the goal was to run below a 4:10)
14:30 min personal best in 3 mile
Be in a movie(s) premiered in theaters
Learn to play the guitar, sing and compose music
Learn to play the ukulele
Make a short film that has premiered in theaters (in a film festival)
Bucket List items needed (in no particular order):
Travel Europe painting/drawing & blogging
Travel to every state in the U.S. (only need a few more)
Before computers made it easy to blog, I have written a wrap-up of nearly every month of my life for the past 20 years. So I intend to write a book about it and get it published
Turn my book into a movie
Create a documentary
Write a screenplay & my own music for the play
Retire & perform voice overs at my leisure
Become a better piano player
When I wake up, I thank the Lord for another day that's never promised to any of us and ask Him to help me make today count. At work, I put myself in the shoes of every person influenced or affected by myself and my work and imagine what experience I should expect as that person; then I strive to blow those expectations away by performing beyond them and creating and experience that is memorable, educational, and beneficial that will positively contribute to each individual. I carry that same passion to other areas of my life, too; because, after all, "How you do anything is how you do everything." And that's how I crush it every day!
Ethics & Integrity * Inspire * Lead * Educate * Crush it