Key Takeaways
Take advantage of snow days to jumpstart indoor projects.
Small, inexpensive changes can both increase your home value and cut down on energy costs.
Don't wait until 2018 to take action on your home improvement resolutions.
---
The season for winter home improvement projects is quickly approaching, and now is the perfect time to prepare.
As the days grow colder, you may expect to find yourself spending countless hours indoors without much to do. However, instead of resigning yourself to several miserable weeks of cabin fever, take advantage of the time spent indoors to work on projects. Not only will you increase the value of your home, you will also find yourself in a better mood. What's more, investing in the upkeep of your home will oftentimes prevent costly issues from developing over the long-run.
Below you will find a list of DIY projects that can be executed without the help of a professional. These winter home improvement projects range from purely aesthetic improvements to practical installations that will help cut down energy bills all season long.
Winter Home Improvement Projects Made Easy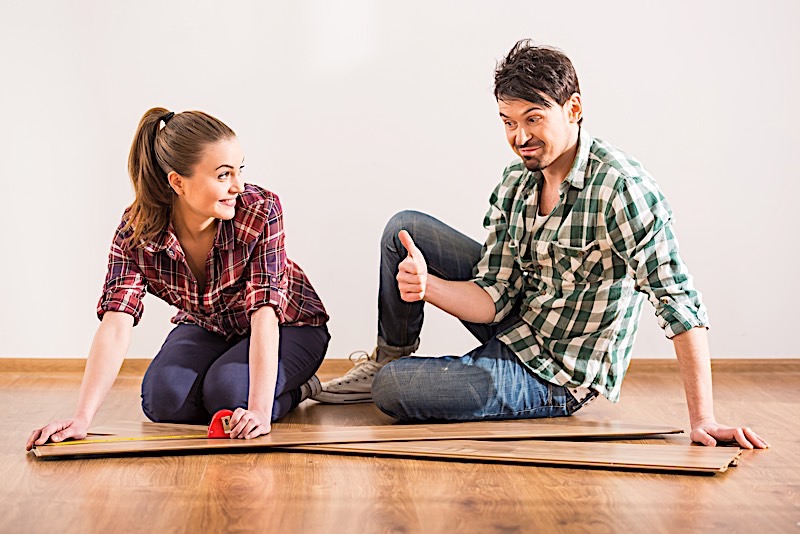 If you love working on things around the house, dropping temperatures make for the perfect excuse to move projects indoors. Even for those who are not of the handy type, the thought of saving on utility bills would make anyone jump off the couch. Use the suggestions below as your winter maintenance checklist to give your home the wow factor it deserves just in time for spring.
1. Repaint Your Interiors
Painting your interior walls is the perfect winter home improvement project with high impact results for a relatively low cost. For those who don't feel like painting the entirety of a room, painting an accent wall or the ceiling are alternatives that provide similar effects. By merely changing or freshening up the color and texture of interior walls, an immediate change to the overall look and feel of your home can be achieved. In addition, the process of painting in itself provides plenty of visual stimulation that helps brighten moods on the dreariest of days.
The cold weather and dryness of the winter months creates ideal conditions for drying paint. Windows need to be cracked open to let in fresh air and allow paint to dry, so make sure to check ahead on the weather forecast. There's nothing like rain or a snowstorm that will dampen your painting efforts. Also, consider purchasing non-toxic, eco-friendly paint brands that will protect the health of household members while minimizing the amount of time windows need to be left open.
2. Give Your Kitchen A Facelift
Overhauling cabinetry or investing in updated appliances need not be necessary when giving your kitchen a facelift. For example, installing a new backsplash can add impact and refinement to any outdated kitchen for a fraction of the cost. From bold and bright patterns to neutral and subdued tones, homeowners have free reign when picking out designs. The right backsplash will help accessorize countertops and emphasize cabinets. For renters or those looking for an easier update, faux stick-and-peel products are also available. Regardless of which route you take, be sure to research the tools and materials needed.
Another winter home improvement project that can easily be executed in one weekend is changing the hardware on your cabinetry. If your current hardware looks outdated or is showing signs of wear and tear, switching them out requires just a few tools and a few hours of your time. New hardware can be ordered online through any home improvement retailer and does not require leaving the house.
3. Freshen Up Your Bathroom
Similar to executing a kitchen facelift, updating the bathroom need not be expensive or laborious. Most bathrooms are relatively small in size, so the smallest of changes can provide a big impact. During the cold winter months, hot steamy showers combined with closed off windows creates the perfect recipe for mold and mildew buildup. First, freshen up the bathroom with a deep clean, followed by re-grouting around tile.
Small, inexpensive updates include replacing hardware, such as the sink faucet, or painting an accent wall. Improve lighting by installing LED light strips around a mirror or inside cabinet doors. Bathroom storage can easily be improved by installing new shelving or adding pull-out drawers inside cabinets. Last, but not least, the effectiveness of simply changing out towels or shower curtains in creating an updated look should not be underestimated.
4. Refurbish Your Doors
Updating interior doors may sound like an expensive and time-consuming project, but there are creative ways to refurbish them at a relatively low cost. For instance, dramatically change the look of your doors with paint. Dark door colors tend to create a more expensive, elegant look for your home while bright swatches provide neutral surroundings with a mood-boosting statement.
For those wary of painting over original wood, or painting in general, changing out doorknobs is a perfectly effective option. For a fun activity with children or a significant other, spend an afternoon perusing through antique shops for vintage hardware. For a more instant update, new and modern fixtures can be ordered online.
5. Declutter
Although the concept of cleaning and decluttering the home is synonymous with spring, why not make good use of the time spent indoors this winter? A helpful strategy is to focus on one section or room at a time to avoid feeling overwhelmed. Devote a specific amount of time each week to the decluttering process, and spend some time researching the best organization tactics for each room type. For example, the best strategies for organizing your closet may not be applicable to decluttering your kitchen drawers.
Before starting the organization process, completely clear out the space at hand and clean it so that you can start fresh. While clearing out the contents, whether it be clothing or supplies, make separate piles for items you would like to keep, donate or throw away. Enlist the help of shelving, over-the-door hooks or containers to keep storage neat and organized throughout the year.
6. Add Insulation
Adding insulation throughout your home may be the most practical of winter home improvement projects. Not only will added insulation help lower utility bills, it will also make a living space more comfortable. Windows and doors can be sealed up with caulk, waterproof sealant or weatherstripping. For old windows with terrible insulation, consider replacing them in time for winter. For homes with attics or basements, insulate openings and crawlspaces to help trap heat. Also, consider adding a thick blanket or insulation around your water heater, which will ensure water stays warm even when the heater is not in use.
Interior and exterior pipes require special attention in the winter months. When temperatures are expected to dip below freezing, pipes can burst and cause water damage or, worse, flooding. By properly insulating pipes, homeowners can prevent expensive incidents from occurring. Insulation kits are available at most home improvement stores. Do not wait for the first energy bill to spring into action.
7. Install A Programmable Thermostat
One way to prepare your property for winter is to install a programmable thermostat. The initial shock from receiving the first winter utility bill should provide enough motivation for such an easy project. Programmable models allow homeowners to automatically set different temperatures throughout the day. Some models provide the convenience of controlling temperatures from your smartphone or tablet. Products easily pay for themselves in energy savings, and are accompanied by easy installation instructions.
Winter home improvement projects often land on many homeowners' New Year's resolution lists. Why waste time waiting until the new year to spring into action? Now is the perfect time to prepare your property for the upcoming months. Making overdue updates to the home will not only help increase property value, but will also increase energy efficiency and significantly cut down energy bills. Furthermore, for those unavoidable days of being stuck inside, enlisting the help of family members in making updates is the perfect way to elevate moods. Whether selecting one or two projects or tackling the list of home maintenance tips above as a checklist, you will be impressed with your own handiwork.
What are your favorite winter home improvement projects? Please feel free to share your favorite projects in the comments below.