The "Crusher of the Month" is a peer-voted award given to team members who excel and inspire others to step out of their zone and perform at a higher level.
What Erin's peers say about how she embodies the CORE values:
"In HR, the FortuneBuilders core values must be taken seriously and be reflected on every task that we do. Erin embodies each of the core values and inspires the whole team to do the same. She is committed to solving problems with urgency, integrity, and working hard for the employees of FortuneBuilders so that they can go out there and Crush it!"
"Erin is committed to very high standards for herself and in everything she does. She gets it done, doesn't cut corners, and makes no excuses. Erin is caring and respectful towards everyone – all the while keeping such a positive attitude and a smile. She leads by example."
"Erin CRUSHES it every day by bringing to the team a positive and 'can-do' attitude. She also has a great sense of urgency, stepping in the whenever someone has a question or a problem, helping our employees out with a smile on her face, and going above and beyond to find answers and solutions. I'm honored to work, learn, and share daily laughs with Erin – I could not ask for a better HR Buddy!"

Erin would like you to know that…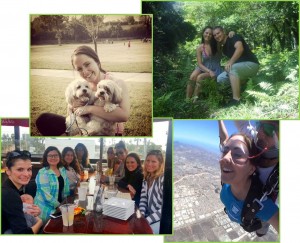 I have been with the FortuneBuilders Family for 3 years, and it has changed my outlook on "work" and life. I have grown tremendously during my time here and have made great friends along the way!
I'm a native San Diegan and can't imagine living anywhere else! I grew up in Jamul, a small town on the outskirts of San Diego. Growing up, we had dogs, cats, 3 horses, bunnies, tortoises, snakes, and even a potbelly pig who still runs around with the dog! I moved at 18, excited to escape the "hillbilly life" so I thought, and I am now back to my roots, living in Jamul with the beautiful views!
I am passionate about animals and have taken in my fair share. I hope to get more involved in the animal rescue community and volunteer my time to help save homeless animals.
Another bucket list item is to go shark diving! I am up for anything new and exciting!
I CRUSH it every day by maintaining a positive attitude and striving to make the best impression on our many new hires, while being a friendly face that employees can come to!
Ethics & Integrity * Inspire * Lead * Educate * Crush it