Key Takeaways
Flipping real estate contracts, otherwise known as "assignment of contract," is a viable wholesaling strategy for investors of every level.
The contract assignment strategy will witness investors sell their rights to buy a home, and not the home itself.
New investors should learn how to flip real estate contracts, as it's typically seen as a great way to break into the industry.
---
Flipping real estate contracts may very well be the best way for new investors to get started in the industry. With a relatively low level of risk, barrier to entry and cost, flipping real estate contracts awards new investors with the path of least resistance. Nonetheless, despite the relative ease of execution that has been associated with contract assignment, there is still an evident margin of error one must take into consideration before they can partake in the strategy themselves. Therefore, it's important for investors who want to flip contracts to educate themselves on the subject matter; only then will they realize success on a higher level.
What Does Flipping Real Estate Contracts Mean?
Flipping real estate contracts is just another way of assigning contracts—or wholesaling real estate using the assignment contract—the two are entirely interchangeable.
As a wholesale strategy, flipping real estate contracts serves as a way for investors to act as the intermediary between sellers and end buyers. However, instead of acquiring the subject property, the investor flipping the contract (the wholesaler) will simply enter into an agreement with the original owner; one that gives them the rights to buy the property at a later date.
That's an important distinction to make: the original owner isn't selling the home, but rather awarding the investor the rights to buy the home. Today's wholesalers sign a contract that says they have the rights to purchase the property in return for what is typically referred to as "equitable interest" in the home.
Next, I'll dive further into the assignment of contract process.
---
[ Do you have what it takes to run your own real estate business? Register for a FREE real estate class offered in your area, where you can learn from experts how to replicate successful business systems. ]
---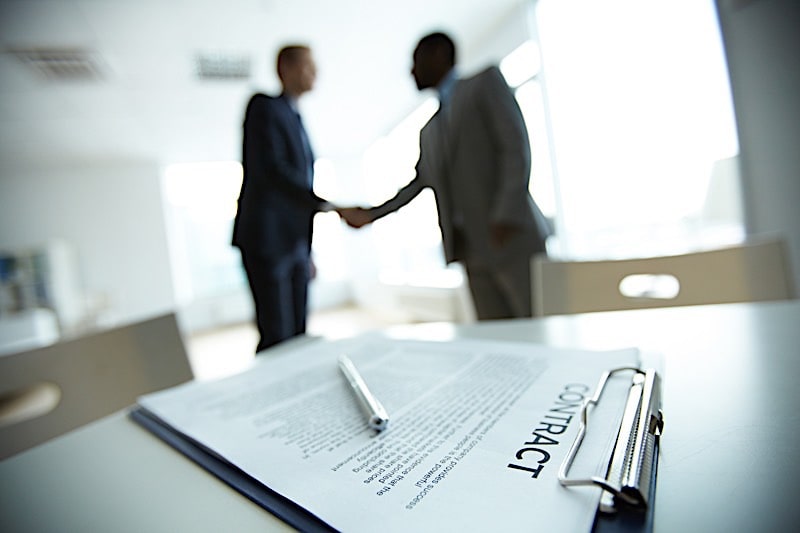 The Basics Of A Contract Assignment
Flipping real estate contracts has become synonymous with perhaps the simplest investment strategies in the entire housing industry: wholesaling. However, make no mistake about it: the "simple" moniker is applied loosely. Not unlike every form of real estate investing, even simple real estate contracts come with an inherent degree of risk. Therefore, in order to increase your odds of realizing success, one must exercise due diligence and follow the steps outlined below:
Find A Property
Write Up The Contract
Get It Approved
Find An End Buyer
Step 1: Find A Property
Flipping real estate contracts starts with finding the right property. Not only will investors need to find a home that's desirable, but they will also need to work with a buyer who is willing to go through the assignment contract process; specifically, motivated sellers. At the very least, motivated sellers are just that: motivated. Whether they are facing foreclosure or need to move for work, people who are motivated to sell represent a great opportunity. Investors should prioritize homes owned by those who need to sell—not those who simply want to sell. Doing so will increase the likelihood of a deal being brought to the closing table, or (in this case) entering into an agreement on a basic real estate contract.
In searching for a viable candidate, there are several strategies for investors to consider. There are two places investors should look if they want to find distressed homeowners: their local courthouse and list providers.
Take a trip to the local courthouse and browse recent lis pendens or notice of default filings. As it turns out, delinquent mortgages are public knowledge, and can be viewed by anyone who knows how to find them. With a little due diligence and patience, investors may be able to compile a list of nearby homes whose owners are motivated to sell for one reason or another.
Investors who would rather pay for someone else to do the legwork can simply purchase a list of delinquent homeowners. More often than not, these lists (which can be bought online) are created using the same documents at the courthouse.
Step 2: Write Up The Contract
Once investors find a home that exhibits all of the characteristics of a good wholesale deal, the next step is to negotiate contract terms with the homeowner. Provided they are ready and willing to sell, the idea is to negotiate an assignment of contract. That said, there's no universal contract that will work for every negotiation. Instead, investors will need to tailor the impending contract to meet both the homeowner's intentions and their own.
The verbiage of the contract between each party is of critical importance. There should be no room for interpretation or ambiguity. The act of assigning a contract needs to be purposeful and deliberate. All purchase and sale agreements, by default, can be sold to another party unless specifically stated otherwise. It is very important to make sure the contract states the investor's exact intentions. Hire an attorney versed in these types of real estate transactions to ensure ensuing discussions go smoothly.
Get It Approved
Once drafted, the contract must receive approval from both parties. After all, even the most basic real estate contracts represent an agreement on behalf of each individual. Of course, that means investors will need to draft a contract that appeases sellers—that's where the motivation comes into play. In the event an investor can identify the seller's motivation, they may be able to write a contract that is simultaneously attractive to the seller and beneficial for the impending wholesale deal.
Provided each person involved in the deal agrees to the terms, it's time to sign the contract. According to the doctrine of equitable conversion, once a real estate purchase agreement is signed by all parties and becomes effective, the buyer becomes the equitable owner and the seller retains bare legal title to the property under the previously agreed upon terms.
Find A Buyer
Today's best contract flipping investors begin with the end in mind. More specifically, they'll have a buyer lined up before they even sign a contract with a seller. That way, they'll already know how the deal is expected to unfold. Most wholesalers, for that matter, compile what's known in the industry as a buyers list. As its name suggests, a buyers list is a list of potential buyers. Wholesalers may consult such a list to identify anyone interested in buying a home and proceed to assign them the contract from the impending deal. A properly curated buyers list could facilitate an assignment of contact in as little as a few hours.
Summary
Flipping real estate contracts is recognized as an entry-level strategy. The barrier to entry, in particular, is relatively low. Additionally, assigning a contract is viewed as a relatively risk-averse real estate investment strategy. That said, investors can't underestimate the process. While easier to grasp than rehabbing, wholesaling must be approached with cautious optimism. Do not let its simplicity get the best of you. Instead, learn how to flip real estate contracts with a proven system. Understanding the contract assignment process is the best way to mitigate risk and realize success.
Are you familiar with the basic concept of flipping real estate contracts? Let us know if we left out something you'd like to hear more about in the comments below:
🔒 Your information is secure and never shared. By subscribing, you agree to receive blog updates and relevant offers by email. You can unsubscribe at any time.