Key Takeaways
Winter is the perfect time to revamp your space with a few home improvement ideas.
There are several home improvement ideas that can increase the energy efficiency of a home, such as improving the insulation.
The right projects will improve both the appearance and functionality of your space.
---
With the cold temperatures approaching, many homeowners are retreating inside this season—making winter the perfect opportunity to improve your home with a few upgrades. From lowering your power bill to increasing your home's value, a little home improvement can make a big impact. No matter what your budget or schedule looks like, there are several great home improvement ideas to consider this winter. Check out the following list to help you find the right home improvement ideas for your property.
Freshen Up Interior Paint
Painting your interior walls is a perfect winter home improvement project. With high-impact results for a relatively low cost, a fresh paint job can provide a much needed refresh for any room. For those who do not want to paint the entirety of a room, an accent wall or newly painted ceiling can offer similar effects. By changing or freshening up the color of a room, homeowners can add an immediate change to the look and feel of the home.
For those looking for DIY home improvement ideas, repainting is a great low-cost activity. The cold weather and dryness of winter creates ideal conditions for drying paint. However, homeowners may need to open the windows to bring in some fresh air, so plan accordingly. There's nothing like rain or a snowstorm to dampen your painting efforts. Don't be afraid to hire a professional for the project, as their expertise can go a long way in improving each and every room; the time they save you will also allow you to tackle other projects. The holiday season can be busy, but that doesn't mean homeowners should shy away from any home improvement ideas this time of year.
---
[ Want to create a roadmap to a financially secure retirement? Register for our FREE online real estate class to learn the powerful wealth building strategies real estate investing has to offer. ]
---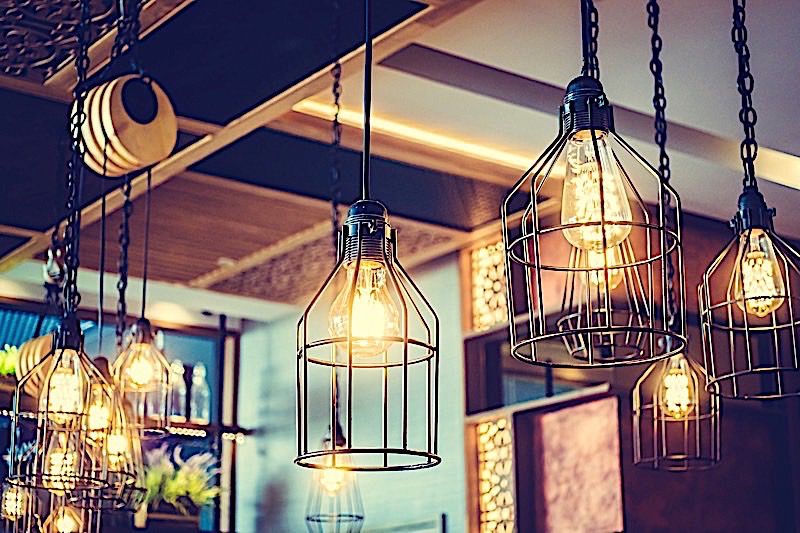 Add Lights
The right lighting can change a room more than you think. Walk through your house and make note of any rooms that feel especially dark or cramped. Adding a new light fixture or changing out old bulbs could be a great way to improve your space. Be sure to check for any exterior spaces that could use an extra glow, too. Putting up some holiday or track lighting can add some cheer to the outside of your home. With the shortest day of the year quickly approaching, winter is the perfect time to add some extra lighting to any property.
Homeowners can also use this time to switch out any existing light bulbs with energy efficient options. As you check the fixtures in your home, look at the types of light bulbs currently in use and make note of any you can replace. This is a great way to make your house a little more eco-friendly and to save yourself money on the next power bill. Look into Energy Star qualified light bulbs to find options compatible with your existing fixtures.
Get Organized
Although the idea of cleaning seems more synonymous with spring, decluttering and organizing are perfect weekend home improvement ideas throughout the year. A helpful strategy is to focus on one section or room at a time. Devote a specific amount of time to the task, and do some research on organization techniques beforehand. There are excellent tips online to help get high-traffic areas in order, like your front entryway or kitchen. Try looking at these ideas from Good Housekeeping or HGTV.
One great strategy is to clear out an entire space and clean it before adding your belongings back in. This can give any room a fresh start, and help you find any out of place belongings. Be sure to separate piles when sorting through your items so you can designate where everything goes. For example, sort sections to keep, toss, move or donate. Remember, the holiday season is the perfect time to donate any gently used items you no longer need.
Upkeep
Property upkeep is crucial for homeowners year-round, but especially during the winter months. Make sure to keep your gutters and roof clear of debris, which can hold moisture and freeze as the weather gets colder. It is also a great idea to check your property for any air or water leaks that may be a result of regular wear and tear. Read our winter home maintenance checklist to ensure you don't forget any upkeep projects this year.
It is also important for homeowners to develop a system for exterior home maintenance and curb appeal during the winter months. This may require raking up the last of the fall leaves, or investing in a snow shovel. No matter where you live, remember that some of the best home improvement ideas are simply to take care of what you already have-—and property upkeep is the perfect example. By taking the time for some regular property maintenance this season, you can help avoid any future problems down the road.
Insulate
Adding insulation is one of the best ways to improve a home any time of the year, but particularly in the winter. Not only will added insulation help lower utility bills, it will also make living spaces more comfortable. Some windows and doors can be sealed with caulk, waterproof sealant or weatherstripping. While older windows may need to be replaced, as the insulation may not be up to par. For homes with attics or basements, insulate openings and crawlspaces to help trap heat.
Interior and exterior pipes will require special attention in the winter months. When temperatures are expected to dip below freezing, pipes can burst and cause water damage or—worse—flooding. By properly insulating pipes, homeowners can prevent expensive incidents from occurring. Homeowners may also want to consider adding a thick blanket or insulation around any water heaters, which can ensure water stays warm, even when the heater is not in use. Overall, adding or updating home insulation is one of the best home improvement ideas, particularly when it comes to saving money and reducing energy consumption.
Refurbish Doors
One of the most underrated home improvement ideas is to refurbish the doors in a house. While it may sound like an expensive and time-consuming project, refurbishing your doors is actually not as complicated as it may seem. Redoing doors could be as simple as switching the paint color or changing out the door knobs.
The great thing about refurbishing your doors is that it can impact your entire house design. Dark door colors can contribute to an expensive, elegant look throughout your home, whereas bright swatches can provide a mood-boosting statement. Try looking at the ways different hardware impacts your interior design. Many homeowners find vintage hardware to be a great way to make a statement. While brass hardware can add a trendy touch throughout your home. Brass door knobs are even thought to have disinfecting qualities, an added bonus for homeowners willing to make the switch.
Install A Programmable Thermostat
Another way to prepare your property for winter is to install a programmable thermostat. Avoid the shock of a high winter power bill with this simple idea. Programmable models allow homeowners to automatically set different temperatures throughout the day. While some even provide the convenience of controlling temperatures from your phone or tablet. With a little online research, you can find a model that fits your property perfectly. The right thermostat will eventually pay for itself through energy savings.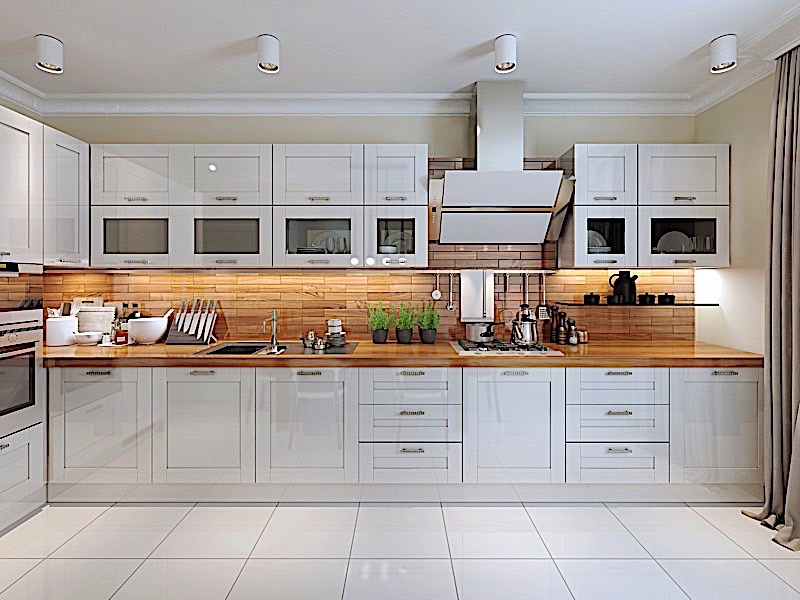 Facelift Your Kitchen & Bathroom
When it comes to giving your kitchen or bathroom a facelift, home improvement ideas are endless. You could go for a big project like replacing cabinets or appliances, or opt for a smaller improvement like replacing the backsplash or hardware. There are options for kitchens and bathrooms on any budget, all of which can make a big impact on the overall aesthetic of the home.
There are also some great weekend home improvement ideas for your kitchen and bathroom, including giving your house a deep cleaning. Sometimes mildew or dirt can build up in the grout causing a worn-out appearance. Look into giving your kitchen and bathrooms a scrub down, and replacing the grout if necessary. More often than not, kitchen and bathroom updates can help add value to your home. Be sure to read this article on home improvement projects for more value-adding ideas.
Summary
It may be tempting to hold off on any home improvement projects until the new year rolls around. Push yourself to be proactive this season and implement a few of these ideas this winter. After all, a few updates can not only boost the appearance of your space, but can also increase the value of your property. Follow some of our home improvement ideas and update your home today.
Which winter home improvement ideas are you going to try? Let us know your plans in the comments below:
---
Want to learn how to take advantage of the current opportunities in the real estate market?
Whether you're brand new to real estate or have closed a few deals, our new online real estate class covers everything you need to know to help you get started. Expert investor Than Merrill explains the best real estate strategies for today's real estate market to help get you on the path towards a better financial future.
Register for our FREE 1-Day Real Estate Webinar and get started educating yourself on how to invest in today's real estate market!