Jump To:
---
Aside from waiting patiently for home prices to rise, there may be no more reliable way to increase the worth of your house than looking for beginner home improvement projects that will add value to your property. However, it can be tricky to decide on exactly what type of DIY home improvement ideas to choose from, ranging in difficulty level, expense, and return on investment.
While some beginner home improvement projects can significantly increase your home's value, others will end up costing you more than they're worth. However, you're in luck because this guide provides a host of ideas that are ideal for improving both short and long-term value to your property.
What Home Improvements Add the Most Value?
Many people tend to make the mistake of sinking thousands of dollars into doing a complete overhaul of their property, when in reality, they could have added so much more value by executing smaller–but smarter–projects. However, they can't be blamed because it's near impossible to know what home improvements add the most value unless you're a market expert. So, to help you out, we've compiled a list of the best home improvements to increase value.
---
[ Are you interested in learning how to flip houses? Register to attend our FREE online real estate class and learn how to get started investing right in your local area. ]
---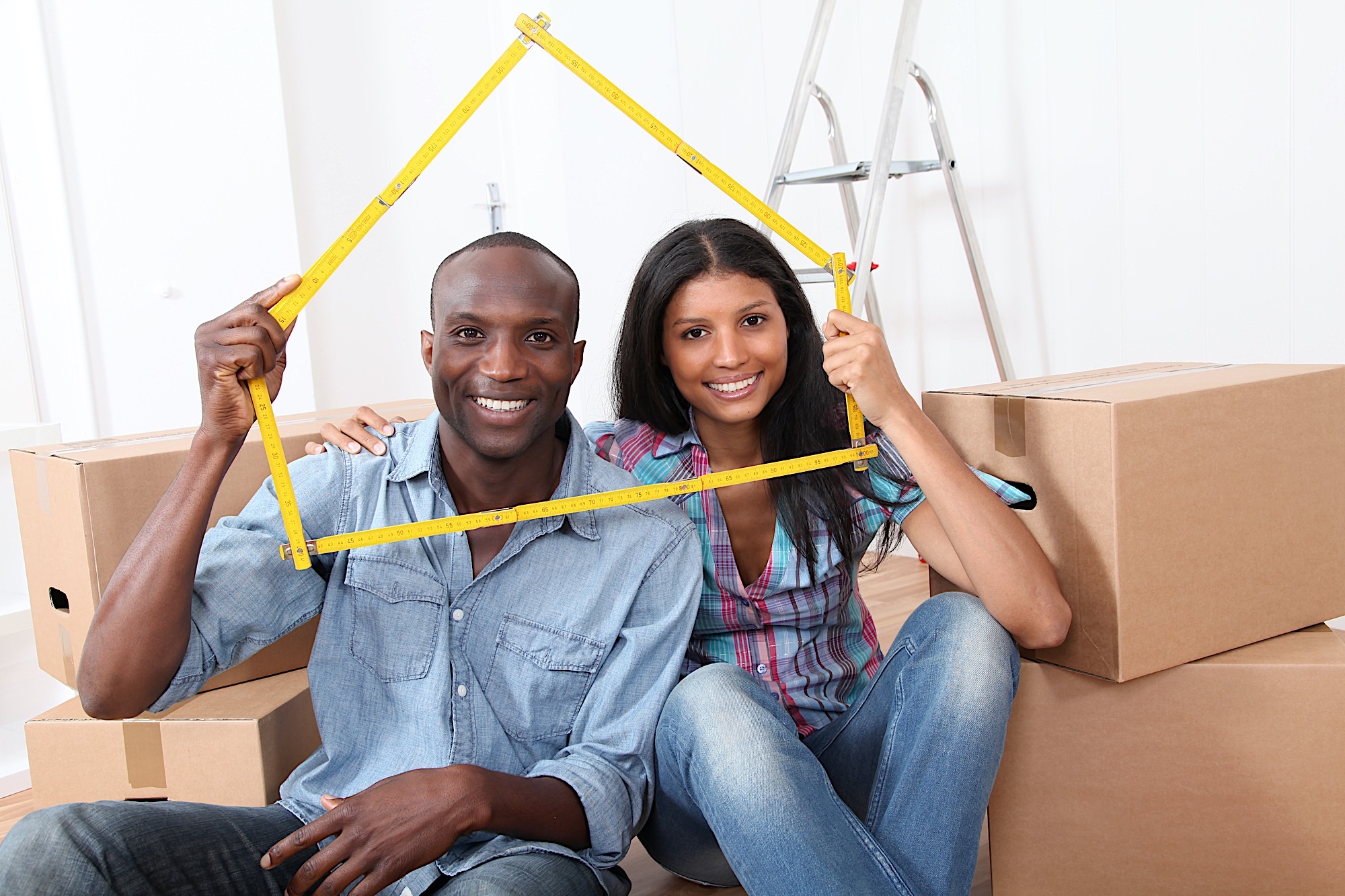 Front Door
One of the best beginner home improvement projects is also one of the easiest: replacing the front door. According to a report by Remodeling magazine, entry doors can give you up to a 91 percent return on your investment. Garage door improvements, not to be out-done, can give you a healthy 76.9 percent return when part of a DIY improvement project. To make a good lasting impression, your front door revitalization should complement the architectural details of your house, and hit the sweet spot between dull and eccentric, while incorporating current trends. Keep in mind that your front door is the focal point of your property, so take time when picking out your design to make sure it's one that will really wow people. Don't feel like you need to replace the door at all? You can still make improvements by giving it a fresh or different coat of plant and switching out the hardware.
Paint
Painting your home's interior and/or exterior can either increase its value or devalue it; it's all a matter of picking the right color. With a minor investment (a gallon of paint can cost around $25), you can add a clean and more updated look to any room inside your home. The rule of thumb when choosing the right palette to boost a home's value is to aim for neutral tones. This depersonalizes your home–meaning prospects will be able to imagine themselves living in your house–instead of seeing your personality in every corner of your house. If you don't feel confident in picking the right paint color, you can easily consult a professional at the paint or home improvement store, or even look to a magazine for some ideas.
Attic Bedroom Conversion
Providing an additional room in your house not only gives buyers one more area to use as a bedroom, game room, or home office, but will allow you to dramatically increase your asking price. If square footage is limited, doing an attic or basement bedroom conversion can be a great way to maximize your existing space. (The National Association of Realtors puts the ROI for attic conversion at nearly 61 percent.) For this type of project, be sure to consider factors such as ceiling treatments, walls, shelving and storage, flooring, insulation, and ways to add natural light. Now is the time to get creative with your DIY home improvement ideas.
Landscaping
One of the most overlooked home improvement projects, landscaping will completely transform a home. Landscaping is one of the most valuable home improvements you can make. Updating your curb appeal is generally one of the least expensive methods of enhancing the overall value of a home, and landscaping plays a large part. If a potential buyer sees your yard in a disheveled state, they aren't likely to come inside your house, let alone make an offer.
A few things you can do to improve your yard and exterior landscaping include cleaning up your lawn, planting trees, and adding some potted or planted flowers in your yard. Experts say that adding perennial and seasonal shrubs are a great way to add some color. If you have a limited budget, you can even put in your own sweat equity and do some edging, weed removal and mulching on your own and still give your yard a great facelift.
Basement Remodel
The smell of a damp basement is an instant turn-off for any potential buyer. Some prospects may want to convert a basement area into a bedroom, playroom, home gym, or even an office. If you show them a problematic basement, it could either devalue your home or derail the sale entirely. When focusing on this area of the house, try to look at any moisture accumulation, leaks, and/or flooding. You can solve these with either a sealant or a patch. Better to be proactive than wait for future damage, as installing an exterior drainage system can cost you upwards of $3,000.
As Remodeling magazine made clear in their study, the ability to show a basement that is clean, dry, and can be used without further repairs needed, will net you somewhere in the neighborhood of 70 percent of your return on investment. (It will also set you apart, as many other home sellers neglect this area of a property.)
Roofing Replacement
When assessing beginner home improvement projects, it's important to consider your home's number one defense against the elements: the roof. With a 71.7 percent return on investment, replacing your roof is one of the smarter projects to undertake this spring. Although it may sound complicated or expensive, it comes down to taking care of the most important parts of your asset.
Deck and Patio Additions
With summer around the corner, deck and patio additions are one of the more financially savvy home improvements you can make. Along with increasing living area at a minimal cost per square foot, installing a wood deck or patio also will significantly add value to your home. Adding a deck or patio can cost upwards of $10,000, but can provide you with a generous return on investment. This is because homebuyers perceive decks and patios as almost an entire additional living area that can be enjoyed throughout the year for playtime, relaxation and entertainment. Consider adding heating elements and other ways to provide protection and comfort through different seasons to increase usability. When the deck or patio is done, decorate it with some DIY home improvement ideas you have been saving for a rainy day.
Siding Replacement
One critical component to not overlook in your home improvement projects campaign is your home's siding. This exterior material, which is applied to the walls of a house, is used to protect it from the effects of weather, and is a key element in your home's curb appeal. Replacing your home's siding costs an average of roughly $15,000, but of course, the price tag varies depending on the size of the home and materials used. Fiber-cement siding, which is made from a mixture of wood fibers, Portland cement, clay and sand, has become very popular as of late, thanks to its rugged durability, low maintenance and weather resistance.
Minor Kitchen Remodel
The kitchen is the heart of every home, and keep in mind that homebuyers will agree. Experts find that the kitchen is a major selling point, and a great kitchen adds that much more value to your property. Along with functionality, the kitchen is an integral aspect tied to your home's value, so it's important you give it the TLC it deserves. According to HomeAdvisor, the average kitchen remodel costs about $150 per square foot. By applying some of the latest kitchen trends, a minor kitchen remodel can yield generous returns and add a ton of value to your home.
Summary
There are plenty of home improvement projects you can choose from, regardless of your budget or skill level. Some are easy and can be done in a matter of minutes or just in one weekend, while others might take longer and require a bit more commitment. There is no wrong decision, as long as you are happy with the result. And if you're lucky, you'll have even added some significant value to your home. Now that you are more familiar with what home improvements add the most value, which home improvement projects will you consider making on your own property?
---
Ready to get started flipping houses in your local market?
The best rehabbers know how to find the right properties, accurately estimate costs, and scale their businesses. Our new online real estate class, hosted by expert investor Than Merrill, can teach you the correct steps to flip your first property the right way and achieve success in real estate.
Register for our FREE 1-Day Real Estate Webinar and get started learning how to flip houses in your market!