The "Crusher of the Month" is a peer-voted award given to team members who excel and inspire others to step out of their zone and perform at a higher level.
What John's peers say about how he embodies the CORE values:
"John has done everything asked of him at the highest level. He always frees up time to educate his fellow teammates whenever a question is posed. He is typically the first one in the office and the last one out. John has a full time career with a part time life."
"Working with John has been a real treat for me. John is a highly competitive, self-motivated over achiever that simply won't give up. He is not only incredibly hard working but also allergic to excuses and extremely easy to work with. He will take on anything you give him and not just make it happen but close it out with absolute determination. Consistency and determination would be my best two words to describe him. John doesn't make excuses or focus on the obstacles; he finds a way to be the best at his job and does it every day no matter what.
I feel blessed to have my entire team at PIC but when it comes to pushing myself, John is definitely inspiring. We are competitive here at PIC and John brings that out in a really positive way for me. I want to beat him, every day, all day. It makes it a fun adventure! He is positive, cool, calm and collected always but most of all he is focused on what he is here to do and the students. We are all very lucky to have him."
John would like you to know that…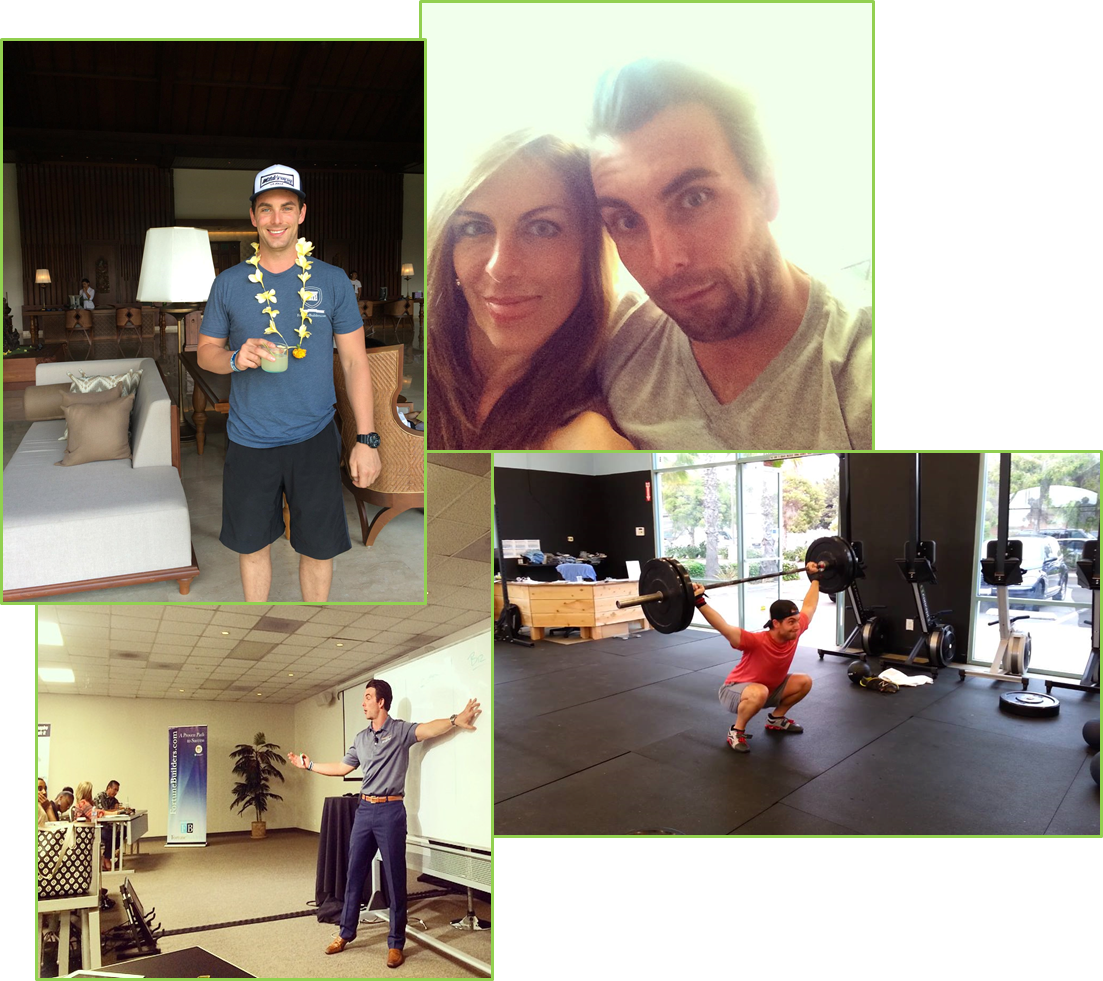 "I love working at FortuneBuilders. Real estate has been a passion of mine for the past 9 years. I have had the amazing opportunity to work in many different facets of the industry from retail agent, title officer, loan officer, rehabber, and Passive Income Specialist. It has been an exciting ride and I look forward to what FB has in store for the future. Outside of work, I can't sit still. I am a coach and active participant at Perfromance360, FortuneBuilders preferred gym. When I am not fulfilling my workaholic or meathead tendencies, you can normally find me expanding my coffee snobbish repertoire or enjoying my favorite combo of mimosas, breakfast buffets, and Sunday football.
I'm from Bedford, Pennsylvania.
Traveling and experiencing new adventures is an absolute must for me to feel whole. Whether it is taking a two week trip to Bali or just a long weekend down to Mexico or up to a mountain to ski, I love the feeling of being out there in the world just taking it all in. Sometimes I find it odd that I enjoy traveling and am not more of a homebody based on the town that I grew up in. I grew up in an EXTREMELY rural town in Pennsylvania. I spent my past times hunting and working on cars. To give you an idea of how small my town is, I graduated in the largest graduating class in the history of my PUBLIC high school…127!
As for my bucket list items, it's too long to list! It seems that every time I cross one off, I add 3 more.
Some of the things that are on my mind at this moment are:
Successfully perform a standing backflip
Learning to create the perfect Old Fashion
Passing the Series 7 & 63 Financial Exams (Lame, I know!)
Travel to & explore 50 different countries
Bungee Jump off the Bridge to Nowhere
I CRUSH it in everyday life in that I feel that I am a very naturally driven person. To a fault,I am very routine oriented. I take time either each Sunday or Monday to lay out my accomplishments for the upcoming week. I like to reflect back on the previous week, refocus on the goals that I have set for myself, and then create small accomplishments each week that I can attack to get me one step closer to that larger goal. This activity has been a HUGE game changer with my focus and success. As soon as I open my eyes I have anxiety until I get my day started. I love being in the office and interacting with other extremely driven people. The culture here at FB breeds entrepreneurial tendencies. Every day is finished with a great workout at P360 to help me clear my head and get fired up for the day to come."
Ethics & Integrity * Inspire * Lead * Educate * Crush it