Among the cities most battered by the 2006 bust, the Phoenix housing market was the first to snap back in 2011. Phoenix real estate investing, in particular, can attest to the rebound. Prices, off by 56% from peak, then rebounded sharply, trimming that drop by a third. Housing activity in the Phoenix market has since cooled off, favoring those looking to buy. However, if you are looking to purchase a home in Phoenix, you better do it soon, as home prices are expected to increase in the coming year. According to Zillow, home prices are expected to increase by as much as 2.7%, indicating a healthy appreciation rate.
Phoenix currently has a median home price of $198,600, comparable to that of Raleigh. Homes in the Phoenix housing market are currently valued at less than the national average of $212,267, but prices are on the rise. While homes in the region are not appreciating as fast as they were earlier this year, the outlook remains encouraging. Over the course of a year, Phoenix homes have appreciated nearly twice as fast as the rest of the country, 8.3% and 4.6% respectively. Perhaps even more encouragingly, however, is the fact that homes in this region have appreciated by as much as 72.7% in the last three years, whereas the national average was 25.8% over the same period. That is an average equity gain of $83,600 since 2011. The rest of the country only gained about half that in the same period.
The benefits of ownership are prevalent in the Phoenix housing market. Even Phoenix real estate investing owes a lot to gains in equity. The following illustrates how much equity has been gained in Phoenix relative to the time of purchase:
Homes purchased one year ago have gained an average of $18,399 in equity, whereas the national average was $12,731.
Homes purchased three years ago have gained an average of $88,785 in equity, whereas the national average was $51,204.
Homes purchased five years ago have gained an average of $77,268 in equity, whereas the national average was $48,225.
Despite an unemployment rate that is worse than the national average (6.5%), Phoenix's job growth is particularly encouraging. Recent data suggests that Phoenix's job market is has grown at a rate of 2.1% over the course of a year, whereas the national average was 1.7% over the same period. So while the unemployment rate may be 0.4% higher than the rest of the country, growth is strong compared to that of other markets. Arizona's economy, as a whole, is growing more slowly than the rest of the country, but it has improved significantly in recent months. For all intents and purposes, Arizona and its Phoenix market are each heading in the right direction.
Phoenix, like Detroit for example, remains much more affordable than most markets in the United States. In fact, the average homeowner in the Phoenix market allocates approximately 11.7% of their income to their mortgage. Conversely, the rest of the country spends about 16.1% of their income on their mortgage. As for Phoenix real estate investing, entrepreneurs can easily find affordable deals to help their bottom line.
The percent of delinquent mortgages in Phoenix is 4.3%, which is lower than the national value of 6.9%. The percent of Phoenix homeowners underwater on their mortgage is 22.2%. The number of homes in some stage of foreclosure has fallen to about 4,300 from more than 50,000 four years ago.
According to Trulia, "popular neighborhoods in Phoenix include Camelback East and Paradise Valley, with average listing prices of $603,273 and $527,407."
Phoenix Market Summary:
Current Median Home Price: $198,600
1-Year Appreciation Rate: 8.3%
3-Year Appreciation Rate: 72.7%
Unemployment Rate: 6.5%
1-Year Job Growth Rate: 2.1%
Population: 1.5 Million
Percent Of Underwater Homes: 22.2%
Median Income: $51,847
Active Listings: 24,904
Phoenix Housing Market Q1 Update:
Over the course of four months, the median home price in Phoenix jumped almost $2,000. Home prices in the city are now about $8,000 below the national average. However, appreciation rates have dropped to 3.9 percent, suggesting that price gains are subject to tempering – much like the rest of the country.
As the recovery gains traction in Phoenix, the housing market will continue to receive support from the local economy. Fundamentals remain strong in Phoenix. The job sector, in particular, looks to have found its stride. No more than four months ago, Phoenix's unemployment rate sat at 6.5 percent. Today's rate of unemployment is a whole percentage point lower, and looks to get even lower as the year progresses. Even the job growth rate increased to 2.7 percent, outpacing the national average by 0.8 percent. Local employment growth is strong and should continue to get better. For all intents and purposes, the local economy should support healthy supply and demand for the Phoenix housing market.
Phoenix real estate investing owes its success to the foreclosure situation in The Valley Of The Sun. That is to say: foreclosures have proven to be a very lucrative market for Phoenix real estate investors. The number of available foreclosures, for instance, have made it easy for investors to get their hands on affordable properties. According to RealtyTrac, Phoenix has about 5,593 foreclosures. Compared to the previous month, the number of foreclosures is 26 percent lower. On the year, foreclosures are down 20 percent.
While the number of foreclosures in the Phoenix housing market appears to be decreasing, investors can still find great values. In fact, distressed properties still offer great discounts in the city. The median sales price of a non-distressed home was $169,000. The median sales price of a foreclosure home was $122,000, or 28 percent lower than non-distressed home sales.  That is a savings of about $47,000. Phoenix real estate investors can really help their bottom line with such deep discounts.
As you may have seen on TV, the overwhelming majority of foreclosures in the Phoenix real estate market are to be placed up for auction. In fact, 76.4 percent of all the foreclosures in today's Phoenix housing market are of the auction variety. That number represents a 4.4 percent increase year-over-year. Bank-owned foreclosures, on the other hand, dropped nearly 55 percent on the year, and make up about 23.6 percent of all Phoenix foreclosures.
Phoenix Statistics: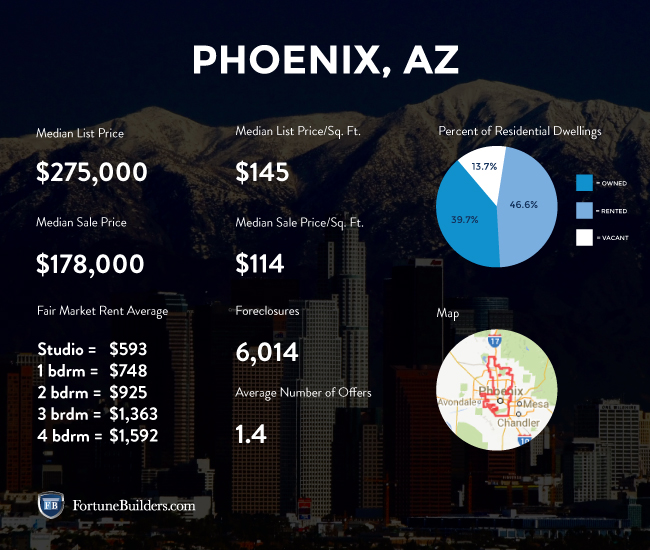 Phoenix County Map: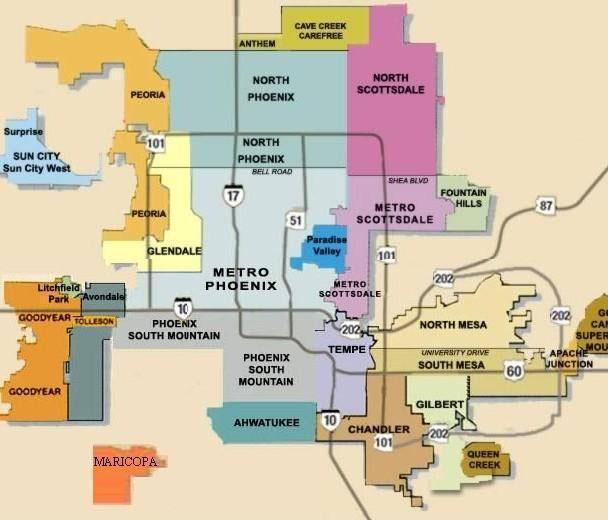 *The information contained herein was pulled from third party sites. Although this information was found from sources believed to be reliable, FortuneBuilders Inc. makes no representations, warranties, or guarantees, either express or implied, as to whether the information presented is accurate, reliable, or current. Any reliance on this information is at your own risk. All information presented should be independently verified. FortuneBuilders Inc. assumes no liability for any damages whatsoever, including any direct, indirect, punitive, exemplary, incidental, special, or consequential damages arising out of or in any way connected with your use of the information presented.
🔒 Your information is secure and never shared. By subscribing, you agree to receive blog updates and relevant offers by email. You can unsubscribe at any time.