Jump To
---
Successful investing involves a careful balance of risk and reward. In an ideal world, every investment opportunity would offer high rewards with little to no risk. In reality, however, there isn't an investment that doesn't walk a fine line between risk and reward. The relationship between risk and reward leads many individuals to search for the safest investments when getting started, and rightfully so.
For those hoping to save for retirement, provide for their families, plan for the future and more, minimizing overall risk can be crucial. Luckily, there are several low-risk options that can be profitable over time. Keep reading to learn how the safest investments can help you reach your financial goals for retirement.
5 Safest Investment Options
For those looking for low-risk investment opportunities, there are a number of options. Each will offer varying profits; however, they are all great avenues for aspiring entrepreneurs looking to make their first investment. Below are five of the safest investments you can make for your future:
Certificate Of Deposit

U.S. Savings Bonds

Municipal Bonds

Money Market Funds

Real Estate
---
[ Do you control your finances or are your finances controlling you? Find out how real estate investing can put you on the path toward financial independence. Register to attend a FREE real estate class, upcoming in your area. ]
---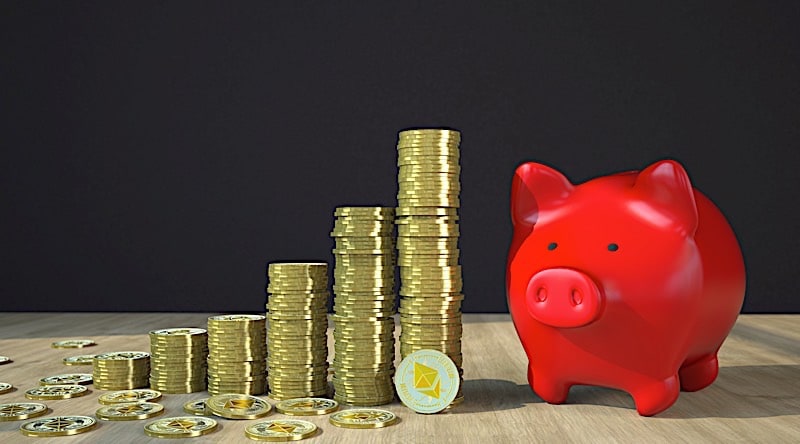 1. Certificate Of Deposit
A Certificate of Deposit (CD) is one of the most popular low-risk investments because they require little specialized knowledge to obtain. CDs simply require investors to deposit money for a specific amount of time and, in return, are paid interest for the entire time. They are backed by the Federal Deposit Insurance Corporation (FDIC) for up to $250,000, which helps guarantee investors can avoid loss. To purchase CDs, investors simply need to create an account with an insured financial institution and fund the investment. Investors can use the FDIC website to find an insured bank near them.
There is a trade off for the ease of investing: CDs can offer relatively low returns. At the moment, interest rates are relatively low, thus limiting the return potential of the investment. Investors looking to increase their returns can look for financial institutions with more competitive rates. Despite the low returns, CDs represent an excellent opportunity for those asking "what are the safest investments for retirement."
2. U.S. Savings Bonds
U.S. Savings Bonds are notes issued by the federal government that generate income through fixed interest rates. They are thought of as one of the safest investments for retirement because they are backed by the government and can take several years to come to maturity. The time to maturity depends on the bond, but investors can expect anywhere from five to 30 years. They can be purchased through the Treasury Department's website or by requesting paper bonds when filing income taxes.
Investors interested in U.S. Savings Bonds should be aware of inflation rates, as these can negatively impact the interest earned from the investment. The inflation return rate is typically adjusted every six months, and—if it is negative—could bring investors' total returns down. Despite the potential impact of interest rates, those who opt for U.S. Savings Bonds can enjoy an overall low-risk investment.
3. Municipal Bonds
Municipal bonds are used by state and local governments. They generate revenue from interest, which is often free from federal income taxes. Similar to U.S. Savings bonds, municipal bonds are among the safest investments because they are backed by a government. They can be purchased through mutual funds or exchange-traded funds. In some cases, investors can also purchase them directly from their state or local government.
It is worth noting that municipal bonds can be callable, which essentially means the government issuing the bond could return it before the maturity date. While investors would likely not lose their initial investment, they would fail to receive further interest payments. This situation, while uncommon, would undermine the profitability of the bond. While this is a risk associated with municipal bonds, they still remain one of the safest investments. To learn how bonds compare to other investments, be sure to read this article.
4. Money Market Funds
For anyone wondering "what are the safest investments," money market funds can be a great answer. Money market funds are mutual funds that invest in cash securities with high credit ratings. They can generate interest, which is paid to investors through dividends. Money market funds are typically thought of as a safe place for investors to "park" their money. The reason for this is because money market funds aim to maintain a $1 net asset value (NAV).
Due to their NAV requirements, money market funds typically protect investors from losing their principal investment. Despite not being backed by a government, like bonds, money market funds have historically represented one of the safest investments. Investors should, however, be aware that the interest earned from money market funds can be nominal.
5. Real Estate
While each real estate investing strategy can be profitable, individuals looking for the safest investments may find certain options more attractive. Low-risk real estate investing can include house hacking, buying a vacation home, or wholesaling. Each of these strategies provides investors with a strong degree of control over their investment, while still offering attractive profit margins.
House hacking, for example, is a real estate strategy where individuals rent out a portion of the property they are living in. Anyone with a spare room or extra unit attached to their house may generate income renting it out on Airbnb or another website. This low-risk strategy does not involve loan payments or interest rates, making it very attractive for those with the extra space.
Homeowners who are interested in buying a vacation home will be happy to know that, with the right planning, this can be considered a low-risk investment strategy. Individuals interested in owning a second home can identify the location that is right for them, and rent out the property when not in use. Renting the property will help the mortgage pay for itself, and may result in added monthly income.
Another one of the safest investment strategies is through wholesaling. This involves finding and marketing properties for sale, and then assigning the contract to an investor or performing a double close. Wholesaling doesn't come with a lot of risk because investors are not required to own or manage a property, conduct repairs, or even make mortgage payments. While wholesaling can require an understanding of the market area, it can be highly profitable. To learn more about other common real estate exit strategies, be sure to read this article.
Safest Investments: 2020
To pursue the safest investments in the year ahead, investors will have to pay careful attention to the market's reaction to coronavirus. Predictions for the economy have been varied, as economists try to react to constantly changing information. One change we have already seen, however, is the significant cut in interest rates by the Fed earlier this year. Real estate investors in particular are in an interesting position to benefit from these cuts.
Aspiring investors should also take note of changes to the Tax Cuts and Jobs Act, implemented in 2019. Among the expected changes will be an adjustment to the Consumer Price Index (CPI), which will likely result in smaller inflation adjustments. Those looking for the safest investments can consider opportunities that will benefit from lower inflation rates.
Other factors to consider throughout 2020 include a predicted tempering of home price increases and the addition of more inventory. According to the 2019 National Housing Forecast by Realtor.com, the number of homes on the market will increase slightly, resulting in a slowing rise in home prices. This could help individuals interested in pursuing real estate secure below market value deals.
While there are several key indicators to watch for in the year ahead, no one can say for sure which investments will be the most profitable. The best advice will be to research each potential opportunity, even those considered the safest, before making a decision. By considering each investment and weighing market factors, investors can help ensure they find financial success throughout 2020. To learn more about how the coronavirus will impact real estate, be sure to read this guide.
Summary
Safe investments can help individuals find balance between risk and reward when planning for their financial futures. For those in the process of saving for retirement, low-risk opportunities are going to be the most attractive. Luckily, there are options ranging from U.S. Savings Bonds to real estate that looks promising for the year ahead. By choosing the safest investments, individuals can help improve their finances. Remember, no matter where you are in life it is never too early (or too late) to start planning for your future.
What are the safest investment options in your opinion? Share your thoughts in the comments below:
🔒 Your information is secure and never shared. By subscribing, you agree to receive blog updates and relevant offers by email. You can unsubscribe at any time.