Success in real estate cannot be achieved without proper goal setting and planning. Goals aim to provide a clear understanding of what you're striving to achieve. In real estate, investors need to not only comprehend their objectives before getting started, but also determine the steps — including their real estate goals — to achieve them. That said, there are several things to keep in mind before putting your real estate goals on paper.
The Importance Of Setting Real Estate Goals
For investors, the importance of establishing real estate goals is second to none. Without goals, investors will lack focus and direction. Rather than wasting time and energy working aimlessly, creating real estate goals will help you zero in on your target while simultaneously carving out the optimal path to achieve it.
Although there are many paths to curating goals, one proven technique is known as S.M.A.R.T. (Specific, Measurable, Attainable, Realistic, Timed). This methodology, which is attributed to Peter Drucker's Management By Objectives concept, is commonly used by businesses to identify and define goals, as well as understand the why for each of them.
The following breaks down the S.M.A.R.T. framework and how it works:
Specific: What do you want to accomplish? Goals that are vague and unrealistic are simply useless. Instead, jot down what your goal is in very specific terms.
Measurable: How will you measure your success? Set exact amounts and dates to hold yourself accountable, as well as provide a way to measure your success.
Attainable: How achievable are your goals? There is nothing wrong with shooting for the stars, but when setting goals, it's critical to make them attainable. Outlandish goals will accomplish nothing, so it's important to stay grounded and aim for goals you can reach.
Realistic: Given your available resources, what results can you realistically accomplish? This includes clarifying the output needed to achieve the results, as well as defining the effort needed to deliver the output.
Timed: When do you intend to achieve your goals? Assigning deadlines for your goals, including specifying when results can be achieved, will better assist investors in developing a tentative plan for everything they do.
From an investor's standpoint, the appeal of S.M.A.R.T. is easy to see: It not only clarifies your ideas and focuses your efforts, but leverages your resources and time more productively to achieve what it is you want. Although there are a number of variations, S.M.A.R.T. can be used by real estate investors to curate a more comprehensive definition of your goals.
7 Things To Consider Before Making Real Estate Goals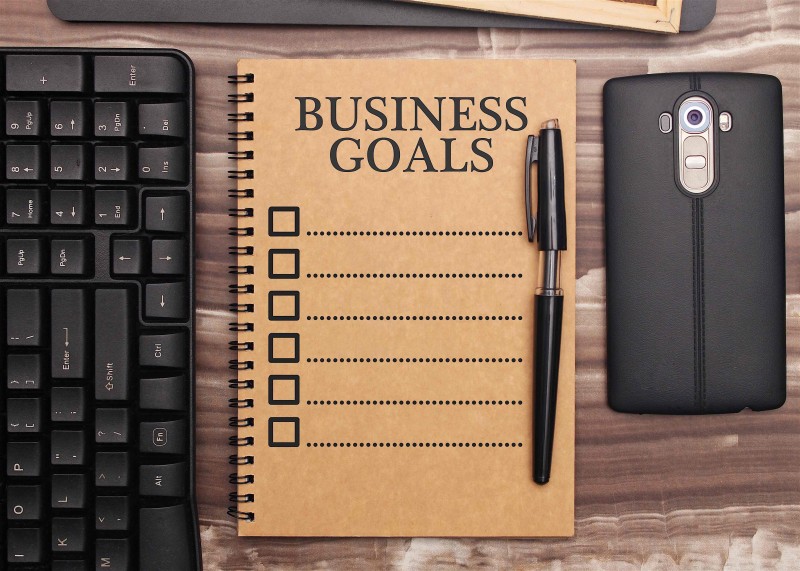 The hallmark of a successful real estate investor is their ability to not only accurately plan and set goals, but rather accomplish them. However, those goals can only be achieved with proper goal setting and planning. Here are seven factors to consider before curating your real estate goals:
1. Market Analysis
The first component to developing real estate goals is a comprehension of your market, which implies doing your homework beforehand. It's important that you conduct a market analysis, as to first identify a need in the market, as well as trends and changes that are occurring. As an investor, you will need to seek out everything you can about a real estate market, including the median home price, appreciation rates, gains in total home equity, home affordability, the health of the local economy, as well as new housing construction. This will provide a snapshot of where the market stands, and how you can add value as an investor. Additionally, this information will better assist in not only forming your goals, but detailing where you should invest and how.
2. Your Niche
The next aspect to consider when setting real estate goals is determining your niche. Because there are endless investment avenues with real estate, it's critical that investors identify a starting point. Identifying your real estate niche will not only help to refine your approach moving forward, but assist in distinguishing yourself from the competition. In addition, a real estate niche will be aligned with strategy to achieve a vision or goal — whether to prepare for retirement investments or establish a steady flow of passive income.
Tips for discovering your real estate niche in 2017 include: Defining your purpose, identifying what you're good at and what you enjoy most, understanding how you can add value, and uncovering if there's an actual need for you.
3. How Realistic Are Your Goals?
There are unnecessary costs of over-shooting real estate goals, including your time, money and reputation. Following the S.M.A.R.T. framework, it's imperative for investors to examine their goals and determine whether or not they are realistically attainable. (And put in place healthy financial habits to make those goals a reality.) In most cases, setting unreasonable aspirations can have profound impacts on a real estate investor and their business. It can ultimately create a culture of failure; one where failure is not only excusable and accepted, but rather expected.
4. Part-Time Or Full-Time?
Another important factor to think about when setting real estate goals is time. How much of your time do you want to dedicate to investing in real estate? Better yet, how much time do you actually have available to focus on real estate? Identifying the amount of time you have to spend will help investors to align their efforts with the right real estate investment option to achieve it. For instance, rehabbing a home will encompasses a significant amount of time for investors, which will eventually limit their time. Another investment outlet, such as wholesaling, may better suit their time limits, while also achieving their primary goal.
5. Profitability
Profitability is the name of the game as a real estate investor. However, every investment avenue will differ, including the average potential profits it will produce. In return, it's critical for investors to examine the exact dollar amount they're seeking to obtain with their investment business. Similar to determining the amount of time you'll dedicate to real estate, it's essential you calculate the profitability you'll want to make from real estate investment deals.
The best advantage real estate has to offer is the freedom of choice. From rental properties to house flipping, the type of income you wish to earn will relate to your investment vehicle. If you're looking to earn residual income, your approach to investing will differ from those seeking to obtain one large sum.
6. Marketing Efforts
Investors will also want to consider marketing efforts when developing their real estate goals. This is important for a variety of reasons, but mainly because it encompasses a combination of time, money and approach to transforming your small business from ideas to action. Building your business from the ground up, including generating leads and capturing deals, will entail developing strategies to achieve your primary objective.
7. Financial Backing
Lastly, you'll want to examine your financial situation before setting real estate goals. This will ultimately dictate your approach moving forward, including whether or not the assistance of additional financial backing is needed. If what you're seeking to obtain from real estate is unattainable with your current financial situation, the need to locate a partner or develop a joint venture (including building a successful real estate team) may be necessary. Even the use of a self directed IRA may be required. However, no matter what, the collaboration of resources and talents will be beneficial for investors, especially those lacking the monetary means to get started on their own.
No matter a real estate investor, entrepreneur, business owner or someone looking to achieve a dream, the importance of setting goals is undeniable. However, the action of putting goals to work is equally as important. As famed psychologist and author Carl Jung once said, "You are what you do, not what you say you'll do." Remember, success as an investor isn't found in real estate goals alone, but rather the habitual effort to achieve them.
🔒 Your information is secure and never shared. By subscribing, you agree to receive blog updates and relevant offers by email. You can unsubscribe at any time.