The importance of curb appeal grows exponentially during summertime, which is why it is vital for homeowners and investors to prioritize a home's exterior during the often hectic summer selling season.
Updated landscaping is one of the best ways to "wow" potential buyers and set your property apart from the competition. However, if you're not a professional landscape architect, "easy" summer home improvements can quickly become more of a headache than a money maker.
While there are a myriad of other summer home improvement projects that can add value to your home, landscaping is said to have one of the best ROIs and can increase the sale price of your property by up to 20 percent. With numbers like that, there is no excuse to not get your hands dirty (or spend the money on a professional) and give your home's landscaping the "spruce" it deserves.
By now, our question in the hot seat should be quite clear: is it worth the money to hire a professional landscaper or is it better to save that money and take a stab at horticulture? Well, the answer to that question will vary from person to person, and depend on several contingencies:
Your budget
Your experience with landscaping and construction
The amount of time you're willing to commit to the project
Personal preference
Your eye for design
There will be some highly-specialized summer home improvements that'll leave you with little choice but to hire a pro. But if you're the type of roll-up-your-sleeves go-getter, taking the time to DIY your landscaping can be both fun and a learning experience.
Summer Home Improvements To DIY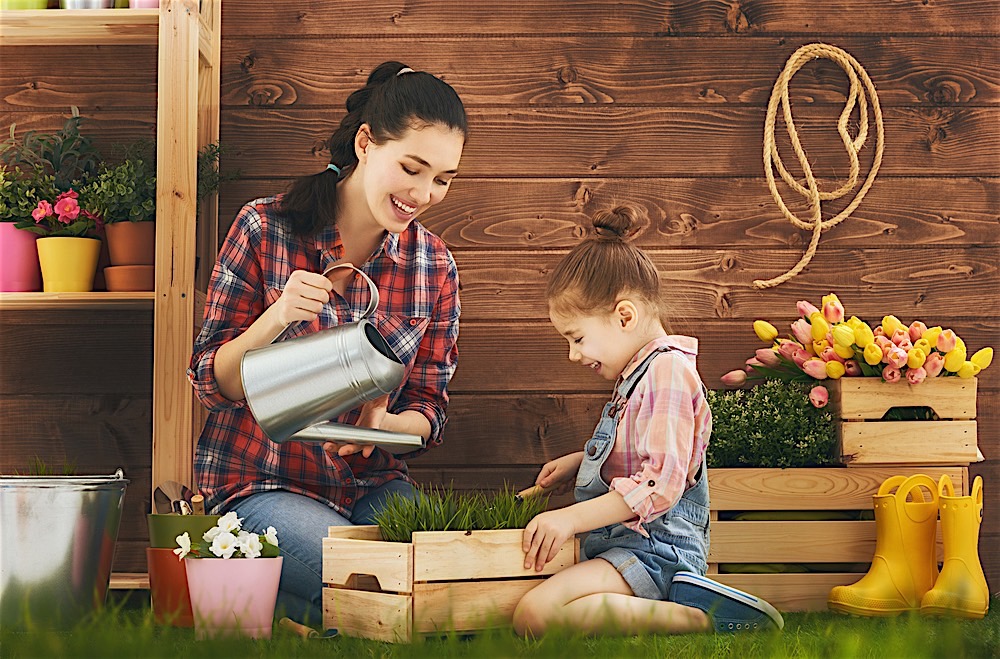 If you're a homeowner with extra time on your hands this summer (or an investor in between deals), getting crafty and creative in the garden can be a great way to relieve stress (yes, gardening can relieve stress levels by up to 50 percent according to this CNN study) while increasing the value of your home — a win, win scenario if you ask me.
So, without further ado, these summer home improvements are perfect for those looking for a DIY weekend project:
Gardening: If your exterior landscaping is relatively well maintained, planting a flower garden is a great way to obtain that much-needed pop of color. Perennial flowers (those that live longer than two years) are the perfect choice for those who don't want to have to worry about replanting every year. Many perennials remain in bloom throughout the year while others only flourish during spring and summer months. Be sure to conduct your own research before purchasing seedlings to learn about the upkeep for each individual type of plant. If, on the other hand, you have a more "set it and forget it" mentality, succulents and ground covers are the way to go. Succulents can withstand most climates and require very little watering and maintenance; while ground covers – like willow or creeping thyme – grow like weeds and add a visually appealing look to an otherwise bleak garden. Basic maintenance – like pruning trees and hedges, cleaning out the gutter, and mowing the lawn – are other easy and inexpensive projects that will boost your home's curb appeal. And if you really want to take your DIY game to the next level, consider:
Building a flower bed: Grab some paint, mulch, soil, and few two by fours to create a flower bed for your garden. Remember to start with shorter plants in the front row and larger plants in the back. You can even place a ceramic pot filled with flowers or herbs in the middle of the bed to create a focal point.
Building a rock garden: It doesn't get more "low maintenance" than a rock garden. Your local hardware store should have a variety of rock choices in different sizes and colors. Be sure to stick with a unified design theme to avoid a mismatched appearance.
Installing artificial turf: If you want to cut down your water use and become a more energy efficient household, artificial turf is a great place to start. All you need are the measurements of your front yard and the willingness to use a little elbow grease.
Install A Walkway: Installing a stone path or slate walkway in your front yard will not only increase your home's curb appeal but also its functionality. If you property's exterior is primarily grass, place a few stones leading from the sidewalk (or your driveway) to your front door. You can choose stones that are uniform or you can opt for a few unique selections. Either way, all you'll need is a shovel, some gloves, and perhaps a bag of soil to fill in your stones.
Build A Fence: Have you always dreamed of having that classic white picket fence look? Lucky for you, turning that dream into a reality is easier than you would think. Whether you're installing a fence to boost curb appeal or improve your home's privacy, achieving the concept can be done in a single day (without breaking your budget). First things first: choosing your material. Will you go with wood or vinyl? Are you trying to stick to a specific color scheme? Next, comes the installation. According to HGTV, the hardest thing about building a fence is setting the posts in the ground correctly; so if you can accomplish this step, the rest of the project should be smooth sailing. If you're worried about this step, most home improvement stores sell prefabricated units that are trimmed to your desired height and width and secured between posts. This option will likely be more costly up front, but potentially worth it in order to avoid building an uneven fence.
Summer Home Improvements That Require A Pro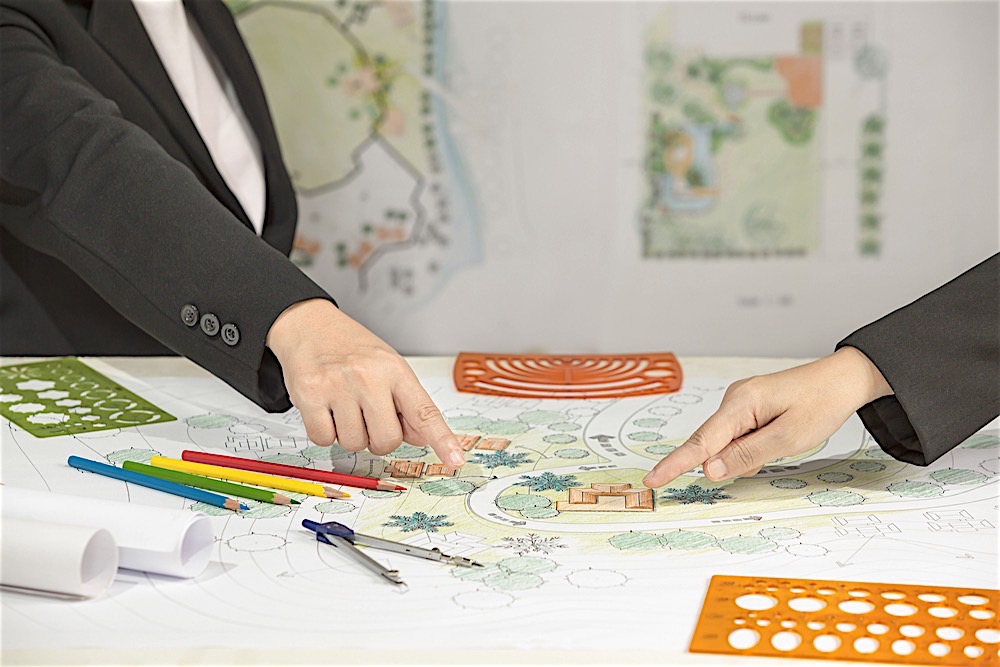 Don't be mistaken, landscaping is far more complicated than planting some flowers and calling it a day. The best landscape architects not only have a green thumb but also an eye for design, impressive project management skills, and connections with local home improvement retail stores in their respective markets. If you're ready to take your home's curb appeal to the next level, these summer home improvements are your answer (assuming you've made the smart decision to hire a professional)
Construction That Requires Permitting: If you are a beginner who is considering a full-fledged exterior upgrade, hiring a professional is a must. A licensed contractor or qualified landscape architect can draw from years of experience to deliver the vision you desire. Big projects come with their fair share of problems and challenges both of which a professional can handle (saving you time and headaches). Experts are also well versed in the legal side of hefty home improvement projects and can therefore educate you on local zoning laws and help you obtain necessary permitting. Projects like installing a new driveway or building a front porch both require a specific permit and failing to obtain those permits can result in "stop-work" order.
Electrical Projects: Outdoor lighting is not only necessary for functionality but also to improve the overall ambiance of your home. So if you want to enhance your property's curb appeal even during the middle of the night, strategically-placed lighting is key. While certain outdoor lights are easy to install (like string lights that can be plugged into an outlet or individual solar lights), more advanced projects will require the help of a professional. Depending on your preferences and budget, and expert can help you make those tough design decisions and hire a subcontractor if necessary. Please note that indoor and outdoor electrical projects are not created equal. Just because you've changed a lightbulb or mended a broken fuse inside your home does not mean you are ready to take on an outdoor project. A few different factors that make an outdoor electrical project more difficult than an indoor one include, but are not limited to:
Changes in temperature
Changes in pressure
Bugs
Pets
Humidity
Remember, improper wiring can lead to a short circuit, which can be very dangerous. To avoid potential problems, get assistance from a professional before tackling any electrical projects.
Water Feature: If you are considering adding a pond or other water feature to your landscape, getting advice from an expert (or better yet, hiring a licensed professional) is a smart move. Installing a pond or fountain requires a lot of heavy lifting – the back and forth movement of boulders and large rocks – and an in-depth understanding of all things plumbing. Working with a professional landscaper will ensure that your pipes are well-insulated, leak-free and will drain properly for future maintenance. Hiring a pro also means not having to worry about renting equipment and purchasing materials. The chances of your landscape architect having connections with wholesale retailers is high, which will help you save money in the long run. Don't add a pond or water feature to your DIY to-do list if you want to avoid future plumbing issues and a sore back.
If landscaping is high on your summer home improvements checklist, the decision to DIY or hire a pro can be a tough choice. Evaluate the scale of your project and assess your level of experience, the choice is up to you!