The "Crusher of the Month" is a peer-voted award given to team members who excel and inspire others to step out of their zone and perform at a higher level.
What Tony's peers say about how he embodies the CORE values:
"Tony shows up every day ready to perform at a high level. He truly cares about our students and helping them take it to another level while at the same time enjoying life. He has inspired me by being able to watch him pursue some of his other passions outside of work, such as salsa dancing, playing the guitar and working out… Basically living a balanced life and having a great time doing it"
"Tony has stepped up into a leadership role and is always looking for ways he can improve and help team members to improve. He is a 10 on all the core values and is a great example of what our company is all about. He Crushes every time he's on the road!"
Tony would like you to know that…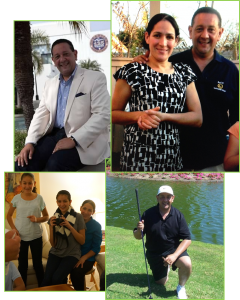 "I've been working for Fortune Builders for two years now and I have truly enjoyed every moment of it. I'm very appreciative to be a part of such a great group of individuals in organization that sets itself apart with its core values and a great executive staff. I come from an engineering background with 19 years of experience working as an Engineering Designer in the medical device industry. Over the years I shifted my passion to real estate investments and sales both of which I love and continue to pursue at the present.
I grew up in Malibu, CA "Zuma Canyon" Where I was blessed to enjoy the shade of huge sycamore trees, observe the local wild life including various birds of prey, snakes, deer and coyotes. In addition, I had many great moments as a child at Zuma Beach enjoying gorgeous sunsets and one of the greatest beaches.I have a great wife, Carmen, and two amazing daughters Nichole and Lauren ages 16 and 13 respectively. On my time off I enjoy cooking, playing the guitar, gardening, photography, growing orchids and attending volleyball tournaments with my two girls.
On my bucket list:
See the Great Sphinx of Giza and the all the pyramids scattered throughout Egypt
Attend an Andrea Bocelli concert in Portofino, Italy
Attend the Boyce Avenue concert in Los Angeles in 2014
Finish reading the book "Paid to Think" by David Goldsmith which is a really thick book, but loaded with ideas and tools that so far have helped me become better at what I do
I CRUSH it every day by getting up early and taking advantage of the calmness of the morning to organize my thoughts and complete an early workout."
Ethics & Integrity * Inspire * Lead * Educate * Crush it
🔒 Your information is secure and never shared. By subscribing, you agree to receive blog updates and relevant offers by email. You can unsubscribe at any time.