Whether or not you are planning to sell your property soon, or you just want to enjoy a few simple upgrades, there are several ways to boost your home improvements ROI (return on investment). However, it is important to note that not all home improvements are created equal. While transforming a bathroom into a spa-like space may sound appealing, the cost may not pay for itself when it comes time to sell. Replacing gutters or fixing a leaky roof, on the other hand, is more likely to increase a home's value (despite not sounding quite as luxurious).
As housing prices continue to increase, now is the perfect time to invest in your home's infrastructure. Prioritizing home improvement ROI could increase your home's value even more so, which begs the question: how can homeowners be sure their home improvements are worth the investment?
10 Best ROI Home Improvements
Minor Bathroom Remodel: Returns an average of 102%

Landscaping: Returns an average of 100%

Minor Kitchen Remodel: Returns an average of 98.5%

Attic Bedroom Conversion: Returns an average of 93.5%

Major Bathroom Remodel: Returns an average of 93.2%

Major Kitchen Remodel: Returns an average of 91%

Entry Door Replacement: Returns an average of 90.7%

Deck/Patio/Porch Addition: Returns an average of 90.3%

Basement Remodel: Returns an average of 90.1%

Replace Windows: Returns an average of 89.6%
---
[ Thinking about investing in real estate?
Register to attend a FREE online real estate class
and learn how to get started investing in real estate. ]
---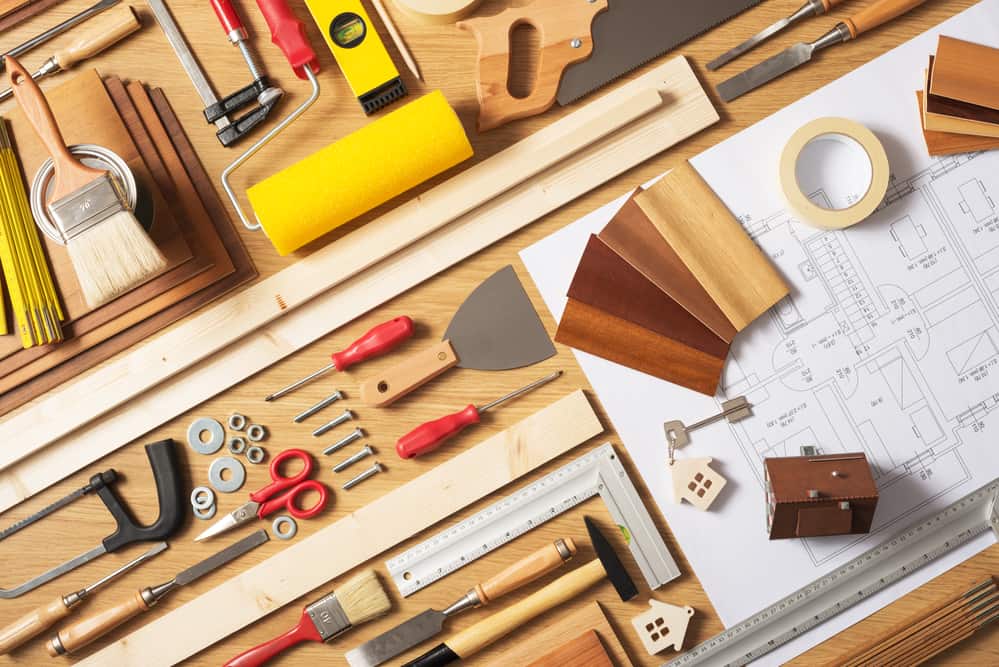 1. Minor Bathroom Remodel
Average Cost: $10,500

Average Return: $10,700

ROI: 102.0%
There are essentially two types of rooms that sell houses: kitchens and bathrooms. As it turns out, however, the greatest home improvement ROI coincides with remodeling the bathrooms. Instead of initiating a little project in each room, conducting a minor bathroom remodel may be better. There's no need to gut the whole room, but giving each bathroom an updated look could go a long way. Try replacing the shower head with a rain shower; it's a feature most homebuyers will appreciate. Also, try replacing the vanity, as nobody wants to feel like they are using someone else's old bathroom. At the same time, try updating the lighting to make things brighter.
2. Landscaping
Average Cost: $4,900

Average Return: $4,900

ROI: 100.0%
Few rehabbing dollars go farther than those spent on the outside of the house. If for nothing else, curb appeal helps sell homes. New landscaping could be just what the home needs to look fresh and appealing. The aesthetic appeal of both the front and backyard may actually be the first thing buyers see, so make a good first impression and update the landscaping. There's no need to go overboard. The best landscaping designs are the simplest, but the "lines" need to be trimmed and clean. A good landscaping job should look nice, but also not suggest a great deal of work is to be done.
3. Minor Kitchen Remodel
Average Cost: $15,000

Average Return: $14,600

ROI: 98.5%
A minor kitchen remodel can boost home improvement ROI without demolishing an entire room. Instead, try minor upgrades that make a big difference. Start by replacing the existing appliances with better, newer ones. Next, instead of replacing the cabinets, try refinishing the existing ones. A fresh coat of paint or gloss could make old cabinets look new, and that, combined with new hardware, can completely transform a kitchen.
4. Attic Bedroom Conversion
Average Cost: $39,200

Average Return: $36,700

ROI: 93.5%
Homes with the luxury of having a convertible attic should consider turning the space into an extra room. One of the single greatest ways to increase the value of a home is to increase the number of available rooms. Therefore, anyone who can add to their current room count should at least consider the possibility.
5. Major Bathroom Remodel
Average Cost: $26,000

Average Return:$24,300

ROI: 93.2%
Now is the time to take the previously discussed minor bathroom remodel a step further. Instead of simply replacing amenities and upgrading a few items, homeowners should consider boosting their home improvement ROI with a complete overhaul. Everything, from the shower pan and flooring to the lighting and plumbing, should be analyzed and criticized; if it's not adding to the appeal of the bathroom, it's taking away from it. Therefore, it may be a good idea to start with a clean slate. Upgrading the bathrooms completely, especially the master bath, can actually convince homebuyers they are making a good decision.
6. Major Kitchen Remodel
Average Cost: $43,900

Average Return: $39,900

ROI: 91.0%
Not unlike the major bathroom remodel, a major kitchen remodel should require a complete overhaul; this is where everything will be taken out and redone. It is also a good idea to incorporate an open concept. If at all possible, try getting rid of a wall to open things up. Buyers like kitchens with a lot of space, to host and to cook. Quite honestly, one of the best things homeowners can do is remove an unnecessary wall that separates the kitchen from the rest of the house.
7. Entry Door Replacement
Average Cost: $1,410

Average Return: $1,280

ROI: 90.7%
As the simplest item on the list, the entry door replacement is perhaps one of the most impactful. Not unlike the landscaping, an entry door will most likely be one of the first things buyers see. This is the owner's chance to make a good first impression. Remember, most people will decide whether or not they want to buy a home in the first few minutes of looking at one. As a result, it's in a homeowners best interest to put their best foot forward and increase curb appeal.
8. Deck/Patio/Porch Addition
Average Cost: $11,000

Average Return: $10,000

ROI: 90.3%
Provided there's room, homeowners should consider the addition of a deck, patio, or porch. The addition of an exterior structure like these can add a lot of perceived value to a home. At the very least, a deck could increase the usable living space in a given yard. At most, however, it could be a selling point a buyer was looking for all along.
9. Basement Remodel
Average Cost: $51,000
Average Return: $46,000
ROI: 90.1%
Not all homes are granted the luxury of having a basement, but those that have underground living quarters may want to remodel them. Doing so could very easily increase the usable living space of a home. Instead of retaining a dark and dingy basement (which could actually hurt the prospects of a sale), try turning the basement into its own selling point.
10. Replace Windows
Average Cost: $9,700

Average Return: $8,700

ROI: 89.6%
Outside of a fresh coat of paint, a new entry door, and perhaps a garage door replacement, nothing can make a home's exterior look better than a brand new set of windows. The clean lines of new windows can very easily make a home look better from both the inside and outside. Additionally, new windows should be a lot more energy efficient. Proper windows could save new homeowners a lot of money on energy bills, which is always appreciated.

The Importance Of Curb Appeal
Even in the most popular housing markets, curb appeal plays an essential role in marketing your home. If your home is unappealing on the outside, no one will want to see the inside — plain and simple. If someone will spend a large amount of money purchasing a property, the first thing that influences their decision is the exterior. This should be one of the most important aspects of any home improvement project.
Curb appeal is why siding replacements and other exterior projects are ranked so highly on our home improvements ROI list. Curb appeal is meant to create interest in your home, and in turn, drive those who are interested inside to see more. Any home improvement project that improves curb appeal will result in higher interest in your property, and a higher ROI once purchased.
Consider Your Area's Trends
Trends are another interesting component to think about when updating or remodeling your home. This does not necessarily refer to home design trends, but instead any factors that are influencing the home buying market in your area. For example, people have become much more environmentally conscious in recent years. It this is true of your area, you may find that energy-efficient appliances and smart home features have a high ROI. Not only can these elements save homeowners on utility costs, but they are also increasingly desirable features. Research a few recently sold properties in your area through listing websites like Zillow or RedFin. These may provide you with more ideas on attractive home trends or renovations in your area.
Other Improvements To Make
Some valuable home improvement projects that are not at the top of the list may actually bring you a great ROI. If you are looking to see the greatest return on your investment, consider these changes.
Hardwood floors: Most buyers favor hardwood floors rather than carpet. If your carpet is in good condition, you can get away with skipping this home improvement project. However, if your carpets are outdated or you have pets, it will be worth the cost to spend the extra cash on installing new hardwood.

Exterior siding: Your home's exterior greatly impacts the perceived value of the home. After all, the outside of the home will create a buyer's first impression of the property. If your home's siding isn't up to date, replacing it with a durable material will increase curb appeal, and in turn, a higher ROI.

Smart Thermostats: Modern day buyers are attracted to smart appliances and energy-efficient homes. Smart thermostats allow homeowners to control their home's electricity usage and even help lower their monthly electric bills. Spending a few hundred dollars on an upgraded smart thermostat can appeal to buyers and bring a great return on investment.

Decor: Staging the property with attractive decor helps buyers to visualize the potential of the space and in turn, increase the perceived value of the property. Invest in furniture and decorative pieces that can be reused in any property you plan to stage in the future, or remove any excess clutter or personal photos from the existing space. This helps potential buyers envision themselves in the home and imagine it as their own if they were to buy it.
Common Mistakes To Avoid
One of the most common mistakes when improving a property is ignoring local trends. Essentially, you need to pay attention to what's selling in that specific area. Look at home sales in the neighborhood, as well as in the surrounding area. What features are most valuable? What design choices were made in these properties? Pay attention to local trends to increase the value of your home. Ignoring them could cost you.
Another common mistake is to spend too much when renovating the property. While there are numerous high ROI changes you can make, there is a limit. Pay attention to how much you are spending on each project and ask yourself if you will realistically get that back. One common pitfall is spending upwards of $100,000 installing a pool, only to sell the property for $10,000 more. Plan your moves carefully and think about the potential value add.
Summary
If you plan to live in your home for five or more years, you should feel free to make upgrades that fit your preferences and lifestyle; however, if you want to turn a profit when you sell, try increasing your home improvements ROI. The top home improvements for increasing ROI can simultaneously improve demand and value. Therefore, homeowners can't simply make any upgrades they want; they need to make the right upgrades. The highest ROI home improvements will prove more efficient and worthwhile than all others.
---
Ready to start taking advantage of the current opportunities in the real estate market?
Click the banner below to take a 90-minute online training class and get started learning how to invest in today's real estate market!