When you are reaching retirement age, a common question is often asked: to own a home, or to rent? To sell my home and downsize to an apartment, or to keep my home and buy another, smaller home in a new area? If you are getting ready to retire and you've asked these questions, you are not alone. That is why I am here to tell you that owning a home is typically more advantageous than renting, even in retirement.
When it comes down to it, deciding whether to rent or own in retirement is going to be a personal decision. You must ask yourself important questions like "do I want to leave behind an inheritance for my children?", or, "do I want the freedom to travel", or "do I want to give the responsibility of maintenance and repairs to someone else?". You must determine your "negotiables" – what you refuse to live without – before concluding whether or not you are better suited to be a renter or homeowner.
In addition to your personal needs, it is arguably more necessary to assess your finances going into retirement. If you are thinking about purchasing a retirement home, it is important to have a decent credit history and up-to-date payments on your current home if you want to qualify for a mortgage. While owning a home is a better investment long term, the upfront costs are often enough to scare away potential homebuyers. Remember that those are just one-time payments and will pay off in the future. It is worth noting these upfront costs however, so that potential buyers have a clear picture of what they will be paying so that they can allocate their finances accordingly. These upfront costs include:
Earnest money
The down payment
Home inspection/appraisal costs
Remaining property taxes
Homeowners insurance for the first year
Home improvements/necessary repairs
Moving costs
Any other closing costs
Although these costs can add up, the benefits of homeownership in retirement outweigh the expenses.
The Benefits Of Owning A Home In Retirement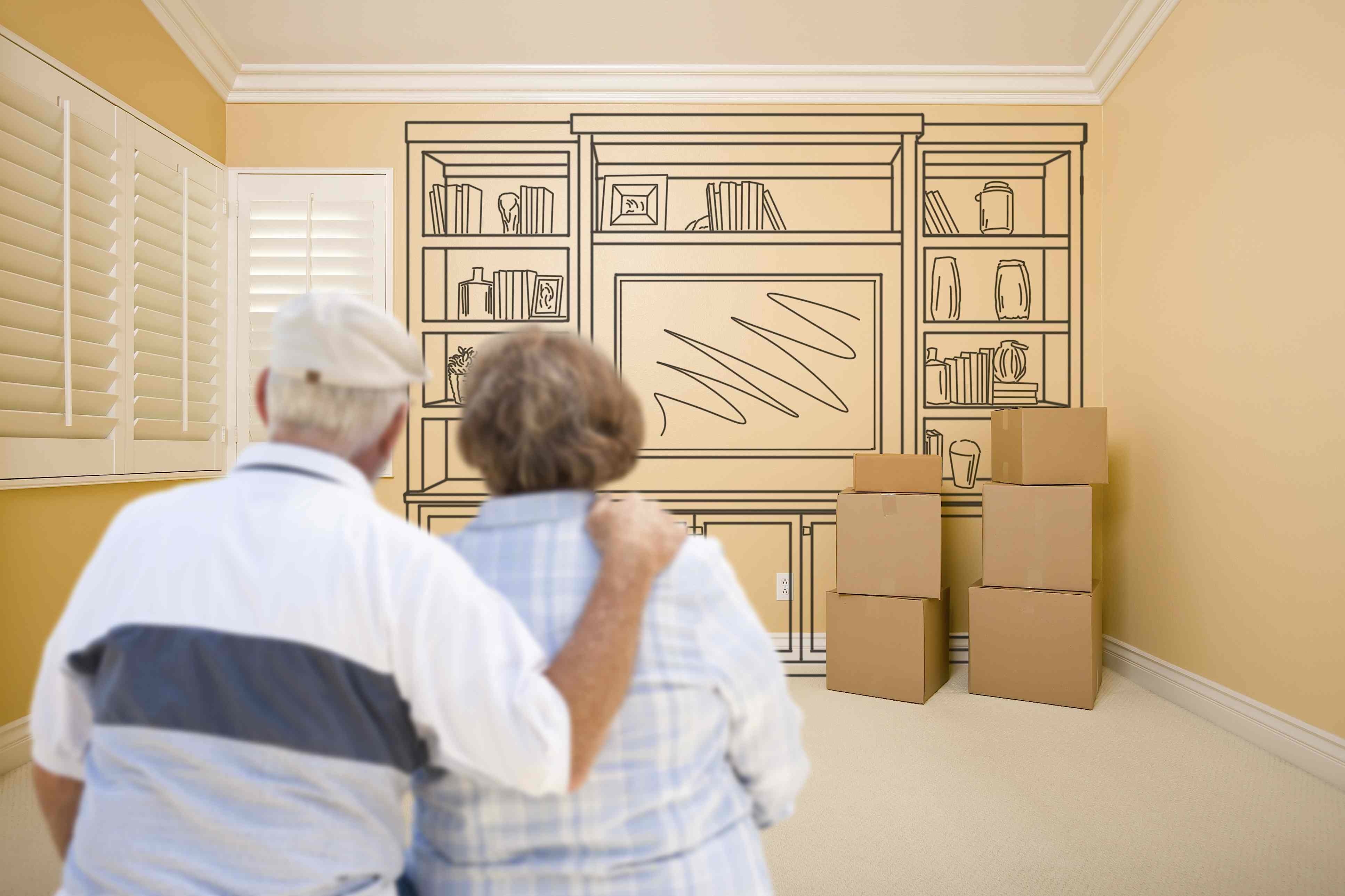 If your primary reason to rent during retirement is because you want to "downsize", consider your options. It is entirely possible to downsize and still own a home. It is also possible to do this without selling your current home. If you've live in a house that is paid off, you've likely put a lot of work into that property. If nothing else, you've built up a decent amount of equity that you should not be willing to give up. If you are on the fence between homeownership and renting, keep in mind these benefits of owning a home:
A Sense Of Pride. It is hard to explain, but the sense of pride and belonging that comes with signing the contract of a new home is nearly impossible to beat. Building long term wealth, increasing home appreciation rates, and historically low interest rates are statistical reasons why everyone should become a homeowner, but more significant is that feeling of community. When you buy a house, you not only get a home, you also get a neighborhood. As a renter, it is hard to acquire this sense of community because renters tend to come and go. When you are a renter, it is hard to take pride in your community because it isn't really yours. Homeowners, on the other hand, usually stay in one place longer and exist to put down roots and settle. Because of this pride that ownership spurs, homeowners feel more of a need to improve their property and thus increase the value of the entire neighborhood – a win-win if you ask me. Homes create memories, which is arguably their strongest selling point.
More Room For Creativity And Personalization. When you are renting a home, it is rare that you are granted approval to take creative liberties in terms of design. Want an updated kitchen? Feel like painting your bedroom wall with polka-dots? Have a hankering to garden? These desires are impossible to attain as a renter. The best thing about retirement is that extra free-time you are given to accomplish all those projects you've been "meaning to finish". As a homeowner, as long as you make sure not to violate any zoning laws or permit requirements, you are free to give your home a makeover as often as you want.
Tax Benefits. As a renter, the monthly rent you pay to your landlord could instead be a mortgage payment that you are essentially giving yourself. What sounds better to you? Not only does homeownership make more financial sense in this case, but also, the government rewards homeowners with significant tax benefits. While these tax deductions vary by state, there are two benefits that apply to most of the U.S. The "homestead exemption" allows homeowners to pay property tax on only a portion of their home's value. For example. If your home is worth $100,000 and your state exempts the first $40,000, (the percentage is the part that varies by state) you only have to pay taxes on a $60,000 property. Another way homeowners can obtain tax benefits is by itemizing their federal tax return. This allows you to deduct your property tax payments, along with the interest you pay on your mortgage, to decrease your overall income tax responsibility. Renters are not given these benefits.
Equity. If you've been in your home for over 30 years, you are probably already familiar with the greatness that that is equity. If you are getting ready to retire, why not start the equity building process all over again? For those of you less familiar with the concept of equity, here's a little breakdown. When you are paying that dreaded monthly mortgage payment, only a portion goes towards paying off the loan. The other portion goes towards paying off the principal. Every cent you pay towards that principal, is a cent of equity – or a cent of ownership. (Maybe mortgage payments aren't half bad -eh?) Once you own 20 percent of your home, you have the option to refinance or take out a home equity line of credit (HELOC). Refinancing can give you a lower interest rate and a HELOC can give you the money you need to complete that bathroom remodel you've been dreaming of. Home improvement projects are a fun way to spend a weekend but also can increase your property's curb appeal; and a home with solid curb appeal can sell for up to 10 percent more than an adjacent property. These home improvement projects often pay for themselves when it comes time to sell (or when you are ready to rent out your property, which we will talk about next). Once you start building equity in your home, you are given the option to play with your investment. Again, renters do not have this luxury.
Passive Income Opportunities If you are still determined to rent once you retire, fine. I am not here to change your mind. I am, however, here to tell you to not, I repeat NOT, sell your current home when you move. Even if you didn't purchase your home with the thought that it would be an "investment property" in the future, if you are looking to downsize in retirement, you've already got the perfect passive income opportunity. If your home is already paid off, consider renting it to tenants and use their monthly rental payments to fund your retirement living situation. You also have this option if you want to downsize to a smaller home you plan to own. You will likely be able to rent out your current home for more than the mortgage payment you were used to paying – depending on your market's condition – and can use that monthly rent to pay for the mortgage payments on your retirement home. The point is, if you've already gone through the process of paying off a mortgage, use that equity to your advantage. Furthermore, if you are ready to take on the challenge of a retirement property, and your finances allow you to do so, owning a home will always pay off in the future.
Renting versus owning a home in retirement is ultimately a personal choice, but owning a home comes with long-term benefits that are simply undeniable. So weigh out your options, assess your finances, and make a decision that works for you.