Key Takeaways
Get to know the most important factors when determining the top real estate markets.
Can you guess the best real estate markets of 2019?
Don't forget to compare last year's top markets with this year's top markets.
---
As the 2019 market starts picking up momentum, now is the perfect time to predict the best real estate markets of the year. Which markets will be hot? Which markets will have significant job growth? Which markets will be the most affordable?
In order to make any of these predictions, you'll need to understand the specific factors that drive a real estate market. This next section will introduce several indicators that experts commonly use to analyze the health of real estate markets.
Most Important Factors That Affect The Real Estate Market
There are many economic, social and demographic factors that contribute to the conditions of a real estate market. Here are the six most important indicators that make some of the best real estate markets tick:
Supply and demand: In simple terms, home prices increase or decrease based on whether or not housing demand is met by supply. For example, if demand for housing increases, but that level of demand surpasses supply, prices will go up. Demand is driven by many factors, several of which are included in the rest of this list.
Affordability: The availability of affordable housing relative to the average wages in a given area serves as an indicator for growing demand. For example, secondary markets have seen a big boom in past years due to millennial homebuyers migrating from coastal and urban markets, where the increase in housing costs have outpaced average wages. Economists calculate housing affordability by finding the average percentage of income spent on mortgages in a given market. The lower the proportion of income spent on housing, the more affordable the housing will be.
Interest rates: Interest rates are another important determinant for those shopping around for a mortgage. Because lenders adjust their rates in accordance with the economy and competitors, interest rates will be higher in some markets and lower in others. This fluctuation in interest rates causes demand for mortgages—and thus the demand for housing—to increase and decrease.
Economic growth: In general, housing demand increases in correlation with economic growth. Some economic growth indicators include local gross domestic product (GDP), wage growth and employment rates. As the economy expands, wages generally increase, which means that more Americans are able to purchase homes.
Desirability: In addition to economic and financial factors, demand is driven by desirability. Cities and neighborhoods tend to be perceived as more desirable to homebuyers when residential areas provide amenities, are close to transportation and have good school systems. Other examples of what might increase housing demand include proximity to the beach, low crime rates and the availability of major employers.
Demographics: Finally, demographic shifts will impact the real estate market. This can include trends associated with millennials and baby boomers, divorce rates, and even migration patterns and general population growth. Both gradual and abrupt shifts impact housing supply and demand on the local and national levels.
---
[ Thinking about investing in real estate? Learn how to get started by registering to attend a FREE real estate class offered in your area. ]
---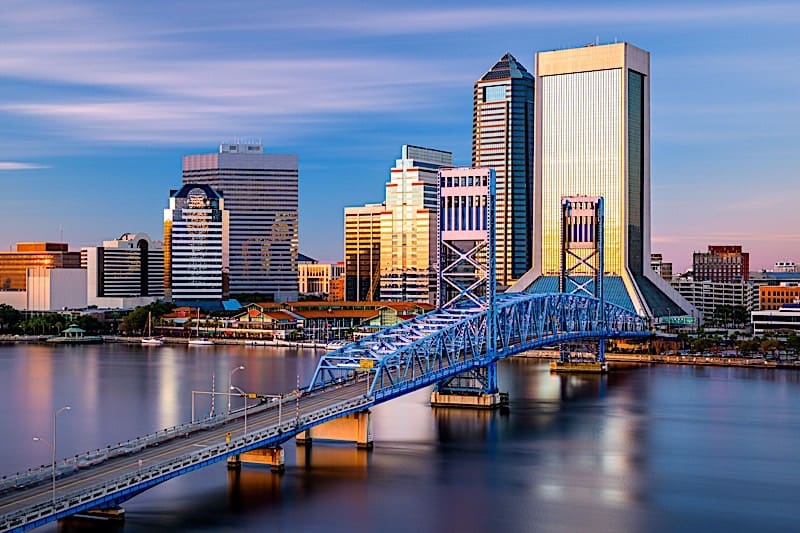 Best Real Estate Markets 2019
The following list of the best real estate markets of 2019 was forecasted by considering factors including; median home values, affordability, vacancy rates and job growth. The data for each of these variables were sourced from Zillow and Trulia.
The following is a roundup of the real estate markets expected to dominate in 2019:
Grand Rapids, MI
Jacksonville, FL
Colorado Springs, CO
Austin, TX
Bakersfield, CA
Grand Rapids, MI
Median home value: $157,900
Year-over-year increase in home values: 13.6%
Affordability: 23.2%
Vacancy Rate: 3.7%
Year-over-year job growth: 2.0%
Known for its public art scene and features over one hundred live music venues, Grand Rapids tops our list of real estate markets that will shine this year. For beer lovers, this Michigan locale touts over 80 breweries and is known as one of the best craft brewery scenes in the country. U.S. News ranked Grand Rapids as the twelfth best place to live in the nation, and sixth in its ranking of places to retire. Locals enjoy a high quality of life, a booming healthcare industry, and one of the highest ratings for housing affordability. Furthermore, Grand Rapids stood out from its fellow top markets by far for year-over-year increase in home value, at 13.6 percent.
Median home value: $172,500
Year-over-year increase in home values: 8.8%
Affordability: 23.4%
Vacancy Rate: 4.2%
Year-over-year job growth: 2.0%
Jacksonville, FL is the largest metro area in the U.S., lending itself to great cultural and aesthetic diversity. This market came in second in terms of affordable housing at 23.4 percent and a median home value of just $172,500. Jacksonville is also expected to attract many renters, with the most affordable median rent price of $1,250. The recent boom in the local art and music scene, as well as business development, has caused a demand for a higher standard of living. The city is a great option for those who prefer a coastal lifestyle; situated on the Atlantic coast, residents enjoy plenty of beaches, waterways and aquatic activities.
Median home value: $286,900
Year-over-year increase in home values: 9.6%
Affordability: 35.4%
Vacancy Rate:4.8%
Year-over-year job growth: 3.3%
Ranked by U.S. News as the second best place to live in the nation, Colorado Springs is no place to ignore. "Olympic City USA" came in first place in terms of job growth at 3.3 percent, demonstrating fast-paced economic growth. The effects are already apparent in the form of a booming construction sector; new residences, schools, parks and cultural attractions are all contributing to Colorado Springs' perfect desirability score. Situated at the base of Pikes Peak, this metro offers a variety of recreation and entertainment, and is also home to nationally ranked colleges. Residents enjoy its proximity to ski resorts such as Aspen and Vail, but without the expense and traffic.
Median home value: $363,400
Year-over-year increase in home values: 9.8%
Affordability: 45%
Vacancy Rate: 3.4%
Year-over-year job growth: 2.5%
Home to Fortune 500 companies such as Texas Instruments, Whole Foods Markets and 3M, Austin is known as a technology hub that attracts one of the largest shares of venture capital in the nation. "Silicon Hills" hosts several Texas state agencies, as well as University of Texas — one of the largest public universities in the state. This robust employment scene has spurred strong and steady job growth at 2.5 percent. Situated along the Colorado River, Austin has been hailed the best place to live in the U.S. It is known as the "live music capital of the world" and hosts some of the largest art and music festivals (such as Austin City Limits and South by Southwest.) These factors all contribute to an extremely high migration rate of 9.4 percent. This desirability, however, has contributed to Austin landing itself as most expensive out of these five metros. However, residents who are able to purchase property are enjoying strong increases in home values at 9.8 percent.
Bakersfield, CA
Median home value: $237,800
Year-over-year increase in home values: 8.8%
Affordability: 14.3%
Vacancy Rate: 6.4%
Year-over-year job growth: 0.6%
Bakersfield is the ninth-most populous city in California, and is situated between Los Angeles and Fresno. This locale has attracted attention from investors and homebuyers alike due to its booming agricultural and oil industries. In fact, Kern County produces the most oil in the nation, and is fourth in terms of agricultural production value. Bakersfield's thriving local economy has provided a healthy job market, and is known as an affordable place to raise a family due to the strong sense of community fostered by residents. Locals also enjoy its proximity to mountain ranges and national forests. Bakersfield offers the most affordable housing on this list, with a median home value of $237,800. Due to increase in demand, home values have increased by 8.8 percent in the last year.
Best Real Estate Markets 2018: Looking Back
Everyone loves to predict the future. Whether it's who's going to win the Super Bowl or what will be the next big fashion trend, it's human nature to want to know what comes next. We may not have a crystal ball, but based on median home prices, projected sales growth, and predicted price growth, we do have a pretty solid guess on which real estate markets will dominate in 2018:
Las Vegas, NV
Dallas, TX
Stockton, CA
Lakeland, FL
Salt Lake City, UT
Charlotte, NC
Colorado Springs, CO
Nashville, TN
Tulsa, OK

Were last year's predictions accurate? Let us know by commenting below!
Summary
Home values, affordability, desirability and job growth are just a few of the factors we reviewed to determine the best real estate markets of 2019. A major trend that carried over from last year to this year is the rising popularity of secondary markets. As major cities concentrated along the west and east coasts become overpopulated with overpriced housing, homebuyers are migrating inland toward markets that provide affordable yet desirable lifestyles. This goes to show that investors who understand the factors driving the real estate market, as well as the demands of today's homebuyers, are best equipped to make accurate predictions on the upcoming hottest markets.
What markets do you think will prove to be popular this year? Submit your guess, as well as your reasoning, in the comments below: