Key Takeaways
Paying attention to fall design trends is a great way to make your home stand out this year.
Keeping your home's exterior maintained throughout the year will entice more homebuyers to enter your property.
There are a number of interior home trends you can easily utilize this fall to give your property a boost.
---
The start of fall signals not only a change in the weather, but also a change in the real estate market. Fall is a great time to revamp your property before the holiday season. Investors and homeowners alike should familiarize themselves with the best fall curb appeal and design trends in order to prepare. From renovating to redecorating, there are a number of projects that can be done to make your property stand out. Keep reading to find some unique design tips and revitalize your home this fall, inside and out.
Fall Curb Appeal: Exterior Home Trends For Fall
Have you ever sold a property and asked yourself, "how could I have sold that property faster and for more money?" The answer is usually curb appeal.
When homebuyers and investors drive neighborhood streets searching for properties, they can really only see the home's exterior; they are forced to make a judgment call about a potential deal based solely on its appearance.
Think about every time you've had to make a first impression; chances are, you probably wished you could've done something differently. If you could re-do a certain failed first impression, would you take advantage of the opportunity? Luckily, if you are a homeowner or investor selling your home this fall, you have the ability to create your desired first impression using your home's curb appeal. Check out these fall curb appeal ideas to get started:
[huge_it_slider id="32″]
Fall Curb Appeal Tips
Attractive curb appeal can boost a home's value by up to 20 percent. As buyers grow tired of driving street after street, they will only be enticed to enter a home whose exteriors are in above-average shape. Your property might be flawless on the inside, but if its front yard is not well maintained, it is unlikely you will have prospective home buyers knocking at your door.
There are plenty of easy (and inexpensive) ways to improve your home's curb appeal. Mowing your lawn, landscaping with greenery, repaving the driveway, and incorporating front porch decor are all just a few ways to keep things fresh year round. If you really want to impress homebuyers this season, adopting a few of these fall curb appeal tips will help take your property to the next level:
Lawn Maintenance: The importance of lawn maintenance cannot be understated when it comes to curb appeal. Piles of leaves won't distract the eye from overgrown grass or bushes. Make sure to keep your regular lawn maintenance schedule as you strive to create the perfect fall landscape, no matter how chilly it gets outside.
Porch Decor: Highlight your home with a little DIY front porch decor. If repainting your front door is too big of a project, hang a fall wreath to revamp your home's exterior instead. Potential buyers and neighbors will take note of this effort, making your property stand out throughout the season.
Exterior Maintenance: While it's easy to focus strictly on outdoor fall decor ideas, don't forget to properly maintain your home's exterior in the process. As the seasons change, make sure to regularly clear out debris from your gutters. Whether you are an investor or homeowner, maintenance is key in protecting your property from damage.
Exterior Lighting: Fall is supposed to be cozy, not creepy. Don't scare away potential buyers and guests with flashing bulbs or dark areas. Check on any porch and garden lighting around your property, and make sure your home's exterior shines.
Don't Go Overboard: While pumpkins and wagons may seem like charming decor when attracting potential buyers or hosting holiday parties, there is a limit to utilizing fall decor. Remember to use your best judgement as you incorporate outdoor fall decorations and other curb appeal ideas. You don't want your home to stand out too much in the wrong way, either.
If you are interested in more year-round curb appeal ideas, be sure to check out this guide.
---
[ Looking for ways to start increasing your monthly cash flow? Register to attend our FREE real estate class to learn how to utilize passive income strategies in your local market! ]
---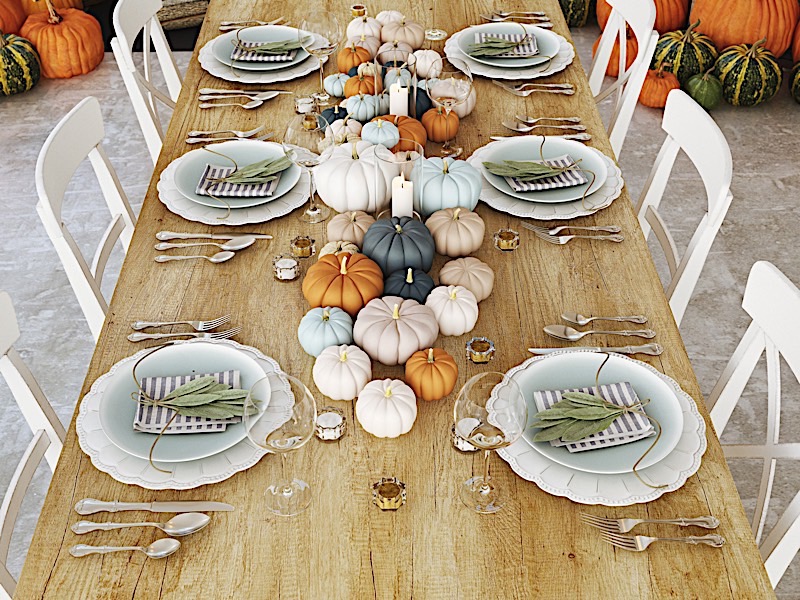 Interior Home Trends For Fall
Fall design trends aren't just limited to a property's exterior. In fact, there are a number of ways to incorporate fall into a home's interior that can help boost its appearance and value. Investors and homeowners alike should take careful note to utilize some of this year's best fall touches into their properties. After all, what better time than now for a little redecorating?
For investors, one of the most important things about a home's interior is creating a space where potential buyers can picture themselves living. One of the best ways to do this is through the right staging efforts. According to Realtor.com, staged homes can sell up to 88 percent faster than those that aren't. Staged homes can also sell for up to 20 percent more than their non-staged counterparts. You might be asking how this information ties into fall design trends. The answer is simple: by incorporating the right fall decor into your staging and open house, you can help entice potential buyers by creating a space they can envision themselves living in for years to come.
Homeowners, on the other hand, may not be looking for ways to sell their home, but rather to live in it more comfortably. Choosing to incorporate the right fall design trends can be a great way to do just that. Whether you opt to repaint a wall or redecorate an entire room, selecting a few fall design tips for your interior space can help make your home feel more cozy and comfortable just in time for the holiday season.
Now, keep in mind that when it comes to interior trends (or any design trends for that matter), not every tip can be applied to every property. Think about your intentions: Are you trying to sell the property or are you trying to redefine your personal space? Pay attention to your home and think about which fall design tips will work best for you. Choose tips that highlight your property's best features and strive to find balance. Potential buyers may be looking for fall touches they can add in themselves. On the other hand, other homeowners may be searching for fall decor that makes the space more pleasant.
No matter which situation you are in, this list should get the wheels turning on the best ways to prepare your property for fall:
[huge_it_slider id="35″]
Summary
Fall is a great time for both homeowners and investors to revamp their properties. No matter your focus, there are tips for your home's interior and exterior that can make it stand out. It is recommended to find a few projects for each and incorporating them into your seasonal prep. What is most important to remember during this time is that maintaining your property and finding the right fall design trends is key. No matter if you are gearing up to spend the holiday season at home, or trying to sell an investment property, there are fall curb appeal and design tips you can incorporate into your space.
Which fall curb appeal and design trends are you going to try? Share in the comments below!