Key Takeaways
The Atlanta real estate market is working with an incredible amount of momentum at the moment.
Real estate in Atlanta could receive an even bigger boost if Amazon chooses it as the location of their second headquarters.
Atlanta real estate investing has seen a year-over-year increase in which the rate of homes are flipped.
---
The Atlanta real estate market has placed the latest recession in the rearview mirror and refused to look back. Many of the fundamental indicators used to judge a market's health are better off today than even just a few short years ago. Home values have increased at nearly twice the pace of the national average without sacrificing demand, and investor activity has gained lot of momentum. Perhaps even more importantly, however, Atlanta remains in the running to host Amazon's second headquarters—a decision that could bode incredibly well for the entire housing market.
Atlanta Real Estate Market Overview
Median Home Value: $248,100
1-Year Appreciation Rate: 14.3%
Median Home Value (1-Year Forecast): 8.3%
Median Rent Price: $1,725
Number Of Foreclosures: 1,172
Homes For Sale: 5,010
---
[ Learn how to analyze deals like a pro! Attend a FREE real estate class in your area to learn how to identify the most rewarding investment deals. ]
---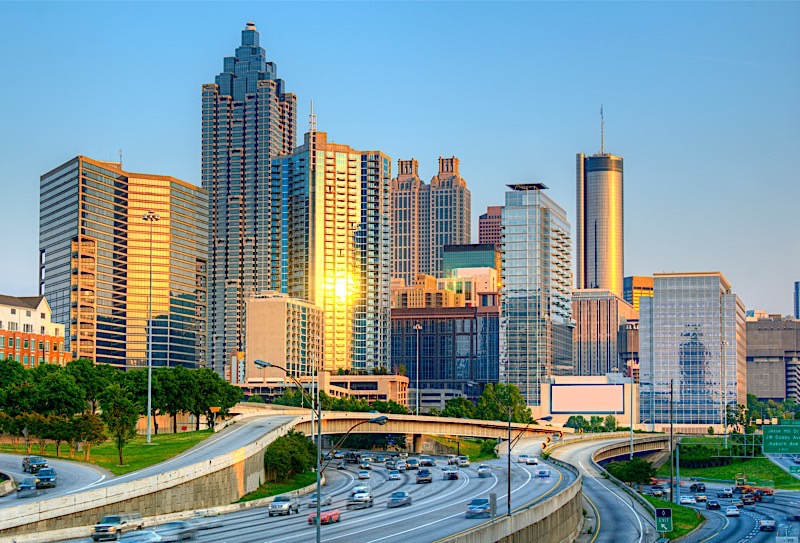 Median Home Price Atlanta
Following a 14.3% increase in median home values over the course of a year (August 2017 to August 2018), the median home value in Atlanta now sits at $248,100, according to Zillow. While welcome, the increase is likely due to the same lack of inventory afflicting the rest of the country. That said, the rate of appreciation in the Atlanta housing market has nearly doubled the national average. In the same time real estate in Atlanta increased 14.3%, the national median home value jumped a slightly more modest 7.6%. It looks as if Atlanta real estate investors and residents can expect the trend to continue for the foreseeable future, albeit at a slower pace. In the coming year, Atlanta home values are expected to appreciate more than the national average, 8.3% and 6.4% respectively.
It is worth noting, however, that Atlanta remains in the running to play host to Amazon's second headquarters. Should the e-commerce giant announce the decision to set up shop in Atlanta, appreciation rates could eclipse their already impressive numbers. According to Vox Media's Atlanta branch of Curbed, home values could swell an additional 6.9% (on top of forecasts) if Amazon chooses to call Atlanta its second home, bringing the already impressive increases to historical levels.
Atlanta Foreclosure Statistics
There are at least 1,172 properties in the Atlanta housing market that may be classified as distressed, according to RealtyTrac. More specifically, each of the homes accounted for by the online database fall under at least one of three categories: pre-foreclosure, auction or bank-owned.
The overwhelming majority of the distressed properties identified by RealtyTrac are active auctions, which account for 72.8% of the 1,172 foreclosures in the Atlanta real estate market. While down about 19.5% from the previous year, active auction foreclosures increased 19.7% in the last month. The remaining 27.2% are bank-owned foreclosures that have been repossessed by the respective originators.
Atlanta real estate investors looking to work with distressed properties may find themselves with more opportunities if they visit local auctions and talk with banks that have foreclosures on their books. If that's not enough, RealtyTrac has identified the neighborhoods in the Atlanta real estate market that are more likely to host a higher rate of distressed properties. According to the online real estate database, foreclosures are more prevalent in the following neighborhoods:
30349: 1 in every 1,256 homes is currently distressed
30310: 1 in every 1,661 homes is currently distressed
30331: 1 in every 1,780 homes is currently distressed
30354: 1 in every 1,836 homes is currently distressed
30318: 1 in every 1,965 homes is currently distressed
Atlanta Real Estate Investing
Atlanta real estate investors have enjoyed an active 2018, as is evidenced by the hot start. In fact, few cities across the country increased their home flipping rate from the previous year more than Atlanta. According to Attom Data Solutions, Atlanta had the third highest increase in flipping rate in the first quarter of this year among qualifying cities.
"Among markets with at least 1,000 home flips in the first quarter, those posting a year-over-year increase in their home flipping rate in Q1 2018 were Phoenix, Arizona (up 15 percent); New York, New York (up 20 percent); Atlanta, Georgia (up 4 percent); Philadelphia, Pennsylvania (up 6 percent); Chicago, Illinois (up 7 percent); Dallas-Fort Worth, Texas (up 2 percent); and Detroit, Michigan (up 17 percent)," said the report.
Atlanta's appreciation rate has made it slightly more difficult to find deals with attractive margins. That's not to say there aren't any deals to be had outside of the previously mentioned distressed properties, but rather that prices are on the rise and narrowing margins. As a result, Atlanta real estate investors may want to consider an alternative strategy to flipping: buy and hold real estate.
While acquiring rental properties will not come complete with a cheaper price tag, executing a proper rental strategy could help offset today's higher prices. With a median rent price of $1,725, investors could potentially rent out the property until it recoups the added costs. What's more, if Atlanta were to win the previously discussed Amazon sweepstakes, some experts are convinced rents could increase an additional 0.5% to o.7% annually.
Atlanta Real Estate Market Summary
The Atlanta real estate market has served investors well in recent history. Home prices have appreciated at nearly twice the national average while simultaneously keeping demand intact. As a result, the rate in which homes were flipped in the first quarter of this year increased by as much as 4% over the previous year. If that wasn't enough, Atlanta still remains in the running to host Amazon's second headquarters, which could provide a significant boon to an already flourishing marketplace.
Have you thought about investing in the Atlanta real estate market? If so, what are you waiting for? We would love to know your thoughts on real estate in Atlanta in the comments below.
*The information contained herein was pulled from third party sites. Although this information was found from sources believed to be reliable, FortuneBuilders Inc. makes no representations, warranties, or guarantees, either express or implied, as to whether the information presented is accurate, reliable, or current. Any reliance on this information is at your own risk. All information presented should be independently verified. FortuneBuilders Inc. assumes no liability for any damages whatsoever, including any direct, indirect, punitive, exemplary, incidental, special, or consequential damages arising out of or in any way connected with your use of the information presented.
🔒 Your information is secure and never shared. By subscribing, you agree to receive blog updates and relevant offers by email. You can unsubscribe at any time.