It has taken more than five years, but Baltimore has made a steady push towards recovery. The health of the Baltimore real estate market, much like Detroit, has seen dramatic improvements. Whether you're a seller who sat out the downturn to recoup your investment, or a potential buyer waiting for the right mix of reasonable prices and low interest rates, the time is now. In fact, prices are rising so steadily in the most popular neighborhoods that the pendulum may already be swinging back to a sellers' market not seen since 2006. Zillow has already projected a 1.2% increase in home prices over the next year.
Appreciation rates have served to drive up home values across the country. Many markets have seen prices rise to pre-recession levels. However, Baltimore has actually experienced a 2.7% decrease in home values over the last year. That is quite surprising, considering the rest of the country has increased by an average of 4.6% during the same period. Despite Baltimore falling behind the national average rate of appreciation, homes in this market are currently worth about $255,600. Prices in Baltimore are comparable to those in Richmond. Subsequently, the national average is $212,267. Gains that have been made in the last three years have served to pull the local market out of the post-recession price weakness. Experts expect prices to increase at a faster rate than in the previous three years. According to the latest CoreLogic Case-Shiller report, Baltimore has been included in the top 10 major markets expected to see the biggest increases in home prices over the course of a year. As a result, Baltimore rents have increased on a level equal to that of cities like San Diego, San Francisco and New York.  In each of these cities, renters are allocating more than the suggested 30% of income to rent.
Expected improvements in the housing sector are due, in large part, to a strengthening labor force. In addition to an expanding U.S. economy, Baltimore's work force continues to serve as a strong driver for local supply and demand. Unlike other cities, employment in the Baltimore market has held up and is on an upward trend. Despite an unemployment rate of 6.5% (just 0.4% higher than the national average), Baltimore's situation has improved tremendously relative to the same time last year. Subsequently, the unemployment rate one year ago was 7.4%. In other words, local job growth is stronger than that of other markets.
Recent data suggests that the number of homes sold in the Baltimore area has trended downward. As recently as August, 639 units were sold, but September saw that number drop to 574. For those keeping track, that is a 10% decrease. However, September's numbers remain 18% higher than they were a year ago – more than encouraging, to say the least. Perhaps even more importantly, the amount of active inventory is trending upwards. Over the course of a year, inventory increased 4%, or by 139 units. The jump increased inventory levels to 3,790. At these numbers, the Baltimore housing market has approximately 6.6 months of supply.
By the fourth quarter of 2014, there were 1,143 homes newly listed for sale in Baltimore City compared to 993 in the previous year, an increase of 15 percent. There were 655 current contracts pending sale compared to 491 a year ago. The average number of days on market was 70, higher than the average last year, which was 60, an increase of 17%.
The percent of delinquent mortgages in Baltimore is 11.3%, which is higher than the national value of 6.9%. The percent of Baltimore homeowners underwater on their mortgage is 31.4%.
According to Trulia, "popular neighborhoods in Baltimore include Canton and Frankford, with average listing prices of $349,917 and $111,809."
Baltimore Housing Market Summary:
Current Median Home Price: $255,600
1-Year Appreciation Rate: -2.7%
3-Year Appreciation Rate: 8.9%
Unemployment Rate: 6.5%
1-Year Job Growth Rate: 2.1%
Population: 622,104
Average Days On Market: 70
Percent Of Underwater Homes: 31.4%
Median Household Income: $68,455
Baltimore Housing Market Q1 2015 Update:
According to RealtyTrac's 2015 Home Flipping Report, Baltimore is one of the best cities to flip a home, citing an average gross return on investment of 94.1 percent for single family flips.  That is nearly 20 points higher than the city that came in second place: Daytona Beach.
New reports indicate that the Baltimore housing market is one of the most affordable locales in the country. Affordability is due largely, in part, to the increasing inventory of "starter" homes. These properties alone could boost Baltimore real estate investing, or at least spark larger interest. In fact, it is more affordable to buy a house in Baltimore now than it was a year ago. The same can not be said for most of the other markets across the country. The median sale price in Baltimore dropped about 1.7 percent in 2014, but sales increased an impressive 26.7 percent. The median home price is now $23,200; about $25,000 more than the national average.
Baltimore real estate investing should see a lot of activity in the form of foreclosures.  According to RealtyTrac, there are 3,757 homes in Baltimore that have entered into at least one stage of the foreclosure process.  That is to say, delinquent homeowners are either at risk of default, auction or bank repossession. As recently as last month, foreclosure filings increased 14 percent over the previous month.  However, that number increases exponentially over the course of a year. Year-over-year foreclosure filings increased 42 percent.
Baltimore real estate investing should benefit from the discount opportunity distressed properties provide. That said, distressed properties are about 62 percent cheaper than those of a non-distressed nature. Whereas foreclosure properties have an average sale price of $41,675, non-distressed properties sold, on average, for $110,000. At such a low price, it is no surprise that Baltimore's distressed home market is picking up steam. Investors are taking advantage of the huge number of Baltimore's distressed homes hitting the market. About 210 distressed properties were sold at the beginning of the year, and the coming months should see even more sales. That number is nearly twice as much as the previous year.
In the long term, the distressed home situation is a good thing. Baltimore real estate investing infuses the market with funds. Housing stock is essentially growing, which is good for the entire economy. The Baltimore housing market has about 3,553 homes for sale and another 7,697 homes that recently sold. There is very little to suggest that there is no activity. Despite declining home sales at the beginning of the year, activity should pick up.
Baltimore Real Estate Investing Statistics: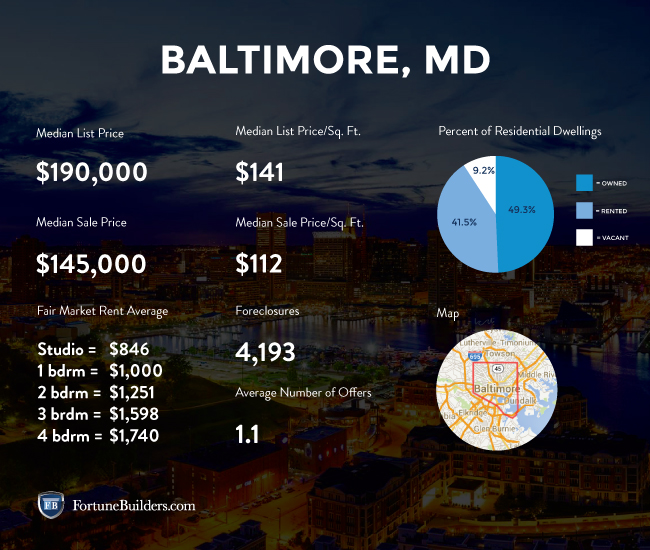 Baltimore County Map: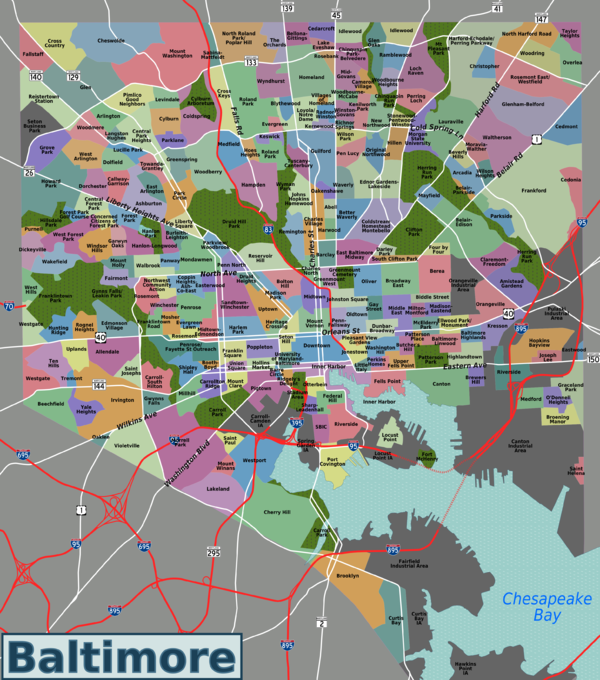 *The information contained herein was pulled from third party sites. Although this information was found from sources believed to be reliable, FortuneBuilders Inc. makes no representations, warranties, or guarantees, either express or implied, as to whether the information presented is accurate, reliable, or current. Any reliance on this information is at your own risk. All information presented should be independently verified. FortuneBuilders Inc. assumes no liability for any damages whatsoever, including any direct, indirect, punitive, exemplary, incidental, special, or consequential damages arising out of or in any way connected with your use of the information presented.
🔒 Your information is secure and never shared. By subscribing, you agree to receive blog updates and relevant offers by email. You can unsubscribe at any time.