The Baltimore real estate market in Maryland took a step back in the wake of the pandemic nearly three years ago. Not unlike every other major metropolitan area in the country, activity was halted almost overnight in the first quarter of 2020. However, in the time that has passed since the Coronavirus was officially declared a pandemic, real estate in Baltimore has seen historic levels of activity.
The convergence of activity and low inventory levels in the Baltimore real estate market resulted in a rapid rate of appreciation; so much so that local home values are proving to be prohibitively expensive. Moving forward, home values will remain high. However, the end of 2022 may witness prices come down for the first time in years. Higher interest rates, insufficient listings, and a relatively high unemployment may quell activity and reign prices in.
High inflation and a Fed-mandated economic slowdown should impact the Baltimore real estate market more than others, which begs the question: Is Baltimore a good place to invest in real estate?
The following will provide insight into the current state of the Baltimore real estate market and offer an in-depth perspective on the area's most opportunistic investment strategies over the course of 2022 and into 2023.
Baltimore Real Estate Market Overview 2022
Median Home Value: $205,016

Median List Price: $372,966

1-Year Appreciation Rate: +10.0%

Median Home Value (1-Year Forecast): -0.5%

Weeks Of Supply: 8.7 (+1.2 year over year)

New Listings: 991 (-24.3% year over year)

Active Listings: 6,759 (-14.6% year over year)

Homes Sold: 838 (-23.7% year over year)

Median Days On Market: 14.5 (+3.3 year over year)

Median Rent (1 & 2 Bedroom Units): $1,656 (+4.7% year over year)

Price-To-Rent Ratio: 10.31

Unemployment Rate: 4.6% (latest estimate by the Bureau Of Labor Statistics)

Population: 849,316 (latest estimate by the U.S. Census Bureau)

Median Household Income: $78,724 (latest estimate by the U.S. Census Bureau)

Total Active Foreclosures: 761
---
[ Thinking about investing in real estate?
Register to attend a FREE online real estate class
and learn how to get started investing in real estate. ]
---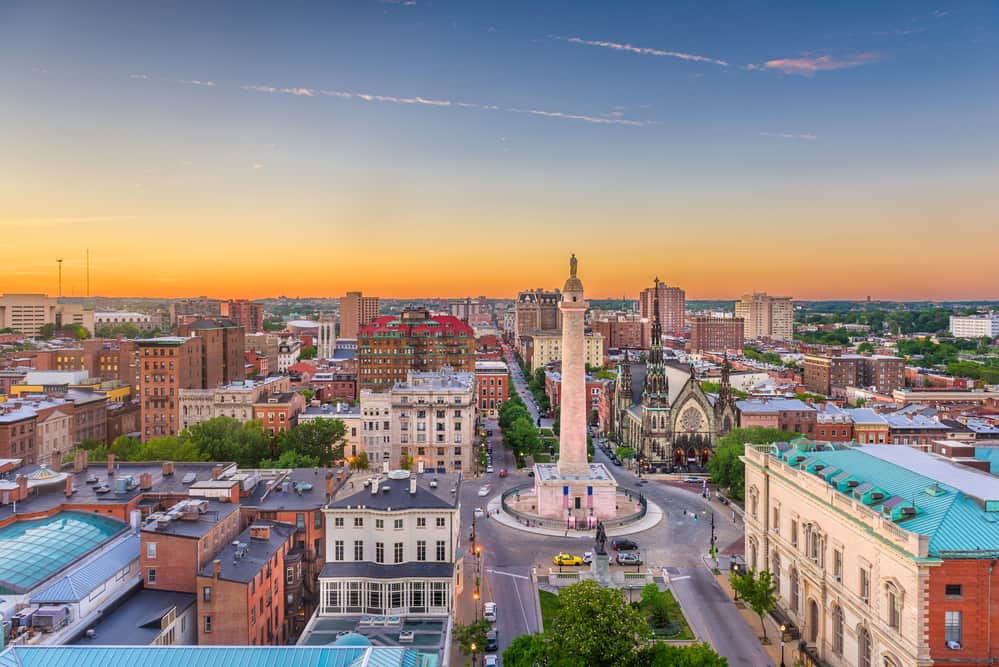 Baltimore Real Estate Market Trends 2022
The Baltimore real estate market looks to be at the forefront of national trends. More specifically, real estate in Baltimore may be one of the first chips to fall in today's inflationary economy with higher interest rates and a looming recession. Consequently, the increasing potential for a recession has cemented several Baltimore housing market trends in 2022, not the least of which include:
Supply Trends: The Baltimore housing market currently has about 6,759 active listings. With most listings lasting an average of 15 days on the market, it's estimated that the city has about 8.7 weeks of inventory; that means Baltimore has enough inventory to last a little more than two months if sales continue at their current pace. That said, sales are expected to slow, which should increase inventory. The reversal in recent supply trends suggests the market will start to balance out and perhaps cause a price dip.

Home Price Trends: With activity expected to slow and inventory levels increasing incrementally, appreciation rates will start to decrease. Supply and demand will remain in favor of sellers, but the needle is starting to point the other way in the Baltimore housing market. As a result, the end of 2022 may bring about a decrease in home values.

Interest Rate Trends: Interest rates are increasing as the Fed attempts to control the highest rate of inflation the United States has seen in almost 40 years. As a result, the average commitment rate on a 30-year fixed-rate mortgage has increased by 2.27 points over the last 12 months. Today, buyers in the Baltimore real estate market can expect government-backed mortgages to come with an interest rate of around 5.13%. Today's rates are simultaneously decreasing mortgage applications and activity in general. Higher rates will further slow demand and potentially drop home values.

Investor Trends: Historically high prices and relatively low interest rates have driven many investors to become long-term rental property owners. With less cash going towards monthly payments in the form of low interest rates and rents increasing at their current pace, rental property investors can increase their cash flow. It is worth noting, however, that the Baltimore real estate market also boasts a relatively high foreclosure rate. With a higher-than-average distribution of distressed homeowners, Baltimore real estate investors may also add rehabbing foreclosures to their viable exit strategies.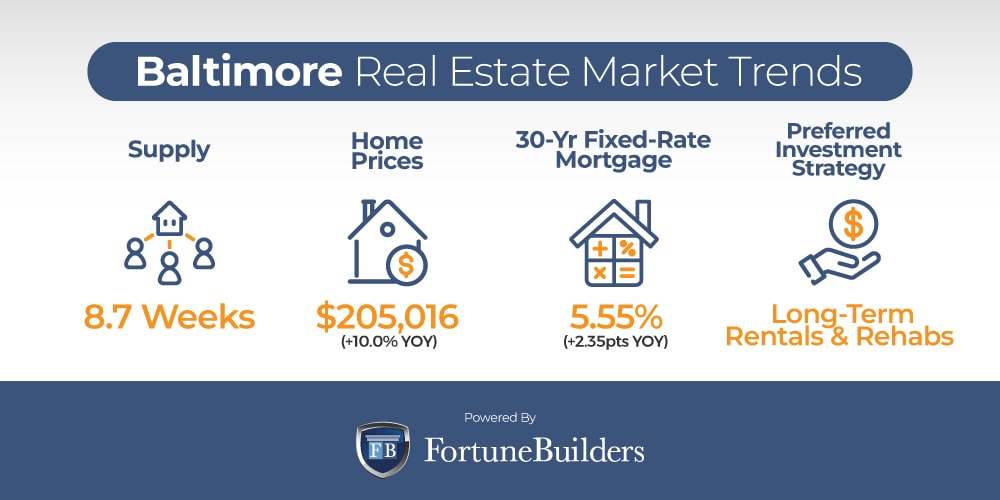 Baltimore Foreclosure Statistics 2022
According to the latest Foreclosure Market Report issued by Attom Data Solutions, "there were a total of 30,358 U.S. properties with foreclosure filings" as recently as July. More specifically, default notices, scheduled auctions, and bank repossessions were down 4.0% month-over-month. Over the last 12 months, however, nationwide foreclosures increased 143.0% as moratoriums expired and the economy showed signs of slowing down.
The brief drop in month-over-month foreclosures may be correlated to seasonal trends. "While it's encouraging to see both foreclosure starts and completions drop off a bit in July, it's also worth noting that there may be some seasonality impacting the numbers," said Rick Sharga, executive vice president of market intelligence at ATTOM. "In eight of the last ten years Q3 foreclosure activity has been lower than the previous quarter, so we might just be seeing a return to a more normal seasonal pattern of delinquencies and defaults."
To be clear, the month-over-month drop was a national average. The Maryland real estate market, along with a handful of other states, saw a significant increase in completed foreclosures. "Counter to the national trend, those states that saw a monthly increase in REOs in July 2022, included: Maryland (up 147 percent); Hawaii (up 58 percent); North Dakota (up 38 percent); Massachusetts (up 38 percent); and Michigan (up 27 percent)," according to the Foreclosure Market Report.
Following the increase, the Baltimore real estate market now has a total of 761 foreclosures. A total of 606 of the city's distressed homes are pre-foreclosures, suggesting most of the distressed real estate in Baltimore is merely at risk of foreclosure. As a result, local investors may want to visit their local courthouse to identify homeowners who are more inclined to sell out of a distressed situation.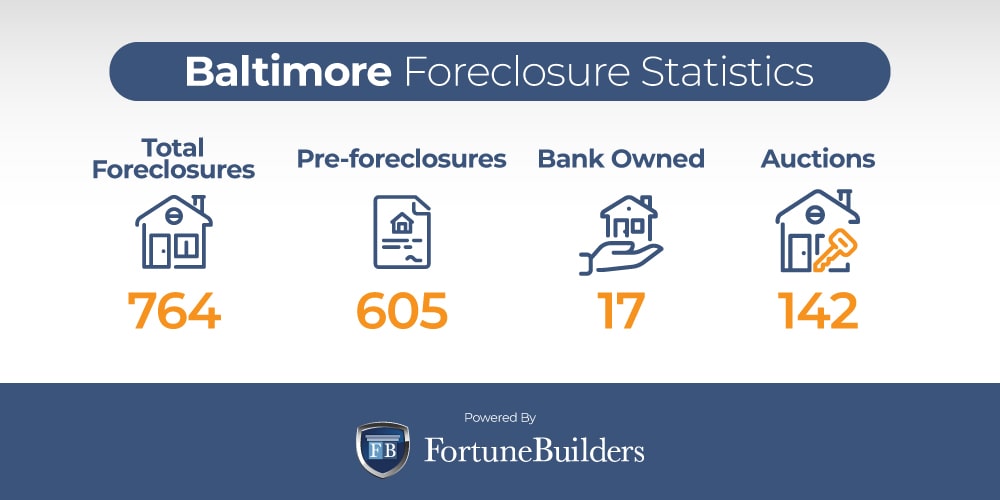 Baltimore Median Home Prices 2022
The Baltimore housing market has a median home value somewhere in the neighborhood of $205,016. At its current level, Baltimore's median home value is higher than it has ever been. Today's historical prices directly result from the new marketplace created during the pandemic. In particular, Baltimore currently has about 8.7 weeks of inventory on the books, which is nowhere near enough listings to keep up with today's demand.
Typically, a balanced market will boast about six months of inventory, which means Baltimore is assuredly a seller's market. The lack of inventory has led to steady competition, and homeowners have increased prices accordingly. In the last year alone, the median home value in Baltimore has increased by 10.0%. To put things into perspective, the median home value in the United States has increased 18.2% over the last year.
Moving forward, the median home value in Baltimore is expected to decrease by a modest 0.5%. The decrease will most likely be driven by less activity stemming from higher mortgage rates. Competition will remain high as inventory levels are still low, but the lack of activity is expected to drop prices for the first time in years.
Baltimore Housing Market Forecast 2022
The macroeconomic environment of the U.S. economy is shifting, and the Baltimore housing market along with it. With inflation at its highest point in nearly 40 years, a softening economy, and less activity, real estate in Baltimore will diverge from its recent path. At the very least, the market is working with different indicators than in years past, which begs the question: What does a Baltimore housing market forecast look like over the rest of 2022 and into next year? Let's take a look:
Home Values Will Drop: The median home value in the Baltimore housing market is forecasted to drop a modest 0.5%. The drop represents a reversal of trends that were years in the making. While prices have risen for the better part of a decade, the slowing economy and fewer mortgage applications will bring down competition. With fewer people competing over the little inventory that is available, prices will drop slightly.

Rents Will Rise: Contrary to home prices, rents may actually increase. If for nothing else, more people have turned to renting as they were priced out of the market in recent history. The completion from the housing sector has transitioned to the rental market and driven up rates. The increase in rates is expected to continue for the foreseeable future.

Interest Rates Will Rise: The average commitment rate on a 30-year fixed-rate mortgage is up 2.27 points year-over-year. As a result, interest rates have more than doubled after bottoming out during the pandemic. The increase will prevent more people from buying in the near term.
Should You Invest In The Baltimore Housing Market?
The pandemic has impacted real estate entrepreneurs on a national level. In the first quarter of 2020, markets across the country were brought to a standstill in a matter of weeks, and the Baltimore real estate investing community was no exception. Fear and uncertainty caused a bottleneck in the U.S. housing sector, as buyers refused to tour homes and sellers pulled listings off the market. Still, investors persisted. Despite numerous setbacks, real estate entrepreneurs found a way to prosper over the course of the pandemic. Government stimuli and pent-up demand were enough of a catalyst to make real estate investing a lucrative endeavor.
According to ATTOM Data Solutions' latest Home Sales Report, "profit margins on median-priced single-family home and condo sales across the United States hit another new record of 55.5 percent following the largest quarterly gain in a decade."
According to Sharga, "While price growth may slow down as higher mortgage rates dampen demand from prospective homebuyers, home sellers should continue to profit from the record $27 trillion in homeowner equity in today's market."
While great for homeowners, increasing profit margins have made it harder to find real estate to flip. With home values testing new highs, there isn't enough room in the numbers. As a result, real estate investors in Baltimore have turned to long-term exit strategies like rental properties. The new market created by the pandemic currently favors investors with longer investment windows.
In addition to profit margins growing slimmer, interest rates on traditional financing are still relatively low. With rates just over five percent, the Baltimore real estate investing community may simultaneously offset higher acquisition costs and increase monthly cash flow from rental properties placed in operation.
Last but certainly not least, is the rental demand created by the city's 10.31 price-to-rent ratio; it's leaning heavily in favor of landlords. In any other market, a 10.31 price-to-rent ratio would drive people to buy. However, the city's 8.7 weeks of supply is grossly insufficient; there aren't enough homes to buy, even for those who can afford to do so. As a result, many highly qualified renters will remain in the renters' pool. The Baltimore real estate investing community will mitigate the risk of vacancy and perhaps even increase rates because of demand.
Summary
The Baltimore real estate market has had a tough time keeping pace with national trends. However, recent shortcomings may now be working in the city's favor. Inactivity brought about by higher mortgage rates, rapid appreciation, a lack of inventory and a slowing economy may start to normalize home values before many of Baltimore's metropolitan counterparts. Home prices may come down sooner in Baltimore which is more of a return to normalcy than an indictment on the local housing sector.
---
Ready to start taking advantage of the current opportunities in the real estate market?
Click the banner below to take a 90-minute online training class and get started learning how to invest in today's real estate market!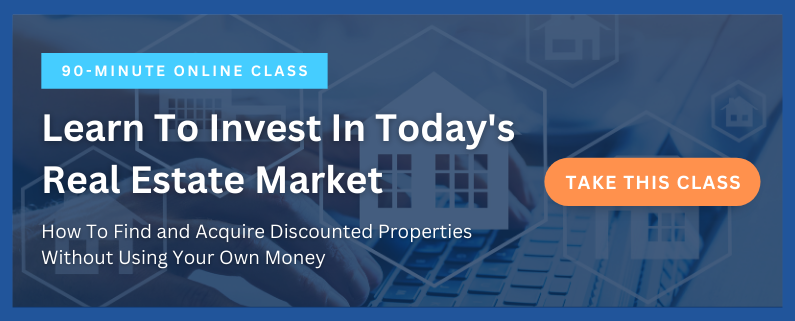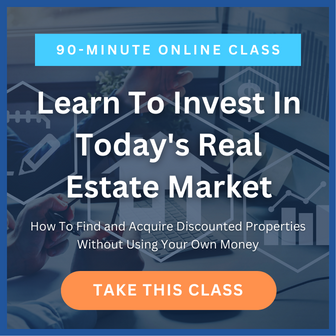 Sources
https://www.zillow.com/baltimore-md/home-values/
https://www.zillow.com/md/home-values/
https://www.zillow.com/home-values/
https://www.zillow.com/research/data/
https://www.freddiemac.com/pmms
https://www.redfin.com/news/data-center/
https://www.bls.gov/eag/eag.md_baltimore_msa.htm
https://www.census.gov/quickfacts/baltimorecountymaryland
https://www.apartmentlist.com/research/category/data-rent-estimates
https://www.realtytrac.com/homes/baltimore
https://www.attomdata.com/news/market-trends/foreclosures
https://www.attomdata.com/news/market-trends/home-sales-prices/attom-q2-2022-u-s-home-sales-report/
*The information contained herein was pulled from third party sites. Although this information was found from sources believed to be reliable, FortuneBuilders Inc. makes no representations, warranties, or guarantees, either express or implied, as to whether the information presented is accurate, reliable, or current. Any reliance on this information is at your own risk. All information presented should be independently verified. FortuneBuilders Inc. assumes no liability for any damages whatsoever, including any direct, indirect, punitive, exemplary, incidental, special, or consequential damages arising out of or in any way connected with your use of the information presented.