Key Takeaways
Key Takeaways
---
What does your dream house look like? What kind of architectural style would you pick? How many bedrooms and bathrooms would it have? What kind of sizzle features would you incorporate?
Building your dream home certainly has its advantages. By hiring a team of builders, you can construct the house of your dreams and customize it from corner to corner. However, home construction is not without challenges. This 10-step guide will tell you everything you need to know about the dream home building process. That way, you'll have a better sense of whether you're up for the challenge or not.
How Much Does It Cost To Build A Dream House?
According to a survey conducted by the National Association of Homebuilders (NAHB), the average cost of constructing a single-family home is $296,652. Moving and storage company PODS argues that this number is misleading. Instead, the cost of building a custom home should be thought of as a range that depends on size and quality.
A typical home will cost roughly $100 to $200 per square foot. The range for luxury homes is $200 to $500 per square foot.
Note that none of these figures factor in the cost of purchasing land, which varies by location.
---
[ Thinking about investing in real estate?
Register to attend a FREE online real estate class
and learn how to get started investing in real estate. ]
---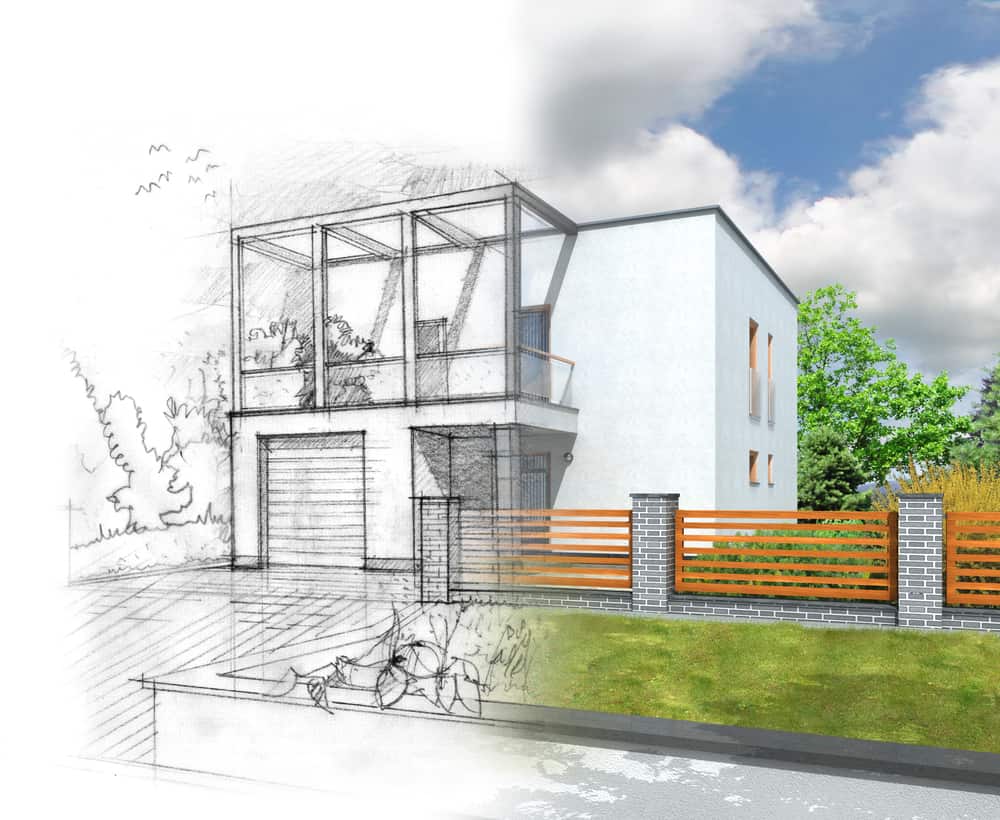 10 Steps To Building Your Dream Home
Below you'll find the 10 steps involved in building your dream home. These provide an overview so that you can get an idea of what is involved. We'll explain each of these steps in detail in the following sections.
Decide On A Budget For Your Dream Home

Be Flexible & Manage Expectations

Find A Lender For Building Your Dream Home

Assemble A Construction Team

Find & Buy The Right Lot

Decide On Architectural Design

Create A Timeline For Your Dream Home

Be Involved In The Construction Process

Choose A Moving & Storage Solution

Move Into Your Dream Home
1. Decide On A Budget For Your Dream Home
Earlier, we went over how much it costs to build a dream home. This information should help you form a realistic budget that you can afford.
First, decide on the square footage of your house. Next, determine whether your home will consist of average, mid-range, or luxury materials and sizzle features. You can estimate your cost per square foot based on these two decisions.
Materials and labor will account for roughly three-quarters of your budget. The rest will go to miscellaneous line items such as fees, taxes, furniture, and landscaping. Table 1 of the NAHB 2019 Construction Cost Survey shares a detailed breakdown of home-building costs.
A general budget is all you need to get started. Later on, you'll learn how to assemble a home construction team. This team will dial in the budget and cost breakdown for your approval before any construction begins.
2. Be Flexible & Manage Expectations
When building your dream home, it's only natural to feel attached to the outcome. It only makes sense to desire perfection when you're investing a lot of money.
However, building a new house is never easy. Hiccups will occur, and inflexibility won't help any situation. It's good to know this before you get started so that you can develop the right mindset. Manage your expectations and be flexible. When things get tough, remind yourself of the end goal. The frustrations caused by errors and delays will fall to the wayside the moment you get the keys to your dream house.
3. Find A Lender For Building Your Dream Home
Buying an existing home can be financed with a traditional mortgage, but building your dream home requires a construction loan.
A construction loan can finance the building process, plus the purchase of the land your home will eventually sit on. Typically, your lender will give you two options. The first option is to convert the construction loan to a traditional mortgage once construction is complete. The second option is to pay off the construction loan by the time the house is complete. Most borrowers opt for the first option, as it is more affordable.
Construction loans typically require a 20 percent down payment. FHA-backed loans require a down payment of as little as 3.5 percent. You might not have to put anything down if you qualify for a VA or USDA loan.
4. Assemble A Construction Team
Once you determine that building your dream home is financially feasible, it's time to assemble your construction team.
It's recommended to look for a home builder before you search for any other type of professional. This is because the home construction and design processes go hand-in-hand, so home builders often have a designer that they already work with. Unless you already have a designer you want to work with, you may opt to work with your builder's designer. Most home construction company websites feature a portfolio of their work, including architectural design.
If your budget allows, also search for an interior designer and landscape architect. Your home builder will likely have recommended professionals that they've worked with in the past.
Although they won't be a part of your construction team, know that you'll also want to work with a realtor and real estate attorney to facilitate your lot purchase, current home sale, and closings.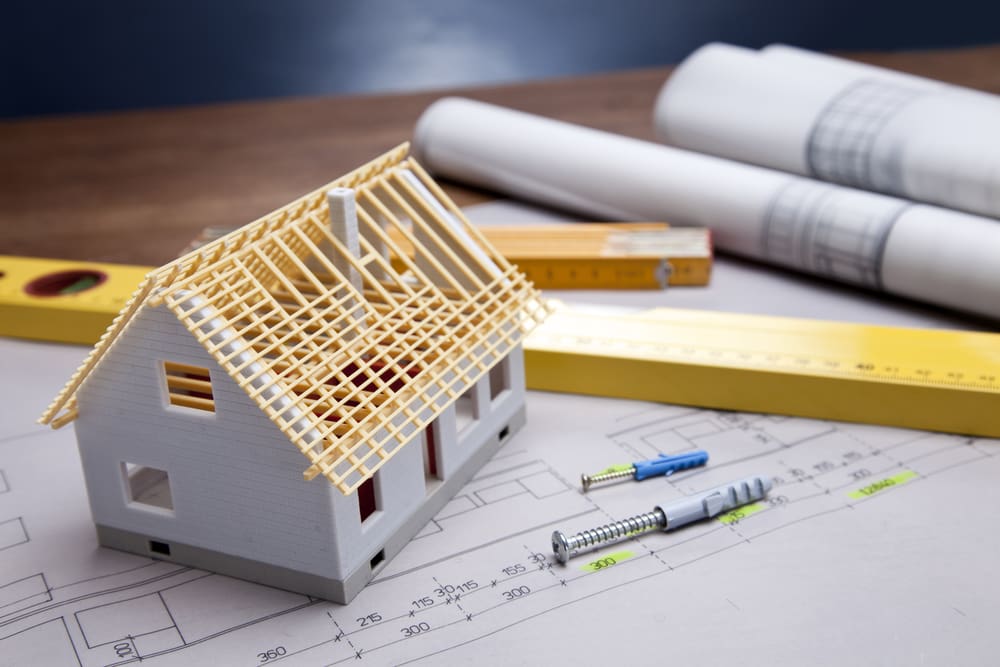 5. Find & Buy The Right Lot
It might surprise you to find out that you should find your lot after you've hired your construction team. Unless you've inherited property, your builder is a great resource who can help you select the best possible lot for your future home. They can inform you of the right plot size and detect potential environmental and construction issues to avoid.
When shopping for options, be sure to investigate each property's history and comparable property prices to help you formulate your offer. Your agent will help you find lots and facilitate your purchase.
6. Decide On Architectural Design
This next step is arguably one of the most fun aspects of building a house. Work with your designer or builder to select your architectural design.
There are many different styles to choose from, including traditional, craftsman, farmhouse, minimalist, and modern. Driving through neighborhoods, flipping through architectural magazines, and scrolling through Instagram and Pinterest are all great ways to find inspiration.
You may want to consider the context of your new neighborhood. For example, let's say you're building a house in an area full of Spanish-inspired homes. You can certainly be a rebel, but know that it may or may not affect your future resale value. Future buyers may not want to put in an offer on a house that sticks out like a sore thumb.
Once you've picked your style, you can work with your designer to develop the home's exterior and interior floor plans.
7. Create A Timeline For Your Dream Home
Next, create a timeline for your dream home construction project. A timeline is critical for any project manager, as it will help them keep everyone on track.
Your timeline will set the pace for other related timelines, such as selling and moving out of your current home, moving into your new home, when your interior designer can begin furnishing your property, and so on.
According to the U.S Census Bureau, the average home takes between 8 and 12 months to build. Homes that have relatively more custom features or complex designs take longer to build. If time is an issue, you may want to consider a simpler floor plan.
8. Be Involved In The Construction Process
Although it may be tempting to leave the construction process to your team, it would behoove you to stay involved. Who cares about your dream home the most? It's you!
That's why you should stay in regular touch with your team to make sure your project stays on track. This is true in terms of the timeline, building plan, and budget. Be sure to provide oversight on invoices and spending and refer to plans to ensure that the construction team is adhering to the agreed-upon specifications. This way, you can hold your builder accountable. They should pay to fix any mistakes made by their team or sub-contractors.
9. Choose A Moving & Storage Solution
You'll also need to pick out a moving and storage solution to assist with your move-out and move-in processes.
In an ideal world, you would move out of your current home and into your newly-constructed home without interruption. In reality, however, this rarely happens. You may have identified the ideal date on which to sell your current home, but that doesn't necessarily equate to when you'll get an offer. In some cases, you might have to move out early so that you can accept a great offer. On the other end of things, your move-in date might get pushed out further due to construction delays. It might even happen more than once. Temporary housing might become necessary in the interim.
This is why picking out a flexible solution is favorable. For example, you might opt for a moving and storage container company that won't penalize you every time you change your schedule. That way, you won't experience more stress than necessary.
10. Move Into Your Dream Home
We saved the best for last. Once construction and walk-throughs are complete, you finally get to move into your dream home! It's time to celebrate this joyful moment in your life. After months of hard work and dedication, you can finally live in the house of your dreams for years to come.
Summary
Building your dream home is no easy feat. Not only is it costly, but it can also take nearly a year to complete. The process also requires you to put on your project management hat. You can't necessarily sit back and relax after you've hired your construction team. Owners who build their own homes are most successful when they stay involved in the project and make sure everything goes according to plan. However, all of the hard work is often worth it when it means you get to live in the house of your dreams.
---
Ready to start taking advantage of the current opportunities in the real estate market?
Click the banner below to take a 90-minute online training class and get started learning how to invest in today's real estate market!