Key Takeaways
Building a proper real estate team isn't as easy as many would like to believe, but I can assure you that you will get out of it what you put into it.
There are several steps you can take to make the hiring process easier for everyone involved, and your business will certainly thank you for your efforts.
---
Real estate business management will require today's entrepreneurs to wear many hats — so to speak. As the owner of a real estate investment company, it's not out of the question to do everything at the onset of your business. That means someone looking to flip houses must familiarize themselves with the ins and outs of accounting, marketing, networking, on-boarding, and a myriad of other skills that can very easily be a job in and of themselves.
It's worth noting, however, that there may be one business management skill that you should prioritize ahead of all others: hiring. If for nothing else, it's the people you will work with closest that can very easily determine your success or failure as an investor. To this day, I owe a great deal of my success to the people I have worked with, and there is no reason you can't expect the same — if you hire the right people.
That said, today's greatest real estate teams weren't built in a single night. Instead, they are the product of hard work, diligence and patience. If you hope to build a successful real estate team, you would be wise to remember one thing: it won't come easy. In fact, it takes a lot of hard work to see to it that all the right pieces fall into place, but I digress. While assembling the right team won't happen overnight, the wait is well worth it. A properly assembled real estate team can easily become your greatest asset; the single most important factor in realizing your goals.
If you want to build the best real estate team for your company, you must exhibit the right business management skills, not the least of which are outlined below in five simple tips.
Business Management 101: How To Hire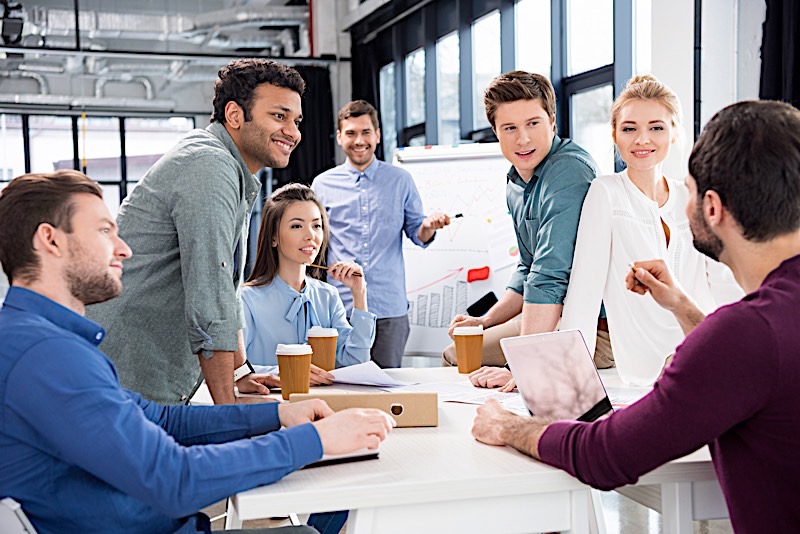 1. Let Earnings Dictate Hiring
Do not, I repeat, do not attempt to assemble your real estate team before funding permits as much. That means you can't hire anyone with IOU's or the promise of paying them back at a later date. Regardless of what you may think, preempting the hiring process before you have the capital to support such a move will most likely end in disaster. At the very least, adding overhead to your current business model before you have the revenue to offset the difference will lead to trouble more often than not. Why even put yourself in such a position?
Instead, proceed to work alone, or with a partner, until your income can support the additional person. A good rule of thumb is to wait until approximately 30 percent of your income can accommodate another salary. Once you have enough money to pay yourself out and an additional teammate with the roughly 30 percent of your income that should be dedicated to overhead costs, go ahead and take the leap. Then it's a matter of rinsing and repeating to add subsequent real estate team members.
2. Become Proficient In Your Own Systems
Those investors looking to grow and scale their businesses need to realize one thing: For better or for worse, future hires will tend to replicate the individual they learn their skills from. As such, it's absolutely imperative that you are as familiar with the systems you intend to teach your predecessors as you will expect them to be. In other words, you must demonstrate an increased propensity for every task in your business if you hope those you hire will do the same. You are the sole person responsible for teaching them their obligations. They are going to carry out their job exactly as you instruct, so make sure you know what you are talking about when the time comes.
Before you even consider hiring your first teammate, be certain your comprehension of the material required to run your business is up to par. Not only that, be sure to have a system in place for every task you will ask of your future employees; for its the systems that will enable your teammates to replicate the success you achieved and made it possible to start on-boarding. Remember, only once you have mastered everything in your own company, can I fully recommend bringing more people into it.
3. Delegate, Don't Disappear
There's no doubt about it: the best real estate teams are typically those with the best leaders. Nothing, as far as I am aware, can take a good team and make it great quite like leadership. Therefore, any hope of building a truly great team of employees must be met with an equally great commitment on your behalf — anything less is unacceptable. At no point whatsoever should you consider removing yourself from the equation while you are building a team of competent employees. Of course, your ultimate goal may be to remove yourself from daily operations once things are up and running smoothly, but it's ill-advised to do so early in the process.
Instead of trying your hardest to replace yourself, try your hardest to replicate yourself. Not literally, of course, but figuratively. Work from a position that is easily visible to your employees and maintain an "open door" policy that will allow those you hire to see just how hard you work. Most importantly, lead by example. That way, your employees are more likely to emulate the hard work they witness you doing on a daily basis the next time you hand them a project.
4. Trust Your Employees To Do What You Hired Them For
Today's most prolific real estate teams exhibit an inherent level of trust. That is to say, each component of the machine is expected to complete the job it was assigned. It's worth noting, however, that issues do arise and obstacles can turn molehills into mountains. As a result, there are those of you who can't help but be a backseat driver. Far too many business owners are content watching over their employees simply to make sure they are doing what they are supposed to be doing. And while the right intentions are there, I can argue that babysitting your employees is a practice in futility. II implore business owners not to micromanage every employee, but rather to trust in the people they hire.
While it might be hard for some entrepreneurs to step away, it's ultimately more beneficial to the company if you can trust in the employees you hire to get the job done. That way, you won't have to spend countless hours watching over someone else's shoulder or babysitting their every move. In doing so, you are wasting valuable time; time that could be spent on much more important tasks, like making the company more money so it can hire more employees. What's more, employee will be more likely to reciprocate the trust you instill in them if it's apparent.
5. Create A System For Everything
I already stressed the importance in maintaining a level of proficiency throughout all of the systems you have in place, but how many systems you have is just as important as how well you know each of them. At the very least, every task in your business should be accompanied by a system that allows the person doing it to replicate success on a regular basis. You see, systems — as their names would lead you to believe — are essentially step by step instructions on how to complete a respective task. Not only that, but systems, at least in my opinion, represent the most efficient way to get something done.
What's more, systems can be implemented in everything your business does. From ordering office supplies and hiring employees to finding deals, everything can be made more efficient through the use of proven systems. I even recommend creating a system for making systems.
It's worth noting, however, that the importance of systems is magnified in the event a company is trying to grow its employee base. If for nothing else, it's each individual system that will allow the owner to place each employee in a role and still maintain similar expectations. At the very least, the employee will have a strict set of directions to follow; directions that have already proven successful in the past.
Business management skills are required to run a successful real estate investing company. That said, not all business management skills are created equal. While the order of their importance is subjective and open for debate, I am convinced that the ability to hire subsequent employees should be somewhere near the top. If for nothing else, nothing is more integral to your success as an investor than the team you surround yourself with. So why not take the time to make sure you do things right?
Have you been looking to hire some more employees for your own real estate business, but are otherwise unsure of how to proceed? Perhaps you have a few more tips for our readers? If so, please feel free to share your thoughts in the comments below.
🔒 Your information is secure and never shared. By subscribing, you agree to receive blog updates and relevant offers by email. You can unsubscribe at any time.