Key Takeaways
The Detroit real estate market remains affordable and attractive to investors.
Detroit real estate investing has seen a 17% increase in flips over the last year.
Real estate in Detroit hasn't recovered from the Great Recession as much as most of the country, which may not necessarily be a bad thing for today's investors.
---
According to data collected by the Federal Housing Finance Agency, the Detroit real estate market has yet to regain the value it lost over the course of the Great Recession. While home prices have appreciated over the course of the last decade, increases are more likely the result of inventory, or lack thereof. Supply hasn't been able to keep up with demand, which has increased prices, albeit slightly. Despite modest increases, however, the Detroit real estate market is still recognized as one of the most affordable in the country. Median home values are well below the national average, which has culminated in polarizing opinions: while homeowners are less than encouraged by the state of the Detroit real estate market, first-time buyers and real estate investors are ecstatic.
Detroit Real Estate Market Overview
Median Listing Price: $69,900
Median Closing Price: $85,000
Price Per Square Foot: $57
Median Days On Market: 58
Homes For Sale: 2,248
Homes For Rent: 479
---
[ Thinking about investing in real estate?
Register to attend a FREE online real estate class
and learn how to get started investing in real estate. ]
---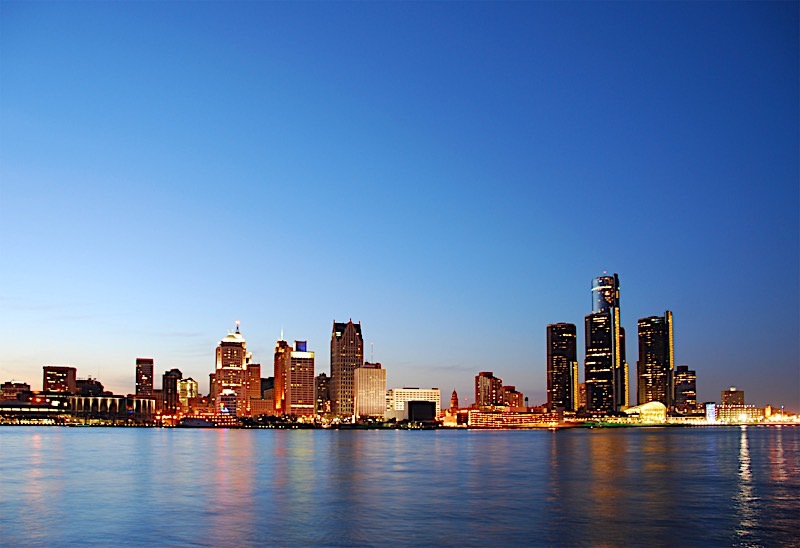 Detroit Foreclosure Statistics
Per data presented by RealtyTrac, the Detroit real estate market currently houses somewhere in the neighborhood of 992 foreclosures. In other words, there are nearly 1,000 properties that have received one of three distressed monikers: default, auction or bank-owned. More importantly, however, each distressed property represents something today's investors find invaluable: an opportunity. Distressed properties are nothing if not prime opportunities for savvy investors to acquire deals at a discounted price.
Of course, those that intend to acquire distressed properties should know where to look. More importantly, some zip codes in the Detroit real estate market have demonstrated an increased propensity for higher foreclosure ratios. It stands to reason that investors may have an easier time finding distressed properties if they look in the following neighborhoods:
48221: 1 in every 1011 homes is currently distressed
48224: 1 in every 1058 homes is currently distressed
48234: 1 in every 1283 homes is currently distressed
48219: 1 in every 1366 homes is currently distressed
48238: 1 in every 1554 homes is currently distressed
It is also worth pointing out that the majority of Detroit's distressed properties are of the bank-owned variety. More specifically, 59.4% of the distressed properties in the Detroit real estate market have already been foreclosed on and repossessed by the loan originators. Therefore, if you are interested in Detroit real estate investing, you may find the scales tipping in your favor by asking the appropriate banking institutions.
Detroit Real Estate Investing
Due, in large part, to the affordability of the Detroit real estate market, investing remains alive and well. According to Attom Data Solutions' U.S. Home Flipping Report, the first quarter of 2018 saw an influx of investor activity; so much so, in fact, that Detroit was recognized as one of the cities that saw its flipping rate increase the most. Along with Phoenix, New York, Atlanta, Philadelphia, Chicago and Dallas, Detroit saw its flipping rate increase more than the national average. Over the last year, flipping increased 17% in the Detroit real estate market.
Detroit currently boasts what Attom Data Solutions has dubbed one of the "best neighborhoods for real estate buying and investing in 2018": the East English Village neighborhood in the Detroit, Michigan, metro area. With a median home price of $66,750, the East English Village neighborhood awards buyers the ability to get into an "A-rated" at an affordable price.
Detroit Real Estate Market Summary
As I have already alluded to several times, the Detroit real estate market has set the pace for affordability on a national level. With a median listing price of $69,900, real estate in Detroit is relatively cheap, even in the face of today's inventory shortage. As a result, investors have been able to secure deals with attractive profit margins. Perhaps even more importantly, however, is the allure of the Motor City to new buyers. According to Business Insider, Detroit ranks in the top 20 best places to save up and buy your first home. "First-time homebuyers can save for a down payment in less than four years in six cities, including Detroit," says the financial publication. An influx of first-time buyers may be just the Detroit needs to get back on track, and savvy investors may be in the perfect position to facilitate their transactions.
*The information contained herein was pulled from third party sites. Although this information was found from sources believed to be reliable, FortuneBuilders Inc. makes no representations, warranties, or guarantees, either express or implied, as to whether the information presented is accurate, reliable, or current. Any reliance on this information is at your own risk. All information presented should be independently verified. FortuneBuilders Inc. assumes no liability for any damages whatsoever, including any direct, indirect, punitive, exemplary, incidental, special, or consequential damages arising out of or in any way connected with your use of the information presented.