You only get one chance to make a good first impression, especially when it comes to real estate. That's why a property's exterior is one of the most important parts of the house. Because the exterior of a home gives potential buyers, tenants, and more a good idea about what's inside, it's crucial to do whatever it takes to ensure your curb appeal is on point.
If you are hoping to boost a given property's overall aesthetic, an exterior renovation is a great strategy. Whether you are a homeowner or investor, there are exterior remodel projects for every budget. Keep reading to learn more about which renovations will help ensure your property makes a good first impression every time.
How Much Does An Exterior Renovation Cost?
The cost of a home renovation can vary depending on the scope of projects the home requires. On average, the exterior of a house will cost between $5,000 to $15,000. You can expect most of these expenses to be spent on painting the exterior, redoing the house's siding, and basic landscaping expenses. Spending more money on landscaping may be worth it, as curb appeal attracts buyers and can pay off in the long run. Other exterior renovation projects include replacing garage doors or installing fencing on the property. If the property has any issues with the roof or foundation, fixing or replacing these will be necessary as well as costly, so be sure to account for these expenses before establishing your budget.
---
[ Thinking about investing in real estate?
Register to attend a FREE online real estate class
and learn how to get started investing in real estate. ]
---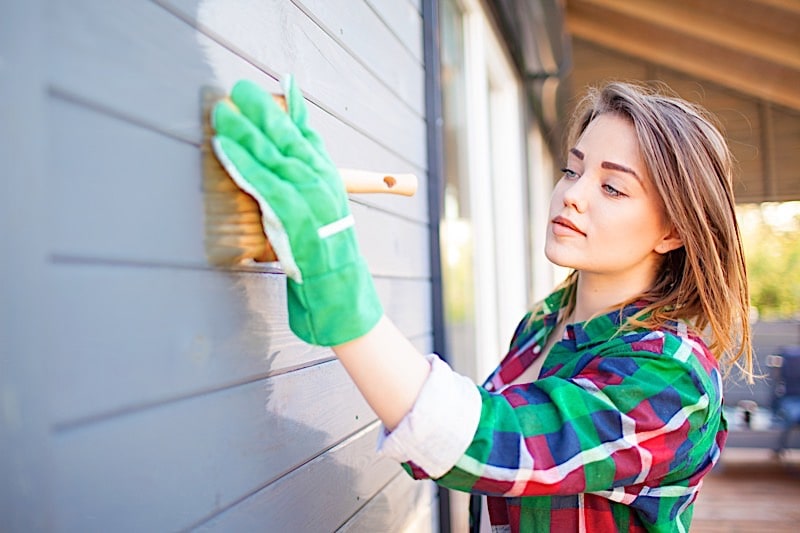 Exterior Remodeling Tips You Can't Afford To Ignore
The secret to a successful exterior home remodel is to develop a strong plan beforehand. Investors and homeowners alike will benefit from taking the time to consider their desired outcome and the steps required to get there. By thinking through each part of the process, you can ensure the renovation will be successful. Here are a few exterior house remodel tips to guide you:
Think through your vision for the renovation project.

Use your goals and finances to create a realistic budget.

Set a realistic timeline and be careful not to rush the details.

Assemble a team that you can trust for the job.

Consider how balance will help both your design and budget.

Do sufficient research on your neighborhood before getting started.

Prioritize lights and landscaping to make a strong impression.
Have A Plan
Whether you are working on the inside or outside of a property, it is crucial to have a vision before starting a renovation project. Look through exterior home design styles to get a few ideas of your end goal and strategize which items you will need to tackle to get there. Don't worry if you are unfamiliar with the technical details, like electrical or plumbing; you can work with a team of professionals on the specifics. At this step, it is more important to plan out the finished product and think through the steps necessary to get there. By coming up with a plan initially, you can help ensure all aspects of the exterior home remodel run smoothly.
Set A Budget
For many investors and homeowners, the budget will be the most critical aspect of a home remodel. Luckily, there are projects for every budget, and by planning ahead, you can make sure you stick to yours. As you look at house exterior styles, research potential materials and labor costs to estimate how much they will be. Be sure to consider the potential expenses for permits, labor, tools, and more. This will help you determine which projects will be realistic for your finances. For more advice on setting a renovation budget, be sure to read this article.
Don't Rush
The timeline of exterior home renovations will vary greatly depending on which projects you aim to complete. While a few cosmetic updates may be finished in one weekend, other renovations may take several weeks to get done right. The most important thing to keep in mind as you plan a timeline is to not rush through any project. An exterior home remodel is not the place to cut corners. After all, your goal is to improve the home's overall state, not to create larger problems down the road.
Find A Trustworthy Contractor
When it comes to real estate, having the right team in your corner can be just as important as the property itself. In the case of exterior home renovations, your project's success can come down to the right contractor. They will be able to help plan and oversee the entire renovation, making this a crucial role. In addition, a contractor should provide insights into material costs, labor, a projected timeline, and more. If you have worked in the real estate industry before, use your network to find a trustworthy contractor. On the other hand, if you are a homeowner looking for a contractor for the first time, try following these tips on hiring a contractor you can trust.
Think Balance
Balance is an important aspect of any home renovation project for several reasons. First, your property's overall design must be balanced and symmetrical.. Look through popular house exterior styles for ideas that will result in a clean, consistent aesthetic for your property. Next, it is important to ensure that the finished product fits into the neighborhood's existing atmosphere. Finally, real estate investors hoping to sell or rent their properties should research comparable homes in the area. Renovations that are not in line with properties in the area may not have a high return on investment (ROI) in the long run.
Finally, balance can help both investors and homeowners stay on budget during a given project. Look for areas where you can decrease your budget to increase it where it counts. For example, you can save money by installing your own landscaping and use those extra funds to buy quality roofing materials or fix problematic foundation issues. In other words, spend money on projects that count and save money on cosmetic upgrades. Keep balance in mind throughout every phase of your exterior remodel to help yourself stay on track throughout the process.
Test
Before starting your exterior home remodel, it is essential to research and test your preferred designs. Drive around your area, look for pictures online, and consult your contractor to get a feel for how your revamped exterior will look. This will help you tweak whatever doesn't seem right before you get too far into the project. If you are going for a dramatic change, test paint colors or building materials before committing to using them. Try painting a small swatch or bringing a sample of new material to your construction site to help yourself visualize. Remember, thorough research equates to successful results.
Prioritize Lights & Landscape
Two of the most important factors for a good exterior home remodel are lighting and landscaping. While they may seem like minor details compared to a new roof or repainted exterior, the right lights and greenery can go a long way. There are several ways to illuminate your property, including lining pathways with lights, using track lighting, or even installing a light above your front door. These tips will ensure your property is visible to guests and visitors at any time of day.
Landscaping is another crucial component of a successful exterior design. Greenery can help make a property look homier and inviting. Research which plants are native to your area and how the weather will impact them year-round. Just be sure to keep in mind how much time and energy you want to maintain your landscape. Incorporating unique materials like rocks, pine, straw, artificial turf, wood chips, and cement is one way to keep maintenance costs and upkeep low.

---
[ Thinking about investing in real estate?
Register to attend a FREE online real estate class
and learn how to get started investing in real estate. ]
---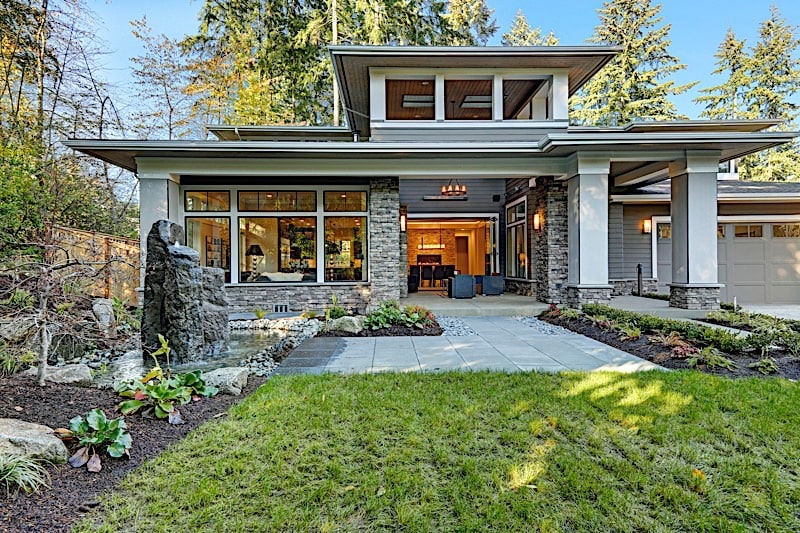 Exterior Renovations With The Best ROI
When planning any renovation project, it is essential to ask how much value the finished product will bring to the home. Whether you are interested in selling the property or living in it for years to come, it is still important to consider which renovations will contribute to the overall property value. Here is a list of exterior remodeling projects that have a high ROI:
Exterior Paint: A fresh paint job can make a big impact on your property. According to Home Again, the average ROI on a fresh coat of exterior paint is about 43 percent. Just be sure you look for color schemes that fit in with the style of your home and the neighborhood as a whole.

New Siding: Instead of a new paint job, it may be a good idea to replace the siding on your home all together. This can be a great chance to combine regular maintenance with an exterior remodel project.

Outdoor Kitchen: Outdoor kitchens or patio areas are becoming increasingly popular among buyers, making this a top project for property owners looking to boost their ROI. Be careful to research durable materials to make sure any new installations withstand the test of time.

Replace Garage Doors: While this change may seem small, replacing the garage door on a property can have a high ROI. Look into options that will blend in with the rest of the home and find options that work within your budget.

Fire Pits: Installing an outdoor fire pit can do wonders for your property. Because buyers want to picture themselves living in your property, adding an outdoor space with a fire pit can make the overall property more desirable. According to an interior designer and the owner of The Knobs Company, "many investors are choosing to add outdoor living spaces, such as decks and patios, to their properties in order to make them more attractive to potential tenants or buyers".

Front Door: Replacing or repainting your front door can have an ROI up to 100 percent. It's often a key part of your home's exterior and one of the first things people see.

Landscaping: Landscaping is crucial to boosting the overall curb appeal of your home. This could include adding new shrubbery, flowers, or new trees.
Be sure to read this article for more information on renovation projects with a high ROI.
Top Exterior Home Remodel Trends Of 2022
Many exterior home styles have come and gone over the years, so when renovating your home, you should pay attention to the latest trends to get the most out of your home's curb appeal and see the highest return on your investment. Here are the most popular exterior remodeling trends that will increase the value of your property:
Outdoor Areas: Outside living areas and spaces continue to be an important exterior component of any renovations. Some popular examples of outdoor additions include outdoor showers, outdoor rooms, pools, outdoor kitchens, and durable yet stylish outdoor furniture.

Decorative Walkways: Concrete walkways have been a staple for many residential houses, but this year decorative concrete is becoming much more trendy. Decorative concrete includes exposed aggregate, stamped concrete, colored concrete, and textured concrete.

Front Yard Lighting & Lanterns: As many homeowners are upgrading their walkways, they are also adding new and trendy ways to illuminate them. Examples of these include freestanding eye-level lanterns, solar yard lights, and small path lights to highlight and illuminate the walkway.

Retaining Walls: Retaining walls are a fixture for many yards, but 2022 is the year of the multi-purpose retaining wall. Trendy renovators are now building retaining walls that can not only provide extra privacy, but they can also serve as planters or housing for all sorts of outdoor decorations.

Stone Accents: Stone accents are becoming increasingly popular on the exterior of homes. In the year 2021 the trend was leaning towards darker stone accents, but the year 2022 is looking to be focused on lighter and more sleek colored accents.

Wooden Window Trim: Custom window trim is making big waves in 2022, and wood is leading the way. Combining wood window trim and headers with a lighter exterior color really makes the windows pop and adds a beautiful look to the exterior of your home.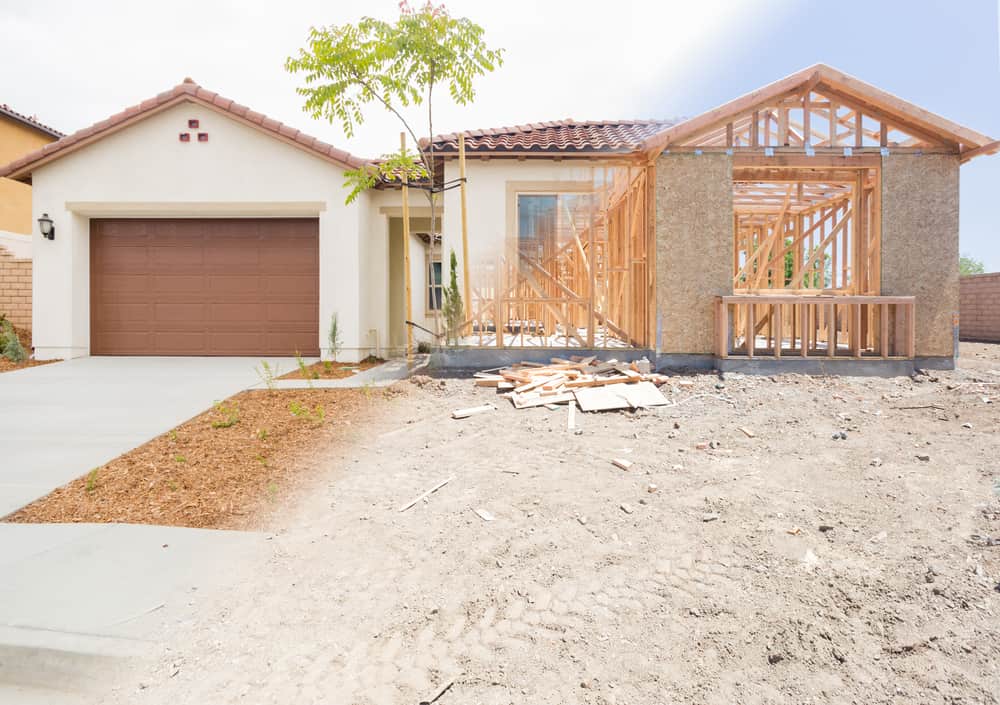 Top Exterior Home Remodel Trends Of 2021
Now that we have taken a look at the 2022 home exterior remodel trends, let's take a look at some of the top trends from 2021 and see how much has changed:
Exterior Living Spaces: Outside living areas are expected to be in demand additions to homes this year, especially as more people are staying in and entertaining at home. Additions such as outdoor seating areas, gazebos, fire pits, and fireplaces are sure to add value to your property. Overall, revamping your home's outdoor area to create a welcoming atmosphere will make it more attractive to potential buyers.

Higher Quality Material: Regardless of what renovations you make to your home's exterior, be sure to use high-quality and long-lasting materials. Homeowners are paying attention to the longevity of the home's exterior and are attracted to features that will be efficient and low maintenance throughout the home's lifetime. Buyers are expected to look for materials like fiber cement and high-quality insulation that will increase the home's energy efficiency. Installing turf instead of grass is a water-saving attraction for buyers as well. A home equipped with solar panels is an added energy-efficient bonus.

Earth Tones: Instead of eye-popping bright exterior trends of previous decades, expect potential buyers in 2020 to be searching for more neutral and earthy tones. The endless shades of soft browns and beige colors are becoming increasingly popular, while dark earth tones like charcoal or deep browns are becoming eye-catchers. An attractive exterior will complement the landscaping of the home.

Larger Walkways: As the size of family vehicles increases and buyers are turning away from the once attractive sprawling lawn, the demand for larger walkways and driveways is becoming a larger trend this year. Consider creating a beautiful large walkway and driveway to your home with brick or pavers to make your home attractive to buyers.

Mixing Styles: Modern exteriors, farmhouse designs, and traditional styles are all popular this year, and a noticeable trend among homebuyers is an attraction to a mix of exterior styles rather than just one. Create a modern farmhouse design with sleek wood siding, or add industrial touches with metal features.

Garage Doors: One of the first things that homebuyers notice is the garage door. While it may not seem like an important detail, upgrading your home's garage door can be a great way to add value to your exterior and complement the overall look of your home.
Summary
Whether you are an investor trying to attract potential buyers or a homeowner looking to impress the neighbors, your property's exterior is what will make the first impression. That's why an exterior renovation is crucial for anyone hoping to boost their curb appeal. Do your research and plan out an exterior remodeling design that will work best for your property and budget. Then, by following the above tips, you can help ensure your property makes a good impression, no matter who is looking at your home.
---
Ready to start taking advantage of the current opportunities in the real estate market?
Click the banner below to take a 90-minute online training class and get started learning how to invest in today's real estate market!